Are you looking for the best PPC reporting software for your business or agency?
PPC (pay-per-click) campaigns can be one of the best assets to your website. It allows you to get instant traffic and leads for FASTER growth.
The only problem? It can also be a HUGE money-waster if you don't run your PPC campaigns efficiently.
That's why it's so important to have reliable PPC reports to keep your eyes on the data.
So, in today's post, I'm going to share the top 10 PPC reporting software on the market. This will (hopefully) help you choose the right tool for YOUR unique needs.
Ready to get started? Let's dive straight into the list!
Best PPC Reporting Software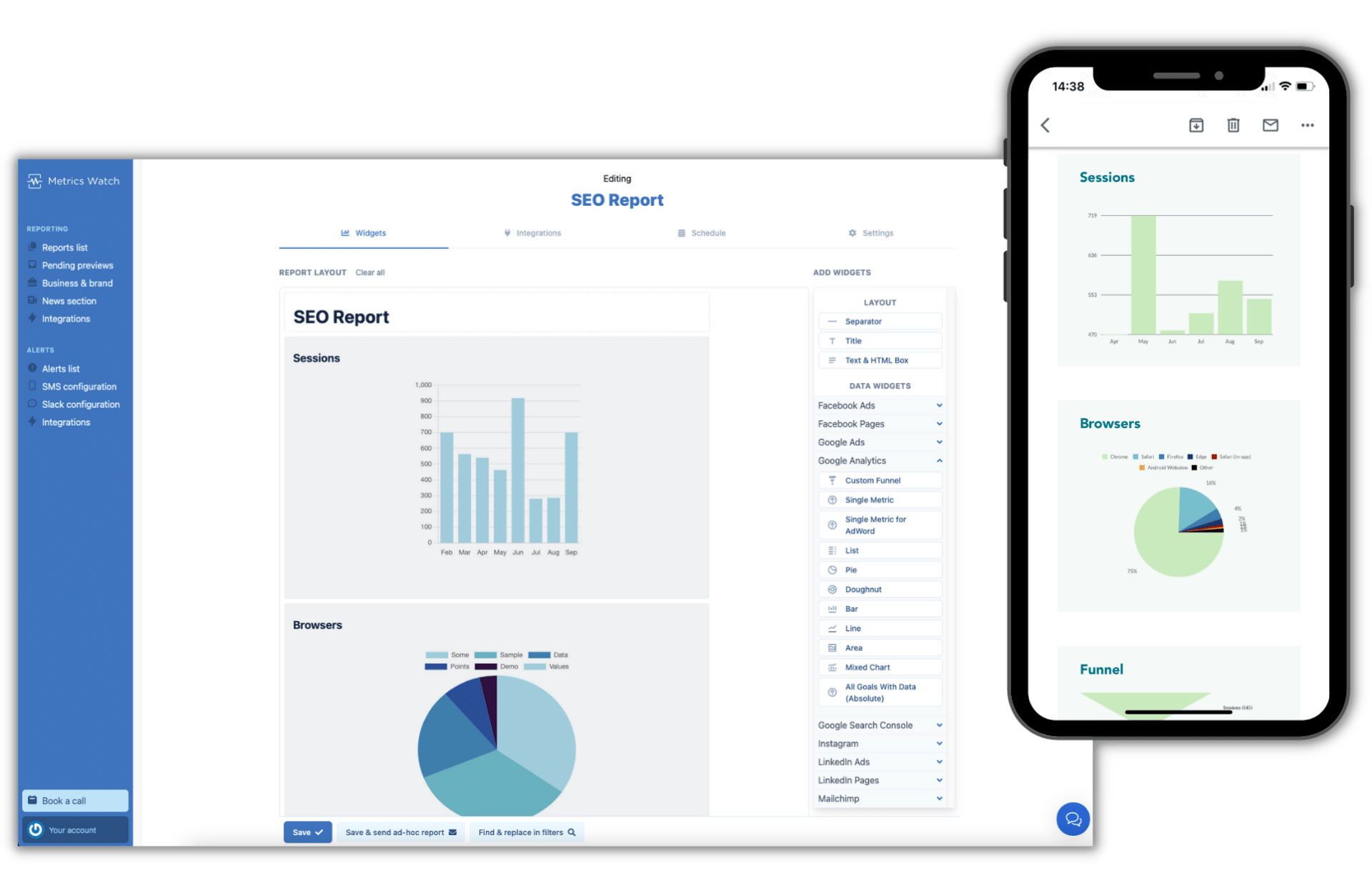 Metrics Watch is hands down your best bet when it comes to the right PPC reporting software. That's because it comes with everything you need to build professional reports in minutes.
And thanks to Metrics Watch's drag-and-drop builder, you don't need any code or "tech skills" to get started.
Instead, you can hook up your favorite PPC channels, like:
Google

Facebook

Instagram

LinkedIn

And more...
From there, you can add visual graphs, bar charts, lists, and more. This allows you to add visual representations of your key performance indicators (KPIs).
That way, your recipients can take everything in at a glance.
But what really sets Metrics Watch apart is the frictionless sharing. Unlike other report builders on the market, this tool sends the data directly via email.
Not as a PDF attachment. And not as a link to a 3rd-party dashboard.
Instead, your PPC reports get sent to your recipient's inbox which increases the chance that they'll take the time to analyze it.
In the end, this leads to better marketing strategies coming from people who consistently understand the data at their fingertips.
Pros
Easy setup

Drag and drop report builder

Lots of integrations

White-label branding options

Reports shared via email

Visual graphs for data

PPC markup

And much more…
Ready to see this tool in action for yourself?
Click below to start your 100% risk-free Metrics Watch trial today, no credit card needed:
Build Automated Digital Marketing Reports Today!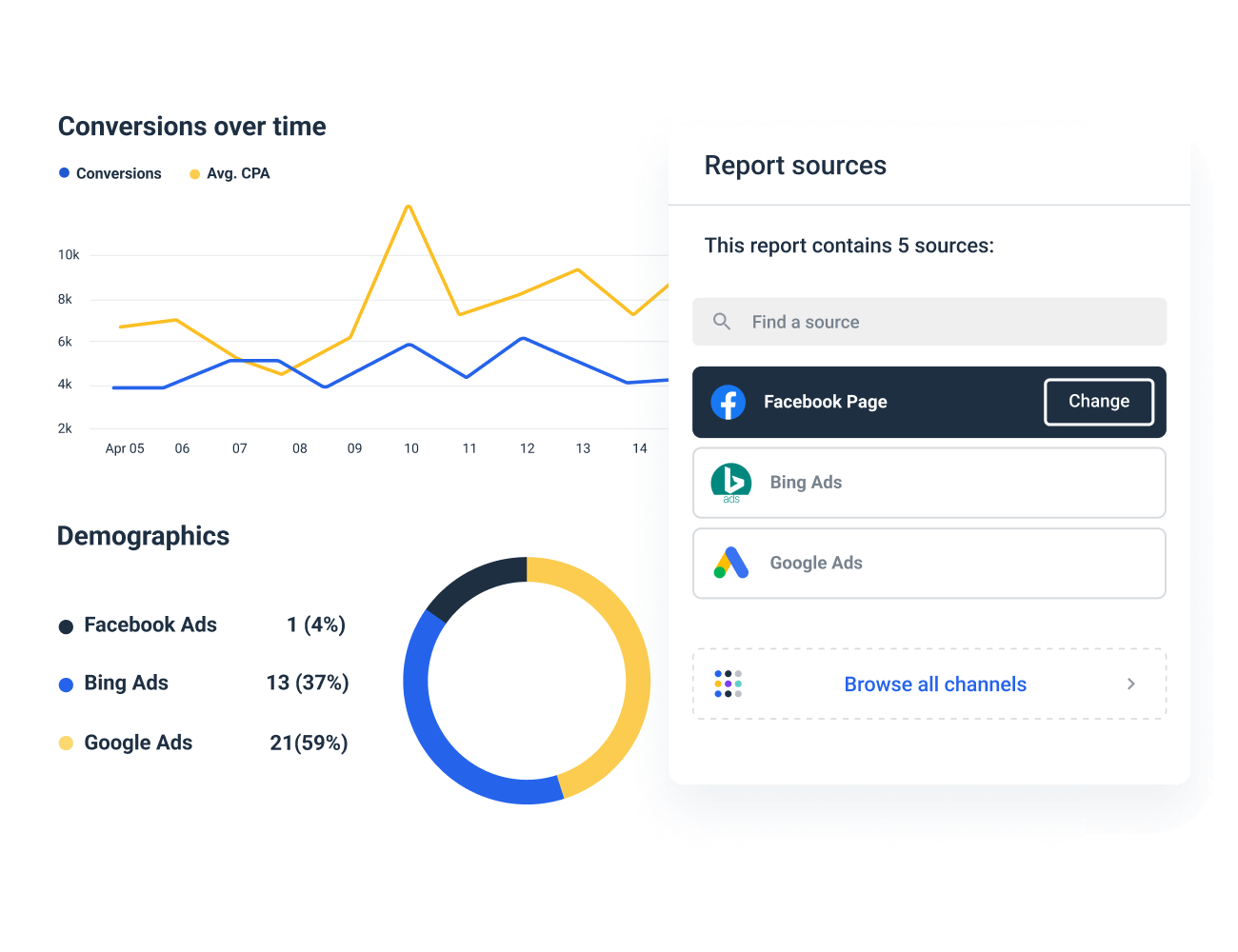 A popular choice with agencies and in-house marketing teams, Whatagraph has everything you need to easily create and send PPC reports.
The setup takes just a few minutes because you can grab a PPC report template and automatically fill data from your ad platforms. There are pre-built widgets so all you have to do is determine when and how you want the clients to receive the reports.
Pros
A large number of PPC integrations (Adwords, Adroll, Bing Ads, Microsoft Ads)

Plenty of customization options, including white labeling

Cross-channel reports (40+ data sources total)
Cons
You can only purchase an annual plan.
Pricing
Plans start at $199 per month, giving you access to 25 data sources and up to 5 seats on your team. If your main focus is PPC, this is more than enough to cover all of your agency needs.
This makes Whatagraph one of our favorite PPC reporting software on the market.
3. DashThis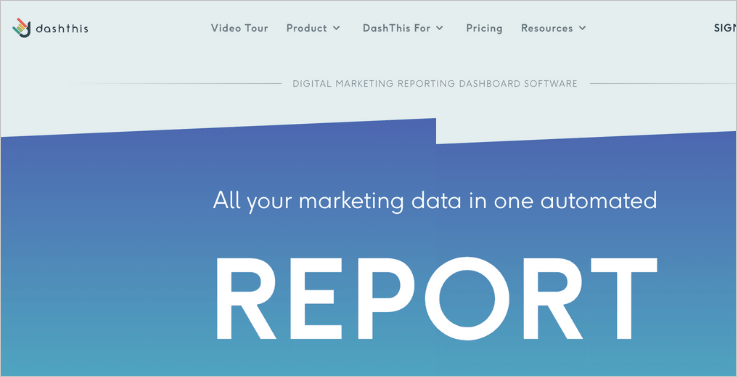 A digital marketing reporting and dashboard tool, DashThis helps you bring KPIs from your PPC campaigns together with metrics from other platforms.
It includes PPC and SEM dashboard templates to get you started. For agencies, the bulk dashboard creation service is a nice feature, allowing you to get all your clients set up quickly.
Pros
Plenty of integrations, including AdWords, Bing Ads, Doubleclick, and Adform

Option to clone dashboards, saving time on set up

White-label options on some plans

Can add different notes, widgets, and headers to customize dashboards and reports
Cons
Automated reports are available with DashThis but are delivered as a PDF, which we find a clunky way to share information. Some people also find the chart types available too limited.
Pricing
DashThis starts at $45 per month for 3 dashboards. There's a 15-day free trial and discounts for choosing annual billing.
4. Klipfolio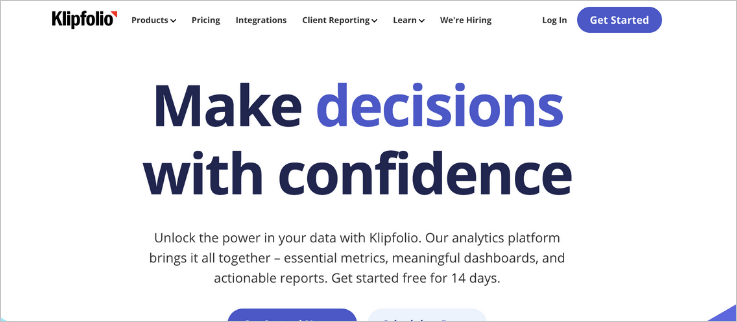 A popular report-building tool, Klipfolio has plenty of different integrations, including all the main PPC channels. It offers prebuilt metrics that include PPC KPIs like click-through rate, cost-per-click, and conversions.
Segmentation and filter options help you dive deeper into your data. If you have some coding knowledge, you can take the customizations even further.
Pros
Template dashboards and metrics mean you can quickly create new reports

Set targets to keep track of your PPC goals

Combine metrics from all your PPC platforms on one dashboard

Sharing options include links, PDFs, and Slack messages
Cons
Customizing your reports can be harder with Klipfolio than with some other tools – if the prebuilt options don't work for you, you'll need coding knowledge to build your own. This is also one of the more expensive tools out there.
Pricing
Klipfolio has a free version with limited data connections and users. After that, the cheapest paid plan is $142 per month. Choosing annual billing will get you a discount.
5. Swydo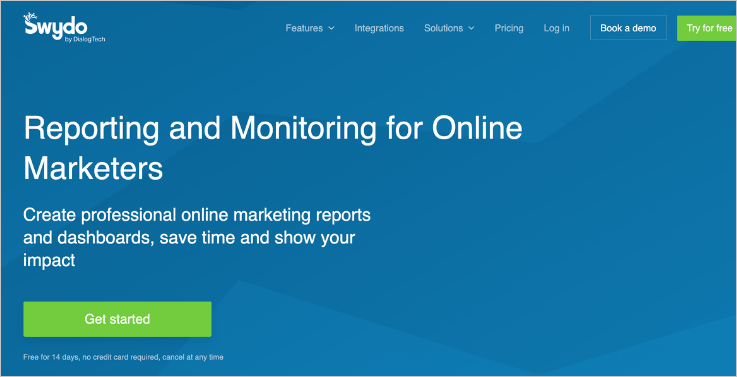 Swydo offers reporting and monitoring tools for digital marketers. It connects with Google Ads and Microsoft Ads, as well as AdRoll and most social media advertising platforms, helping you track all your PPC campaigns in one place.
Aimed mainly at agencies, Swydo is also equipped with tools to help you manage PPC reporting for multiple clients.
Pros
Set targets and monitor how your PPC campaigns perform against them

Customize the branding with white-label options

Create reports in different languages

Use dynamic report templates to get all your clients set up quickly
Cons
Swydo's integrations are more limited than some of the other tools on this list. We also find the sharing options aren't the most convenient – you can only share dashboards as PDFs or online HTML reports.
Pricing
Swydo starts at $39 per month. There's a 14-day free trial available.
6. AgencyAnalytics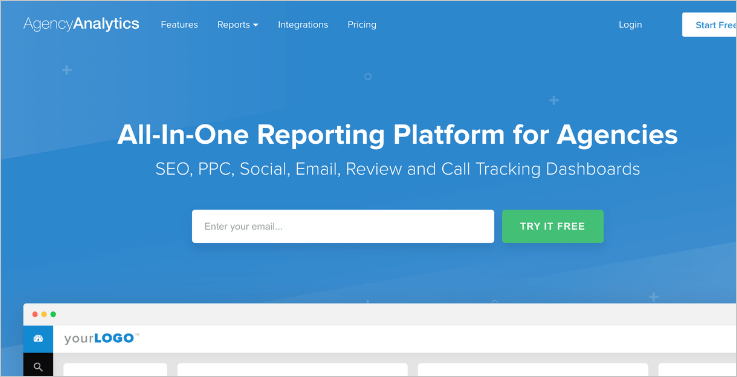 As the name implies, AgencyAnalytics is aimed at digital marketing agencies. It combines reporting with SEO tools, making it a good option for those looking to combine PPC and organic SEM in one tool.
AgencyAnalytics has a range of templates available, and you can also build your own custom reports and dashboards. It integrates with all the major PPC channels.
Pros
Add your own branding and logos to reports and dashboards

Plenty of different integrations mean you can combine PPC data with other digital marketing metrics

Add comments to reports to interpret the information more easily

Use SEO tools to support your PPC efforts with organic SEM
Cons
Although automated reports are available with AgencyAnalytics, which is a useful feature, they arrive as PDF attachments which makes accessing the data a two-step process. This could be smoother.
Pricing
AgencyAnalytics offers a 14-day free trial. After that, each client costs $10 per month for freelancers and $15 per month for agencies. Discounts are available if you opt for annual billing.
7. ReportingNinja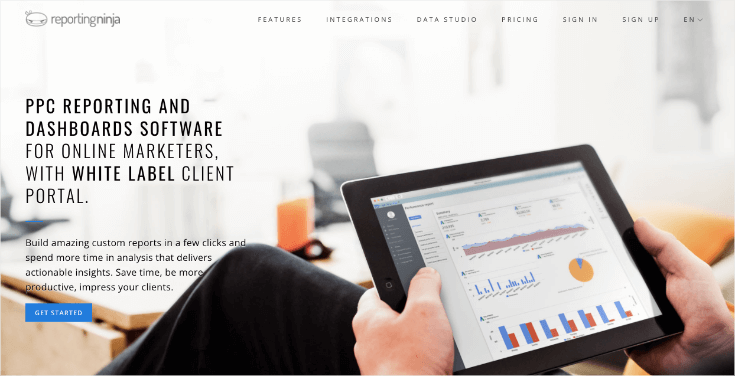 NinjaReporting offers custom reports and white-label client portals to digital marketers. The tool focuses on PPC reporting, making it a good option for agencies who specialize in this area.
With a library of widgets and a drag-and-drop report editor, ReportingNinja is simple to use and helps you report on your PPC campaigns quickly.
Pros
Clearly laid out reports highlight your vital PPC KPIs

The prebuilt template and library of widgets make it easy to build reports

Customize reports with filters, custom metrics, and different visualizations

Apply your own branding with white-label options
Cons
NinjaReporting only has a handful of integrations currently, so is best for digital marketers who focus on PPC.
Pricing
NinjaReporting starts at $20 per month. You can also try it for free for 15 days.
8. ReportGarden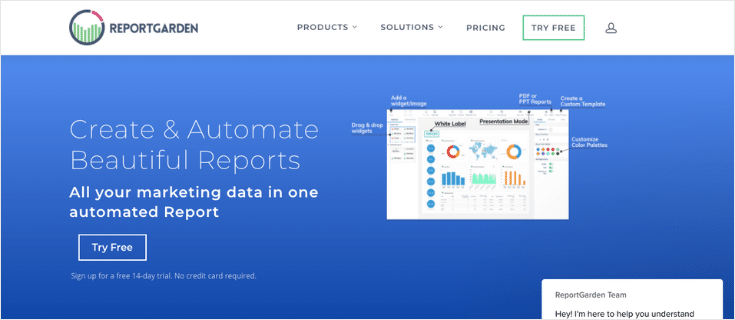 With reporting and budgeting tools, ReportGarden helps you monitor your PPC campaigns and optimize your ad spend.
As well as reports and dashboards, ReportGarden has SEO tools, including site audits and keyword trackers. For agencies, this tool helps you create client proposals and showcase your success in managing PPC campaigns.
Pros
Budgeting tools help you to keep your ad spend on track

Easily customize the colors of your reports, keeping them on brand

Reporting templates get you set up quickly

White-labeling options mean you can add client's logos and create dedicated cover pages for your reports
Cons
Customizing widgets and adding filters isn't the most intuitive process with ReportGarden.
Pricing
ReportGarden starts at $89. There's a 14-day free trial.
9. Octoboard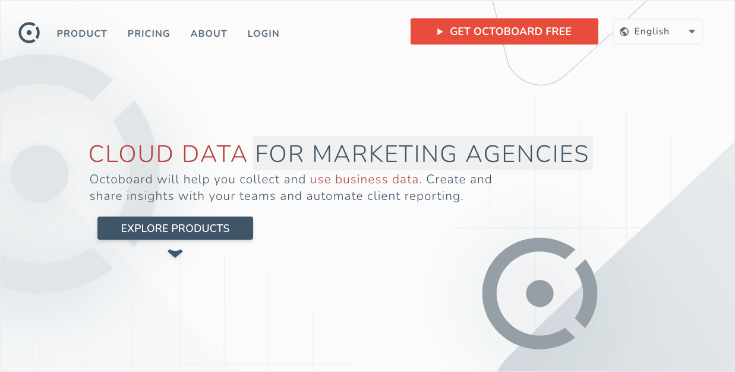 White-label PPC reporting tool Octoboard helps you to build and schedule reports to send to your clients or colleagues. It has plenty of templates available to get you started and integrates with PPC, social media, and SEO platforms.
This tool is easy to set up and includes extra features like site audits and eCommerce reporting, so you can go the extra mile for your clients.
Pros
White-label client portals are hosted on your own website

Send an unlimited number of automated reports

Customizable report templates make it easy to get started

Combine PPC data with sales information in one report
Cons
Octoboard bills itself as a completely self-service platform, which is fine when everything works. When it doesn't, customer support is only available via email or web chat – there's no phone support.
Pricing
There are two pricing schemes for Octoboard. For businesses, plans start at €15 per month (approx. $17 at the time of writing). For agencies, it's €25 per month (approx. $29). A 14-day free trial is available and there are discounts for annual billing.
10. Pathmatics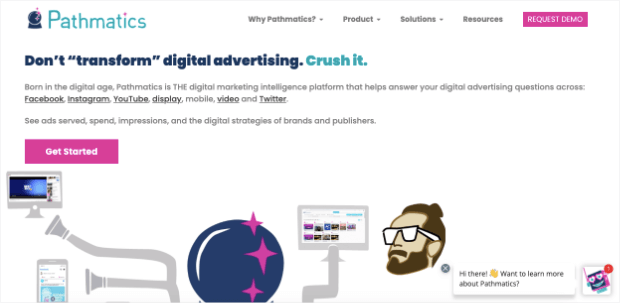 Specializing in PPC advertising, Pathmatics is a reporting, analysis, and insight tool. It helps digital marketers track their progress against their goals and answer key marketing questions.
Pathmatics also includes competitor comparison tools and helps you monitor your share of voice. It integrates with most major social media advertising platforms. It has recently been acquired by SensorTower.
Pros
Customize your reports with the exact metrics you want

Get insight into your competitors' strategies

Reports display the ad creative and break down metrics for each ad

Optimize and allocate budgets for the best ROI
Cons
Pathmatics is heavily focused on analyzing ad creatives and comparing your strategy with your competitors. This means it lacks some of the more traditional reporting options and may not suit every user.
Pricing
Pathmatics doesn't offer pre-priced packages, so you'll need to contact them for a quote based on your needs.
And that's all for today! These have been 10 of the best PPC reporting software on the market.
I hope you enjoyed this post. If you did, you should definitely check out the following resources:
These articles will have even more information that you can use to build better, smarter, and more profitable PPC reports.