Are you looking for the best Facebook Ads report tools to see a larger return on ad spend (ROAS)?
Facebook Ads can be one of the biggest drivers of revenue for your company. But, it can also be one of the biggest budget wasters.
What usually makes the difference? Relying on data to improve your paid ad strategy.
With the right data, you can see what your audience is or (more importantly) isn't responding to. And over time you can refine your ads to get more clicks, conversions, and sales.
That's why, in today's post, we're going to show you 8 of the best Facebook Ad reporting tools to help you drive more revenue.
Let's dive straight into the list.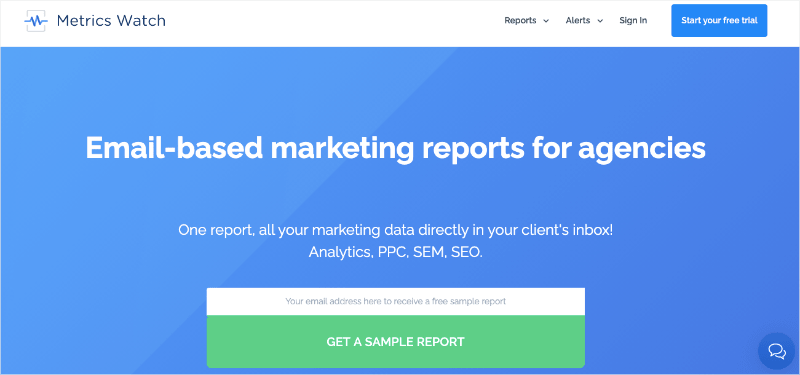 Metrics Watch is one of the best reporting tools on the market and the perfect solution to track your Facebook Ads.
With this tool, you can pull data from all of your favorite marketing platforms, such as:
Google Analytics

Google Search Console

AdWords

Facebook (organic and paid ads

LinkedIn (organic and paid ads)

Instagram (organic and paid ads)
And more. Plus, Metrics Watch reports are built with a drag and drop editor, so you don't need any coding experience or technical skills to get started.
Simply connect your accounts, select the KPIs you want to track, and create stunning reports to send to your team or clients.
The best part is that when you share these reports, you're looking at the least amount of friction possible. That's because many report-sharing tools will send reports via PDF or 3rd-party URLs that require login management.
But with Metrics Watch, you'll send reports directly to your recipients' inbox, automatically, on a daily, weekly, or monthly basis.
That lets you get the data you need in a format you already know.
Want to see it in action for yourself? Click below to start you 100% FREE trial today (no credit card required):
Start Your Free Trial Today!
2. AdStage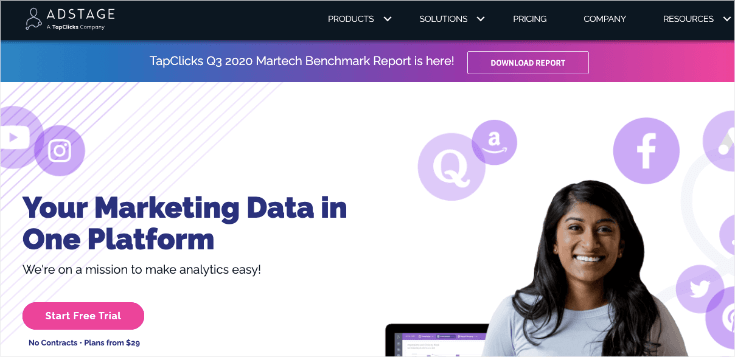 From the team at TapClicks, AdStage is an analytics tool that specializes in social media advertising and PPC campaigns.
As well as Facebook Ads, AdStage integrates with a wide range of digital marketing platforms, meaning you can see all your data in one place. You can also use it to schedule ads and to set up optimization rules to manage your spend.
Pros
Email alerts help you proactively manage campaign performance

White-label reports are available, so you can add your own branding

Drag-and-drop dashboard building tools are quick and easy to use

Display ad creatives within reports so you can instantly see the performance of each ad variation
Cons
You can schedule reports to go via email with AdStage, which is a useful feature. Unfortunately, reports arrive as email attachments or a URL, which means there's an extra step involved before you can actually see your data. This makes the process a little clunky.
Pricing
You can try AdStage for free for 14 days. After that, plans start from $149 per month.
3. Madgicx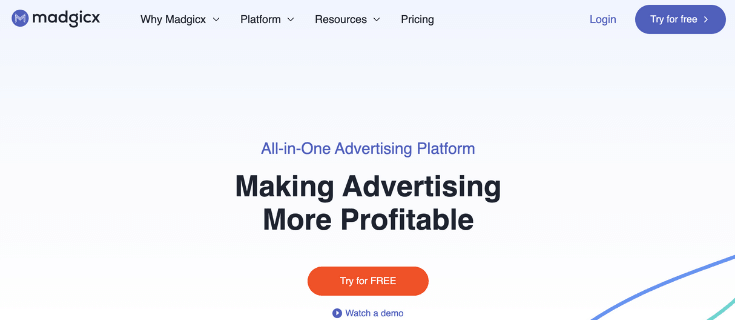 Madgicx aims to be an all-in-one advertising platform, with reporting, analysis, and ad management tools. It helps you optimize Facebook Ad campaigns, track your performance, and improve your ROAS.
Madgicx integrates with Instagram and Google, as well as Facebook. Backed by AI, it provides tools to analyze your ad copy and creative, optimize your budget, and discover your most profitable audiences.
Pros
The Ads Manager gives you a visual way to track and compare ad performance

Filter your metrics by audience segments to analyze how well campaigns work for different audiences

Monitor your ROAS and other key campaign KPIs

White-label reports let you add your own branding
Cons
The integrations that Madgicx currently offers are a bit limited, so you won't be able to bring data from Google Analytics across to complement the metrics from Facebook Ads.
Pricing
A 7-day trial is available, so you can try Madgicx before committing. Paid plans start from $49 per month.
4. Quintly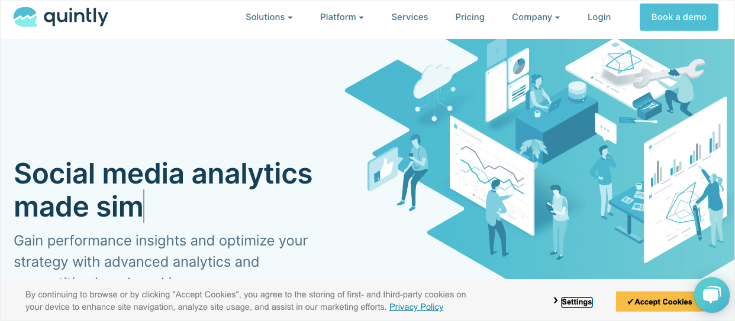 Quintly is a social media analytics and reporting tool that will help you get the best performance from your Facebook ads. It also integrates with Twitter, Instagram, LinkedIn, YouTube, SnapChat, and TikTok.
With a wide range of different metrics available, Quintly lets you build and share reports and analyze your Facebook Ad campaigns.
Pros
Combine ad data with data from organic posts to get a holistic view of your Facebook marketing

Co-labeling options mean you can add your own branding to reports

Social media benchmarking tools let you rank yourself against competitors

The metrics library makes building dashboards and reports easier
Cons
Quintly only covers social media metrics. That's fine if you just want to monitor your Facebook Ads, but if you want to combine data with Google Ads or Google Analytics, you'll need an additional reporting tool.
Pricing
Pricing for Quintly is in euros – their HQ is in Germany. But they offer custom plans anyway, so you'll need to get in touch with them for a quote. They say plans start from €300, which is about $355 at the time of writing.
5. AdZooma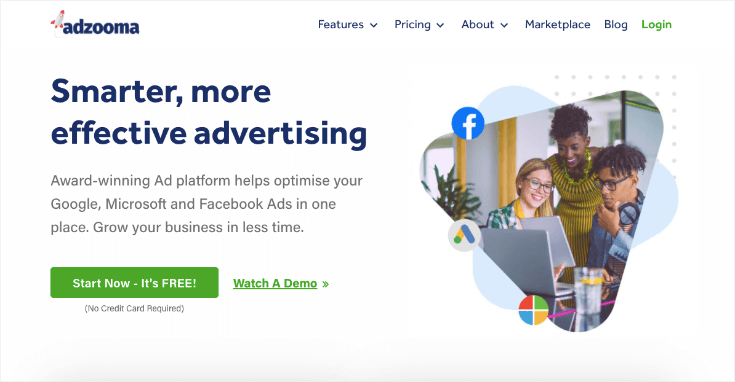 Combining reports and analytics with tools to help you optimize your Facebook Ad campaigns, AdZooma gives you everything you need to improve your ROAS.
It integrates with Google and Microsoft, as well as Facebook, so you can combine metrics from different digital advertising platforms. AdZooma also gives you targeted suggestions and you can use its rule-based automations to manage your budget.
Pros
Template automation rules make it easy to get started

Create report templates to send quickly to clients or team members

Add unlimited accounts for free

Add your own logo to reports
Cons
Although you can set up report templates that will update automatically, there's no option to schedule reports by email with AdZooma, so you will still need to share these manually.
Pricing
AdZooma is free to use. There is a paid version for agencies and SaaS companies that gives you access to AdZooma's marketplace, but the reporting and management tools are all free.
6. AdEspresso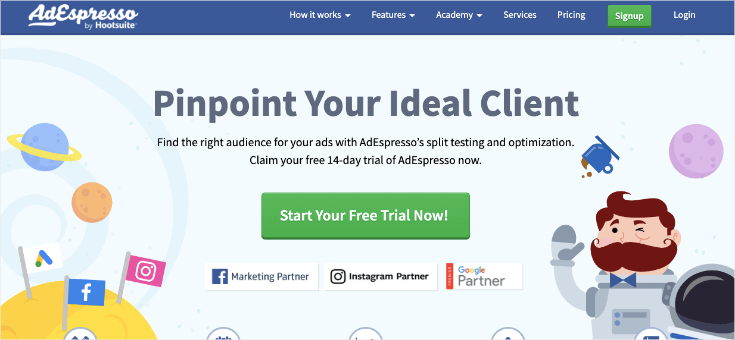 Brought to you by the team behind Hootsuite, AdEspresso is dedicated to getting you a better ROAS by giving you insights to optimize your Facebook advertising. It also integrates with Instagram Ads and Google Ads.
As well as reporting, AdEspresso has A/B testing tools, optimization rules to manage your budget, and the option to create retargeting campaigns.
Pros
Compare tools let you see metrics for different campaigns side by side

Integrates with Instagram and Google Ads

Campaign tags make it easier to report to multiple clients

Optimization tips help you identify underperforming ads
Cons
White-label reports are available, but only on the more expensive plans. Some users have also commented that customer support could be better.
Pricing
AdEspresso offers a 14-day free trial to get you started. After that, the Starter plan is $49 per month, which is billed annually.
7. Swydo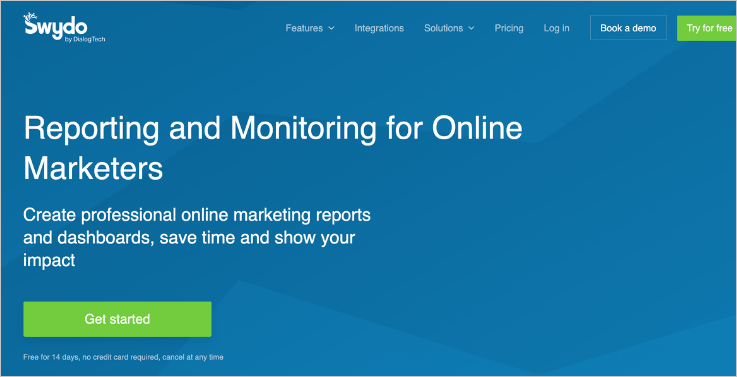 Swydo integrates with a range of digital marketing platforms, including Facebook Ads. It is particularly aimed at agencies and has tools to help you report to multiple clients from one place.
Swydo offers both online dashboards and automated reports. It will help you maximize your ROAS by keeping careful track of all the major KPIs.
Pros
Pre-built templates available to help you get started

Set goals and track KPIs against them

Add your own branding with white-label reports

Combine Facebook Ad metrics with data from other digital marketing platforms
Cons
Being able to automate reports is a great feature, but the sharing options are limited to a PDF attachment or a URL. I find both clunky ways of passing on reports, especially if you want to be able to update team members or clients quickly.
Pricing
After a 14-day free trial, Swydo's plans start from $75 per month.
8. Qwaya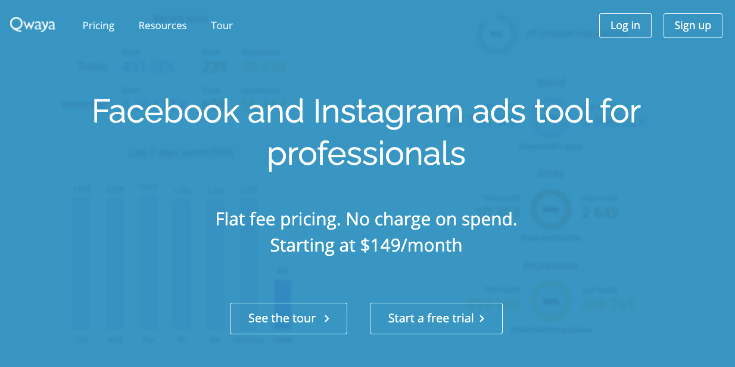 An ad management tool, Qwaya integrates with both Facebook and Instagram. It lets you schedule Facebook Ads, do split testing, and set up campaign rules to pause underperforming campaigns.
Qwaya also lets you set up tracking URLs directly within its platform, which is a nice feature. And you can organize campaigns into different folders, making it easier to track individual campaign performance.
Pros
Graphical reporting helps you see the performance of different campaigns at a glance

The URL builder means you can easily track click-throughs to your website in Google Analytics

Save ad templates and target audiences to make it quick to schedule future campaigns

Manage your budget effectively with ad and campaign rules
Cons
Although Qwaya gives you lots of management tools for Facebook Ads, the reporting tools aren't as in-depth as many other options. You also can't schedule reports and the only export option is to Excel.
Pricing
After a 14-day free trial, Qwaya starts at $149 per month.
And that's it for today! These have been 8 of the best Facebook Ad reporting tools on the market.
We hope you enjoyed this article. If you did, you might want to check out the following resources:
These posts will have everything you need to create a stronger paid ad strategy and drive more revenue for your company!