Klipfolio vs Data Studio vs Metrics Watch - which one will best help you achieve your business goals?
Picking a marketing report tool is easy. After all, there are hundreds of great options out there offering similar features.
But choosing the right tool that fits the specific needs of your business and your clients is a little harder.
Klipfolio, Datastudio, and Metrics Watch are all excellent tools, but with some key differences. So today, we're taking a close look at each product to help you find the right one for you.
We'll look at:
Who is each product best suited for?

What are its key features?

How much does it cost?

What are the pros & cons?
We're confident that by the end of this article, you'll be armed with the information you need to pick the option that's right for you.
Ready? Let's dive in.
What is Klipfolio?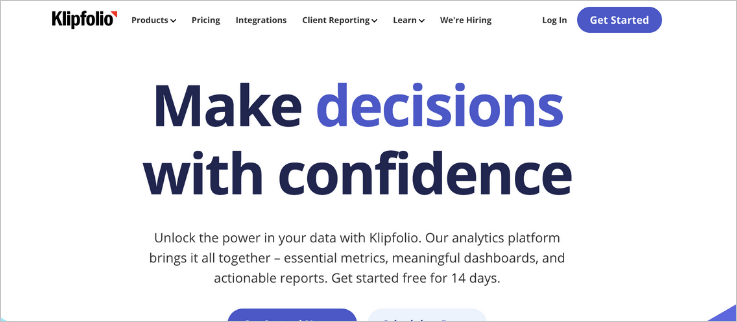 Klipfolio is a cloud-based dashboard reporting tool, whose ethos is that data is powerful when shared (amen to that!).
Users can create comprehensive marketing dashboards by combining data from multiple data sources and real-time data (or close to it, depending on which plan you choose) to help you make data-driven decisions for your business.
Dashboards can then be shared with your team or clients via a private URL. Users can also be granted access to dashboards as viewers or editors, making collaboration easy.
Klipfolio has 2 main products to cater to both agencies and in-house marketing teams.
PowerMetrics: for you and your team

Klips: for client management
Both options have similar features, including drag & drop dashboard builders, custom metrics, custom calculations, plus various graphs and charts to visualize data. However, Klips has additional features specifically for agencies.
Depending on which Klips plan you choose, you'll get access to:
Up to 70 dashboards

Options to add your logo and custom domain

Priority support

Custom theming

Up to 15mins data refresh

And more…
PowerMetrics users also have the option to export dashboards as a PDF to share data, though each plan has unlimited users with view-only access.
Pros
Connects with 100+ integrations

Targets can be set to monitor your goal progress

Users can create custom calculations

Free PowerMetrics plan available
Cons
There are few upfront pricing plans for agencies. Only the Agency Starter plan has a price viewable on their website.
Agencies must contact Klipfolio to find out the price of their Lite, Pro, and Premier plans, despite the features of each being listed.
It's common to have to contact a company about their top-tier plan, as it can be catered to meet your specific needs. However, not displaying the price of the mid-tier plans takes away your ability to compare pricing tiers (and other tools) without a commitment to Klipfolio's sales team.
Finally, data is only sharable via a link or by email as a PDF attachment, adding friction to the user experience.
Pricing
PowerMetrics plans start at $139/mo, but Klipfolio offers a Free plan with limited features.
Their plans for agencies, Klips, start at $49/mo. But as we discussed above, Klipolio doesn't provide any upfront pricing for the other 3 pricing tiers on their website. So you will need to contact their sales team directly for more information.
What is Data Studio?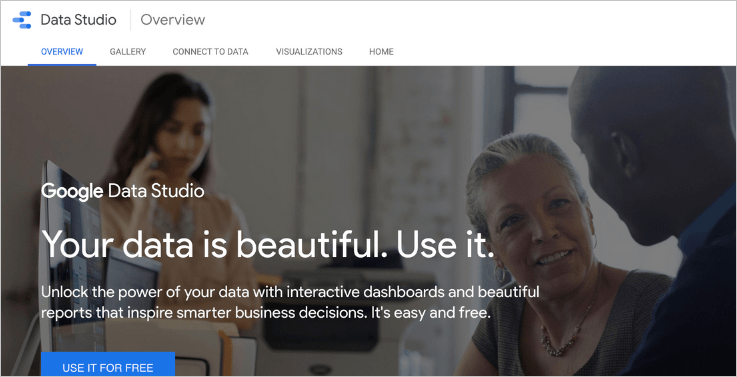 Data Studio is Google's free data visualization tool. It lets you turn your marketing data into easy-to-read dashboards and reports using a drag-and-drop editor.
Pull data from your other Google sources (e.g. Google Analytics, Adwords, YouTube, Google Sheets, etc) to track every aspect of your marketing campaigns.
There is also the ability to integrate with non-Google products. However, this is a premium feature that you will need to pay for.
Data can be shared in various ways with your team or clients. You can:
Invite people to view or collaborate with a dashboard

Schedule an email to send a report as a PDF attachment

Send a link

Download a PDF

Embed a report on another site

Share reports on social media
Google also has an extensive knowledge base for Data Studio, providing plenty of training videos and other resources to get you started.
Pros
Pull data from other Google tools easily

Integrates with third party databases and platforms

Include links and clickable images to create product catalogs, video libraries, and more

It's free!
Cons
The fact that Data Studio is free is amazing! However, most marketers and agencies will want to track data from a wider range of sources, like social media, email marketing automation tools, etc.
The downside is that connecting third-party apps will cost you extra.
That said, the free version is still a great option for those on a budget or just looking to track data from Google products only.
Also, as we've seen with Klipfolio, data can only be shared externally via a link or by emailing a PDF attachment.
If your team routinely works with Google accounts, then this isn't a big problem, since they can be granted viewer or collaborator permissions. But if you're looking to share reports externally, then this creates an unnecessary layer of friction between clients and their data.
Pricing
Data Studio is free to use, but as discussed above, you'll need to pay extra if you want to include data from non-Google sources in your dashboards or reports.
What is Metrics Watch?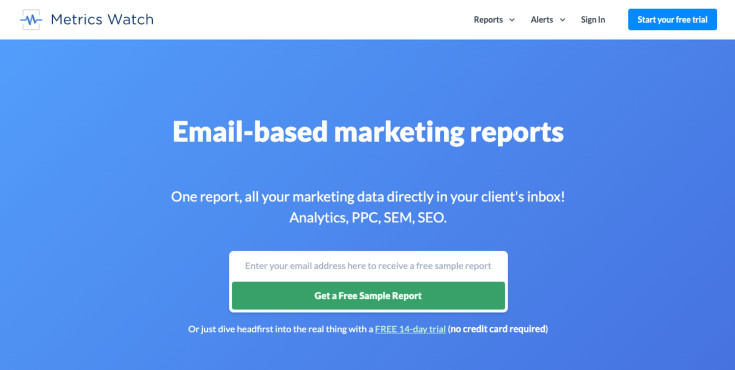 Metrics Watch is an email-based reporting tool that lets you send marketing reports without the need for PDF attachments or links.
Instead, reports are displayed in the body of the email itself. This allows recipients to view data on any device, at any time with ease.
Users can create comprehensive reports by pulling data from multiple marketing channels, including:
Google Analytics

Google Search Console

Google Ads

Facebook

Instagram

Mailchimp

And more…
Build professional marketing reports fast using the drag-and-drop editor without any coding experience.
Users can combine widgets to create their perfect report, using graphs, charts, lists, single metrics, and more to visualize their data and tell their story.
Metrics Watch also has an ever-growing library of customizable templates designed to help you save time or to use as a source of inspiration.
Reports can be scheduled daily, weekly, or monthly with insights added automatically, so you can easily track the progress of your marketing efforts.
All plans come with white-label options to add your logo, color schemes, custom domains, and a concierge service for support.
Agencies needing to send identical reports for multiple clients can do so quickly via the API or with a simple CSV file, making it possible to send 100s or 1000s of reports with ease.
Pros
In-body email reports eliminate the need for PDFs or links to dashboards

White-label options and concierge service with every plan

No coding experience needed

An ever-growing library of customizable templates

Continually adding to the list of integrations
Cons
Email-based marketing reports don't allow users to view real-time data, but most organizations don't need up-to-the-minute data (as we'll look at below).
Pricing
Plans start at $29/mo. Metrics Watch offers a 14-day free trial (no credit card required).
Start Your Free Trial Today!
Marketing Dashboards vs. Reports: Which is Best?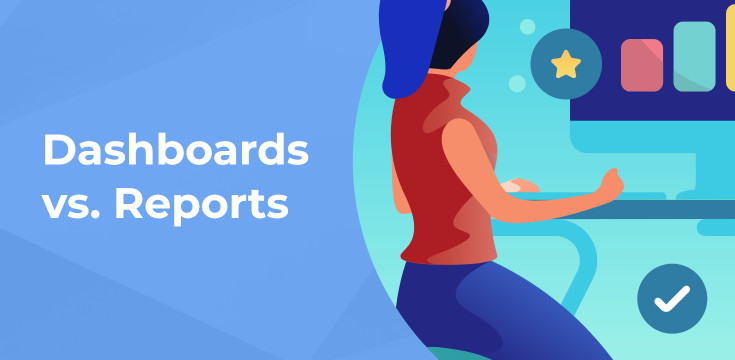 The main difference between Klipfolio, Data Studio, and Metrics Watch is the way that data is shared.
Klipfolio and Google Data Studio are marketing dashboard tools, whereas Metrics Watch is an email-based marketing report tool.
So what's the difference, and which is the best option for you?
The cool thing about marketing dashboards is that they allow users to view real-time data. While this is useful for a small percentage of businesses, most don't actually need to check their data every hour.
We love data. But data is only useful when it can be acted on.
The best way to do that is to ensure that the people who need to see the data see it at a time when they have the resources to take action.
People are busy, so asking them to log into a 3rd party dashboard becomes an extra chore on a long list of things to do. And if someone forgets to log in to their dashboard, then they risk missing important changes in trends and opportunities.
That's why we built Metrics Watch…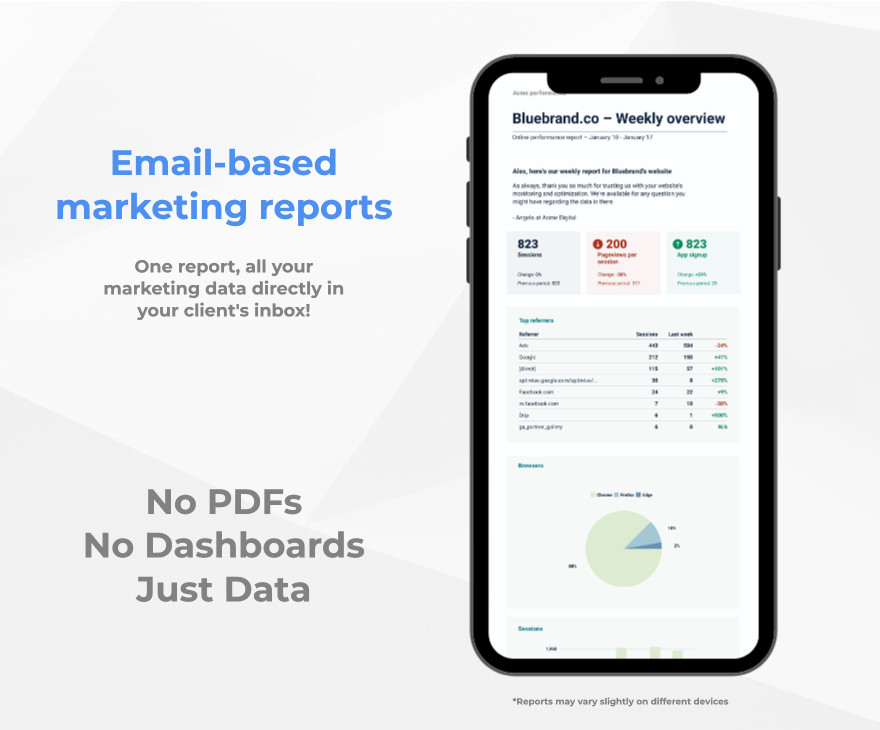 Our goal is to build the ultimate reporting tool that lets marketers view their data in the easiest way possible, to give them the power to make data-driven decisions and meet their business goals.
And the best thing about Metrics Watch is the way that data is shared:
No pesky PDF attachments

No 3rd-party dashboards
Because reports are displayed in the body of the email, recipients don't have to struggle through layers of friction to view their data.
Instead, they can get the information they need, in a format they already know and love.
This lets recipients view their marketing data quickly, on any device, at any time, making it easy to integrate into already busy schedules so they don't miss a beat.
Want to see it in action for yourself?
Get your free sample report below sent directly to your inbox, just as a team member or client would.
And that's it for today! This has been our comparison of Klipfolio vs. DataStudio vs. Metrics Watch.
We hope that this article has given you the information you need to pick the best tool to meet your needs. If you're still looking for more info about choosing a marketing tool, be sure to check out our other articles:
These additional resources have even more tips to help you pick the right tool to help you achieve your business goals.