Are you looking for the best Google Ads reporting tool to make sure you're getting the biggest bang for your buck?
Google Ads (formerly known as "Google Adwords") is one of the best paid ad platforms your business can use. Not only does it offer you the broadest global reach, but it gives you detailed Google Analytics reporting features to help you optimize your ad spend strategy.
But how can you accurately gauge whether or not the amount your spending on ads is leading to a larger return in profits (thus making your marketing efforts worthwhile)?
For that, you need a Google Ads reporting tool to help strengthen your marketing reports.
So, today, we have 7 of the best reporting tools available for Google Ads. Ready to get started?
Let's dive into the list.
7 of the Best Ads Reporting Tools
Here's a quick note before we start: As mentioned above, Google got rid of the "Words" in "Google AdWords" a little while back. However, many people still commonly use "Google AdWords" when referring to the platform.
For that reason, this post may use "Google Ads" and "Google AdWords" interchangeably.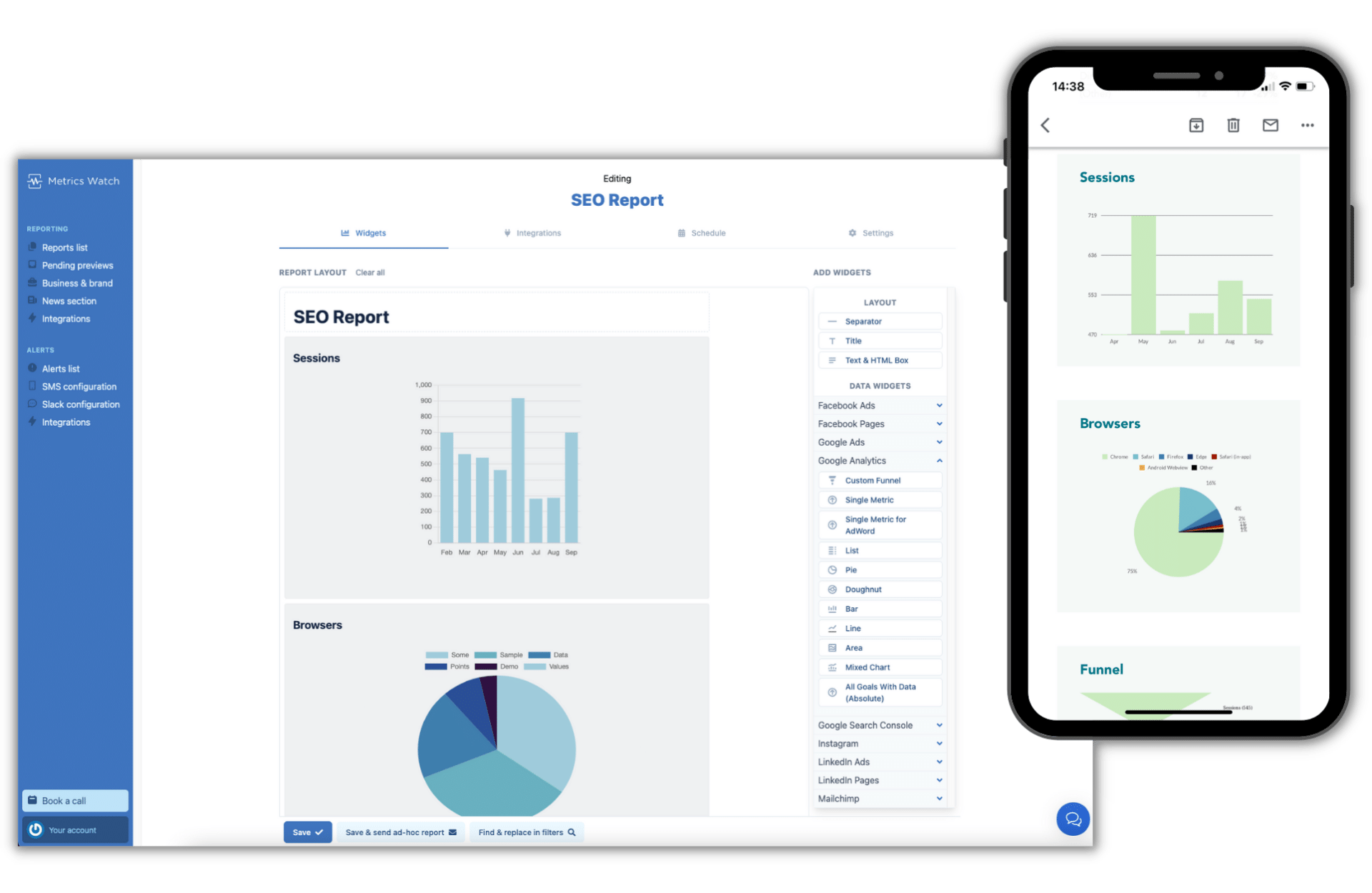 Metrics Watch is hands down the best Google Ads reporting tool around. That's because it will seamlessly sync your Google Ads data into a concise marketing GA report with KPIs from your other marketing platforms.
Then, your data is sent directly to your team or client's inbox.
With Metrics Watch, you don't need to be a statistician to create marketing reports that improve your ROI. Instead, you can simply use our drag-and-drop builder to integrate data from your favorite platforms (including Google Ads, of course).
Then you can automate the reports to be sent on a daily, weekly, or monthly basis. You can also use advanced segments to filter the data.
In the end, this will help you improve your overall marketing strategy and keep your team (or your client's team) on the same page.
Top features
Drag and drop builder

Integrates with other paid ad platforms like Facebook and LinkedIn

Pulls data from other major marketing platforms

eCommerce tracking

Automated reports

Custom branding on all reports

Free trial with no credit card required (which means starting at ZERO risk)
But one of the biggest advantages of Metrics Watch is that it sends the reports directly to the recipient's inbox. That means no PDF attachments to keep organized, and no assigning user roles so other people can access a 3rd party dashboard.
Instead, you can set up your standard marketing reports one time, and automatically send it to the people who need that data to grow your business.
Price

Monthly plans start at only $29/month.
Want to see it in action yourself?

Click below to sign up for your free trial with Metrics Watch (no credit card required):
Get your free trial today!
2. Whatagraph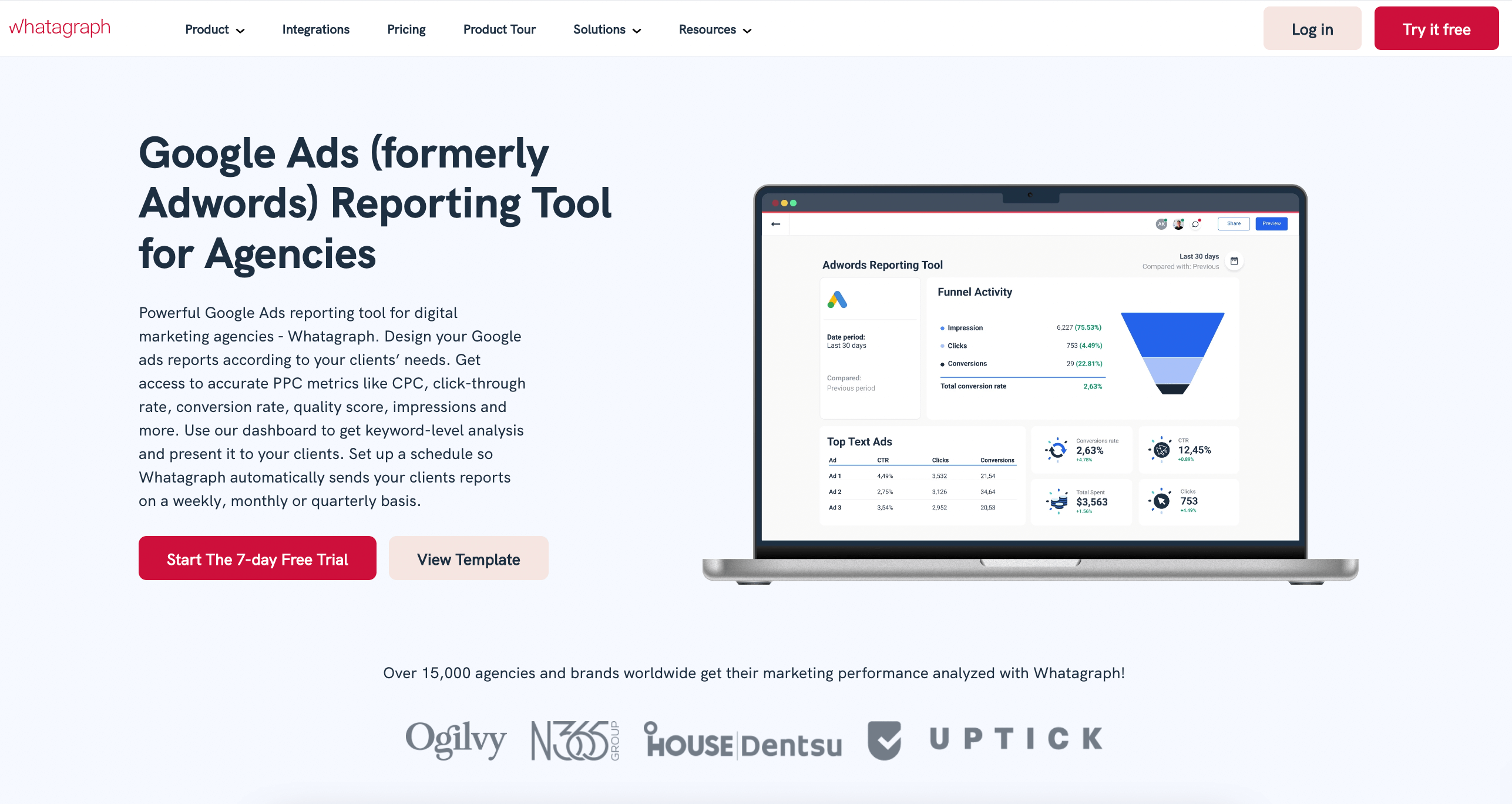 Whatagraph is a powerful Google Ads reporting tool that combines over 40 marketing data sources in one place so you can accurately and quickly report on your campaigns. You can use the Adwords report to get started in minutes or you can build your own custom report from scratch, using the intuitive editor.
Top features
Over 100+ report and dashboard templates

Cross-channel reports for easy reporting across different marketing platforms

Lots of editing options + white labeling for agency customers

Easy way to schedule report delivery
Cons
Plans may be a bit pricey at $199 per month, especially since you have to commit to an annual plan right off the bat
Pricing

Plans start at $199 per month, which gives you access to 25 data sources (Adwords included) and 5 seats on your team.
3. DashThis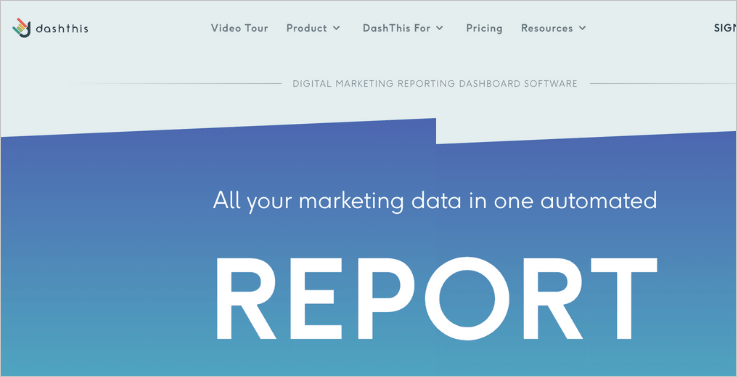 DashThis is another Google Ads reporting tool aimed specifically at marketers looking for an easier way to track metrics and build automated reports. It integrates with Google Ads, letting you track all your KPIs, including conversion rate, impressions, click-through-rate, cost-per-click, and cost-per-conversion.
DashThis works with Google Analytics too, so you can combine data from both platforms into one report.
Features
Can easily be linked with multiple Ads accounts

Report templates, preset widgets, and dashboard cloning let you set up new reports quickly

Option to add notes to reports to explain them to clients

White-label reports and dashboards let you add your own branding
Cons
The starter package only gives you access to three dashboards, so most marketers will quickly outgrow this option. You can upgrade to get more dashboards, but the price scales quickly, putting it out of reach for small businesses.
Also, the reports can be sent via PDF attachment or by a clickable link. Either way, you're adding an unnecessary step to accessing reports that some people, myself included, would find annoying.
Pricing: DashThis starts at $39 per month for the basic level, or $33 if you choose to pay annually. The next plan up starts at $129 ($109 for annual billing).
4. Klipfolio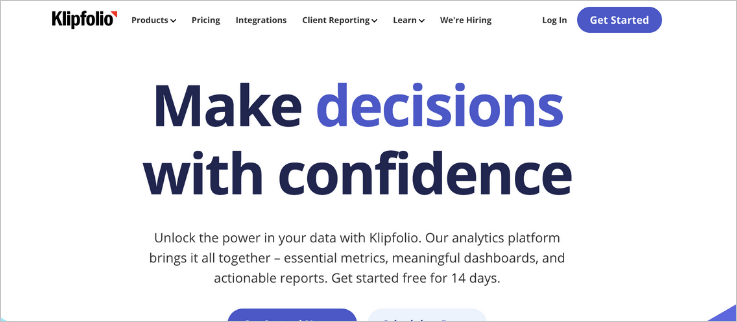 With a wide range of integrations available, Klipfolio lets you bring your Google Ads metrics together with data from other platforms to give clients a 360 view of how your marketing campaigns are performing.
Prebuilt metrics make report building easy so you can quickly report on KPIs, including conversions, click-through-rate, and cost-per-click.
Features
Prebuilt dashboards and metrics give you a quick way to create new reports

Ability to set targets lets you assess progress on your goals instantly

Can display metrics from other sources, including Google Analytics, on the same dashboard

Specific plans available for agencies
Cons
If you need to add metrics that aren't available as prebuilt options in the gallery, you'll need to build them yourself – and the learning curve is steep, which can be daunting for new users.
Plus, if you want to remove Klipfolio's branding from reports and dashboards, you'll need to pay extra for full white labeling.
Finally, like we saw with DashThis, reports are sent via link or as a PDF attachment which adds friction to the UX.
Pricing: For both businesses and individual agencies, pricing for Klipfolio starts at $49 per month. Upgrades unlock more dashboards and users, and lets you add your own logo.
5. AgencyAnalytics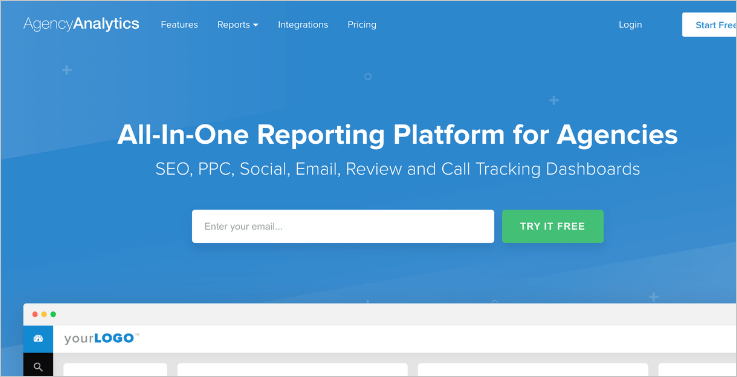 Aimed at busy marketers looking to easily combine all their metrics into one report, AgencyAnalytics is a user-friendly tool for reporting on Google Ads and other PPC campaigns.
With a particular focus on ROI, AgencyAnalytics also let you compare campaign stats over time, so you can track the effectiveness of any tweaks you've made. You can also monitor all the usual KPIs, such as conversion rate, click-through-rate, and impressions.
Features
Add comments and annotations to reports so your clients know what they are seeing

Plenty of different widgets and displays to let you customize your reports

Fully white label, with options to add your own logos, branding, and domain names

Drag-and-drop report building makes it user-friendly
Cons
The reporting options are clunky – you'll either need to schedule email reports that arrive as PDF attachments or get your clients to access their dashboard via a dedicated URL.
If your clients are like the rest of us, they're already trying to keep track of a thousand different logins and are unlikely to welcome another one.
Pricing: The basic plan is $49 per month, although you can get a 20% discount if you choose annual billing. It's a big leap to the next plan, though, at $149 per month.
6. Improvado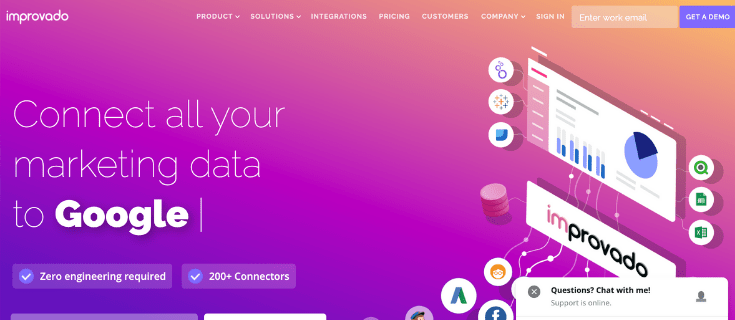 Improvado works a little differently from most of the AdWords reporting tools on this list. It almost acts as a digital go-between.
As well as offering its own customizable marketing dashboards to visualize your data, it can push the data to other visualization tools, including Tableau, Looker, and Google Data Studio. The idea is to give you a fully flexible tool for creating marketing reports.
Features
Access to a wide range of visualization tools to meet any reporting needs

It is easy to connect accounts and import data

Although the setup sounds complex, the intuitive interface makes report building easy

White-label dashboards let you customize client portals with your own logo and brand colors
Cons
There's more of an initial learning curve with this platform than with some other tools. It's set up to handle a wide range of different data sources, so if all you need is AdWords reporting with a few other platforms, it might be overkill.
Plus, report sharing is either via a URL or as email attachments, both of which are unnecessary steps for sharing information that someone might need quickly.
Pricing: There are no pre-priced plans for Improvado – you'll need to contact them for a custom quote which usually means it's on the pricier side. Not always… but usually.
7. Databox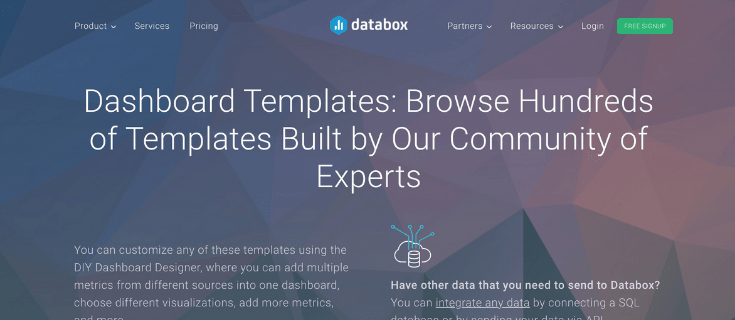 Databox is a data reporting and visualization tool that brings together all the key metrics that a company needs in one place. It has dedicated templates available to help you quickly build Google Ads reports, giving you an overview of key metrics or letting you dive deeper into a particular focus, such as ROI or keyword competition.
The dashboards can also be customized to meet your unique reporting needs.
Features
Pre-built dashboards make it easy to set up new standard reports

Set goals and receive alerts when you're going off-track

Add annotations and notes to your dashboards to bring clients' attention to key information

The free basic plan lets you start building Google Ads reports without needing to pay
Cons
If the out-of-the-box metrics don't meet your needs, building your own can be tricky. And if you want to add your own branding to client reports, you'll need to pay an extra $250 per month for white-label features.
Pricing: A free starter plan lets you access basic features. Paid plans start from $59 per month, which is on the pricier side. Discounts are available if you choose quarterly or annual billing.
Agency plans are available, but you'll need to contact them for prices.
And that's it!

These have been 7 of the best Google Ads reporting tools on the market.
Build Google Adwords Reports Today!
We hope you enjoyed this post. If you did, you might want to check out the following resources:
These articles will have even more helpful information to help you get the data you need to make smarter, data-driven decisions.