Are you looking for a few AgencyAnalytics alternatives to build better marketing reports?
AgencyAnalytyics is one of the most popular marketing report builders around. But, like any marketing tool in the world, it's not the right fit for everyone.
As such, people often ask me for my favorite AgencyAnalytics alternatives. So that's what we'll be focusing on for today.
Let's dive straight into our list of the best AgencyAnalytics alternatives that you can start using today.
10 AgencyAnalytics Alternatives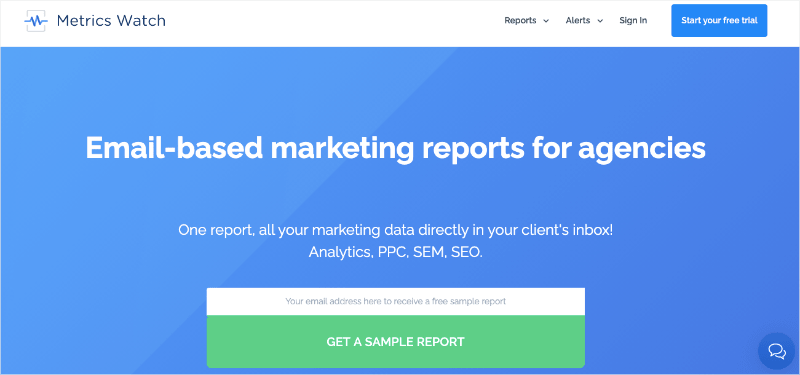 Metrics Watch is hands down the best AgencyAnalytics tool available. Not only does it have a drag-and-drop user interface to make report building easy, but everything can be set on autopilot.
That means once you build the reports with data from your favorite marketing channels, you can automatically share these reports on a daily, weekly, or monthly basis.
Features
Drag and drop builder

Integrate with all of your favorite marketing tools

White-label branding available

Custom integrations can be made, when needed

Affordable compared to other marketing report builders

And much more…
But the biggest advantage of Metrics Watch is that it takes all the friction out of report sharing.
So rather than sending tons of PDF attachments or reminders for your clients to visit their 3rd-party user dashboard, all the data they need goes straight to their email inbox.
This gets all the KPIs to the right people in a format they already know.
Want to see it in action for yourself? Click below to start your 100% risk-free Metrics Watch account today (no credit card required):
Start Your Free Trial Today!
Whatagraph is a marketing reporting tool for agencies and in-house marketers. Even if you have no experience with reports, you can use Whatagraph to create one in minutes, thanks to their report templates. Just connect your data sources and you're good to go. Besides the ease of use, there are some other benefits to this tool.
Pros
40+ data sources

Report white labeling

Personalized onboarding for each new customer

80+ report templates
Cons
The pricing may be too expensive for some teams. The main issue is that you have to pay annually, locking yourself into a lengthy contract period. In short, there is no flexibility to choose a monthly plan.
Pricing
The cheapest Whatagraph plan starts at $199 per month, giving you access to 25 data sources and 5 users on your team. This also unlocks unlimited reports and all 40 data integrations to choose from.
3. TapClicks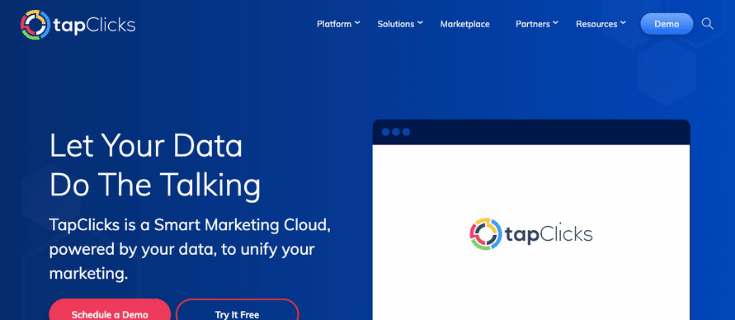 TapClicks has a full suite of tools available for digital marketers, including TapReports. This lets you build client reports and dashboards to showcase the performance of your online marketing campaigns. You can pull metrics from several channels together into one place, giving your clients a comprehensive view of their marketing.
Pros
White-label reports and dashboards mean you can add your own branding and logo

A comprehensive range of integrations is available

Competitor insights let you keep track of what your competition is doing

Workflow tools help you manage your tasks and collaborate with your team
Cons
If you want to customize reports and metrics for your clients, you'll need to make sure your plan includes the custom reports option. Some features are difficult to find at first until you get used to the navigation.
Pricing
TapClicks don't offer pre-priced packages. You'll need to contact them for a quote (which usually indicates it's on the pricier side).
4. NinjaCat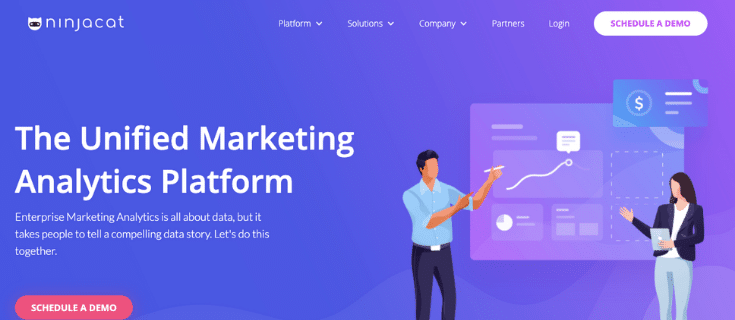 NinjaCat aims to make it easy for marketing teams to create visually appealing reports. With plenty of integrations, this tool helps you combine data from all your different marketing channels in one place.
Pros
Templates make it easy to report to multiple clients

Add your own branding to reports, dashboards, and emails

The high degree of customization lets you build reports the way you want them

Email alerts help you to stay up to date on campaign performance
Cons
Your clients need to have a login to access their dashboard, which is just another password for them to lose track of. Reports can be automated but go as email attachments, so there's an extra step needed before your clients can see their KPIs.
Pricing
NinjaCat offers custom pricing, so you'll need to contact them to discuss your needs. Again, this usually indicates pricier plans.
5. Klipfolio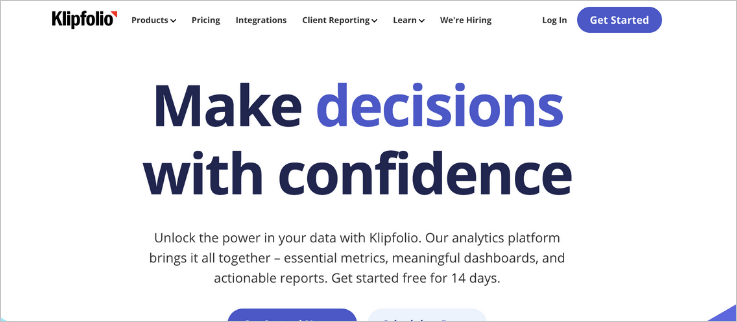 Klipfolio is a business intelligence dashboard and reporting tool that allows you to integrate your digital marketing campaign metrics with other business KPIs. With customizable reporting tools and data visualization, it helps you to track your performance easily.
Pros
A wide range of integrations is available

Lots of options to customize charts and widgets

White-label reporting options are available for agencies

Templates help you set up dashboards and reports quickly
Cons
There's a steep learning curve when you first start using Klipfolio, which may put less data-minded team members off. Although white-label reports are available, you will need to pay extra to access this feature.
Pricing
There is a 14-day free trial available to let you try the platform out before purchasing. The basic plans start at $70 per month, with discounts for annual billing.
6. Swydo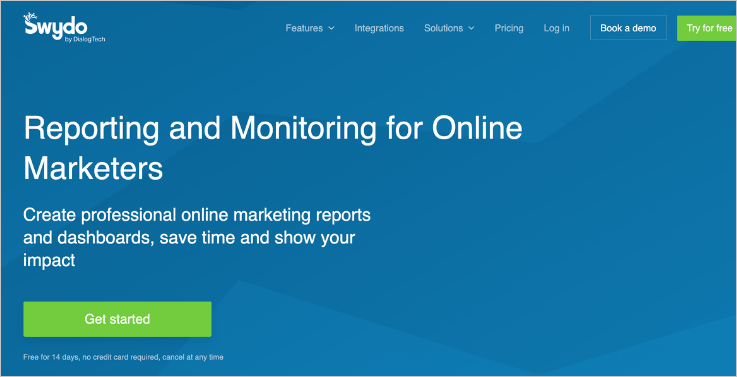 A reporting tool designed for digital marketing agencies, Swydo helps you monitor your social media, PPC, and email marketing campaigns.
It integrates with many of the most popular digital marketing platforms. You can also import data via Google Sheets or create your own custom integration.
Pros
Templates and prebuilt widgets make it quick to create reports

Build your own custom widgets if you need something different

Add your own logo and branding to reports

Task management and workflow tools help your team to work together
Cons
Swydo's automated report sharing options are limited to either a PDF attachment or a URL, making it less user-friend to share your KPIs with everyone who needs to see them. You also can't see a preview of what the different widgets will look like, so setting up reports can be a process of trial-and-error until you find what you need.
Pricing
After a 14-day free trial, Swydo's plans start at $75 per month. Discounts are available if you choose to pay yearly.
7. SE Ranking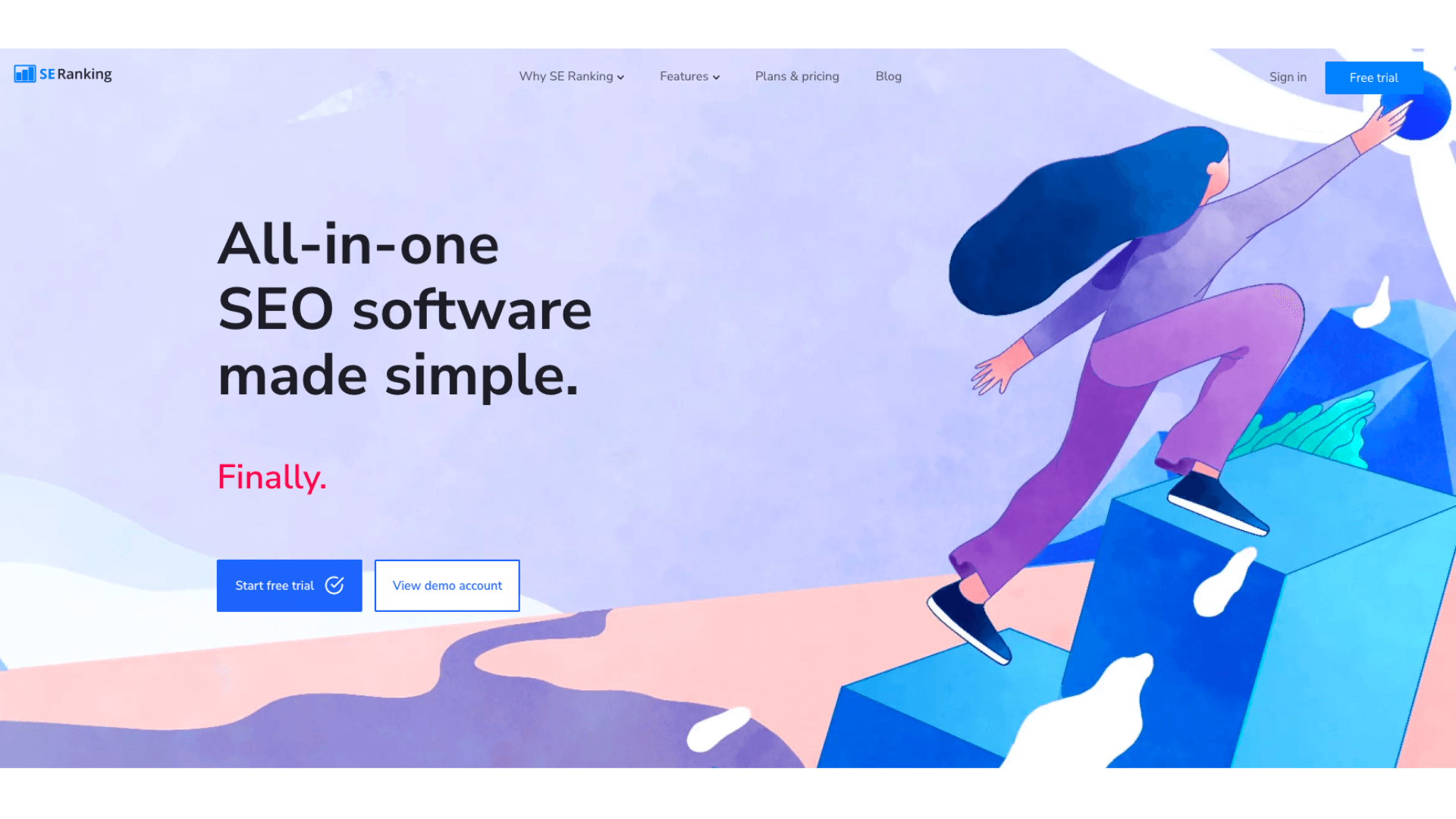 SE Ranking is integrated cloud-based SEO software suitable for growing organic rankings, website analytics, building killer marketing campaigns, and report building. With plenty of tools in one dashboard, the SEO reporting tool by SE Ranking makes it easy to gather data in a matter of seconds and organize it for clients in the way you like.
SE Ranking has an expanded list of website tools, deeper competitor research, and more B2B features compared to AgencyAnalytics. SE Ranking is an excellent AgencyAnalytics alternative for digital marketing agencies who need a 360-degree SEO analysis for clients in one dashboard.
Pros
White-label reports and dashboard

Ready-to-go templates make it easy to create multiple reports for clients

Customize, edit the report contents, and add comments to separate sections if needed

Send reports manually or schedule when clients should receive it

Advanced marketing data research and SEO analytics for reporting
Cons
SE Ranking's report builder is not a primary tool of the platform and lacks advanced features to customize reports. SE Ranking also has a limited amount of integrations and allows you to connect to Google Analytics and Google Search Console only.
Pricing
SE Ranking offers a 14-day free trial. White-label plans start at $89 per month. Discounts are available if you choose annual billing.
8. ReportGarden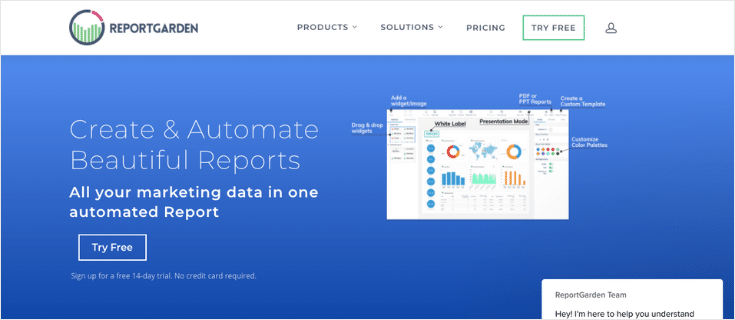 Tracking your digital marketing KPIs and budget is made easier with ReportGarden, which offers dashboards, reports, and SEO audit tools. You can even compare your own efforts with your competitors to keep you one step ahead.
Pros
Budget tracking tools help you keep control of your ad spend

Monitor your PPC, social, and SEO all in one place

Report templates can be customized to show the information you need

It's quick and easy to connect your digital marketing platforms to the tool
Cons
Adding filters to your reports can be tricky – you have to do it per widget rather than for the report as a whole. Although reports and dashboards are customizable, it isn't always intuitive to see how to do this.
Pricing
You can try ReportGarden free for 14 days. After that, the basic plan is $89 per month. You need to contact ReportGarden if you want to discuss a discount for annual billing.
9. OWOX BI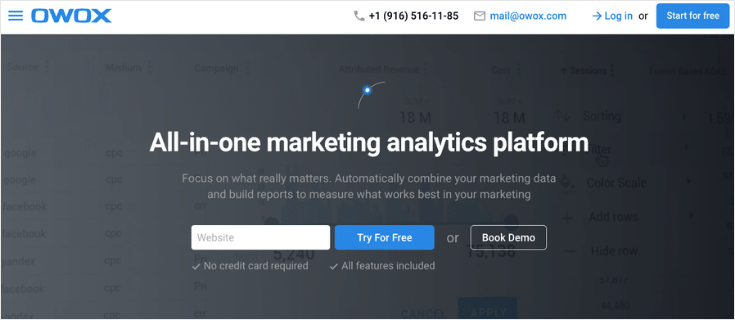 OWOX BI bills itself as an "all-in-one marketing platform". With a strong focus on ROAS, OWOX BI pulls data from different digital marketing channels and integrates with Google Analytics and Google BigQuery. It is set up to handle and analyze large amounts of data.
Pros
Integrates with most major PPC, call tracking, and social platforms, including TikTok

Data is stored and analyzed in Google Analytics and Google BigData

Imports cost data into Google Analytics

Also integrates with your CRM database, giving you a complete view of customer behavior
Cons
OWOX BI isn't the easiest option for beginners, as it takes a while to get the hang of how to use it. It is also a pricier option that is aimed at larger agencies.
Pricing
You can use OWOX BI to import cost data from one channel to Google Analytics for free. The cost increases depending on how many channels you want to integrate and how many users your website has. Accessing the full reporting features will set you back a minimum of $970 per month.
OWOX BI also offers a pricing package for agencies, which costs $99 per month.
10. Singular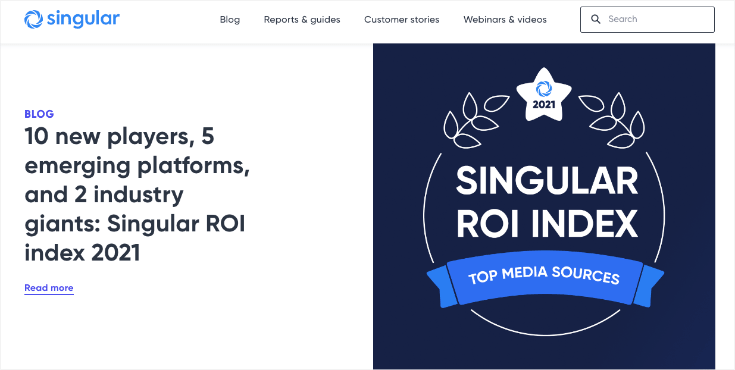 Singular is dedicated to helping digital marketers track and improve their ROI, with customizable dashboards and marketing analytics. With a comprehensive range of integrations available, Singular helps you keep track of all your data on one platform.
Pros
Displays ad creatives along with their performance metrics for easy analysis

Granular ROI reports let you drill down into your data

Customize metrics according to your needs

Set up email alerts for you and your clients
Cons
If you want to share reports with clients, you'll need to generate a URL and then email it to your client manually. Or you can export it as a CSV and email that instead. Either way, it is a time-consuming way of sharing reports, especially if you have lots of clients. Singular is also a pricier option.
Pricing
Singular offers a 30-day free trial. The standard plan is $999 per month, with a discount if you choose annual billing. This pricing model makes it suitable for larger businesses with big budgets.
Which Is the Best AgencyAnalytics Alternative?
I may be biased, but I genuinely believe that Metrics Watch is your best choice here. That's because we're the only marketing tool (that I know of) that allows you to send data directly to your customer's inbox.
Why are we the only ones that do? Because it's a pain creating reliable marketing reports that can be emailed–especially when you add graphics.
Most companies choose to send PDF attachments or URLs to 3rd-party dashboards.
With a little extra work, Metrics Watch was able to remove this friction from the report-sharing process and get the right data to the right people in a format they love.
Want to see it in action for yourself? Click below for your 100% risk-free Metrics Watch account (no credit card required):
Start Your Free Trial Today!
And that's it! These have been the best AgencyAnalytics alternatives that you can start using today.
I hope you enjoyed this post. If you did, you might also want to check out the following resources:
These articles will have everything you need to build more efficient marketing reports that will get you a larger return on investment (ROI) from your marketing and sales efforts.