Are you looking for the best rank tracker tools to optimize your SEO strategy?
Rank tracking is a key part of driving more organic traffic. In fact, 54% of all clicks on Google go to the top 3 search results. 
But how can you accurately track which keywords you're ranking for? 
**To do that, you'll need the right rank tracking tool. **
By knowing where your agency stands in the search engine results pages (SERPs), you'll be able to create smarter plans and target keywords better.
As a result, you can expect to get even higher rankings with search engines like Google and drive MORE traffic to your and your client's websites.
That's why we've created this list of the 10 best rank tracking software to help you start tracking your SEO results today!
Let's dive straight into the list.
10 Best Agency Rank Tracker Tools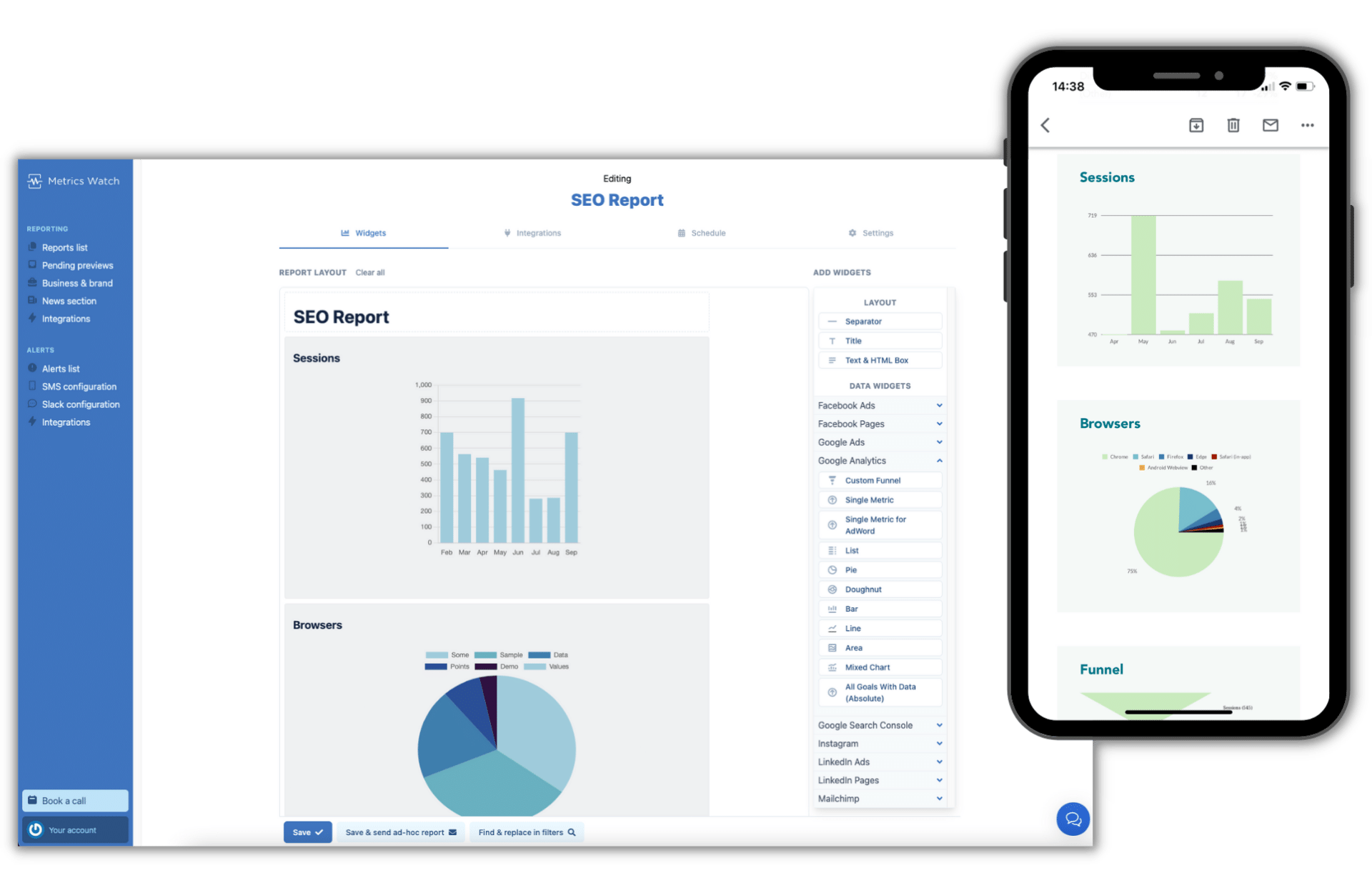 Metrics Watch is one of the best marketing report building tools available. That's because it allows you fully automate your SEO reporting by pulling KPIs from your favorite channels, including:
Google Analytics

Google Search Console

Google Ads

Google Sheets

Facebook

Instagram

And more…
Plus, it has a codeless visual drag and drop builder, so you don't need any technical experience to get started.
To follow your SEO rankings, simply integrate Metrics Watch with Google Search Console. Then you can build beautiful and professional SEO marketing reports in a matter of minutes.
And the best part…
Metrics Watch removes all unnecessary friction between marketers and their data by displaying your reports in the body of the email itself. That means no PDF attachments or external dashboards to log into.
Finally, you'll be able to send these SEO reports directly to your recipient's inbox on a daily, weekly, or monthly basis.
Pros
Drag and drop visual builder

Integrates with your favorite marketing channels

Automated data pulling and email sending

Reports go directly to your recipient's inbox

Pre-made templates to get started fast

No coding or technical skills required
Pricing
Paid plans start at just $29/month.
Start your 100% risk-free trial of Metrics Watch today - no credit card required!
Try Metrics Watch today!
2) SEMrush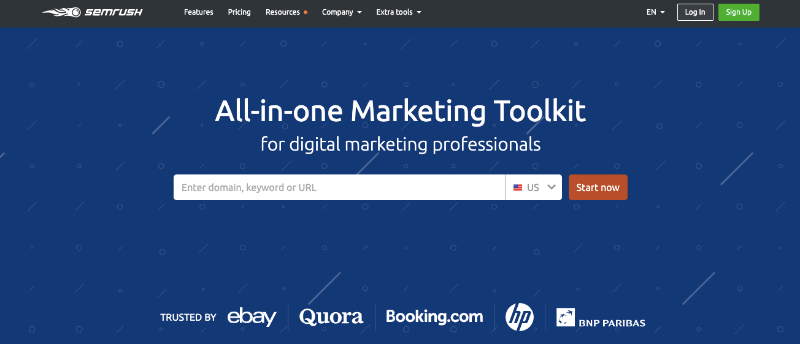 SEMrush is one of the best-known SEO tools, and for good reason. It offers a range of helpful features, including backlink analysis, keyword research, keyword rank tracking, local rank tracking, and technical SEO audits.
Other great features include being able to look at a keyword's search volume, difficulty, and your current ranking position. This makes it easier to target the right keywords, so you can rank higher in the SERPS.
And the SERP tracking tools give you daily updates on both keywords and domains, and you can compare your performance with your main competitors.
These are just a few of the reasons why SEMrush is used by SEO professionals around the world.
Pros
Offers a wide range of SEO tools

Includes insights into your competitors' performance

Alerts you to algorithm updates by tracking SERP volatility

Has a range of keyword research tools to help you boost your clients' rankings

SEO audits made EASY
Cons
With so many tools available, SEMrush can be overwhelming for new users. It takes time to get to know what is available and use it effectively. The price can also add up quickly for agencies with multiple clients.
Pricing
SEMrush offers a free version with limited features. Paid plans start at $119.95 per month. Most agencies will need the Guru plan at least, which is $229.95 per month. You can add the agency growth kit to any plan for $100 per month.
Honestly though, if you're looking for a tool specifically for keyword rank tracking, then this is a solid option.
Try Semrush today!
3) Serpstat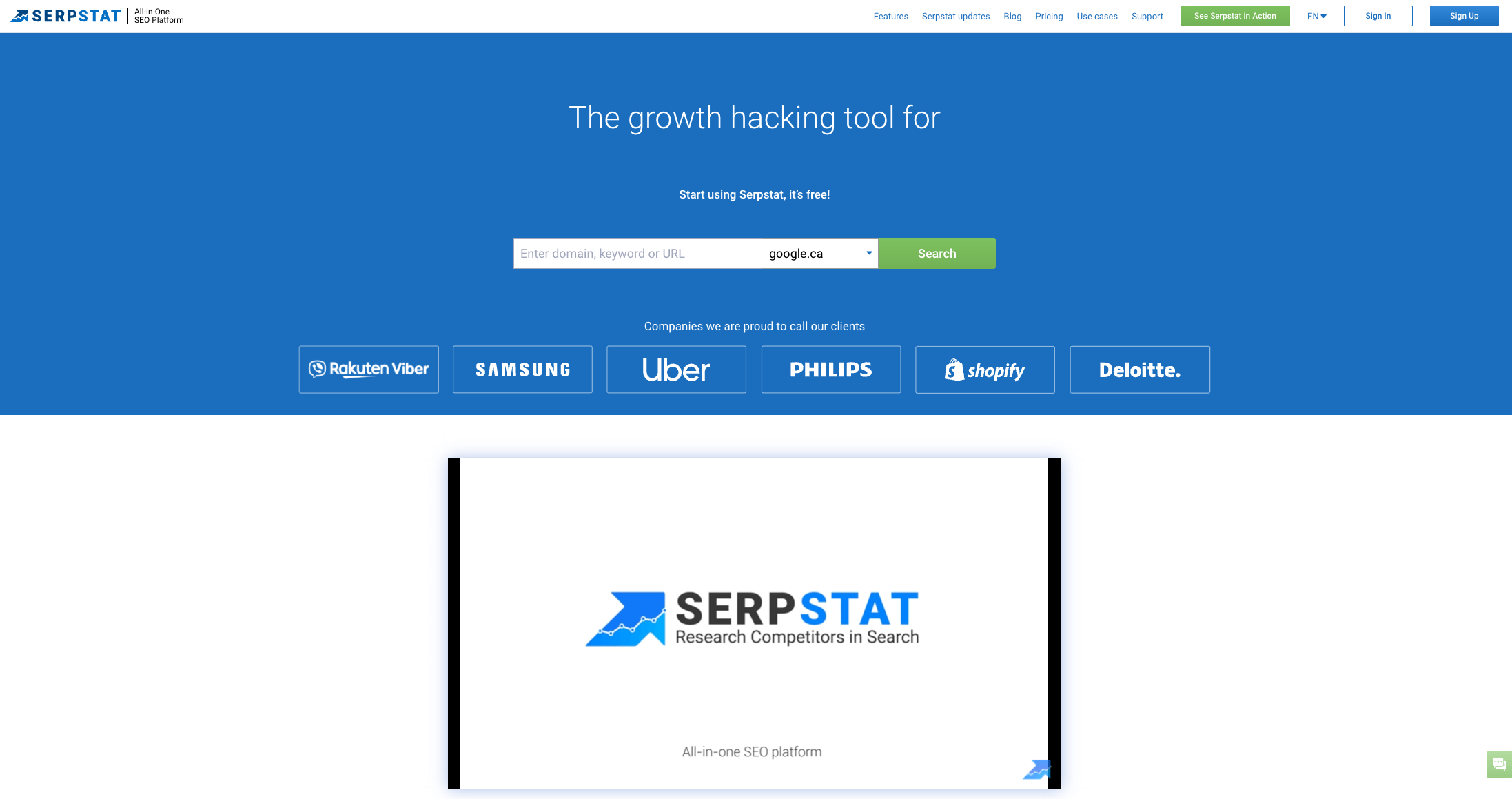 Serpstat is a one-stop shop for SEO + PPC reporting. Boasting an impressive 30+ marketing tools for; keyword research, site audits, competitor analysis, rank tracking, and more.
They've won multiple awards and are trusted by some of the world's biggest brands, including Samsung, Adidas, and Uber.
Pros
Global + local SERP tracker checks your site's mobile and desktop position in real-time.

Unique filtering options allow for in-depth competitor analysis and on-page optimization.

Track your competitors' market share by keyword and group them by tags.

Schedule reports for your team or clients daily, weekly, or monthly - accessible from any device.

White Label features available.
Pricing
Paid plans start at $69/month for their Lite plan (ideal for freelancers or in-house marketers). They also have plans for agencies who need access for multiple users and White Label reports.
Get an additional 5% off any Serpstat plan with the promo code: metricswatch_5
Try Serpstat today!
4) Google Search Console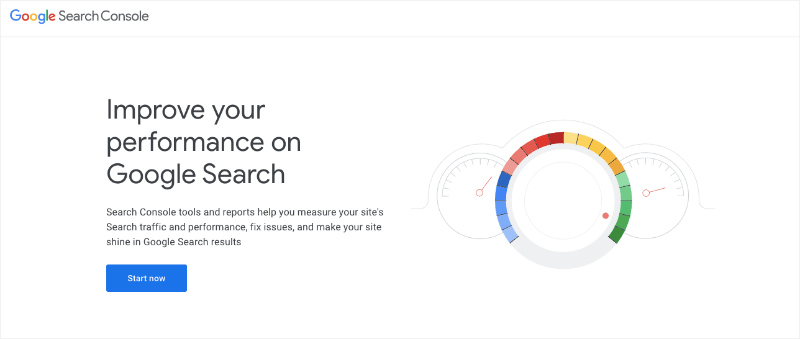 If your budget is tight and all you need are the basics, Google Search Console is a good starting point. You'll be able to see the search queries that your clients' websites rank for and monitor which targeted keywords get the most clicks. It also helps you identify and fix any technical issues.
Pros
Easy to set up and free to use

Integrates with other Google tools, including Google Analytics

Helps you identify and rectify any technical issues

Includes a backlink analysis tool
Cons
Although it has some useful features, Google Search Console is a basic SEO tool. It can't compete with the bells and whistles offered by most of the other options on this list. It will get you started, but you'll likely need an additional tool if you want to grow your SEO offering.
Pricing
Google Search Console is free to use.
Or just dive headfirst into the real thing with a FREE 14-day trial (no credit card required)
5) WooRank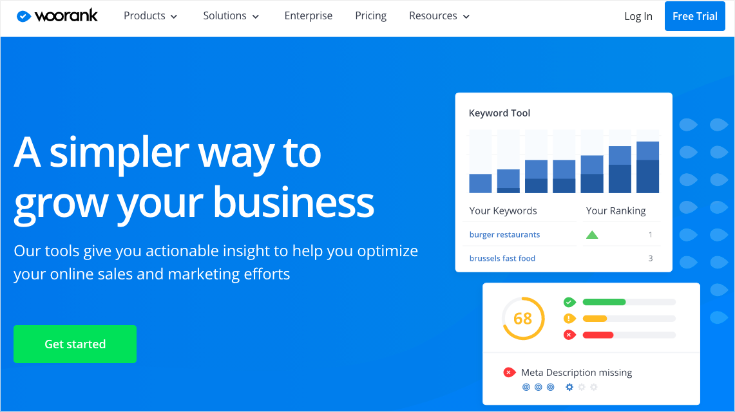 Need to identify areas for improvement on your clients' websites quickly and easily? WooRank does more than just track your rankings. It also performs site audits and provides reports with suggestions for how to fix SEO issues.
Pros
Track your keyword rankings and how they stack up against your competitors

Traffic light system helps you quickly identify areas for improvement

White-label reports let you add your own branding

Embed site crawl tools into your own website to generate new client leads
Cons
White-label reports aren't available on the cheapest plan. The number of keywords you can track with the Pro and Premium plans is also very limited.
Pricing
After a 14-day free trial, WooRank starts at $79.99 per month. Most agencies will be looking at the Premium plan at least, which is $199.99 per month.
Try WooRank today!
6) Moz Pro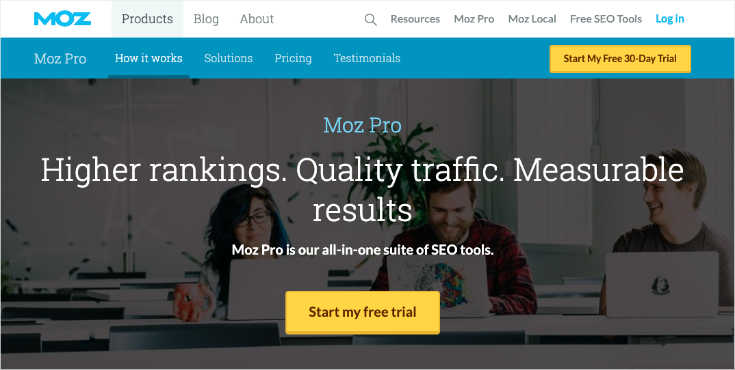 Track both your clients' rankings and their competitors' with Moz Pro, a suite of SEO tools that aims to help you make your marketing smarter. As well as rank tracking, Moz Pro offers site audits, backlink analysis, on-page optimization, and keyword research.
Pros
Includes a wide range of SEO tools within one platform

Gives you insights into your competitors and what is working for them

Compares results for mobile and desktop

Free Moz Bar tool helps you check the authority of other domains
Cons
The standard plan will only let you monitor three websites, so many agencies will find their costs scale quickly as they add new clients. Moz Pro can be complex to use, with a steep learning curve.
Pricing
Moz Pro offers a surprisingly generous 30-day free trial. After that, the standard plan is $99 per month. Most agencies will need one of the more expensive plans.
Try Moz Pro today!
7) Ahrefs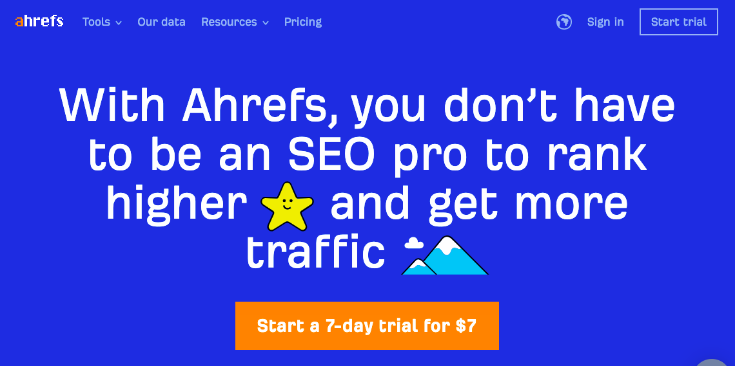 Tracking your clients' SERP rankings is much easier with Ahrefs, which offers a range of SEO tools. As well as keeping a careful eye on which keywords you are ranking well for, Ahrefs will help you monitor your competitors, carry out site audits, and research future keywords.
Pros
Tracks your ranking for rich results

Compares your performance with your competitors

Helps you discover gaps in your content

Offers filters and tags, so you can dive deeper into your ranking data
Cons
Ahrefs isn't cheap and its pricing is based on seats (users), as well as access to features. Agencies may outgrow the cheaper plans quickly. On standard plans, the ranking tracker only updates every 3 days. You'll need to upgrade if you want daily updates.
Pricing
Unusually, Ahrefs charge for their trial - $7 for 7 days. After that, paid plans start at $99 per month.
Try Ahrefs today!
8) Rank Ranger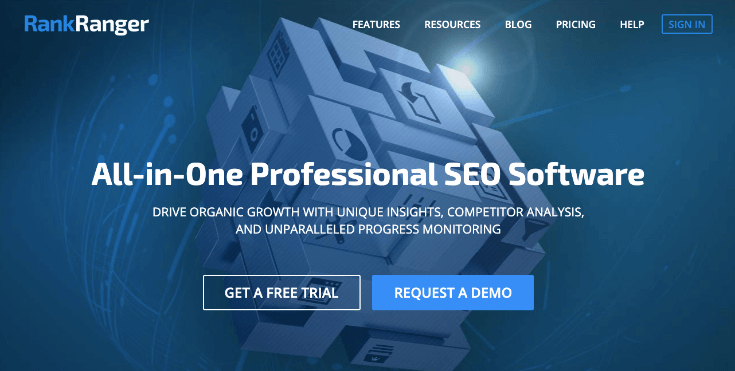 Rank Ranger is a custom SEO suite that aims to meet the unique needs of each of its users. Its rank checker helps you analyze a wide range of search engines. You can also use it to dive into local SEO, monitoring your rankings by city or zip code.
Pros
Track trends in your keyword ranking and compare them with your click rate

See your rankings by city or zip code, as well as internationally

Compare your performance with your competitors

Offer your clients white-label dashboards and unlimited ranking reports
Cons
Some users report that Rank Tracker runs slowly, and you can only pull results for one client at a time. If you have a lot of clients, this might make reporting a little tedious.
Pricing
You can try Rank Tracker for free for 14 days. Paid plans start at $79 per month and increase as you add more keywords and campaigns.
Try Rank Ranger today!
9) AccuRanker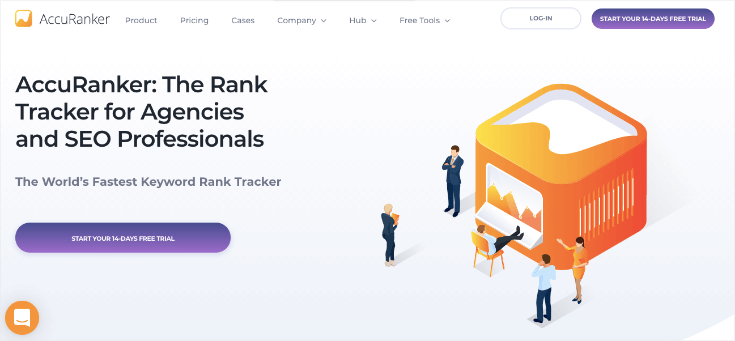 Agencies looking for a rank checker that keeps its focus on the SERPs and nothing else might like the single-mindedness of AccuRanker.
Instead of trying to be all things to all SEO experts, AccuRanker specializes in giving you fast, accurate rank tracking.
It's a simple and straight forward SERPs tracking tool that's trusted by companies around the world.
Pros
Rankings update on-demand, so you always have access to current data

Track your keyword position over time to see the impact of your SEO campaigns

Add segments and filters to your data to uncover vital insights

The free Google Grump tool helps you identify when Google's algorithm is undergoing changes
Cons
If you are looking for an all-in-one SEO tool, AccuRanker isn't the one for you. It will track your SERP position, but it won't help you with backlink tracking, keyword research, or site audits.
Pricing
AccuRanker offers a 14-day free trial. After that, the price varies depending on how many keywords you want to track. The minimum is $109 per month for 1,000 keywords.
Try Accuranker today!
10) SE Ranking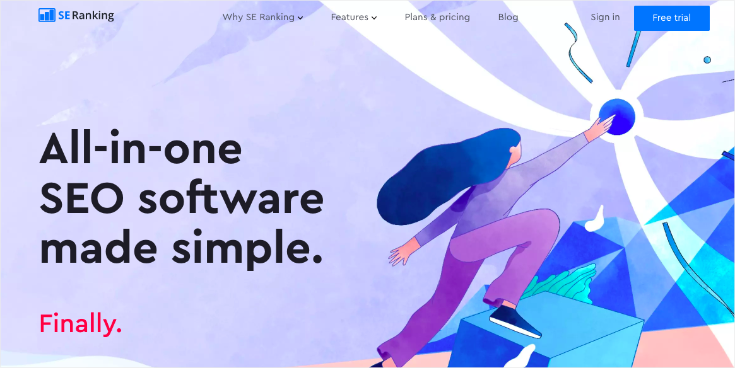 SE Ranking may be last on this list, but it's far from the least qualified to be here. This all-in-one tool has a variety of rank tracking tools to help SEO companies and small businesses alike. 
They have valuable tools insights for every stage of business, including:
Keyword rank tracking

Keyword research

Backlink monitor

Competitor research

On-page SEO checker

And more...
If you're looking for a flexible yet scalable software for your SEO campaigns, this is a great place to start.
Pricing
After a 14-day free trial, plans start at $49/mo with discounts available for longer subscription commitments and lower frequency ranking checks.
Try SE Ranking today!
And that's it!
These have been the best keyword rank tracking tools that you can start using for your business today.

We hope you enjoyed this post. If you did, you'll definitely want to check out the following resources:
Those articles will provide you with even more resources to increase your rankings and drive more organic traffic to your site today!
Build Automated Digital Marketing Reports Today!