Are you looking for the best DashThis alternatives to build your marketing reports?
DashThis is a popular solution for building and automating marketing reports. It can be used for your internal team or to send marketing reports to your clients.
But despite its popularity, DashThis isn't suitable for everyone. So, today, we're going to look at 7 DashThis alternatives you can use for your marketing reports.
Let's dive straight into the list.
7 DashThis Alternatives for Creating Marketing Reports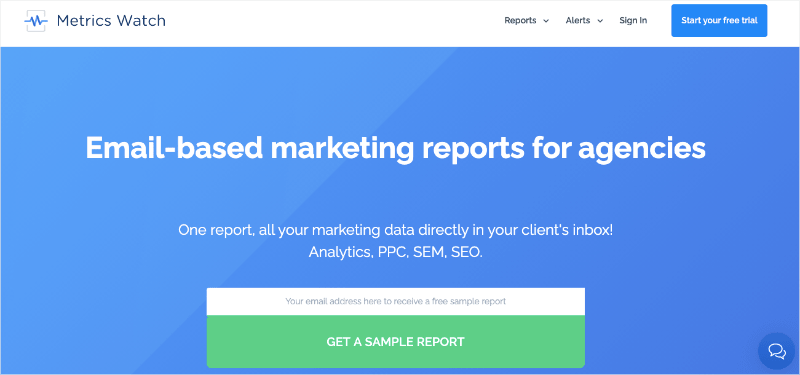 Metrics Watch is hands down the best DashThis alternative on the market. It integrates with your favorite marketing channel and allows you to build reports with a drag and a drop.
Then, you can select who needs the data and when to send automatic reports straight to their inbox.
This is important because it removes friction from the report sharing process. Other software, like DashThis, lets you share reports with a PDF attachment or a link to a 3rd-party user dashboard.
While these solutions can be OK, they also take added organization and are, frankly, unnecessary. That's why Metrics Watch gets rid of any extra steps, so you can get the right data to people in a format they already know.
Pros
Integrates with major marketing channels like Google Analytics, Google Search Console, Facebook, LinkedIn, Instagram, and more

Create reports more easily with a drag and drop builder

Put reports on autopilot to send on a daily, weekly, or monthly basis

Remove Metric's Watch branding for a white label solution
Cons
I built Metrics Watch to make marketing reports easier. But, as a small team, I didn't add every integration known to man. So, at first glance, some people may want to sync data from other marketing platforms that we don't have integrations for, yet.
That said we definitely build custom integrations upon request, so don't be shy!
Click below to start your 100% risk-free Metrics Watch trial today (no credit card needed):
Start Building Marketing Reports Today!
2. Whatagraph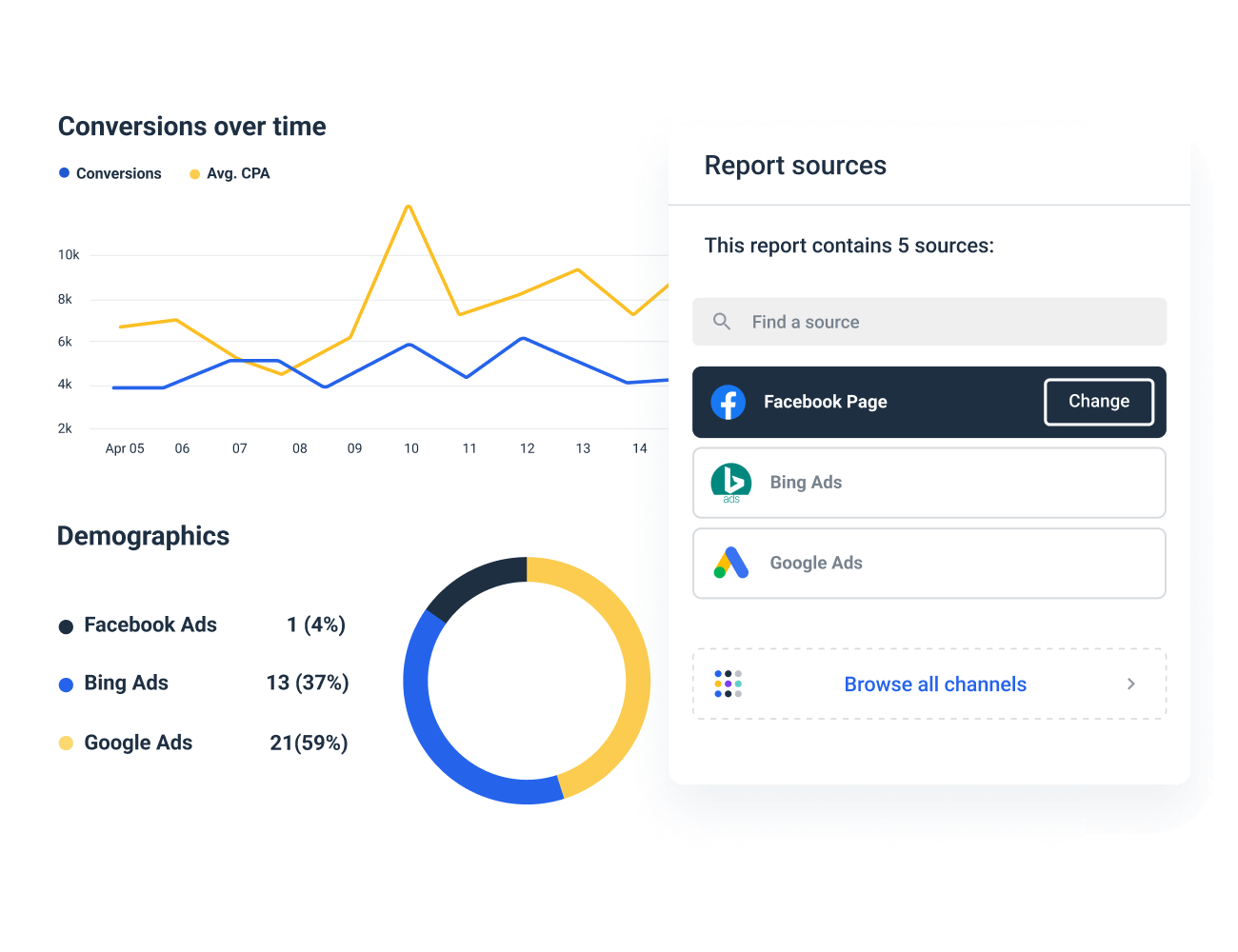 If you're looking for an intuitive and easy to use marketing reporting tool, Whatagraph is a good choice for many reasons. Used by in-house marketers and agencies, it has all the features you need to create beautiful marketing reports, even if you've never built one before.
As of 2023, Whatagraph also offers a data transfer feature which allows you to move marketing data from various sources to Google BigQuery, making it more appealing for users with more complex data needs.
Pros
40+ data sources

100+ report and dashboard templates

Advanced report customization features (including white labeling)

Custom formulas and tables
Cons
Annual subscription only which effectively means making a payment of $2,000+ to get started
Pricing
There is a free trial available for 7 days. Paid plans start at $223 per month, which gives you 5 seats on your team and up to 25 data sources.
3. AgencyAnalytics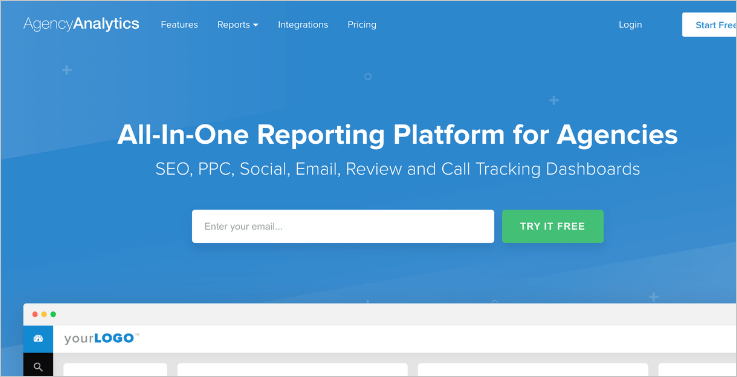 If you're looking for a tool that will handle some of your SEO needs as well as monitoring your digital marketing metrics, AgencyAnalytics is one to check out. It lets you build custom dashboards and reports, while also offering SEO tools such as website audits, rank tracking, and backlink monitoring.
Pros
A wide range of integrations means it works with most of your digital marketing channels

The click-and-drag report builder means you can quickly build custom reports

There's an option to add comments and annotations to reports to explain the metrics to clients

White-label branding allows you to add your own logo, brand colors, and domain
Cons
The white-label branding options are a bit limited if you are on the basic package – you can add your own logo and colors, but not a custom domain or email address.
The scheduled email reports arrive as PDF attachments, or your clients will have to access their reports via a URL. Both are clunky ways of sharing information and add an unnecessary step to the process.
Pricing
After a 14-day free trial. AgencyAnalytics pricing starts at $49 per month. Discounts are available for annual billing.
4. Adverity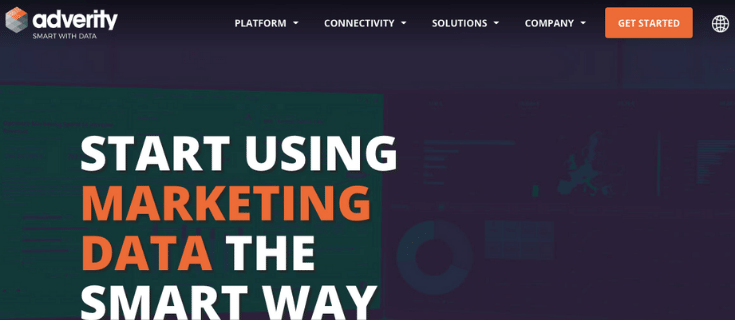 Specifically aimed at marketers wanting to make smart, data-driven decisions, Adverity integrates with an impressive range of marketing channels. It allows you to pull all the data from your digital marketing campaigns together in one place.
Plus, its AI-powered augmented analytics feature makes it easy to identify trends and apply marketing insights.
Pros
A wide range of integrations means all your data comes together in one place

The augmented analytics feature alerts you to trends and changes in data

There are plenty of visualization options to display your KPIs on your dashboards

You can set up email alerts to let you know when there is unusual activity on one of your marketing channels
Cons
If you want to share the reports from Adverity with a client or colleague, you'll have to get them to access the relevant dashboard via a URL. They're unlikely to remember to do this without a prompt from you, meaning you need to step up your transactional email game.
Plus, it's just another set of login credentials for your clients to keep track of. When they inevitably forget a password or login information, you'll need to re-organize and help them out.
Pricing
Adverity doesn't offer pre-priced packages so you will need to contact the sales team directly to discuss your needs and agree on a price. This isn't always the case, but that usually indicates it's a pricier software.
5. Megalytic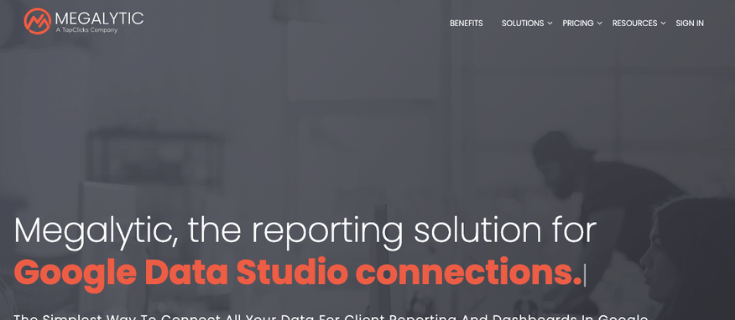 Megalytic was developed with digital marketing agencies in mind. It's a client reporting and dashboard tool that also offers an integration with Google Data Studio.
It pulls marketing data from several different sources, letting you display metrics from the Google Suite, as well as some social media, PPC, and call tracking platforms.
Pros
Building reports is straightforward and intuitive

White-label reports let you add your own branding

Reports can be sent in multiple languages, which is great if you work with clients around the world

Templates make it easy to set up new reports quickly
Cons
The integrations offered by Megalytic are fairly limited, especially for social media. Only LinkedIn Ads and Facebook connectors are available. Although there is the option to set up scheduled reports by email, they go as PDF attachments, which can be annoying to keep organized if you have lots of clients (or send lots of reports).
Pricing
After a 14-day free trial, Megalytic is $39.99 per month for the basic plan.
6. Geckoboard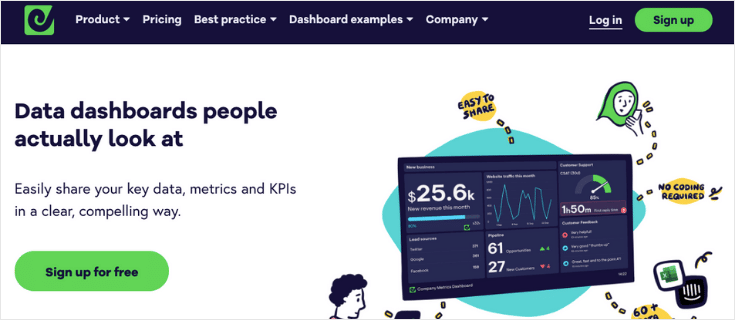 Geckoboard is a reporting and analytics tool that lets you combine your marketing data with other business metrics. As well as most of the major digital marketing channels, Geckoboard integrates with a range of accounting software, project management tools, and customer support platforms.
Pros
The intuitive, user-friendly interface makes it easy to build dashboards

Set customized goals and status indicators to see whether you are on target

Add your own logo to dashboards

Slack integration lets you share screenshots with your team easily
Cons
Geckoboard's sharing options are limited – while you can share dashboards via a URL, there isn't an easy way to schedule a report by email. You can send a snapshot of one of your dashboards by email, but only if you have a paid account with Intergromat and are willing to negotiate a time-consuming process to link Blueprint and Geckoboard together...which you will have to repeat for every dashboard.
If you thought that last sentence was long, just try going through the actual process.
Pricing
As well as a 14-day free trial, Geckoboard has a free plan that gets you access to one dashboard. Paid accounts start from $35 per month. Discounts are available if you choose to be billed annually.
7. Swydo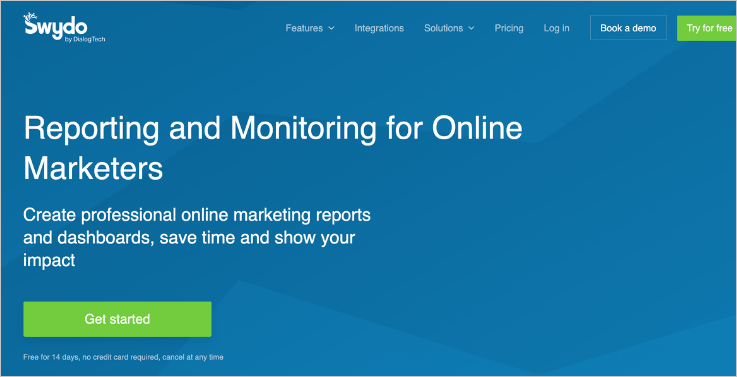 For digital marketing agencies, Swydo aims to make it easy to report back to all your clients. Integrating with the major social media platforms, as well as SEO tools, email marketing platforms, and call tracking software, Swydo lets you pull all your data together into one report or dashboard.
Pros
Set targets so you can immediately see whether you're meeting your goals

Customizable reports let you monitor the exact KPIs you need

Create master templates so you can easily set up reports for new clients

White-label branding options mean you can add your own colors, logo, domain name, and email addresses
Cons
Scheduled email reports are a nice feature, but they go as PDF attachments, which clients will have to download before they can view them. Swydo's basic pricing plan may also be on the high side for small agencies and freelancers who don't need to add as many users or accounts.
Pricing
The basic plan is $75 per month. Discounts are available if you pay annually. Swydo also offers a free 14-day trial.
8. Grow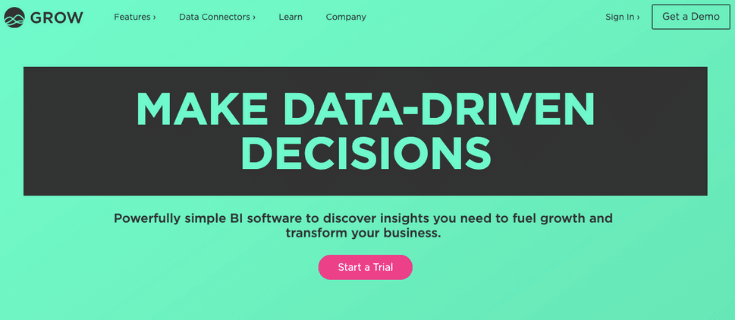 Grow is a business intelligence platform that lets you bring all your key business metrics together in one place. As well as integrating with your digital marketing channels, it connects with some of the major accounts systems, CRM databases, and project management tools.
Pros
Build reports and dashboards easily, without needing any coding knowledge

Combine your marketing metrics with financial data and other tools to get a 360 view of your company's performance

Integrates with Slack so that you can share individual metrics with your team

White-label options let you add your own logo, brand colors, domain name, and email addresses
Cons
There's a bit more of a learning curve with this tool than with some of the others on this list. And the comprehensive business analysis features make it a pricier option than many, putting it out of the reach of smaller companies.
Pricing
Grow offers a free trial, typically 7 to 14 days, but doesn't have pre-priced packages. Pricing varies depending on how many integrations you need. It will likely come in at around $1,500-$2,000 per month, according to a helpful person I spoke with via the online chat.
And that's it! These have been 7 of the best DashThis alternatives on the market.
Start Building Marketing Reports Today!
We hope you enjoyed this post. If you did, you might want to check out the following resources:
These articles will have everything you need to make smarter, more profitable marketing reports.