Are you looking for the best eCommerce reporting tools?
Knowing how much your store is making is a key part in growing your business. By seeing how much revenue you're generating, you can create better budgets for your marketing and sales strategies.
The only problem? Manually creating marketing reports is a long, tedious, and time-consuming process.
That's why it's important to invest in the right eCommerce reporting tool. That way, you get more accurate data at your fingertips in a fraction of the time.
So, today, we're going to share 7+ of the BEST eCommerce reporting tools on the market.
Let's dive straight into the list.
7+ eCommerce Reporting Tools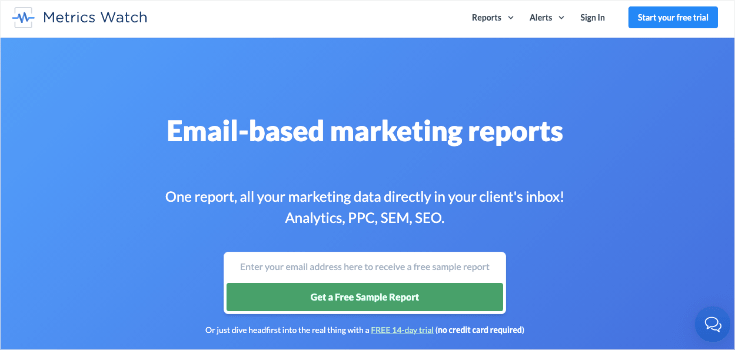 Metrics Watch is one of the best eCommerce reporting tools on the market. It allows you to automatically pull data from your favorite marketing platforms, such as:
Google Analytics

Google Search Console

Google Ads

Facebook (organic and paid)

Instagram (organic and paid)

LinkedIn( organic and paid

And more…
Plus, you don't need any technical experience to build professional marketing reports in minutes. That's because Metrics Watch has a drag and drop visual builder.
And once your reports are built, you can remove all of Metric Watch's branding for something closer to a white-label experience.
But what really sets Metrics Watch apart from its competitors is how these reports get shared. Unlike other reporting tools, this software sends reports directly to your recipient's inbox.
That means no more messy PDF attachments to keep organized and no more user login management roles to assign.
Instead, you can send key eCommerce data to the people who needs to see it in a format they already know. And once this is set up the first time, flip the switch to "autopilot" to resend these reports on a daily, weekly, or monthly basis.
Pros
Drag and drop builder

Syncs with your favorite marketing channels

Reports sent directly to your recipients' inbox

Automated sending

Custom branding
Pricing
Paid plans start at only $29/month.
There's also a free trial that you can start using today (no credit card required). Just click below to begin your 100% risk-free Metrics Watch account now:
Start Your Free Trial Today!
2) Matomo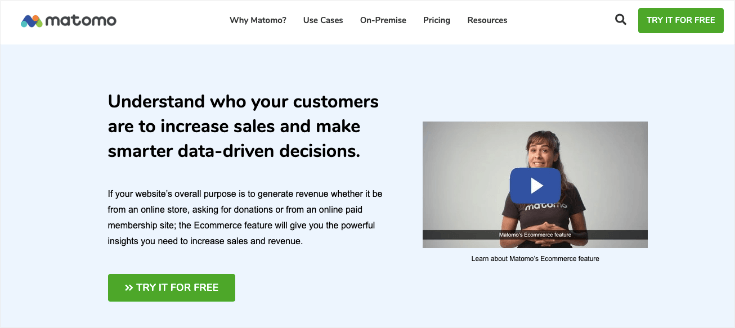 Formerly known as Piwik, Matomo is an open-source analytics platform that was set up as an ethical rival to Google Analytics. Its dedicated eCommerce feature helps you increase sales and learn more about your customers. It combines product and purchasing data with customer behavior insights to give you the full picture of your eCommerce store's performance.
Pros
Is open-source and dedicated to giving you full ownership of your data

Includes heatmaps to help you optimize your website's design

Offers multi-point attribution reports to accurately assess the ROI from your marketing campaigns

Has A/B testing tools to help you build the best eCommerce store you can
Cons
Although Matomo integrates with some of the major eCommerce platforms, including Magento and WooCommerce, it doesn't have a native integration to Shopify.
Pricing
If you opt for the on-premise version of Matomo, it is free. However, that means hosting it on your own servers, so you'll need developer support to get set up unless you have the expertise in-house. The cloud version starts at $19 per month and scales depending on how many page views you have.
Check out Matomo today!
3) SyncSpider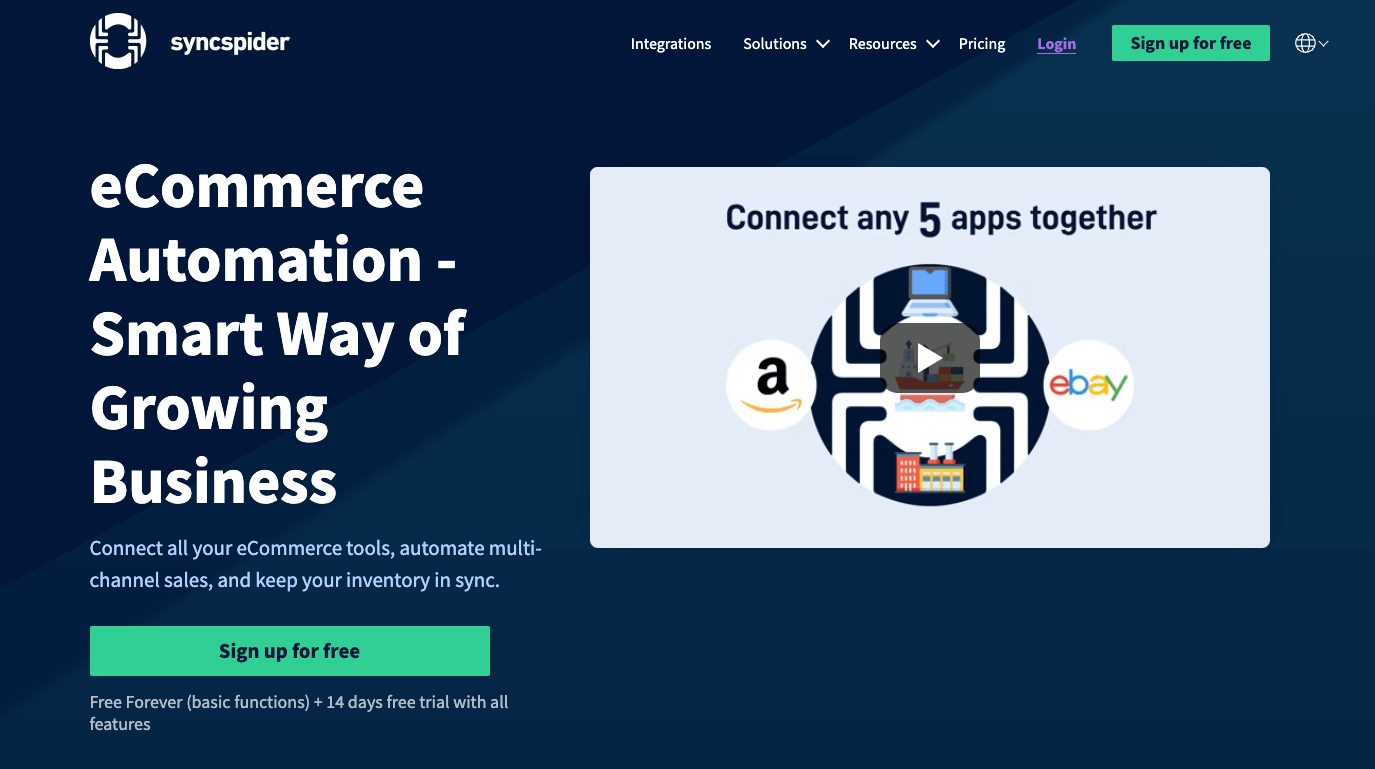 SyncSpider offers an effective solution for managing all your data across multiple channels, letting you automate daily tasks and synchronize data on a schedule or by the event.
They support hundreds of integrations to meet all your eCommerce needs - from CRMs and booking tools to email marketing and online marketplaces, including WooCommerce, Shopify, Etsy, Amazon, Stripe, PayPal, and more.
Key Features
Hundreds of integrations

No coding knowledge or developer needed

Easily migrate your offline data online

Works in batches

Connects with legacy Windows software
Pricing
SyncSpider offers a 14-day free trial so you can test all their features, plus a Free Forever plan (with basic functions).
Pricing starts at just $7.50/mo for the Starter plan, aimed at startups and developing businesses. Pro plans start at $49/mo, offering unlimited integrations and tasks and tailored more towards eCommerce stores focussed on growth.
Try SyncSpider today!
4) Kissmetrics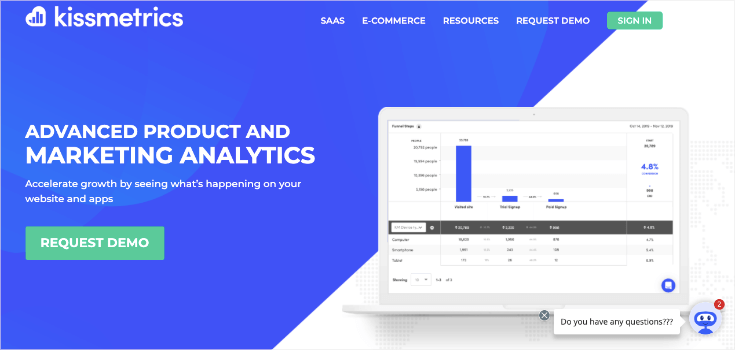 Learn more about your customers and how they behave on your site with Kissmetrics, a reporting tool aimed at eCommerce and SaaS businesses. The pared-back platform helps you build funnels, analyze customer behavior, and track your revenue.
Pros
Breaks your revenue down by channel and customer cohort

Helps you track your most popular products

Analyzes your customer journeys to help you uncover the impact of different touchpoints

Identifies inactive customers, so you can build targeted marketing campaigns
Cons
The interface isn't the most intuitive and some users have commented that tasks take longer because of this. The price is also higher than some other tools, putting Kissmetrics out of budget for most smaller eCommerce businesses.
Pricing
Kissmetrics' starter plan comes in at $299 per month.
Check out Kissmetrics today!
5) Glew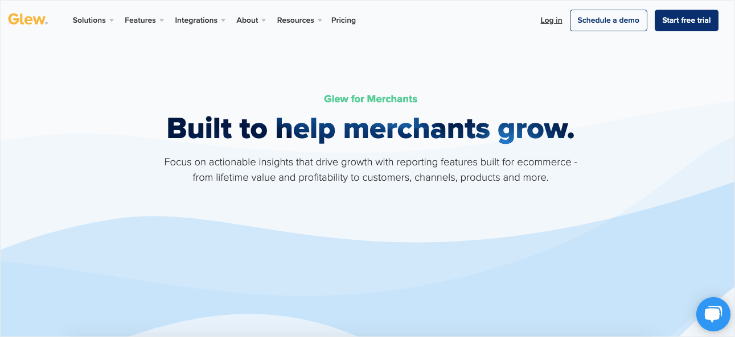 Glew is a business intelligence tool that aims to bring all your data together in one place. For eCommerce brands, Glew combines your marketing, customer behavior, and sales metrics, giving you a 360-degree view of your store's performance.
Pros
Has integrations available for most of the popular eCommerce and digital marketing tools

Lets you customize your reports by choosing which metrics and visualizations you want to include

Offers eCommerce dashboards, so you can see your most important KPIs at a glance

Combines metrics on your marketing, products, inventory, and customer behavior in one platform
Cons
If you want the full customization options for your reports and dashboards, you'll need to opt for the more expensive Glew Plus – these features aren't available on the cheaper plan. Glew also bills annually, so you'll be committing to a 12-month plan when you sign up.
Pricing
Glew offers a 10-day free trial to get you started. After that, pricing depends on your revenue, with the cheapest plan starting at $79 per month.
Check out Glew today!
6) Woopra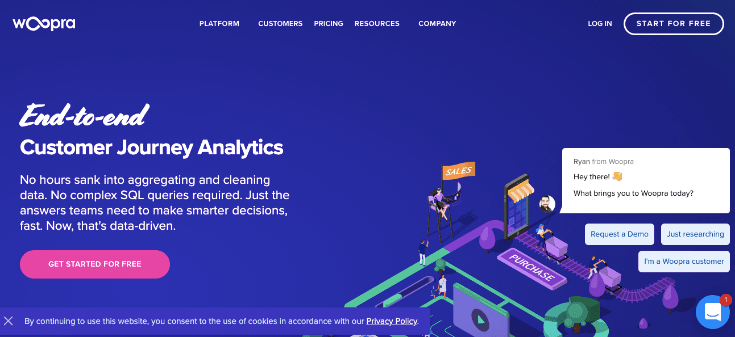 With plenty of integrations and a focus on tracking customer journeys, Woopra helps eCommerce businesses understand every aspect of their store's performance. It brings together metrics from your marketing, website, and sales, giving you everything you need to boost your revenue and retain customers.
Pros
Has a wide range of integrations, including WooCommerce, Shopify, and Marketo

Helps you visualize your customer journey and analyze the impact of each touchpoint

Offers segmentation options so that you can see how different customer cohorts behave

Builds individual profiles for every one of your customers
Cons
The user interface can cause beginners some problems, as it isn't the most intuitive platform out there. The price will also put most smaller businesses off.
Pricing
Woopra offers a free trial. There is also a free plan with limited features. Paid plans start from $349 per month.
7) Mixpanel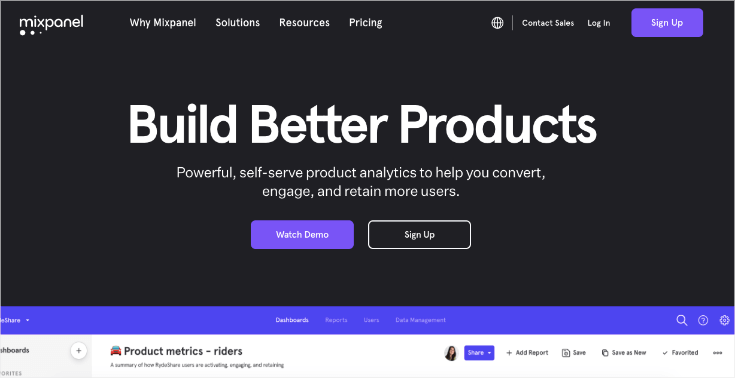 Mixpanel makes your product the star of the show, with product-based analytics designed to help you make more sales. Identify where in your funnel users are most likely to drop off, see how different segments of your audience behave, and visualize your customer journeys.
Pros
Offers custom alerts to let you know when changes in your data need your attention

Delivers weekly digests to Slack or via email to keep everyone updated

Makes it easy to build funnels and add filters

Includes retention reports to help you keep your customers for the long-term
Cons
Mixpanel is a complex tool, so the learning curve is steep, and it will take a while for non-tech savvy users to get to grips with it. There aren't many templates available, which means getting set up at first can take some time.
Pricing
You can access some of Mixpanel's basic features on the free plan. Paid plans start at $25 per month and they also offer $50,000 worth of credits to startups who are in their first 2 years.
Check out Mixpanel today!
8) Heap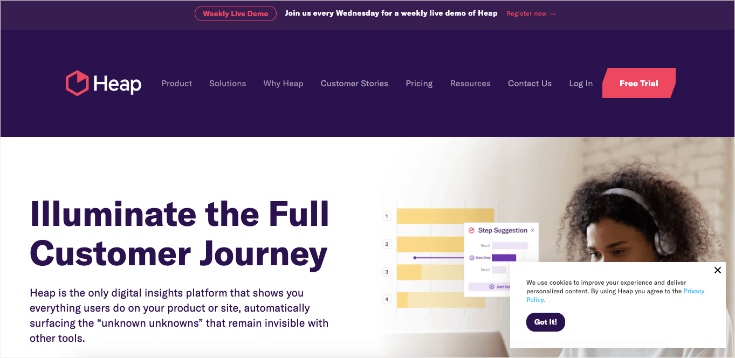 Heap is a digital insights platform that aims to uncover those 'unknown unknowns' in your eCommerce data. Based on customer journeys, it gathers information on your visitors' behavior as they move around your site, then presents its findings to help you optimize your funnels and increase your sales.
Pros
Integrates with Shopify and Marketo

Tracks your website visitors to better understand their behavior

Includes product analysis tools

Helps you create new reporting dashboards quickly with pre-built templates
Cons
Heap is focused on tracking customers once they reach your website, but it won't give you much data on the marketing that got visitors there in the first place. You can track email marketing, but not social media or PPC campaigns.
Pricing
Heap offers a free plan that will give you a taste of some of its features. You'll need to get in touch with the Heap team to discuss pricing for their paid plans.
Check out Heap today!
And that's all for today! These have been 7+ of the best eCommerce reporting tools on the market.
We hope you enjoyed this post and, if you did, you'll definitely want to read the following articles:
These resources will have even more information on how you can build profitable marketing and sales reports to optimize your efforts and drive MORE profits.