Are you looking for the best Instagram ad templates to create eye-catching ads for your social media campaigns?
Instagram is a visual format. Your ads will be going toe-to-toe with content from influencers, professional photographers, and your competitors, so it's essential to have strong ad creative to stand out among all the noise.
Good ad design will help you to:
Grab attention

Create curiosity

Encourage Engagement

Stand out from competitors

Increase brand recognition
In fact, 72% of consumers say that their decision to purchase a product is based on design.
But not every business has the funds to hire a graphic designer.
That's why we've put together this list of the 7 best Instagram ad template tools to help you create professional social media ads on any budget.
We'll also go over some common pitfalls to be aware of when using ad templates so that you know what to look out for when building your campaigns.
Ready? Let's dive into the list!
The 7 Best Instagram Ad Template Tools
1) Adobe Express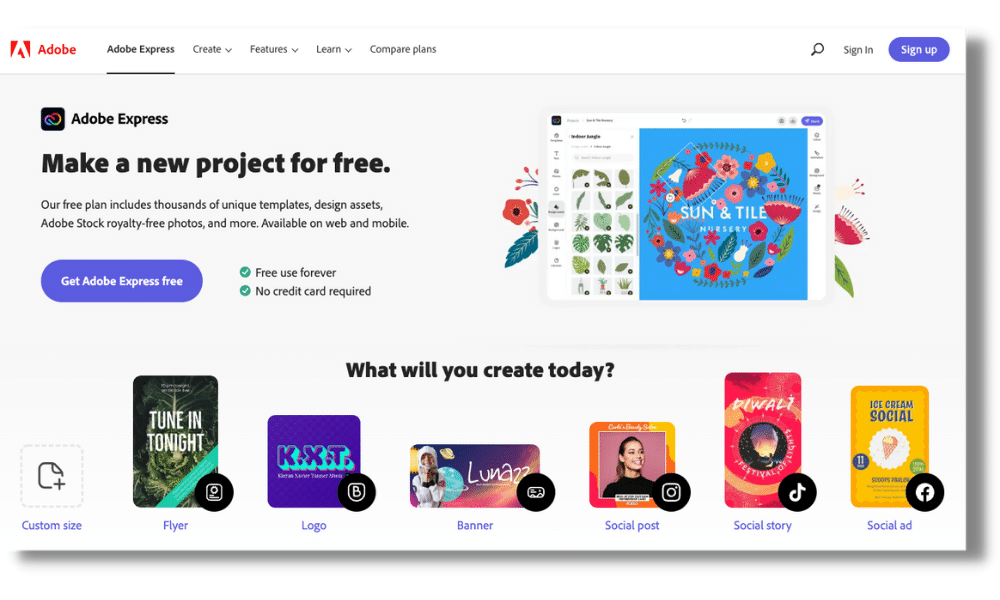 Adobe Express (formerly Adobe Spark) is a web-based tool that lets you create custom designs easily using high-quality stock photos, graphics, fonts, effects, and more.
It features a large template library with thousands of styles for Instagram posts, stories, and carousels. Edit and animate your designs with an easy-to-use drag-and-drop editor, then once your content is ready, you can download it or publish it directly to your social media.
Adobe Express also comes with additional tools to help you save time with your content creation, including; quick image cropping, background removal, video trimming, QR code generator, PDF merging, and more.
Good for: single image ads, carousels & stories.
Pros
Large template library

Post directly to social media

Additional useful tools included

Mobile app available
Cons
Currently, you can't incorporate your own video into your ad designs, which limits the variety of assets you can create.
Pricing
$9.99/mo. Adobe Express offers a free forever plan with limited access to templates and assets.
2) Canva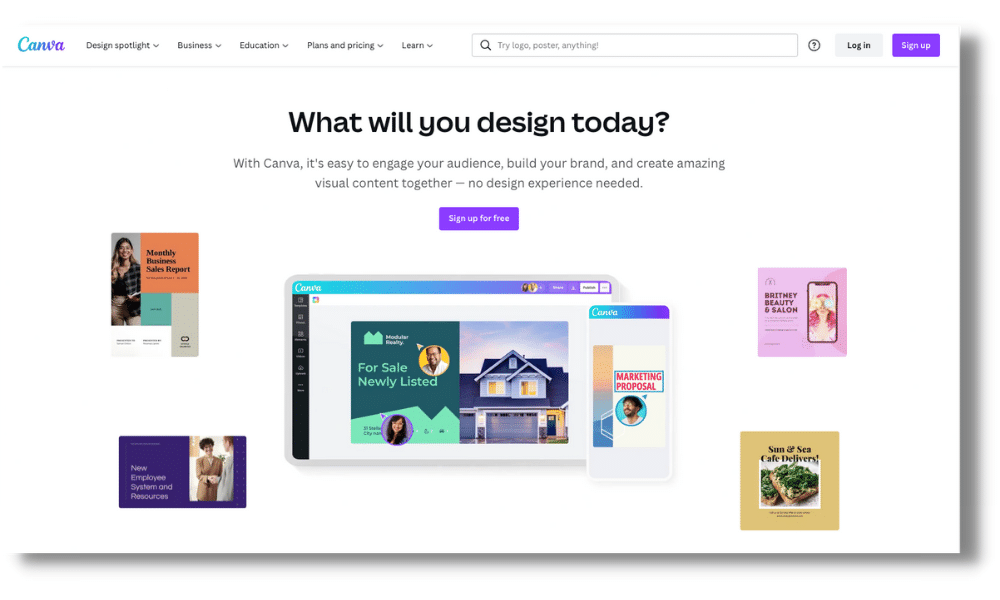 Launched in 2013, Canva was the first of its kind - a web-based design platform that made graphic design easy, accessible, and affordable to everyone.
Canva's interface is user-friendly and features a large template library for Instagram posts, Stories, and Reels - all of which can be edited with a drag-and-drop editor. Designs can then be downloaded in a variety of file formats, embedded, or scheduled and shared on your social media.
Colleagues can easily collaborate with your projects using the Teams feature, allowing them to leave comments and suggestions on designs to keep your content flowing.
Good for: single image ads, carousels, stories, video & reels.
Pros
Huge template library

Ability to post & schedule on social media

Collaboration options for teams

Mobile app available
Cons
Not much. However, due to its popularity, a lot of popular fonts and templates are overused. As a result, you may need to invest a bit of time into customizing template designs to avoid an obvious "template" look.
Pricing
Canva Pro starts at $9.99/mo. There's also a free plan with limited features.
3) Envato Elements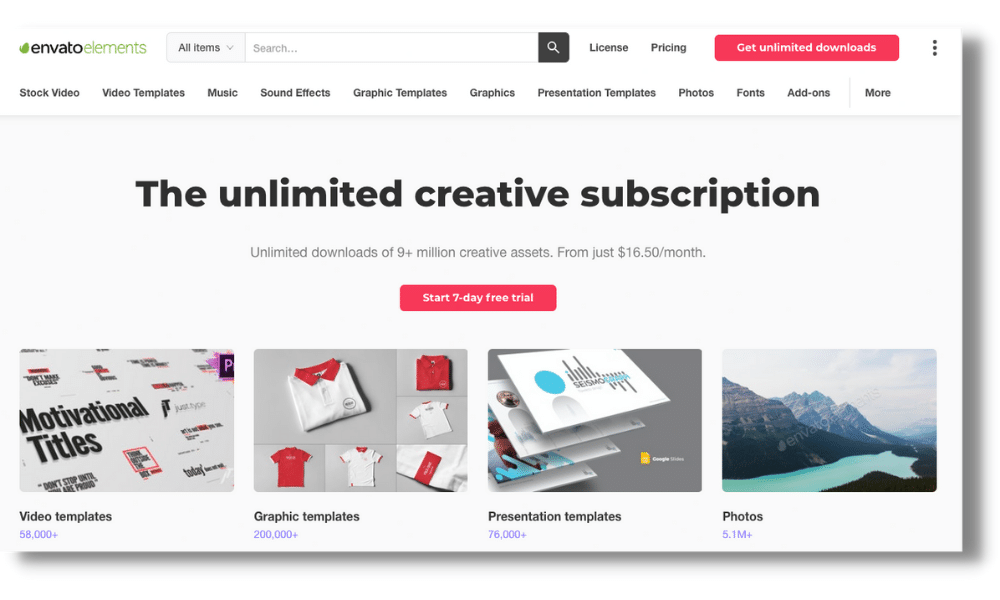 For those that already familiar with the likes of Photoshop and Premier Pro and have access to these tools, Envato Elements offers a range of downloadable templates for you to work with.
All templates are pre-prepared project files for your chosen program (e.g. PSD files for Photoshop). Just download them, open the project, then add your branding and assets.
Templates do come with example images and video, but you won't be able to use these in your designs unless otherwise stated (due to license restrictions). But Envato Elements has plenty of stock assets for you to use in your projects, including; graphics, icons, photos, videos, and more.
Good for: single image ads, carousels, stories, video & reels.
Pros
Wide range of Instagram templates

Advanced filtering option for finding the stock assets you need

1000s of royalty-free music for video ads
Cons
While this is a more advanced option (requiring familiarity and access to tools like Photoshop, etc.) these templates allow you to produce higher-quality Instagram ads than some of the more basic options on this list.
Pricing
Envato Elements offers a 7-day free trial. Plans start at $16.50/mo.
4) Creatopy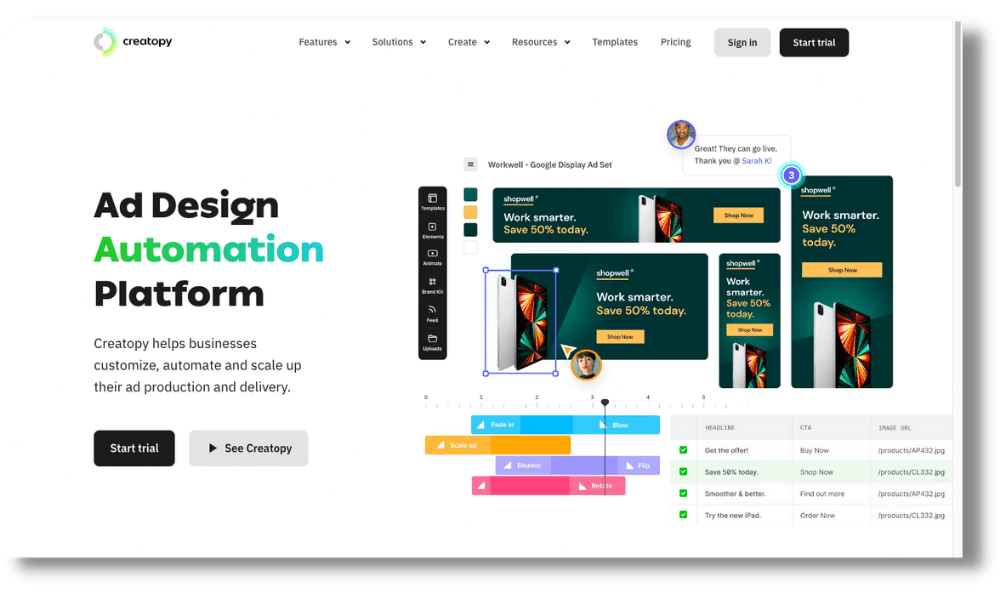 Creatopy helps businesses customize, automate, and scale up their ad production with their browser-based design platform.
All of their templates are simple to edit with a drag-and-drop editor and can be resized to fit your needs. Adding animation is easy, but Creatopy also offers the ability to further customize HTML5 animation to make your content pop.
In addition, the platform is ideal for marketing agencies, allowing you to create multiple Brand Kits for your clients and easily switch between them. Clients can also leave comments and suggestions on designs to keep things moving along.
Good for: single image ads, carousels, stories, video & reels.
Pros
Easy to manage multiple clients

Customize HTML5 animation intuitively

Plenty of Instagram ad templates and stock assets
Cons
Some users have reported some glitches with export quality or templates not loading correctly, but Creatopy seems to be constantly updating and improving their product.
Pricing
Plans start at $17/mo (when paying annually). Creatopy offers a 7-day free trial.
5) Vistacreate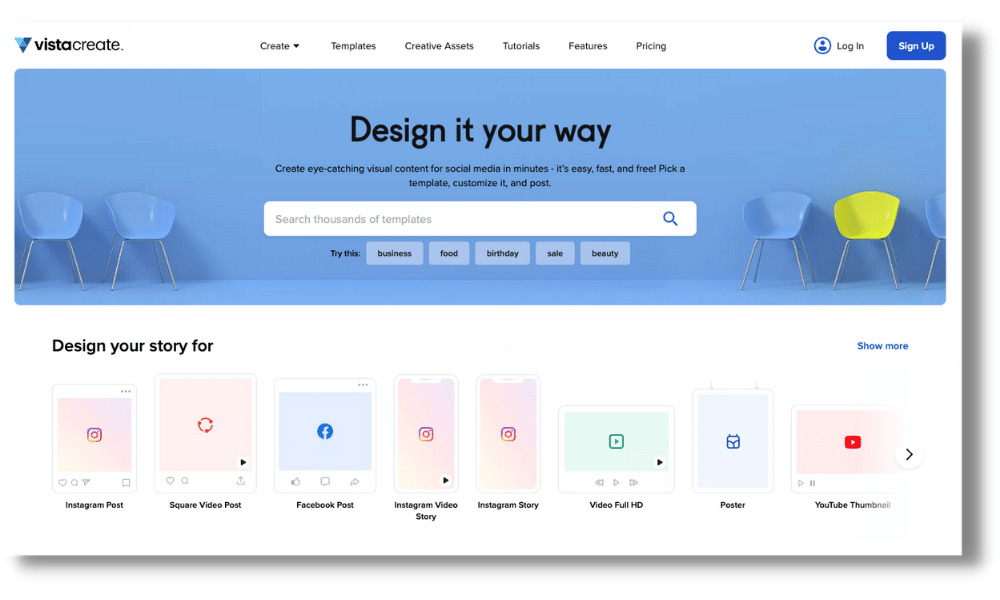 Another drag-and-drop, web-based design tool - Vistacreate lets you create eye-catching ads for Facebook, Instagram, TikTok, and more.
The template library has thousands of templates for all ad formats, including; static images, videos, brochures, posters, banners, and more.
Vistacreate also has a logo-making tool. This can be useful if you or your clients are just starting out and need an affordable branding solution (at the very least it can be useful to play around with some ideas before going to a designer).
Good for: single image ads, carousels, stories, video & reels.
Pros
1000s of templates and free assets

Share content directly to social media

Logo maker tool

Mobile app available
Cons
According to users, it lacks a few standard design tools compared to other platforms - such as a color-picker and custom rulers for aligning content - but Vistacreate updates its product regularly and has many great reviews despite this.
Pricing
Pro plans start at $10/mo (when choosing the annual plan). Vistacreate also offers a free Starter plan with limited features and assets.
6) Dribbble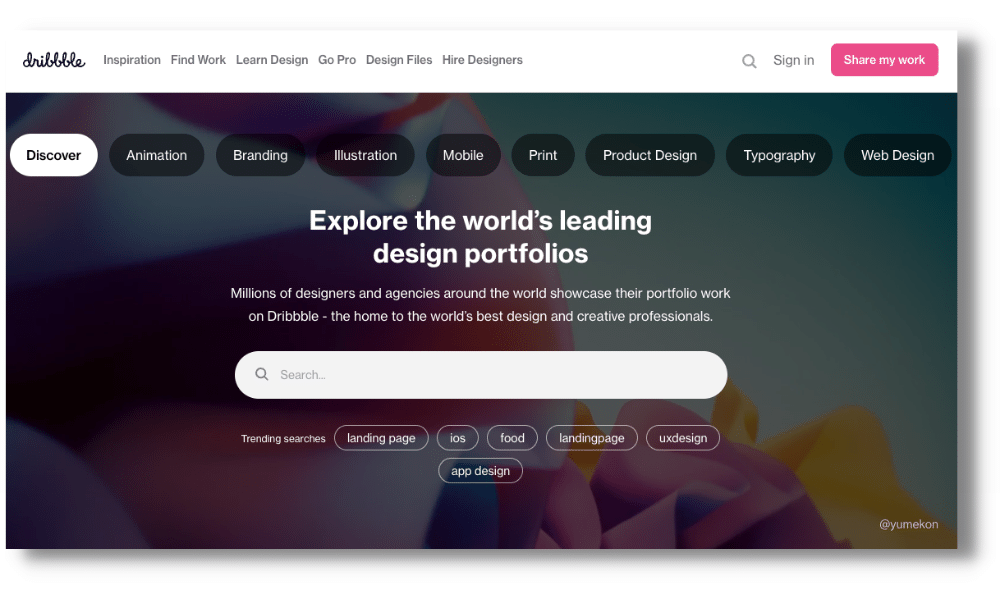 Showcasing millions of designers and agencies around what world, Dribbble is a fantastic platform for finding social media ad templates and getting inspiration for your campaigns.
Like the previously mentioned Envato Elements, Dribbble is a source for getting templates - not a tool for editing them. But unlike EE which is a subscription-based service, it sells templates for a one-time fee, which is great if want to keep costs down.
Most templates are compatible with Canva and some also provide Photoshop files. Just be sure to check the details before purchasing.
Good for: single image ads, carousels, stories, video & reels.
Pros
Features templates by professional designers

Pay per template (no subscription needed)

Marketplace for finding professional designers for your campaigns
Cons
Requires access to a design tool like Canva or Photoshop, but Dribbble is a great resource for when you want more professional-looking templates than those that come with your Canva subscription.
Pricing
Prices of templates vary, but most are around the $20-50 range.
7) Pixelied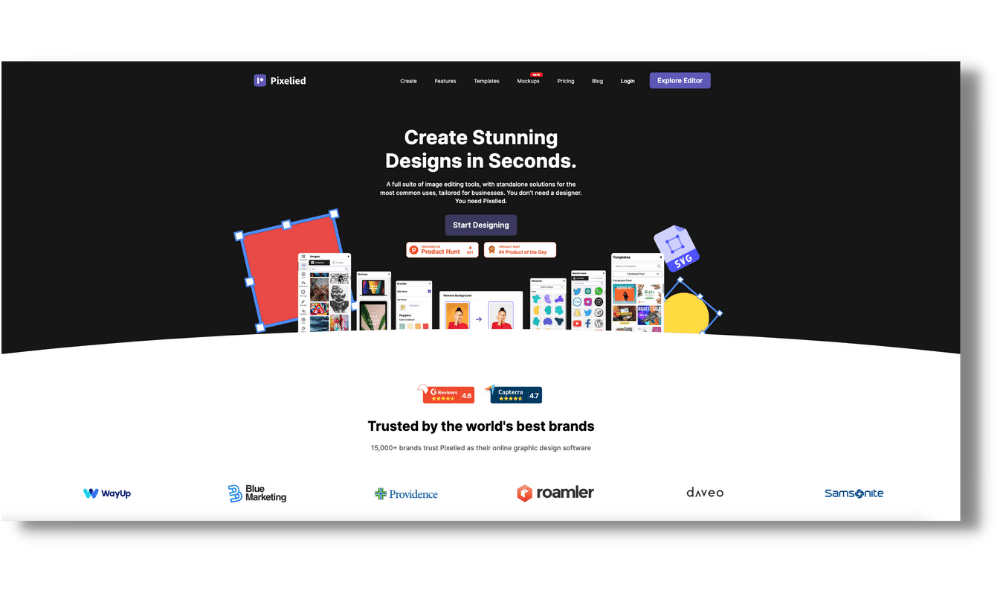 Featured as #4 Product of the Day on Product Hunt, Pixelied is another web-based design tool for creating beautiful graphic designs with ease.
It features a drag-and-drop editor and templates for Instagram ads, Facebook posts, YouTube thumbnails, and more. They even have some for book covers, if that's a solution you need.
But a cool feature Pixelied has is the ability to create mockups with your designs. This can be useful for eCommerce stores looking to pre-sell products or if you don't have professional product photos for new products in your online store yet.
Good for: single image ads, carousels & stories.
Pros
Range of templates for Instagram + other social media

Create product mockups

Workspaces for brands and projects
Cons
Being a slightly newer product, Pixelied's template library isn't as big as some of its competitors - but think quality, not quantity. This tool is fast and easy to use with plenty of stunning, professional templates for the price.
Pricing
Pixedlied offers a free account with limited features, or you can currently pay a one-off fee of $97 for lifetime access with no monthly fees (usually $116/yr).
They also offer a 30-day money-back guarantee for peace of mind.
Going Beyond Instagram Ad Templates

Templates make building Instagram ads a breeze, but there are some common pitfalls you need to avoid if you want to create profitable campaigns.
The top ones that we see time and again are:
Lack of branding consistency

Not standing out from the crowd

Not tracking results
Let's take a closer look at each of them so that you know what to look out for when creating your ads.
1. Consistency
You might see a lot of design styles you want to try out. And while experimenting is important to test what resonates best with your audience, beware of switching up the look of your ads too much.
This can work against you by making it hard for people to recognize your brand, due to lack of consistency.
Creating a brand style guide will help you achieve consistency to establish your visual identity by setting out clear guidelines for:
Typography

Color palettes

Logo presentation

Photography + graphic styles

Tone of voice for messaging

And more…
Most of the tools on the list above have a Brand area where you can; add your logo, set default fonts, define your color palette, and more.
Use this feature to save time and create consistency across your designs.
2. Stand Out From The Crowd
If you're using popular templates from popular tools, you run the risk of putting out ads that look like everyone else's.
So, to avoid blending in with other brands, try tweaking your templates by adjusting the layout or swapping the default font with one from your brand style guide.
Most of the tools on this list let you upload your own photos and graphics to use instead of stock images to help you make templates your own.
3. Track Your Results
Trying out different templates and design styles is exciting, but it's important to make sure that you're tracking the results of your campaigns.
This is the only way to see if your creative decisions are having a positive impact on your overall marketing strategy.
It also lets you see designs that are performing best, so you can avoid wasting money on ads that aren't performing well and spend more on the ones that are.
And for that, there's no better tool than Metrics Watch: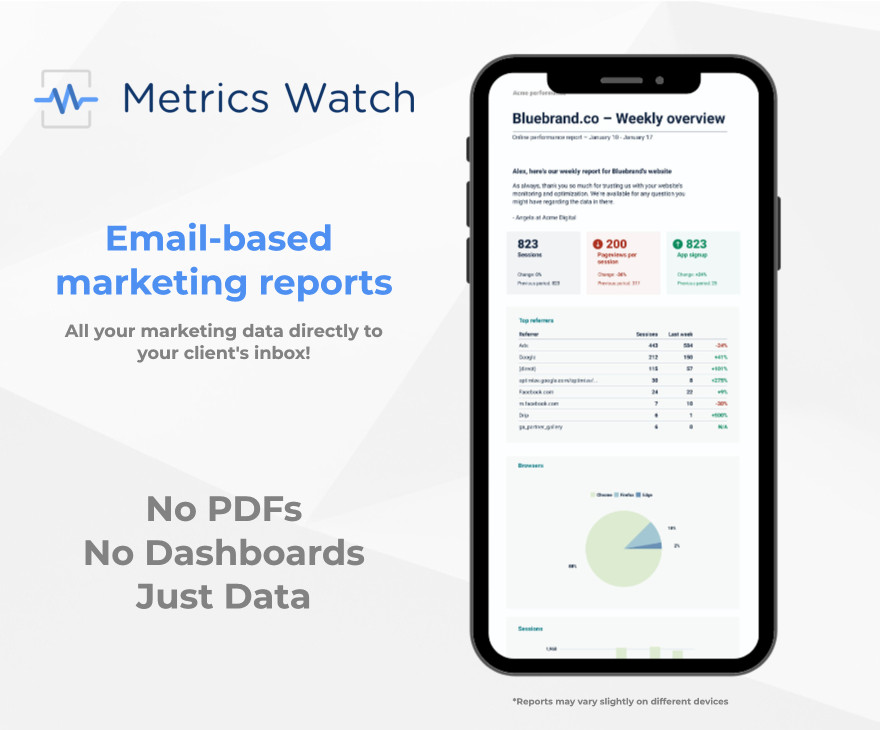 By using a tool like Metrics Watch, you can easily pull data from Facebook, Google Analytics, Google Ads, Mailchimp, and more to see how your Instagram campaigns are performing in relation to your other channels.
Build your own professional marketing reports with a simple drag-and-drop editor or start with a template to get going fast.
Visualize your data with graphs and charts, then schedule reports to be sent automatically by email; daily, weekly, or monthly.
But the best part about it is how your data is shared…
Unlike other reporting tools that require you to log in to dashboards to view your data, Metrics Watch displays your reports inside the body of the email itself!
No need to download pesky PDF attachments. Just your data in your inbox - easy to check and there when you need it.
Want to try it for yourself?
Start Your Free Trial Today!
Request your free sample report below or start your 14-day free trial of Metrics Watch today!
No credit card required.
And that's it!
This has been our list of the 7 best Instagram ad template tools in 2022. If you enjoyed this post, be sure to check out these other articles:
These additional resources have even more tips and tricks to help you get more from your Instagram campaigns.