Are you looking for the best SEO reporting tools for 2022?
Each year, search engine optimization (SEO) gets more competitive. That means you need every advantage you can get to help you or your clients rank.
And as you start progressing, you'll want clear and detailed marketing reports for 2 reasons:
Track your progress

Refine your strategy
Without those 2 components, you run the risk of falling behind and letting your competitors outrank you on search engines like Google.
That's why, today, we're going to teach you about the BEST SEO reporting tools for 2022. That way, you can build automated reports to see a larger return on investment (ROI) from your SEO efforts.
Let's dive straight into the list.
The BEST SEO Reporting Tools (2022)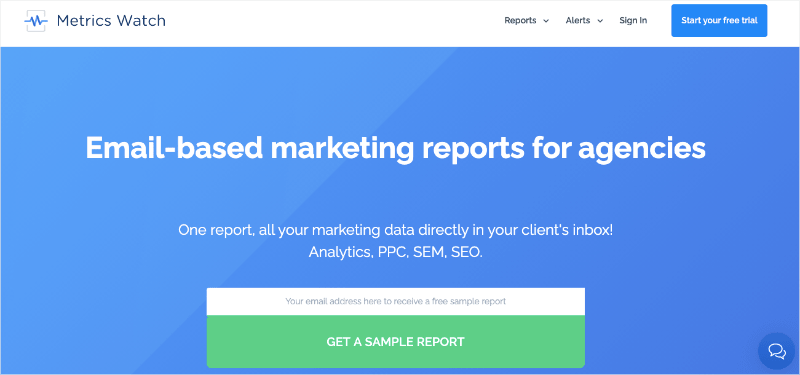 Metrics Watch is an excellent option for sending automated SEO reports. It's a great tool for large agencies who need to keep track of and share client reports.
But it's also built for smaller companies looking to get the data they need when they need it.
That's because Metrics Watch has an easy-to-use drag and drop builder that requires zero coding skills or technical knowledge. In other words, there's practically no learning curve to get started.
From there, you can connect to all of your favorite tools, like Google Analytics, Google Search Console, Instagram, LinkedIn, Mailchimp, and more.
Google Search Console is the ultimate tool for tracking your site's performance, and can give you incredible insights for your SEO strategy.
But Metrics Watch allows you to compile data from your most popular marketing channels and build detailed reports in a matter of minutes.
Then you simply decide who needs that information and when to send it. You can share reports automatically on a daily, weekly, or monthly basis.
And the best part is that, unlike other SEO reporting tools, the data goes straight to your team's or clients' inbox.
No PDFs to organize. No 3rd-party marketing dashboards to send clients to.
With Metrics Watch, you send the right data to the right people in a format they already know. It's the most frictionless marketing report tool for SEO available.
Want to see for yourself? Sign up for your risk-free Metrics Watch account to get started today (no credit card required):
Start Your 100% Free Trial Today!
2. Moz Pro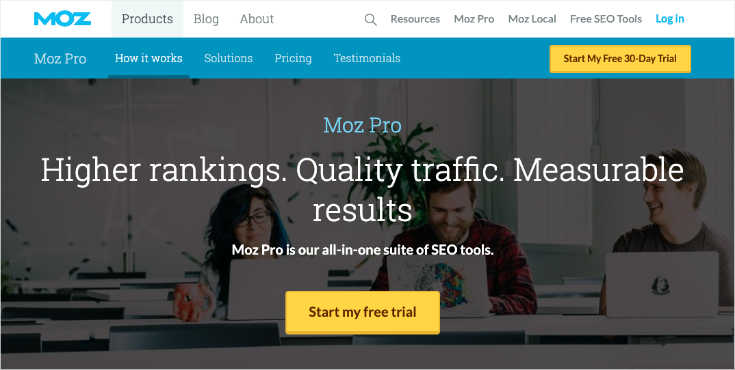 Founded in 2004, Moz Pro is a well-established SEO analysis and reporting tool. It aims to make SEO easy with keyword research tools, site audits, rank tracking, and backlink analysis. You can also build custom reports to share information with others.
Pros
Comprehensive SEO management tool

Drag and drop builder makes it easy to customize reports

Report templates get you up and running quickly

Add your own logo to reports
Cons
Moz Pro does allow you to send reports automatically by email, but they go as PDF or CSV attachments, which means your clients will need to save and track a bunch of files. There's also a big learning curve when you first start using the tool. Working out how to get the metrics you need in reports takes some time.
Finally, you'll need another reporting tool to add KPIs from channels like Google Analytics, social media, and email marketing.
Pricing
Moz offers a 30-day free trial. After that, it will set you back $99 per month on the basic plan. You'll get a 20% discount if you choose to pay yearly.
3. SEMrush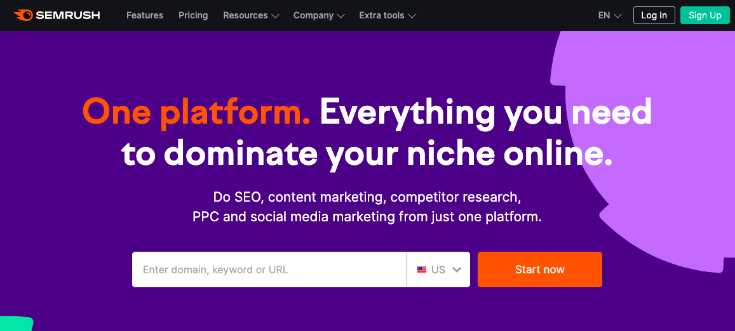 SEMrush is one of the best-known tools for SEO analysis and reporting. It also lets you create and monitor PPC and social media campaigns, meaning most of your digital marketing metrics are available in one place.
Pros
Content research, analysis, and optimization tools help you monitor the impact of your content marketing

Plenty of different widgets to display the metrics you need in client reports

For agencies, SEMrush offer white-label reporting options

Combine SEO data with metrics from social media and PPC campaigns
Cons
Many users find the interface difficult to navigate, especially at first. The only option for reports is to create them as PDFs, which is annoying when you want to share information with clients quickly. And it is a pricier option, with lots of different charges for add-ons quickly pushing the cost up further.
Again, you'll also need to find another reporting tool to add data from your other marketing channels.
Pricing
SEMrush offers a 7-day free trial. After that, the basic plan is $119.95 per month, with a 16% discount if you pay for a whole year in one go.
4. Ahrefs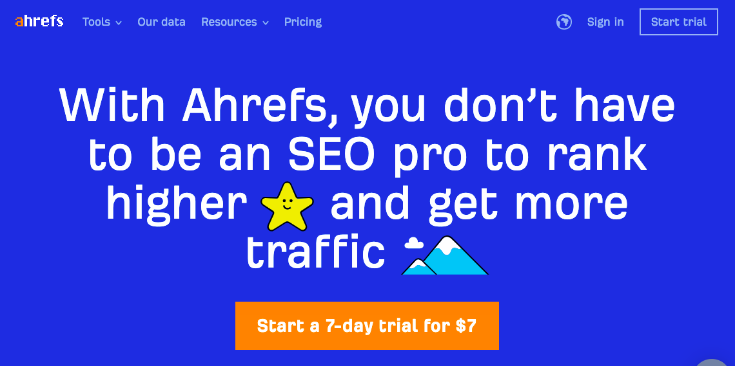 Ahrefs is another SEO reporting tool that has been around for a while. It is still delivering a great product in 2022, with a range of tools to help you monitor your SEO efforts. Not only will this tool help with rank tracking, site audits, and keyword research, but Ahrefs also lets you compare yourself with competitors and explore ideas for content.
Pros
The Content Explorer helps you come up with content ideas

Competitor analysis keeps you ahead of the curve

A range of free tools are available, so you can try them before you buy

Schedule site audits to make sure your data is being regularly updated
Cons
Although you can try many of their tools for free, the trial of Ahrefs' full paid version costs $7 for 7 days, which is unusual when most SEO reporting tools offer a free trial.
You also can't add your own branding to reports. And some of the metrics from their online dashboard can't be exported or included in email reports.
Pricing
Limited free versions of some of Ahrefs' tools are available. A trial of the full version is $7 for 7 days and plans start at $99 per month. Discounts are available if you choose annual billing.
5. AgencyAnalytics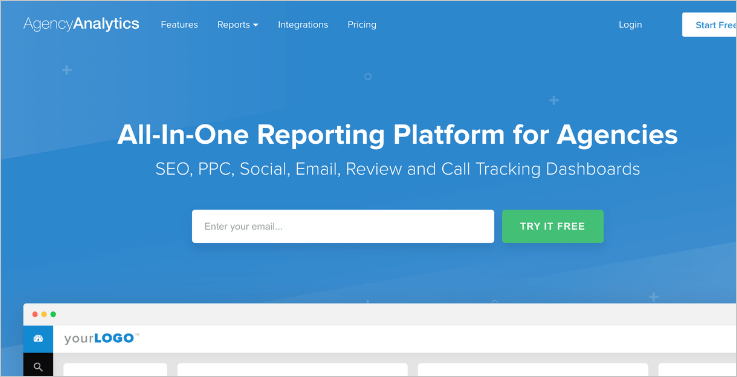 If you prefer to keep your digital marketing analytics together on one platform, AgencyAnalytics is worth a look. As well as monitoring your SEO, it helps you track PPC, social media, and calls. It is aimed at agencies, letting you easily report to multiple clients.
Pros
Track SEO alongside the rest of your digital marketing

White-label reports and dashboards allow you to add your own branding

Drag and drop builder makes it easy to customize reports

Add notes and annotations to explain reports to clients
Cons
You can schedule reports for clients, but they arrive as attachments or a URL, which prevents your client from accessing their data immediately. It is also missing some of the more in-depth SEO monitoring tools you get from options dedicated to SEO alone.
Pricing
AgencyAnalytics has a 14-day free trial available. After that, paid plans start at $49 per month. You can save money by choosing yearly billing.
6. WooRank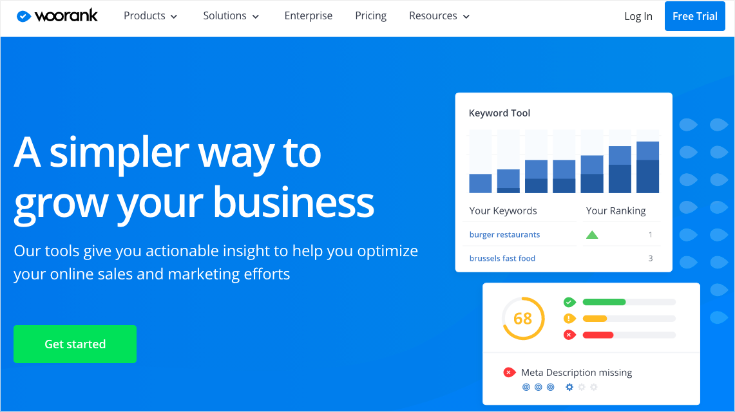 WooRank aims to make SEO quick and easy with a range of analysis and reporting tools. With keyword research, website audits, competitor tracking, and quick report builders, it offers an easy-to-use solution for businesses and agencies alike.
Pros
Instant website reviews give you a quick insight into tasks you can do straight away to improve your site's ranking

Lead generation tool helps you to attract new clients

White-label reporting options let you add your own branding

Customize reports to give each client the most relevant metrics
Cons
While the weekly digests are automated to arrive by email, there aren't many options to customize these. Customizable reports are available, but you'll need to download them as a PDF and then send the file on to your clients. For the cost, the pre-priced plans are extremely limited in the number of keywords, websites, and competitors you can analyze.
Pricing
WooRank offers a 14-day free trial. After that, it is $59.99 per month for the basic plan. Discounts are available if you choose annual billing.
7. SE Ranking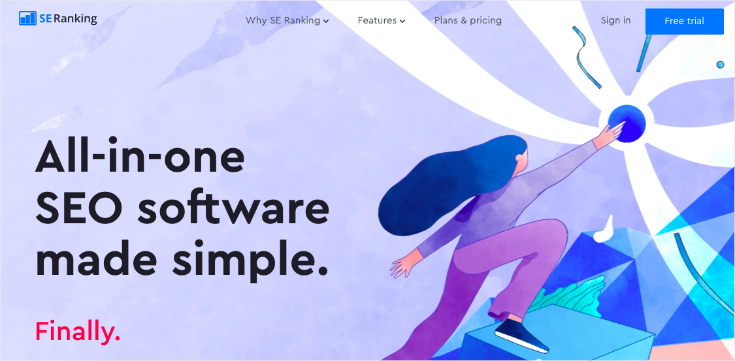 If you are looking for a more budget-friendly option, SE Ranking offers a scalable pricing model to cover everyone from small business owners to large agencies. With PPC and SEO analysis and reporting tools, SE Ranking lets you track your own progress and compare with competitors.
Pros
White-label reporting tools let you add your own logo, branding, and domain

Report building is easy with the drag and drop tool

The Marketing Plan tool helps you identify where tweaks need to be made

Also offers social media posting and monitoring
Cons
White-label reporting tools aren't available on the basic plan, so you'll need to pay a bit more to get this feature.
Pricing
SE Ranking offers flexible pricing depending on how frequently you want it to update and how many keywords you want to track. Different plans get you access to more features. You can also buy extra credits where needed. The basic plan costs around $39 per month, but you can get a discount if you need fewer keywords or less frequent updates.
8. SEO PowerSuite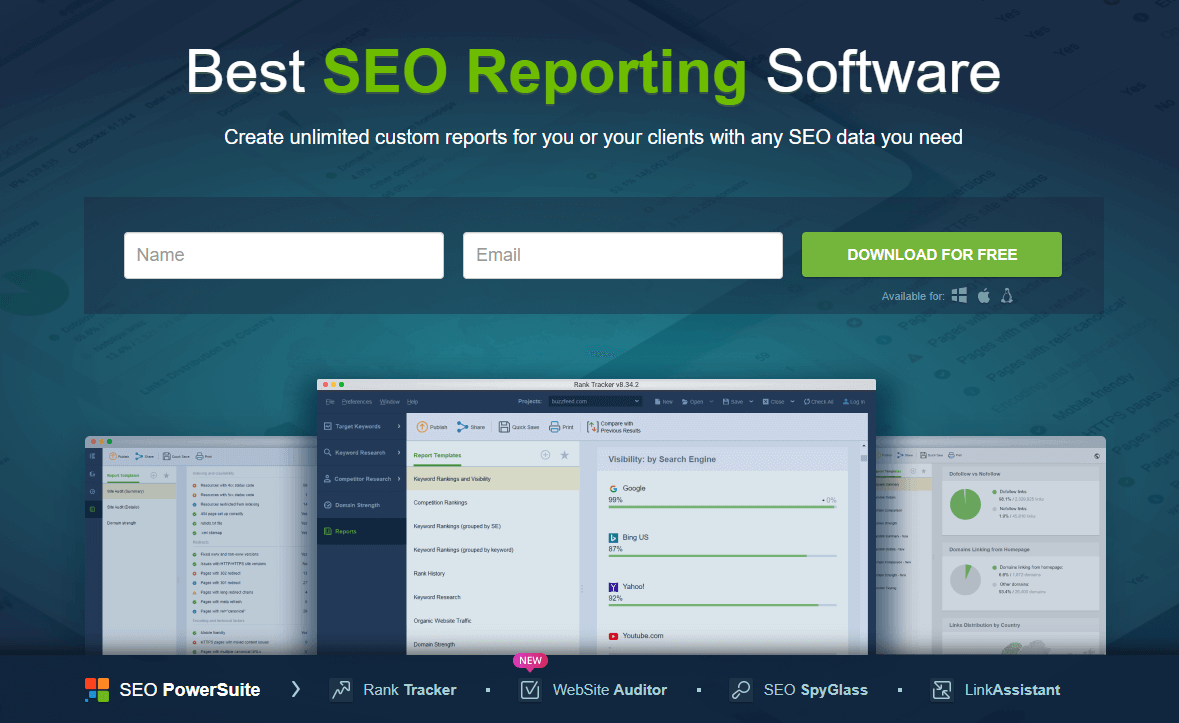 If you prefer to have professional research and analytics functionality and a powerful SEO reporting tool under one hood, then take a look at SEO PowerSuite. It lets you monitor and report on your technical, ranking, and backlink stats with a bunch of ready-made report templates. Alternatively, you are free to tailor the template you need yourself.
Pros
A wide range of pre-made report templates for any aspect of SEO audit, be that content analysis or backlink profile optimization

Unlimited customization opportunities — create a new report template, as well as white-label your reports to send them to your clients

Export options in HTML or PDF plus the possibility to share reports right from the tool

Report automation feature to let you autogenerate and send out SEO reports any time you need
Cons
SEO PowerSuite is a desktop tool, so you'll have to download and install it on your computer. Also, the tool's learning curve may seem a little difficult for beginners.
SEO PowerSuite has a free version for you to test, but it works as a sandbox without the ability to save projects.
Pricing
SEO PowerSuite's paid versions are pretty affordable: a package of four SEO tools will cost you $299 per year (yes, it's not a mistake) for a Professional license.
9. SpyFu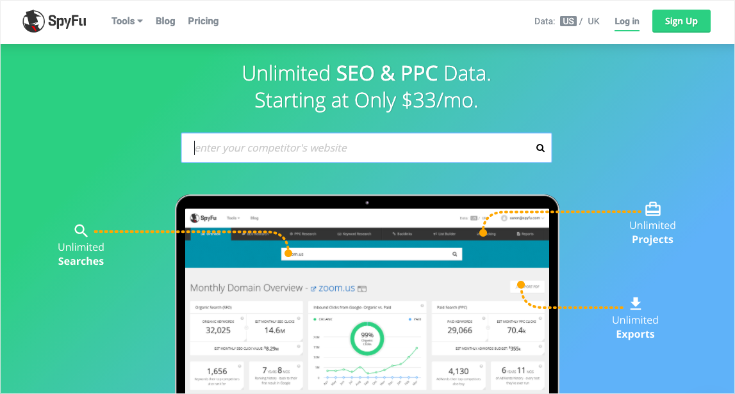 For anyone focused on outperforming the competition, SpyFu specializes in analyzing your competitors' SEO performance. It will help you make their most successful marketing tactics your own. And, of course, you can also track your own efforts, with keyword ranking and research, backlink suggestions, and PPC monitoring tools.
Pros
Find the keywords that are working for your competitors

Identify keywords for PPC campaigns

Reports translate progress into monetary value, so you can clearly communicate ROI to clients

Customize reports with your own branding and notes
Cons
Although SpyFu can monitor both SEO and PPC, the metrics appear in separate reports, which might mean you end up sending multiple emails to your clients. There are limited customization options too. And you can only share reports as a PDF or URL.
Pricing
SpyFu doesn't offer a free trial, but they do have a 30-day money-back guarantee. Plans start at $39 a month, with a discount for yearly billing.
Which Is the BEST SEO Reporting Tool?
If you're looking to keep your data exclusively for SEO, then SEMrush is your best bet.
This has the most comprehensive tooling to let you create an SEO strategy that gets you ranked faster. Plus, you can set up and send automated reports to watch your progress.
But if you want a tool that incorporates data from more channels than the platform you're using (like SEMrush, for example), then you need a tool like Metrics Watch.
Again, Metrics Watch lets you combine data from all of your favorite marketing channels. Plus, it doesn't add any friction with PDF attachments or links to 3rd-party user dashboards to get your data.
Instead, you can send comprehensive reports to your team or clients directly via email. This gives them the data they need in the format they love.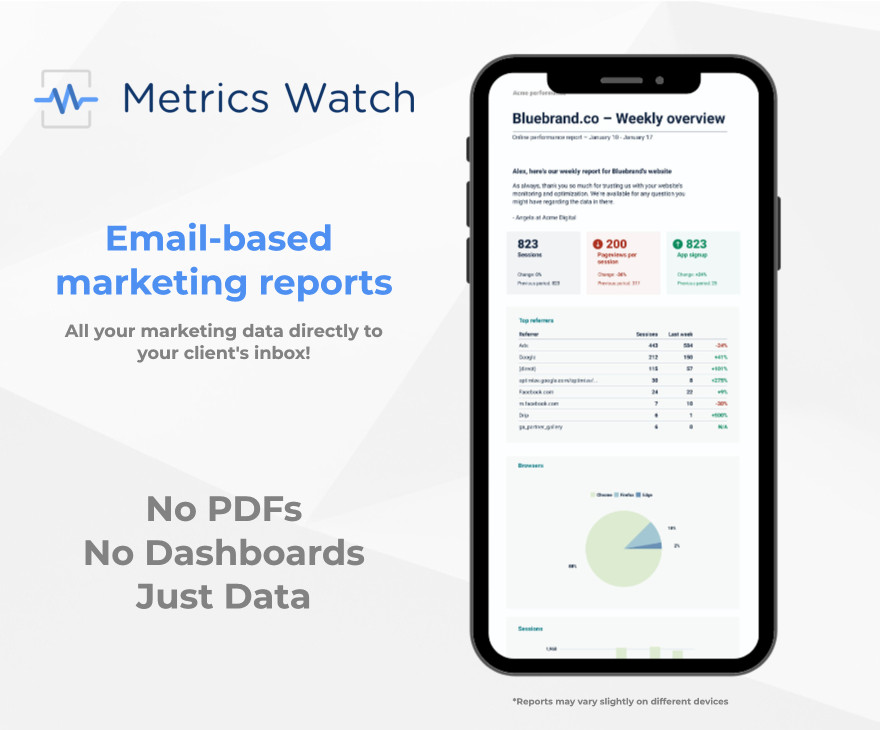 Want to try for yourself?
Click below to start your risk-free trial of Metrics Watch (no credit card required):
Start Your 100% Free Trial Today!
And that's it! These have been the best SEO reporting tools for 2022.
We hope you found this post helpful. If you did, we also suggest you check out the following resources:
These articles will have more information to help you build better, smarter marketing reports that grow your company and increase your bottom line.