Are you looking for the best social media reporting tools to track your ROI?
It's no secret that social media can be one of the most popular ways to generate leads and attract new customers. But, let's be honest, it can also be one of the biggest time wasters in your marketing department.
That's because social media gives your team lots of potential, but never delivers a sure-fire win.
As a result, you need to keep a close eye on how your team or clients are tracking the results of their social media efforts.
So, today, we're going to share the best social media reporting tools that you can use to make sure your social strategy is growing your company.
But before we dive into the list, let's look at the qualities you should look for in a social media reporting tool in the first place.
What to Look for in a Social Media Reporting Tool
Whenever you're looking for a new tool to reach any marketing goal, it's important to know which features really matter to you.
This is especially true when it comes to social media channels which are used in a variety of different ways.
For most people, knowing stats on engagement, click-through rates and conversions are more than enough. But others need more in-depth social media analytics for their strategy. For example, some companies may want to monitor how often their brand is mentioned across channels as they're building their brand awareness.
In the right context, this can be a valuable KPI (though, for many companies, it's simply overkill).
Here are a few of the main features that are worth considering as you're looking into your social media reporting tools:
KPIs: You need to determine your goals. What do you want to track and is the tool you're looking for capable of doing so as efficiently as possible.

Integrations: Which other tools will this software integrate with? Do you only need a social media report, or do you need other data from SEO, paid ads, email marketing, and more?

Ease of Use: Some tools look incredibly fancy, but they're so painful to use that they end up gathering dust on the browser page. Make sure whichever reporting tool you use fits with your current level of "tech skills."

Automated Reports: You want a tool that will send your social media reports directly to you. That way, you won't miss valuable data because you were distracted by the million other things you had to do that day.

Price: And, as always, the big question: does this tool fit in your budget?
These are some of the things that, at least for me, are the most important factors when selecting a social media reporting tool.
With that in mind, let's dive into our list so you can start building reports today!
Best Social Media Reporting Tools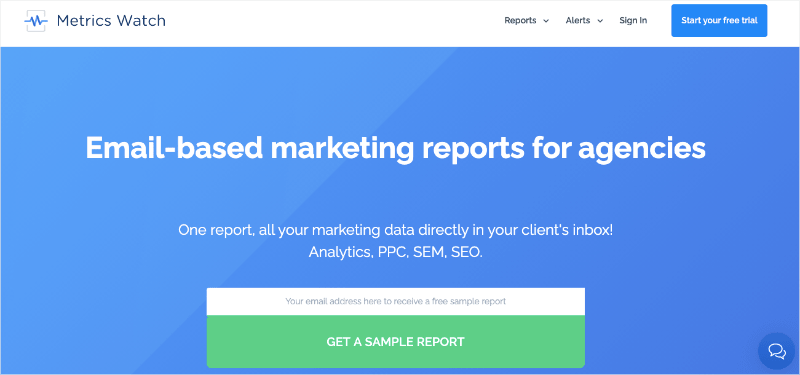 Metrics Watch is one of your best options for a social media reporting tool. It syncs seamlessly with Google Analytics, so you can keep track of how well each of your channels are converting. Then you can have that data sent directly to your team or your clients' inbox.
That way, they can get the data they need with as little friction as possible. No PDF attachments to keep organized, and you won't need to share access to a 3rd-party dashboard (requiring tons of time with user role management).
Plus, Metrics Watch integrates with Facebook, Instagram, and LinkedIn (both organic and their paid platforms). This means you can also keep track of how well paid advertisements are performing on each channel, and get daily, weekly, or monthly reports about how much these ads are helping your business.
Pros
Drag and drop report builder

Compiles data from all your popular marketing platforms (not just social media)

Reports sent directly to the inbox to improve user experience (UX)

Perfect for agencies sending multiple reports to their clients

Great for small businesses to make their marketing reports more global (rather than breaking up reports for SEO, social media, paid ads, and so on)

Free 14-day trial (no credit card required) means ZERO risk for starting
Cons
Even though Metrics Watch can add data for paid ads from Facebook, Instagram, and LinkedIn (well, Google too… but that's not social media), we don't currently have an integration for Twitter. That's mainly because it's (historically) been less popular for ad space.
Some people, however, would need Twitter or other social media channels tracked.
The good news is that I'm always open to creating integrations on-demand, so if you see a social media channel that you don't currently have, I'd be open to discussing creating it for you.
Price: Paid plans for the reporting tool start at only $29/month.
Start Building Social Media Reports Today
2. Sendible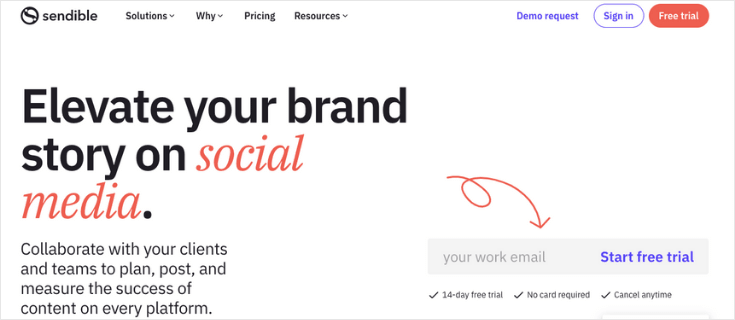 Sendible is aimed especially at agencies and marketers who manage multiple accounts, making it a good choice for anyone needing to report to several clients.
Sendible lets you track all the key metrics for your social media platforms in one place. You can easily create tailored client reports using their click-and-drag report building tool and can also set up regular reports to go to your clients by email. It offers scheduling, engagement, and collaboration tools, making it an all-in-one social media reporting and management solution.
Pros
The click-and-drag report builder is a user-friendly way of building tailored reports for different clients

A simple and intuitive dashboard makes it easy for new users to get up to speed quickly

Social listening tools help you report on brand reputation and monitor competitors

Integrates with Google Analytics as well as most of the major social media platforms
Cons
Some users have reported that Sendible can be slow to load and the integrations don't always work smoothly, meaning scheduled content may not actually post as it is supposed to. The email reports are sent as PDFs, which I personally find a clunky way to report to clients since it means they'll have to keep track of a bunch of attachments.
Pricing
Prices start at $29 per month but scale quickly as you add more users, profiles, and reports.
3. Keyhole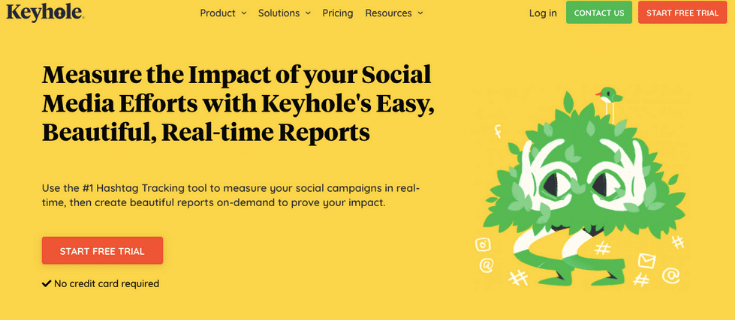 If you love data and in-depth reporting, Keyhole might be the one for you. Unlike some of the tools on this list, Keyhole doesn't offer scheduling and posting tools. Instead, they stick to what they are best at by letting you monitor and report on a wide range of social media metrics.
Track campaign performance and conversations about your brand – and your competitors. Keyhole also gives you market research tools to find influencers and monitor hashtags.
Pros
White-label reports allow you to add your own branding

Hashtag and keyword tracking help you plan campaigns

Unlimited reports, even on basic plans

Media monitoring as well as social listening tools to keep an eye on brand reputation
Cons
Keyhole doesn't integrate with LinkedIn, Pinterest, or Google Analytics. You'll need one of the more expensive plans to access white label report options and live dashboards, otherwise reports have to be downloaded or emailed as PDF or CSV files.
Pricing
$49 per month for the basic level. Paying more unlocks more features, users, and social profiles.
4. Sprout Social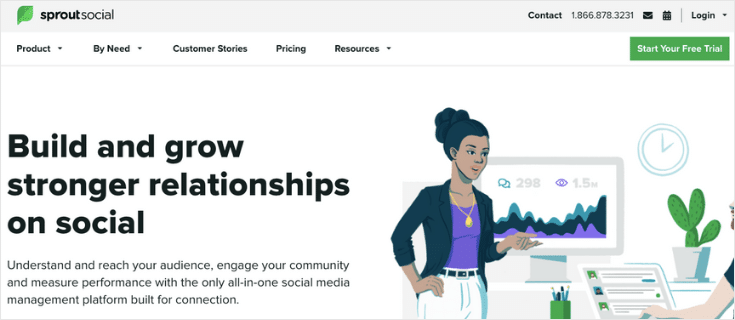 Sprout Social is another one-stop-shop for social media management, letting you combine multiple social profiles, schedule posts, respond to messages, and monitor your analytics all in one place. Both the dashboard and the reports are attractive and easy-to-use, making this a good choice for anyone who wants visually engaging social media reporting without too much of a learning curve.
Pros
Combines metrics from different platforms into one graph

Uses insights from your analytics to suggest ways to optimize your posts

Compares your data with your competitors

Very user friendly, making it easy to learn
Cons
Unless you pay extra to add premium analytics, you can't build custom reports. You also can't schedule email reports unless you have an advanced account – and email reports are delivered as a PDF.
Pricing
Starts at $99 per month. Upgrade to access more features and add more social profiles. Add-ons, including premium analytics, are available for all levels.
5. Falcon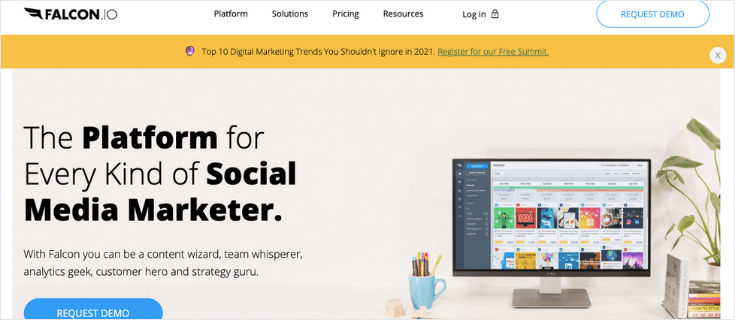 Another option if you are looking for a tool that combines social media reporting with management tools is Falcon.io. This tool allows you to create and schedule posts, see and respond to messages, and track all the key metrics in one place. Customizable real-time dashboards and scheduled emails make reporting to clients easier too.
Pros
Combine data from multiple channels into one graph for easy comparison

Customizable, real-time dashboards can be built from scratch or using a template

Unlimited reports can be scheduled for delivery by email

Quick report templates and report cloning save time setting up reports for multiple clients
Cons
The real-time dashboards are only available for Facebook, Instagram, and LinkedIn (not Twitter). Some users also say that the analytic tools are not as intuitive as those available for other platforms. And it is a pricier option, especially at the basic level.
Pricing
Starts at $129 per month for 1 user and 5 social profiles. Contact them for a custom quote to add more users, profiles, and features.
6. Hootsuite
Hootsuite is one of the best-known social media reporting and management tools. It brings all your platforms together in one place, letting you plan content, manage engagement, and track your analytics easily. As well as the basic social media metrics, Hootsuite also offers Hootsuite Insights, which is powered by Brandwatch and lets you bring sentiment monitoring, competitor tracking, and keyword trends onto your Hoostsuite dashboard.
Pros
Templates and drag-and-drop report building make it easy to customize reports

A wide range of integrations are available, allowing you to plan and communicate easily

Free plans are available for small businesses with low social media usage

The intuitive dashboard is easy to use without much training
Cons
If you want to be able to schedule a regular email report to a client outside your organization, you'll need the agency add-on as this feature isn't available for most accounts. Email reports arrive as an attachment.
Pricing
A basic Hootsuite account is free, while paid accounts start at $29 per month. To add more users, profiles, scheduled posts, and features you'll need to upgrade your plan.
7. Buffer Analyze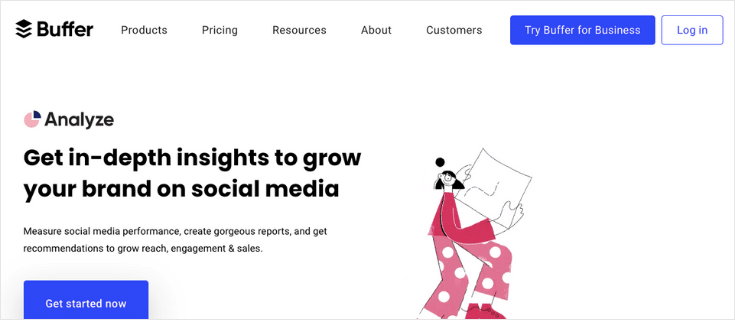 Buffer Analyze is the reporting and analytics add-on to the social media management tool, Buffer. The two integrate fully with one another but are billed separately, which means you'll need to sign up for both if you want both content scheduling and social media reporting on one platform. If all you need is the reporting function, Buffer Analyze lets you track a range of social media metrics and also offers insights to help you plan your content.
Pros
Fully customizable reports bring together metrics from Facebook, Instagram, Twitter, and LinkedIn

White-label options let you add your own logo and branding to reports

The Answers feature makes it easy to access insights to optimize your content planning

You can include analytics from Instagram stories in your reports
Cons
Although the reports you set up will update every day, you'll have to download them manually when you want to share them with clients – there's not an option to set up an automatic email report schedule as there is with other tools.
Pricing
Buffer Analyze starts at $35 per month for the basic level or $50 to access extra features. If you want the publishing tool too, it starts at $15 a month.
And that's it! These are some of the best social media reporting tools available.
Start Building Social Media Reports Today
We hope you found this article helpful. If you did, you may also want to check out the following resources:
These articles will have everything you need to improve your social media reporting and see a larger ROI for your efforts.