Are you trying to find the best content marketing reporting solution to help you achieve your business goals in 2022?
94% of the most successful B2B companies in 2021 used metrics to measure content performance.
Additionally, nearly half of these businesses said that they outsourced content marketing, but a whopping 69% of those that did report their biggest challenge was finding partners with adequate topic expertise.
Tracking the results of your marketing efforts over time reveals which content is generating the biggest return on investment, allowing you to focus more resources towards the kind that has a positive impact on your bottom line.
So, what's the best way to monitor the performance of your content?
Nowadays, there are so many reporting tools available that it can often be hard to know which one will be the best one for you.
So to help, we've curated a list of 7 of the best content marketing reporting solutions out there today, so that you can find the best one to meet your needs.
Before diving in, let's first take a quick look at what you should be looking for in a reporting tool to help you identify which solution will be the best fit for you.
What to Look For in a Content Marketing Reporting Tool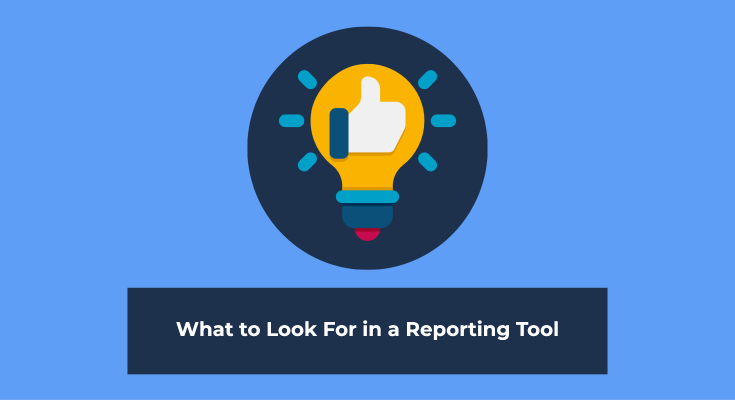 Every reporting tool has its strengths and weaknesses that it plays best to.
The specific needs of an organization and its clients (if any) can help dictate which one will help you get the most out of your marketing reports. You may even find that a combination of tools is best suited to your needs.
The main aspects to consider when choosing a tool are:
🏢 The size of your business
💬 Your content marketing channels
📫 Preferred delivery method (dashboard, email)
🫂 Number of clients (if any)
💰 Budget
Keep these five things in mind as you browse this list and you'll be well on your way to choosing the best one to help you optimize your content marketing strategy.
It's important to remember that picking a good tool is just the first step towards successful reporting - the next is tracking the right KPIs.
We won't cover this in today's post, but you can find lots of free articles on this topic in our MarTech Hub.
So now that you have a better understanding of what you should be looking for, let's take a look at what tools are available.
🔎 Related: SEO Content Performance Reviews: The Ultimate Guide
7 Best Content Marketing Reporting Solutions 2022
1) Metrics Watch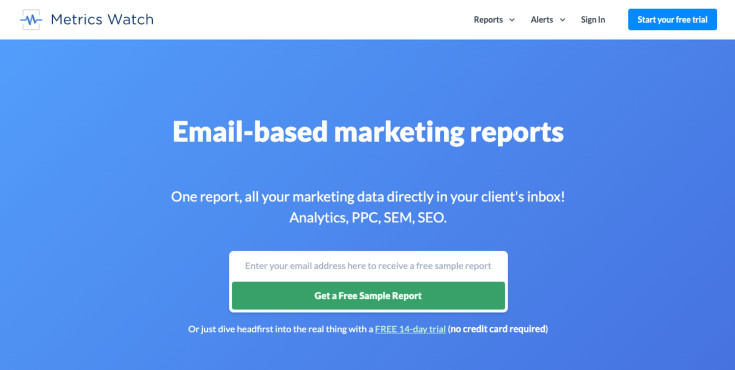 Catering to agencies and businesses of any size, Metrics Watch delivers custom marketing reports directly to your inbox for frictionless reporting.
Unlike with other email-based reporting tools, your data is displayed inside the body of the email itself - meaning no annoying PDFs or 3rd-party dashboards to log into. Just the data you need, when you need it.
Combine data from multiple sources to create comprehensive marketing reports, then schedule them to be sent daily, weekly, or monthly. Integrations include:
Google Analytics

Google Search Console

Facebook

Instagram

Linked In

Mailchimp

And more…
Build professional marketing reports fast with an easy-to-use drag & drop builder, or choose a ready-made template from an ever-growing template library and visualize your data through graphs, charts, and more.
💲 Pricing:
Paid plans start at just $29/month, but you can try Metrics Watch for free with a 14-day trial (no credit card required).
Try Metrics Watch today!
Start Your Free Trial!
2) Semrush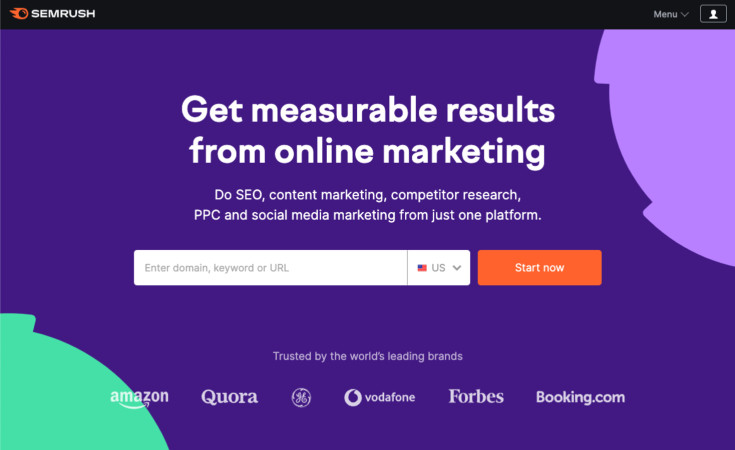 Offering 50+ browser-based tools on one platform, including SEO, competitor research, PPC, and social media marketing. Semrush is a powerful resource for those serious about optimizing their content marketing strategy.
If writing blog articles is at the heart of your strategy, the in-depth competitor research tools are excellent for identifying new topics and keywords to target. their SEO audit tools can then help identify opportunities for improving existing content.
Some may also find the social media publishing tool useful, allowing you to publish new content to all your channels quickly from inside Semrush.
Cons:
With so many tools available, the learning curve can be steep and be a bit overwhelming to new users. It's also expensive, so may not be affordable for some smaller agencies and businesses.
💲 Pricing:
Paid plans start at $120/mo. Semrush also offers a free-forever account - the number of results and queries are limited on this plan, but it'll give you a good taste of what the platform can do before you commit.
Try Semrush today!
3) Klipfolio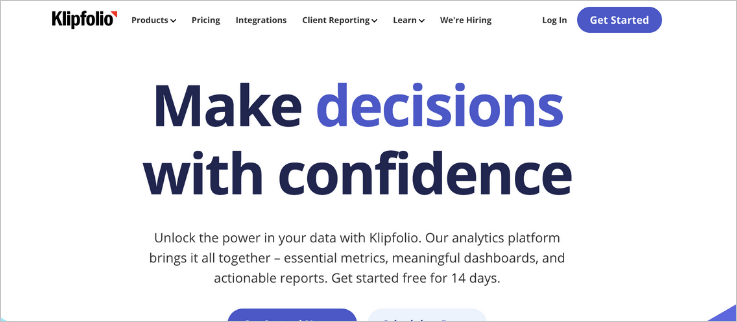 Klipfolio is a popular marketing dashboard tool that lets you view real-time data from multiple channels on one platform.
It connects with most popular data services, so you can build comprehensive dashboards to track your marketing efforts.
They offer two main services - Power Metrics to monitor your own channels and Klips for agencies looking to build dashboards for clients to log in and view their data.
Cons:
Klipfolio is aimed more towards larger companies, so agencies and businesses just starting out may find it to be a bit expensive. Some users have also reported a steep learning curve to the tool.
💲 Pricing:
Paid plans start at $99/mo. There is also have a limited, free Power Metrics plan that offers unlimited metrics and dashboards for 2 data sources.
Try Klipfolio today!
4) Google Analytics

An easy one to overlook on lists like these, but Google Analytics is an essential tool for digital marketers or anyone serious about tracking their website's performance.
It helps you to better understand your audience by monitoring the behavior of visitors to your site.
And the best thing about it? it's free!
The ability to set up conversion goals lets you track when users perform your desired actions, such as newsletter signups and purchases. Custom views will let you see how many conversions come as a result of your content marketing efforts.
Cons:
If social media is a big part of your content strategy, Google Analytics doesn't do a great job at accurately tracking this traffic, but you can fix this by using UTMs in your campaigns.
New to UTMs? Check out our guide to learn more about what they are and how to use them the right way!
💲 Pricing:
Free for the vast majority of users. Only those with extremely high traffic (over 10 million hits per month) will need to upgrade to the premium version of Google Analytics at $150,000 per year.
Try Google Analytics today!
5) Moz Pro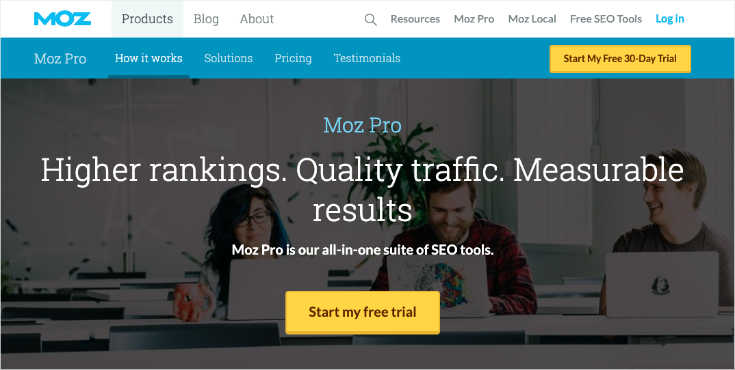 With a focus on SEO, Moz Pro offers a wide range of tools to help with your content marketing strategy including rank tracking, keyword research, backlink analysis, on-page optimization, website audits, and more.
If SEO is at the core of your content marketing strategy then this can be a great option for you as their keyword research and competitor analysis tools will help you generate ideas for new content.
Their auditing tools are also a great addition for those seeking to improve their website's technical performance for optimal user experience.
Moz also offers a range of free tools, including the MozBar extension for Google Chrome which lets you see top SEO metrics instantly for any website or search result while you're browsing the web.
Cons:
The amount of data available can be overwhelming to those without a good understanding of SEO however, there are training resources available.
💲 Pricing:
Paid plans start at $99/mo. Moz offers a generous 30-day free trial, so you can get a proper feel for the tool before signing up for a premium plan.
Try Moz today!
6) Cyfe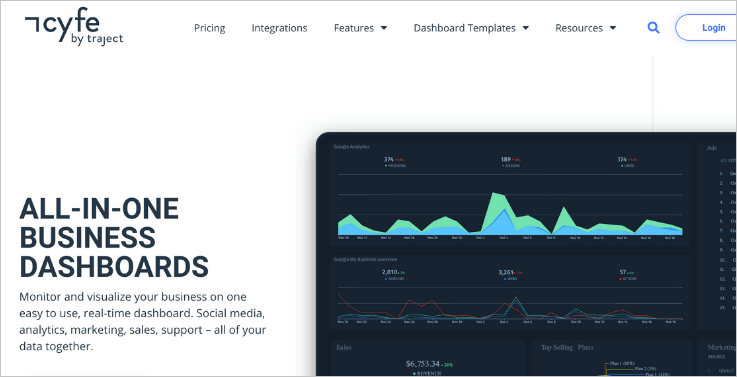 Another popular tool that allows you to combine all of your data in one place and visualize it in real-time marketing dashboards. Cyfe integrates with many popular social media channels and eCommerce platforms to create a comprehensive overview of your content's performance.
An added feature that some may enjoy is the TV mode, which allows you to display your real-time data on an office monitor for the whole team to see.
Cons:
Some users report a lack of customization options for those without technical web experience.
💲 Pricing:
Paid plans start at $19/mo.
Cyfe offers a 14-day free trial so you can try it before you buy.
Try Cyfe today!
7) VidIQ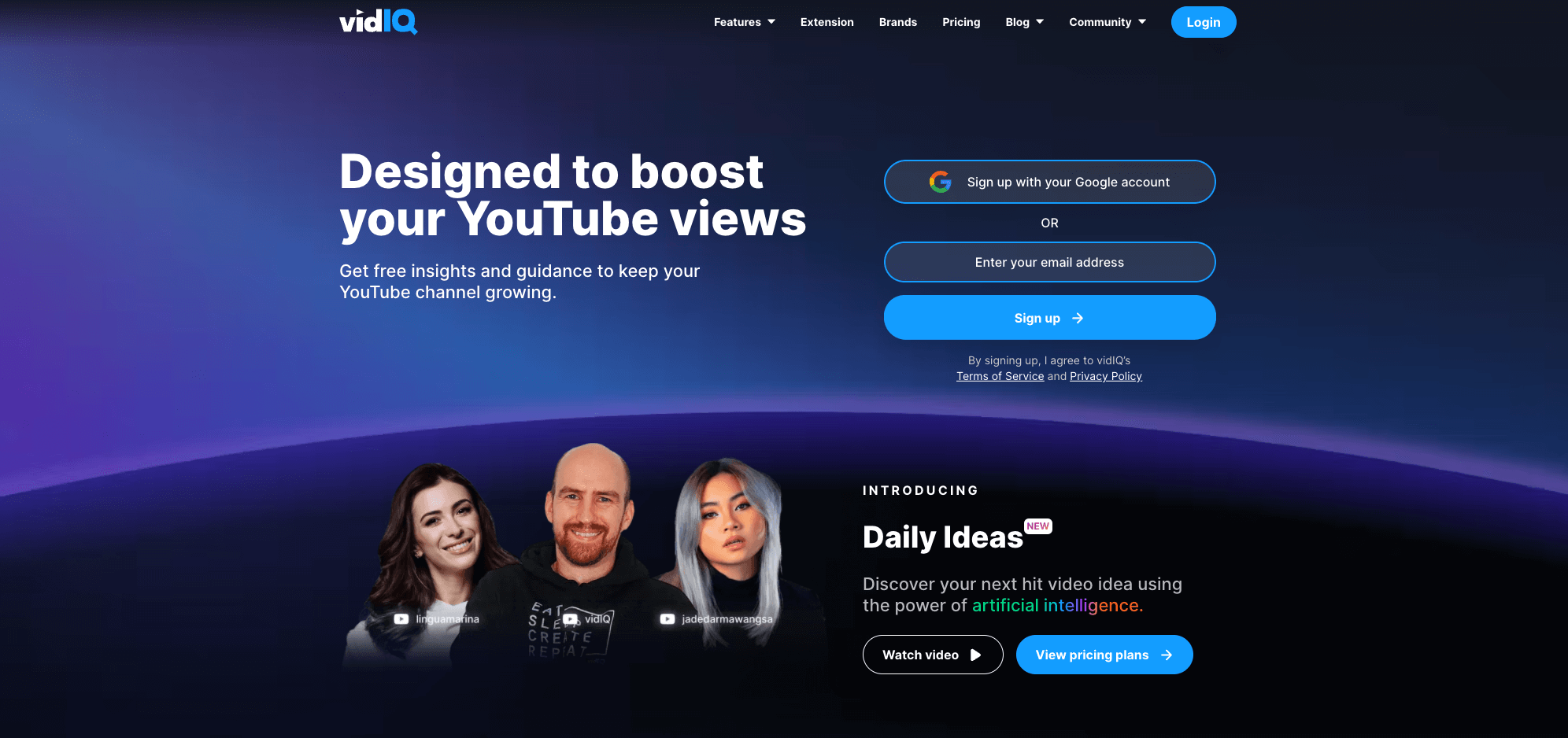 If producing content on YouTube is a key part of your content strategy, then VidIQ is the perfect tool to help grow your channel.
Their growth tools let you track your videos' performance and view data in real-time.
If the goal of your channel is to achieve monetization status (i.e. earning money from ads on your videos) then this allows you to monitor your progress towards reaching the subscriber and watch-time requirements.
Another great feature is the keyword research tool, which helps you discover new keywords and view the keywords your competitors are using to help you get more views and subscribers. There is also an AI-powered daily ideas feature for helping generate new content ideas based on data trends.
💲 Pricing:
Paid plans start at $7.50/mo. VidIQ also offers a free basic plan which will give you a little taste of what their full service can do.
Try VidIQ today!
Final Thoughts
There you have it! This has been our list of 7 of the best content marketing reporting solutions available right now in 2022.
As you probably noticed, each tool is designed to provide specific solutions to specific situations. You may find that a combination of tools is the right choice to achieve the best results.
For example, if your content strategy is centered around SEO, then you could take advantage of Semrush's powerful keyword research tools to plan your content schedule. Then use a tool like Metrics Watch to pull all your data channels together and send data reports directly to your inbox.
This allows you to incorporate data tracking into your busy schedule with ease, saving time and helping you optimize your content marketing strategy through data-driven decisions.
The biggest problem we see marketers face is keeping on top of their data. That's why we built Metrics Watch, as a way to remove the friction from the reporting process.
No need to login to 3rd party dashboards
No need to download PDFs
Just the data you need, when you need to see it.
Want to see it in action for yourself?
Fill out the form below and receive your free sample report in minutes!
We hope you enjoyed this post. If so, then be sure to check out these other resources:
These articles have even more information and tips for improving your content marketing reports to help you reach your content marketing goals in 2022!