Are you trying to figure out which conversion rate optimization (CRO) KPIs you need to focus on for more conversions?
No matter what stage of business you're in, the key to digital marketing isn't just bringing people to your site; it's converting them into leads or customers once they've arrived.
But, unfortunately, this is something marketers know they SHOULD do but don't take the time to actually do it.
That's why, in today's post, I'm going to make things easier for you. I'll share the 5 CRO KPIs you should be tracking and teach you a quick way to stay on top of that data.
But first, let's get clear on what conversion rate optimization is and why it's so important for your marketing strategy.
What Is Conversion Rate Optimization?
Conversion Rate Optimization (CRO) is the process of getting more people to take a desired action on your website. CRO includes many marketing tactics, some of which are:
Identifying what page elements cause visitors to bounce back and optimize them so that they convert better;

Reducing or eliminating any friction points in your conversion process;

Ranking higher and appearing first on search engine results pages (SERPs) so that you're more likely to get visitors from those sources.
That last one is particularly important to mention. That's because bringing people to your site through organic marketing IS important and is usually done with good SEO practices.
However, it's only the first part of a good CRO strategy. Because once people are actually on your website, you still need to convert them.
That's why CRO is the single best marketing investment a company can make. It increases conversions, which generates sales and revenue.
Now that we understand what CRO is and why it matters, let's look at the CRO KPIs you need to start tracking today.
5 CRO KPIs to Track for More Efficient Growth
Before diving into the list of CRO KPIs, let's get a quick refresher on an important concept: KPIs are NOT the same as metrics.
Remember, metrics are neutral pieces of data that are neither "good" nor "bad."
Key performance indicators (KPIs), on the other hand, are metrics with a concrete goal behind it.
So as you're tracking the following KPIs, make sure you have clear goals for what you want each metric to be. That way, you and your team will clearly see if you're hitting or missing the mark.
For more information on this, check out this helpful post: What KPI Metrics Make a Valuable Report for Small Business.
With that in mind, let's dive into our list of the best CRO KPIs you can start tracking to improve conversions.
1. New vs. Returning Users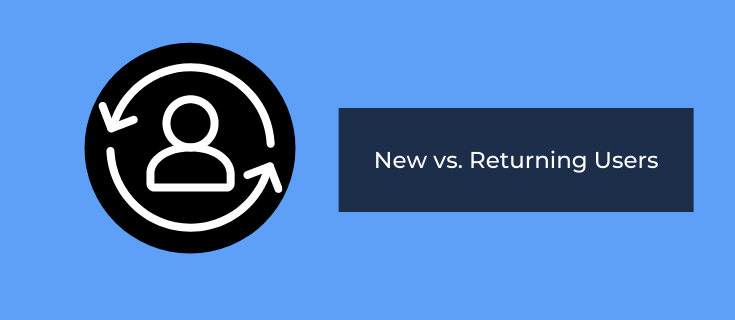 When it comes to CRO, you'll want to understand how many new users you get to your site each month vs. how many returning users you have each month.
This is important to help you optimize conversions because it might indicate that your content isn't engaging your target audience.
Let's say, for example, you found that you had TONS of new visitors to your site each month. While that's great for a growing company, it could also be a sign that you've got a few helpful posts but not much more to offer.
To learn more about your target audience and what they want from your site, work on building out content that will keep them coming back for more - which is something CRO marketers call "engagement."
In all of your marketing reports, you should understand the ratio of new vs. returning visitors. And as you optimize your site for conversions, you should (hope to) see returning users increasing over time.
2. Bounce Rate
Bounce rate is the percentage of people who visit your site and leave without doing anything.
It's a metric that helps you understand how many visitors are scrolling through your content or looking at products but never engaging with anything else after they arrive.
A high bounce rate could be because, as mentioned above, new visitors don't find what they're looking for on your site.
In that case, you might want to take a look at the content surrounding the page where people are bouncing and see if you need more information or better navigational tools there.
Alternatively, it could be because visitors don't find anything compelling enough to stay on your site in general - which is a sign that you need to work on your marketing messages and customer value proposition.
Bounce rate is a good metric to track because it tells you which content needs more attention or what pages might be causing visitors to leave without converting.
To be clear: bounce rate isn't always just about how engaging your content is. But it's still an important metric for CRO because it can help you take steps in the right direction to create more engaging content.
3. Cost-per-Conversion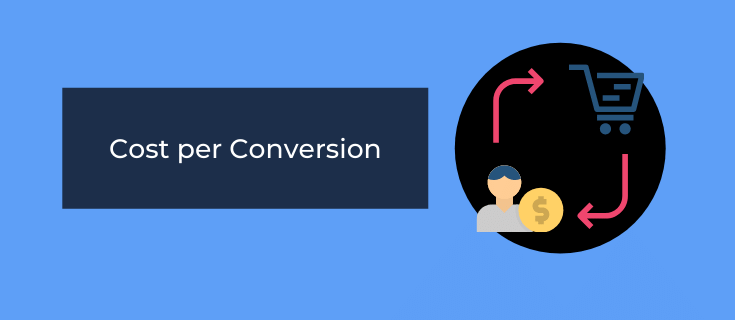 Cost-per-conversion is how much you spent on marketing to generate a conversion.
CRO KPIs like this one are important because they help marketers calculate their return on investment (ROI). If your CRO strategy isn't producing results, it's time for new tactics, or at the very least, an adjustment of what you're doing right now.
For example, your cost-per-conversion could be high because you spent a lot on ads but didn't get many conversions (which would mean that the money invested in marketing was not generating any ROI).
Or it could also be high if visitors are bouncing from your site without converting at all, which means that the money invested in marketing is going to waste.
In order for your CRO strategy to be successful, you'll want a low cost-per-conversion.
And that's determined by any number of things: how much content visitors are consuming on your site, what percentage of traffic converts, how many paid ads you're running (and with what budget), and so on.
4. Email Growth Rate
An important CRO metric is your email list growth rate.
This tells you how quickly the number of people who are on your email list, or signed up for future emails from your company, is increasing over time.
The more subscribers that join every month - and then keep coming back to read new content in their inbox - the better.
A high email list growth rate may mean that your CRO strategy is working, and it's also a sign that you're building trust with visitors who want to hear from you again in the future.
The inverse of this would be if the number of new subscribers was decreasing month over month - which could then signal that people don't want to hear from you anymore.
In addition, if your email list growth rate is low and no one's opening or clicking on emails that you're sending out, then it may be time to rethink the messages in those emails.
5. Page Speed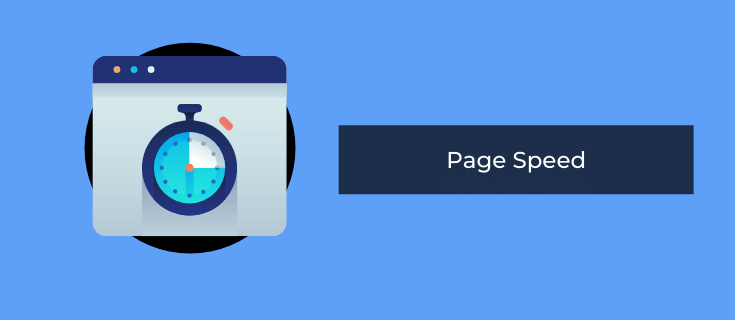 This is a bit of a silly CRO KPI to add (because it's so obvious), but it's not one that I've seen written in other blog posts on this topic.
But you NEED to keep a close eye on your site's performance. And one of the biggest factors here is page speed.
Page speed is important for CRO because it can have a big impact on how much time your visitors spend on your site.
And the more they're engaged with your content, the better their conversion rate should be (as long as you've set up tracking for that particular metric).
But if it takes too long to load pages, images, or button clicks, then people are likely going to leave your site and never come back.
The best way to track this is by using Google's PageSpeed Insights tool, which grades your website on a 100-point scale based on how it performs against the ideal range of performance.
Google is laying even more importance on load times this year, and will prioritize content that's high quality AND loads quickly.
Make sure to keep your eye on page speed so you can troubleshoot any issues that are slowing down your user experience (UX) and killing your conversions.
Now that we know which CRO KPIs you need to track, we've got a new problem: how do you track these in a way that you, your team, or your clients will actually use?
Let's take a quick look at how you can create an automated CRO report FAST.
How to Track Your CRO KPIs
There are really only 2 options for tracking your CRO KPIs:
Check the data manually

Use a tool to automate the process
As with most marketing problems, those are the solutions at your disposal.
And while you can save a bit of money (in theory) by manually checking the data, this leads to a few problems, such as:
Human error while tracking or reporting the data

Lose money because you need to pay someone to manually compile reports

Lose time because you're compiling the reports yourself

Data gets compiled but never used
That's why I always recommend building your marketing and CRO reports with Metrics Watch: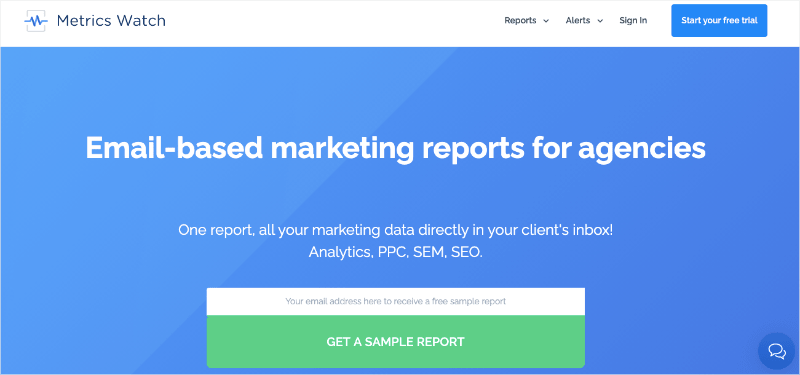 Metrics Watch is one of the best report building tools on the market. It allows anyone to quickly and easily create CRO reports that pulls data directly from their Google Analytics accounts.
Plus, you can combine this with KPIs from your other marketing channels to build a comprehensive report.
These other channels include:
Google Search Console (great for site performance KPIs)

Google Ads

Mailchimp

Facebook (paid and organic)

LinkedIn (paid and organic)

Instagram (paid and organic)
And with a drag and drop report builder, you don't need any technical skills to send professional marketing reports in no time.
Simply connect your accounts, then drag and drop the KPIs you want into place.
But the best part is that when you share the reports, the data is sent directly to your recipients' inbox. That means no more messy PDF attachments, and no 3rd-party user roles to manage.
Instead, you get all the data people need in a format they already know and love.
Sound too good to be true? Try it out for 14-days TOTALLY FREE (no credit card required) by clicking below:
Build Automated CRO KPI Reports Today!
And that's all for today! We hope these 5 CRO KPIs help you get more conversions faster.
If you enjoyed this post, you'll definitely want to check out the following resources:
These articles will have even more information on how you can create a smarter and data-driven marketing strategy.