Are you looking for the best cross channel marketing tools to help grow your business?
When it comes to attracting new leads to your site, it seems like your options are endless: email marketing, content marketing, social media, paid ads, and so on.
With all these tools at your disposal, you might be wondering which ones are worth the investment.
That's why, today, we're going to share the best cross channel marketing tools you can use to get the most from your marketing efforts.
Ready to get started? Let's dive straight into the list.
7 Best Cross Channel Marketing Tools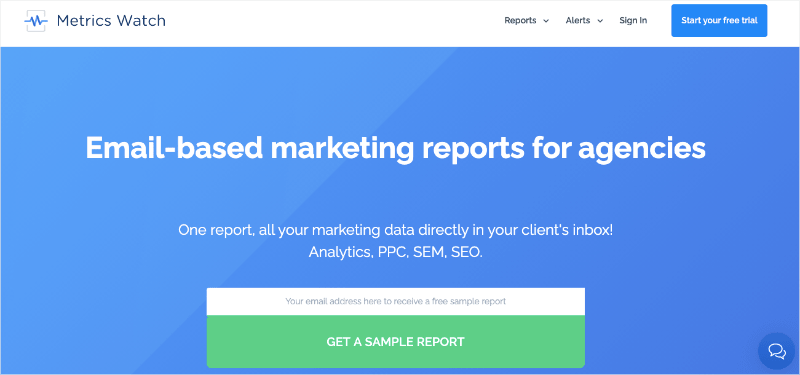 Metrics Watch is one of your best options for creating cross channel marketing reports. If you don't already have an automated report builder, this is definitely where you need to start.
By tracking valuable data and key performance indicators (KPIs) across channels, you'll know which ones are providing you with the best results.
Then you can double down on your success to continue growing your business.
Plus, Metrics Watch turns a tedious task into an automated system that can be set up in minutes. You can pull data from your favorite channels, including:
Google Analytics

Google Search Console

AdWords

Facebook (organic and paid)

Instagram (organic and paid)

LinkedIn (organic and paid)

And more…
With a drag and drop builder, you don't need to know any coding to build powerful marketing reports FAST.
Finally, the thing that makes Metrics Watch stand out is that it removes all friction from the report sharing process.
Whereas most report builders send reports via PDF or email attachments, Metrics Watch sends the information directly to your recipients' inbox.
This means no more messy PDFs to organize, and no more user login sharing for 3rd-party dashboards.
Instead, you send the data to the people who need it in a format they already know.
Want to see it in action 100% risk-free? Sign up for your free 14-day trial by clicking below (no credit card required):
Start Your Risk-Free Trial Today!
2) Iterable
Iterable claims to create personalized, seamless customer journeys across a range of marketing channels, including email, SMS, push notifications, in-app messaging, and social.
Using AI technology, Iterable allows you to treat your customers as individuals, even when communicating with them in larger groups.
It helps you manage your marketing channels from a single location, so you can create more effective campaigns.
Pros
A drag-and-drop interface makes it easy to create and edit workflows

The Catalog feature lets you personalize messages based on customer's location, interests, behaviors, or actions

AI technology helps you optimize when and how your messages are delivered to each customer

Dashboards and reports are available to help you analyze your campaigns
Cons
Iterable is aimed at enterprise-level companies, so it might not be suitable for smaller companies or startups. It is a more complex tool, and the initial learning curve is steeper than with some other options.
Pricing
Iterable doesn't offer pre-priced packages, so you'll need to contact them for a quote.
3) Mautic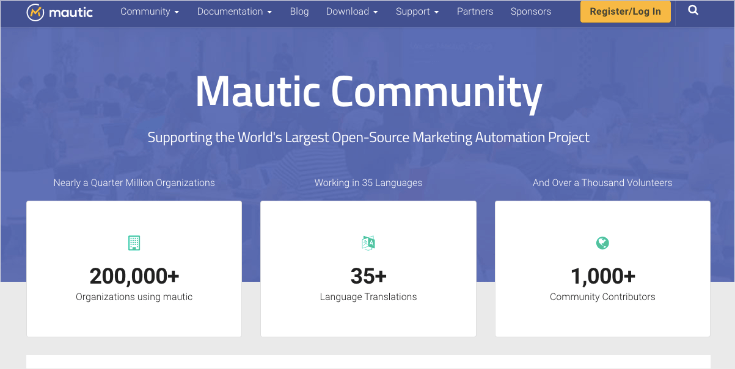 Mautic is an open-source marketing automation tool that aims to make automation software available to everyone.
There's an active community continuously working to improve it, and it connects with all your major marketing channels, including email, social, SMS, and website push notifications.
Pros
If you have the knowledge to install and set it up yourself, Mautic is free

Manage your contacts and build nuanced segments

Create and organize your content, such as forms, landing pages, downloads, and dynamic content

A campaign builder helps you set up personalized, automated customer journeys
Cons
Because it is an open-source cross-marketing tool, Mautic is more DIY than other options on this list. If you are confident in your tech abilities, then you can install it, set it up, and manage it on your own server for free.
But if you don't have the tech skills within your team, you'll need help from a developer to get started.
Pricing
Mautic itself is free, but most marketers should expect to need help from a developer in getting set up and with ongoing maintenance support. Pricing will vary depending on the developer.
4) Resulticks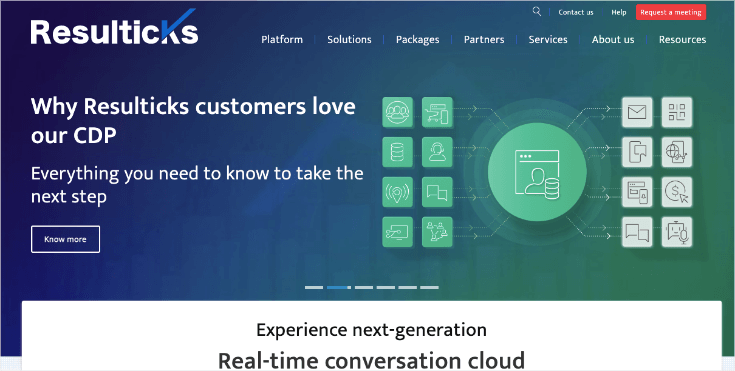 For truly individualized customer engagement that works across all your marketing channels, Resulticks is worth a look.
It helps marketers create seamless cross channel journeys that take customers from their first interaction with your brand right through to conversion and beyond.
Pros
A drag-and-drop campaign canvas makes it easy to visualize and map out customer journeys

The segmentation tools are backed by AI, so you can quickly identify and create new segments

Individually generated SmartLinks mean you can move conversations seamlessly between channels, as well as accurately attributing sales

The analytics track engagement, sentiment, campaign performance, and budgets
Cons
Resulticks don't yet offer their own API, so you'll need to access it via their platform. It also doesn't connect directly to paid advertising platforms.
You'll need to set up PPC campaigns directly on those platforms and use a SmartLink to track customers through to other channels.
Pricing
Although it offers three different packages, you'll need to contact Resulticks directly for a quote.
5) Braze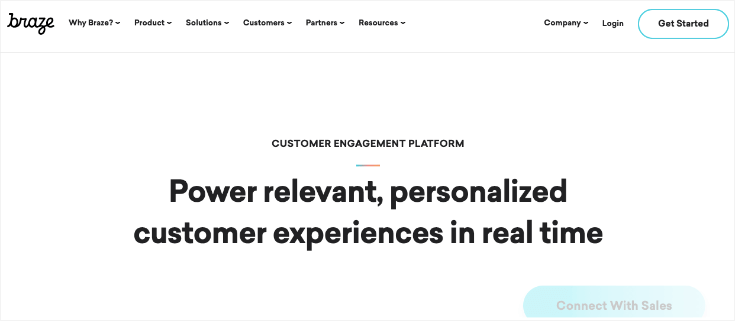 Braze is a cross channel customer engagement platform that promises to make it easy to get the right message to your customers at the right time and in the best format.
It pulls in data on your customers from multiple platforms, then lets you build and test personalized cross channel journeys.
Pros
The Canvas feature makes it simple to create audience segments and cross channel marketing campaigns

The machine learning capabilities create dynamic audiences and suggest ideas for engagement

A/B testing tools are built in, making it easier to find the right message for each audience

Real-time data updates ensure your customer profiles are always accurate
Cons
Braze offers email, SMS, in-app messaging, dynamic website content, and push notifications.
But it doesn't currently integrate with social media or PPC advertising platforms.
Pricing
Braze only offers customized pricing plans. Contact them for a quote that meets your needs.
6) AutoPilot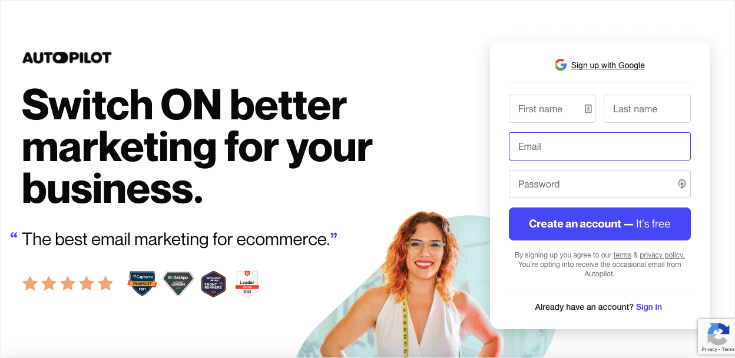 Aimed mainly at eCommerce and SaaS companies, AutoPilot helps you build cross channel marketing journeys that engage and convert potential customers.
It also gives you suggestions for audience segments to target.
Pros
Brings all your customer data together in one place, so you can build effective segments

Adds forms, pop ups, surveys, counters, and more to your website to drive engagement

The playbooks feature helps you create personalized customer journeys for each audience segment

Includes built-in revenue attribution modeling to track the ROI of every campaign
Cons
AutoPilot works well on your website and via email and in-app messaging, but it isn't yet integrated with other channels, such as SMS, social media, or PPC advertising platforms.
Pricing
AutoPilot has a free plan with limited access to some of its basic features.
Paid plans start from $29 per month. There's a discount available if you are a startup or a non-profit.
7) BrightInfo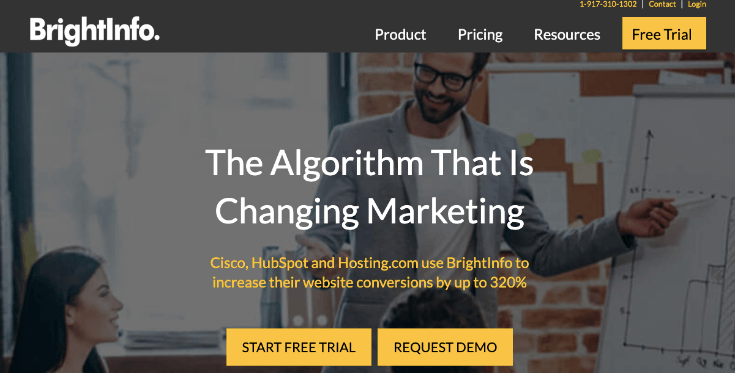 Wouldn't it be amazing if you could create website content specifically tailored to each individual visitor? Well, that's what BrightInfo sets out to do.
Its self-learning algorithm tracks visitor behavior and then offers them the most relevant content.
BrightInfo also integrates with MailChimp, HubSpot, Marketo, Act-On, ÜberFlip, and SalesForce Pardot, so you can continue the conversation via other channels, making it a valuable part of a cross-marketing toolkit.
Pros
Offers personalized, relevant content to website visitors to increase conversions

Tracks browsing patterns, mouse clicks, and demographic data to build a picture of your visitors' behavior

Uses in page and overlay widgets to seamlessly integrate personalized content into your website

Allows you to create custom campaigns based on visitor data
Cons
As it only offers personalized website content, BrightInfo isn't a standalone cross marketing option.
It will be most useful to those already using one or more of the tools that it integrates with. If you don't use any of these, BrightInfo may not be the right choice for you.
Pricing
BrightInfo quote on an individual basis, so you'll need to speak with them to discuss your needs.
And that's all for today! These have been 7 of the best cross channel marketing tools you can use to grow your business.
Start Your Risk-Free Metrics Watch Trial Today!
We hope you enjoyed this post. If you did, you'll definitely want to check out the following:
These articles will have everything you need to improve your cross channel marketing efforts and drive more revenue for your business.