Are you looking for the best Google Data Studio alternatives to track your marketing efforts?
Having the right tracking solution is crucial for the growth of your business. Whether you're sharing that data with your internal team or handing it off to 3rd-party clients, the result is the same:
Understanding how people are or are not converting with your site matters.
One popular solution is Data Studio, a free tool by Google that creates reports and dashboards. And while the price tag is appealing, it may not have all the features or integrations you need.
In other words, having MORE options is always better than having fewer options.
That's why, today, I'll share 7 Data Studio alternatives that you can use to create accurate and highly profitable marketing reports.
Let's get started.
7 Best Data Studio Alternatives
Metrics Watch is hands down one of the best report builders on the market. It allows anyone to quickly and easily create marketing reports that will help your internal team or boost confidence with clients.
Here's how it works…
Once you sign up for a free 14 day no-risk trial with Metrics Watch, you'll be able to sync all of your favourite marketing channels, including:
Google Analytics

Google Search Console

Google Ads

Facebook (paid and organic)

Instagram (paid and organic)

LinkedIn (paid and organic)

Mailchimp
These integrations allow you to make a comprehensive and detailed report for your team or clients.
From there you can determine who needs to get this data and win. Then you can flip the switch and turn the whole process on autopilot.
But the best part about metrics watch is how this information is shared.
That's because it's one of the only report building tools available that will send marketing reports directly to your recipients' inbox
And no, we don't mean it will send a PDF attachment to their inbox. It will send the full marketing report with your logo in all the visual graphs, charts, tables, and lists to help your recipient digest the information at a glance.
This takes a level of friction out of the report-sharing process that, frankly, has been long overdue.
That's because sending PDF attachments or redirecting people to a third-party dashboard is more likely to result in them never getting around to looking at the data. New paragraph. But when that information is secure in their inbox, you're much more likely to see that data get used for practical improvements.
But hey, why not see it for yourself? Click below to start your 100% risk-free Metrics Watch trial today (no credit card needed):
Start Your Free Trial Now!
2. Whatagraph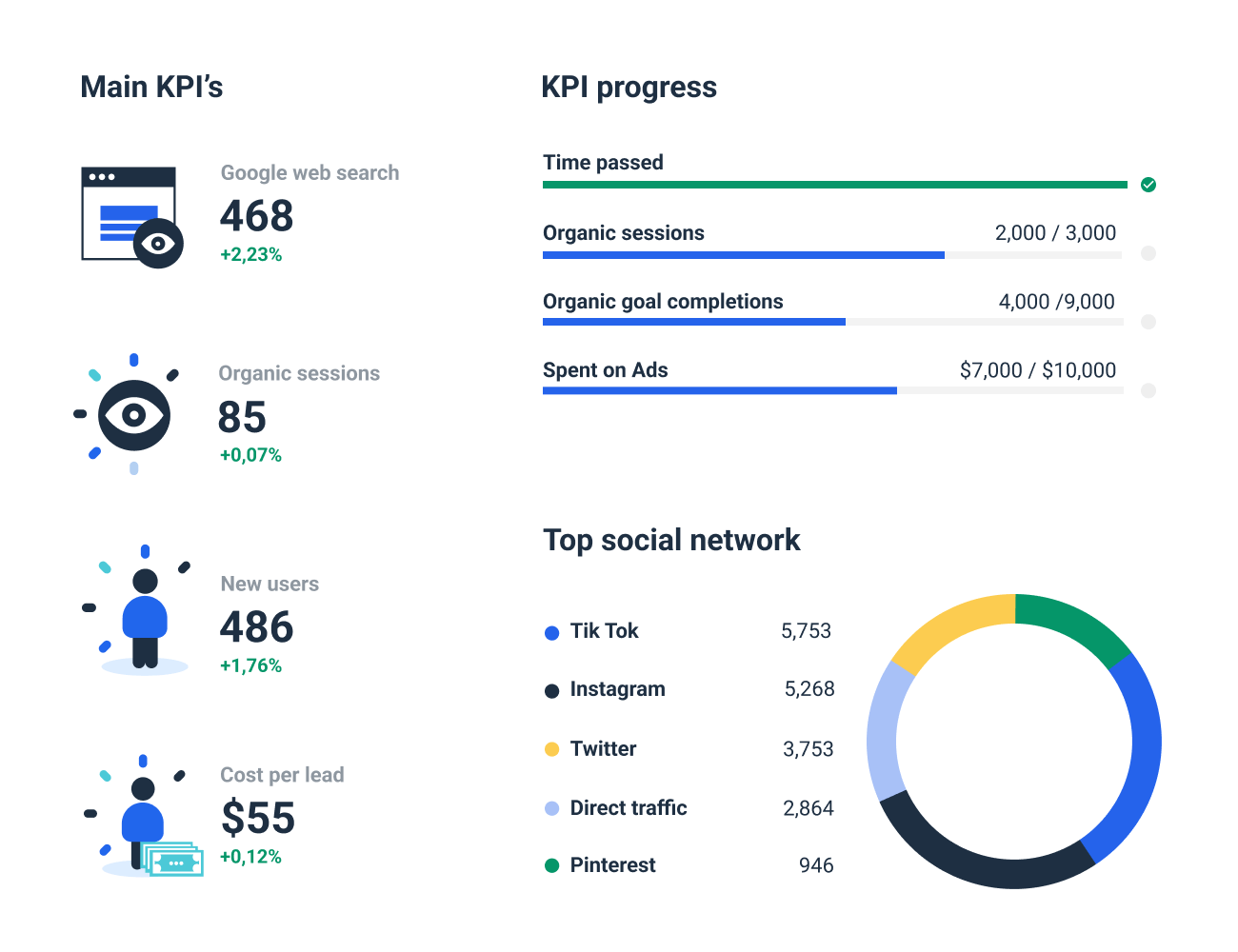 Whether you run a marketing agency or you need to send marketing reports as a part of an in-house team, this marketing reporting tool fits the bill. Compared to Google Data Studio, it's much more intuitive and easier to use, starting with a 30-minute onboarding session for each new customer. Also, there are no hidden costs that come with Google Data Studio connectors.
Pros
40+ data sources

95+ report templates for different industries, tools and use cases

Personalized onboarding for every new customer

Full report customization including a white label option for agencies
Cons
There is only an annual plan available, making it a pricey investment compared to some other tools
Pricing
The cheapest plan is called Professional and it starts at $199 per month. This gets you 25 data sources, 5 user seats, and unlimited reports and templates. However, you can only subscribe to an annual plan.
3. Databox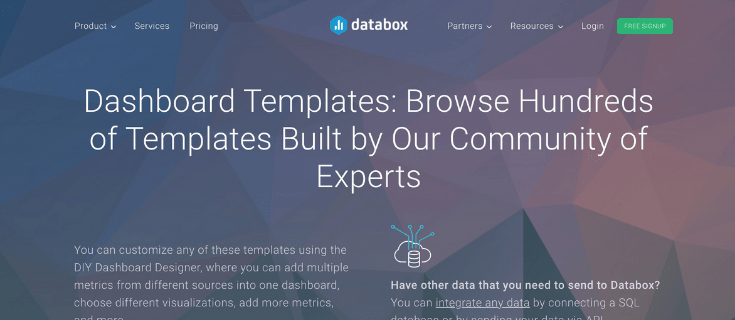 Databox is a data reporting tool and a solid alternative to Google Data Studio. It pulls together all the essential metrics that your company needs to monitor and helps you transform them into easy-to-digest dashboards and reports.
Pros
Template dashboards make it easy to get started

The free basic plan lets you start building reports and visualizing your data without needing to pay

There's an option to configure custom goals and receive alerts when you go off track

Add annotations and notes to your dashboards to bring clients' attention to key information
Cons
If you're reporting back to clients and want to customize the branding, you'll need to pay an extra $250 per month for white-label features. Although you can customize metrics to build your own reports, the process isn't straightforward and may trip up less technically-minded users.
Pricing
A free starter plan lets you access basic features. Paid plans start from $91 per month. Discounts are available if you choose annual billing. Agency plans are available too, but you'll need to contact Databox for prices.
4. KlipFolio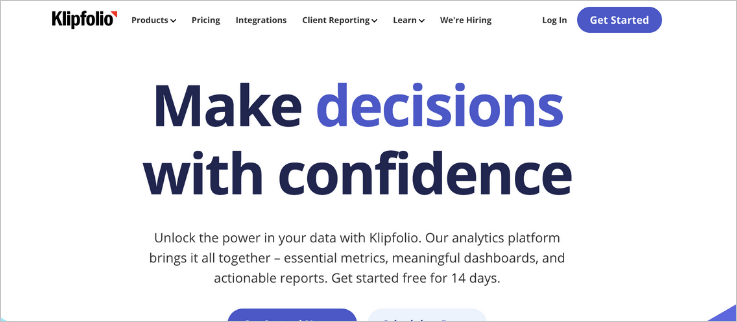 If you are looking for an easy-to-use data visualization tool, Klipfolio is one to consider. Designed for SMEs, startups, and marketing agencies, it aims to make analyzing your data and creating reports as straightforward as possible.
Pros
Plenty of pre-built templates to help you get reports and dashboards set up

Custom visualizations are easy to configure using the Klip Editor tool

White-label options allow you to add your own branding to dashboards

Different sharing options let you send information easily to clients and colleagues
Cons
Although simple to use, Klipfolio's visualizations are on the basic side, meaning there are limits to how you can present your data. There's also a small extra charge for full white-labeling options.
Pricing
Klipfolio offers a free version that gives you access to the basic features. The entry-level paid plan is $142 per month, but discounts are available if you opt for annual billing.
5. Geckoboard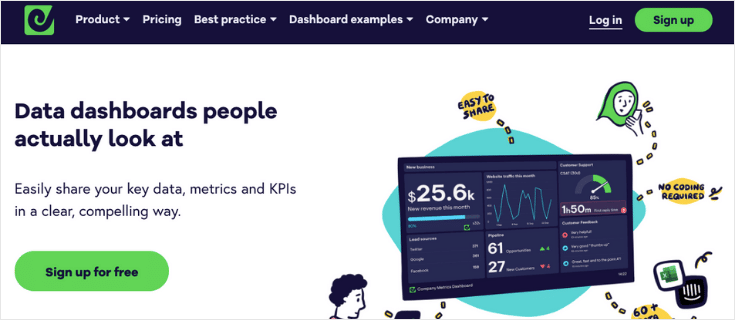 Geckoboard is a good all-round alternative to Google Data Studio for visualizing and analyzing business data.
It integrates with a wide range of data sources, including digital marketing, accounting, customer support, and project management software, meaning you can see all your important business metrics in one place.
Pros
Offers a Slack integration, making it easy to share updates with colleagues

The user-friendly interface makes building dashboards easy

Configure goals and status indicators to keep track of your progress

Wide range of connectors to cover most business needs
Cons
Sharing your reports with others is the biggest issue with Geckoboard if you don't want to manually email a URL each time. You can schedule reports to Slack, but the process for automatically sending reports by email is complicated and involves third-party integrations.
Pricing
As well as a 14-day free trial, Geckoboard has a free plan that gets you access to one spreadsheet-powered dashboard. Paid plans start from $35 per month, with discounts if you choose annual billing.
6. Grow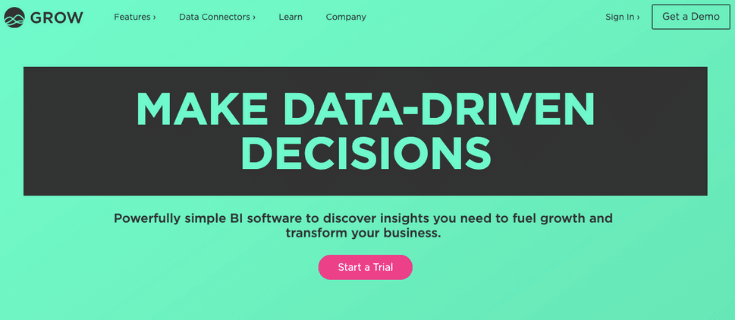 A business intelligence platform, Grow is aimed at larger companies that need a 360˚ view of their data. It offers integrations with most digital marketing channels, project management tools, accounting software, and CRM databases.
Pros
Pulls together a wide range of business metrics in one place

Option to share individual metrics with your team quickly via Slack

Add your own logo, branding, and domain name with white-label options

Interactive visualizations let you explore your data thoroughly
Cons
Although there's no actual coding involved, Glow is a heavy-weight tool. And that means it has more of a learning curve than some of the other Google Data Studio alternatives. It is also designed for larger organizations, and the pricing reflects that.
Pricing
Grow offers a free trial, so you can try it out before committing. There are no pre-priced plans available, but you can expect this tool to come in at a higher monthly cost than any of the other options on this list.
7. DashThis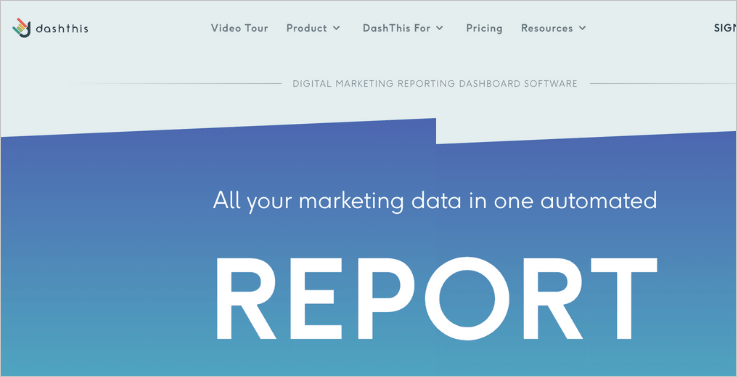 Created with marketers and small businesses in mind, DashThis is a dashboard and reporting tool that integrates with most of the commonly used digital marketing channels. For agencies, DashThis offers report templates and bulk dashboard creation services that make it easy to get all your clients set up quickly.
Pros
No limit on how many users you can have, even on the lower-level plans

Template reports and widgets make it easier to build your reports

Option to add section headers and comments to reports to help clients interpret their data

The drag-and-drop builder is simple to use and helps you create and customize reports
Cons
Although you can have unlimited users with DashThis, there are restrictions on how many dashboards you can create. This means many businesses will quickly outgrow the cheaper plans.
Pricing
You can try DashThis for free for 15 days. The starter plan, with three dashboards, is $39 per month. There's a discount if you pay annually.
Bonus Tool: SuperMetrics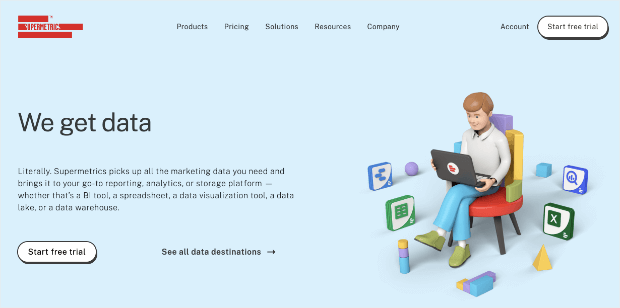 If you like Google Data Studio's visualizations but want an easier way to connect all your data sources, SuperMetrics has you covered. It works with Google Sheets and Google Data Studio to bring together all your business metrics in one place. With over 500 different connectors available, you're guaranteed to find the integrations you need.
Pros
If you are already using Google Data Studio, SuperMetrics builds on a familiar tool

Hundreds of integrations are available

Choose how often you want reports to update and schedule them by email

Report templates help you get started quickly
Cons
Accessing support can be tricky with SuperMetrics, as only email support is available on the cheaper plans. If you are trying to get away from Google Data Studio altogether, this may not be the option for you.
Pricing
Pricing for SuperMetrics depends on how many data sources and users you need. It starts from 99 euros per month for a single user, which translates to roughly $117 per month.
And that's all for now!
These have been 7 of the best Data Studio alternatives you can start using to create more profitable reports.
Start Your Free Trial Now!
I hope you enjoyed this post and, if you did, you'll definitely want to check out the following resources:
These articles will have more information on how you can leverage data to create better and more efficient marketing strategies.
Or just dive headfirst into the real thing with a FREE 14-day trial (no credit card required)