Are you looking for the best Databox alternatives to build your marketing reports?
Databox is an excellent tool for marketers hoping to create smarter, more data-driven strategies. But like all the other tools out there, there's no "silver bullet" that makes it the perfect solution for everyone.
That's why, in today's post, I'll share 9 Databox alternatives that you can check out to find the best report building tools for your unique needs. Ready to get started? Let's dive into the list.
9 Databox Alternatives to Build Marketing Reports
1) Metrics Watch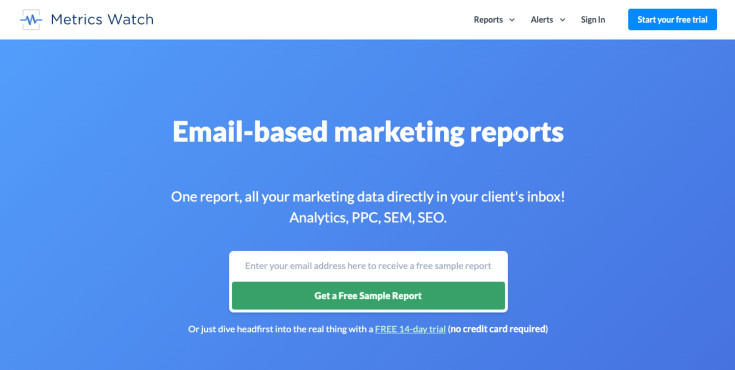 Metrics Watch is hands down the best report building tool on the market. That's because it allows you to quickly and easily create professional reports in minutes, even if you have no technical experience or coding skills.
This tool comes with a drag and drop report builder that allows you to connect to your favorite channels, including:
Google Analytics

Google Search Console

Google Ads

Facebook (organic and paid)

Instagram (organic and paid)

LinkedIn (organic and paid)

Mailchimp
From there, you can create an automated workflow in a matter of minutes. Just choose your recipient and decide the frequency at which you want to share your custom report (daily, weekly, or monthly).
And this brings me to the best part: the way these reports are shared.
Unlike every other report building tool out there, Metrics Watch will send reports directly via email. Not as a PDF attachment and not as a link to a 3rd-party user dashboard. Instead, Metrics Watch delivers custom reports with YOUR branding and visual representations of your data so people can get the information they need in a format they already know and love.
Want to see it in action for yourself? Click below to start your 100% risk-free Metrics Watch account today:
Build Automated Digital Marketing Reports Today!
2) Whatagraph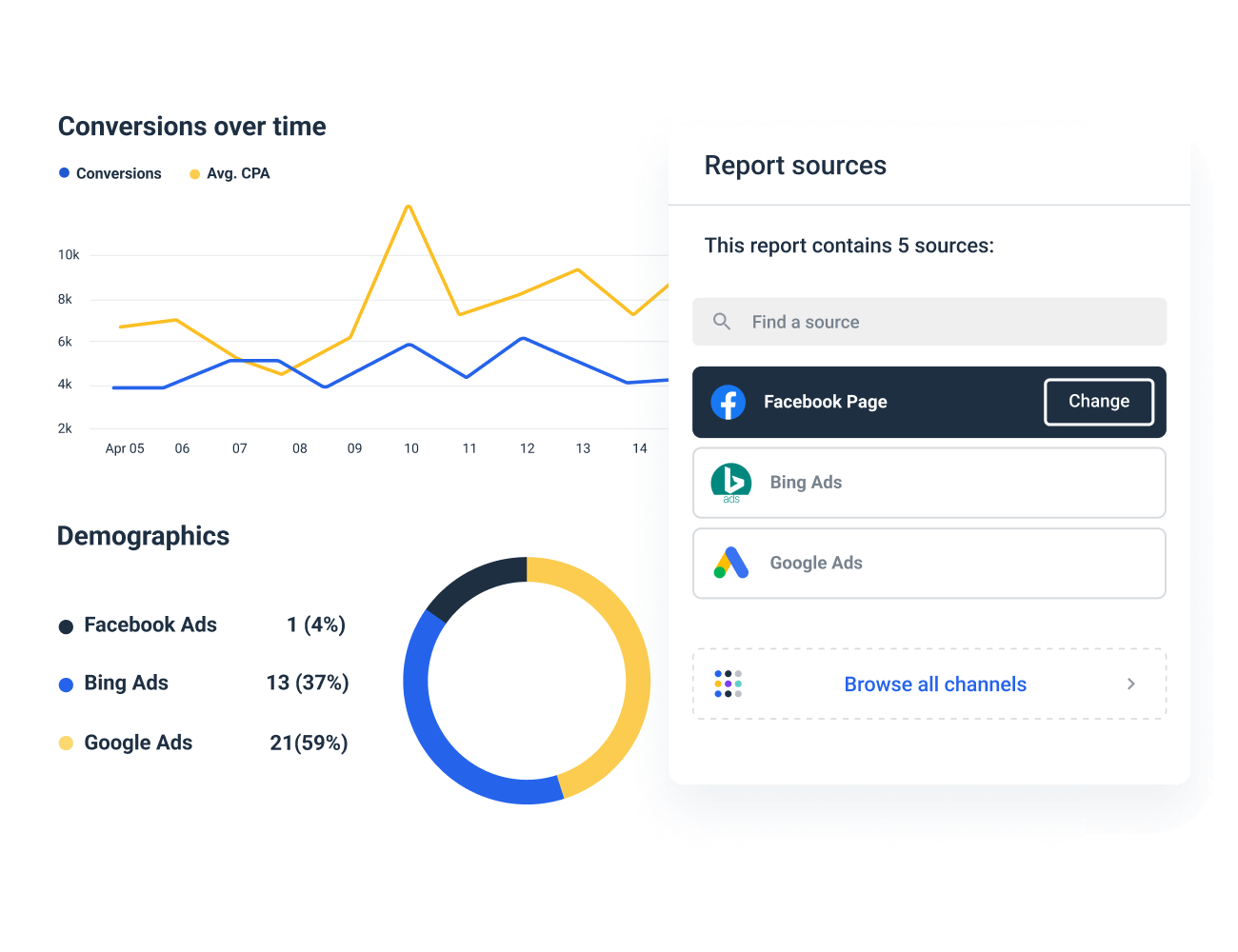 If you're looking for a powerful Databox alternative that is intuitive and easy to use, consider Whatagraph. Besides creating stunning marketing reports, they recently added a data transfer feature. This means you can use Whatagraph to move your marketing data from a large number of marketing sources to BigQuery and then visualize it with great marketing reports.
Pros:
40+ data sources

100+ report and dashboard templates

report customization (including white labeling for agencies)

data transfer from various sources to BigQuery
Cons
you can only purchase an annual plan - there are no monthly plans available
Pricing
The free trial takes 7 days, after that you can purchase a paid plan starting at $223 per month, which is good for 5 users on your team and 25 data sources for reporting.
3) Google Data Studio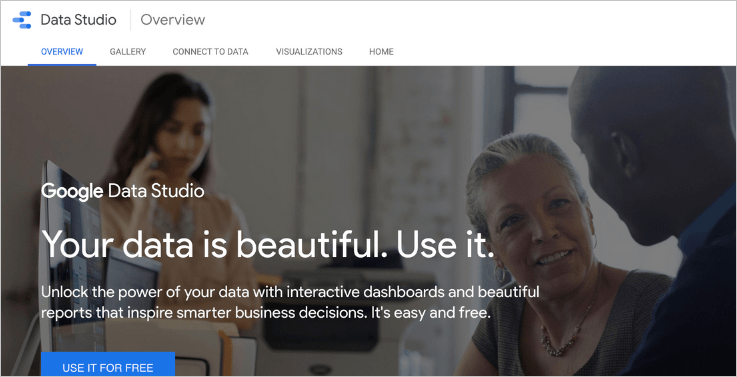 Data Studio is Google's data visualization and report-building tool. Although it can be a slightly more manual option than many on this list, it is also free, making it a budget-friendly alternative to Databox. Of course, it also integrates well with Google's other tools, including Google Analytics and Google Sheets.
Pros
Get started quickly with pre-built templates

Use text markup to explain or highlight important trends

It's free (for data from Google platforms only, though)
Cons
Google Data Studio integrates with Google's other tools for free. But for other platforms, you'll need to use third-party connectors, which adds to the cost.
Pricing
Google Data Studio is free (but see our note above about third-party connectors).
4) DashThis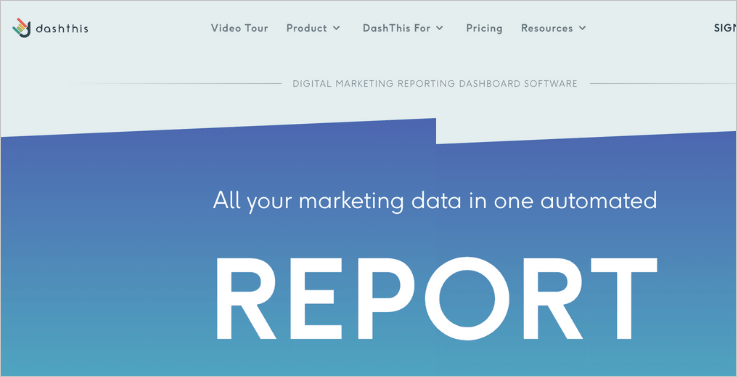 DashThis is a dashboard and reporting tool aimed at digital marketers. It integrates with many of the commonly used digital marketing platforms and includes agency plans to help you report back to multiple clients.
Pros
There's no limit on how many users you add to your account, even on the cheaper plans

You can save custom reports and widgets to make report-building quicker

Add comments and break reports up into sections to make them more reader-friendly
Cons
On cheaper plans, the number of dashboards you can create is very limited, meaning even smaller businesses will quickly outgrow them.
Pricing
You can try DashThis for free for 15 days. The starter plan, with three dashboards, is $45 per month. DashThis also offer a discount if you pay annually.
5) Klipfolio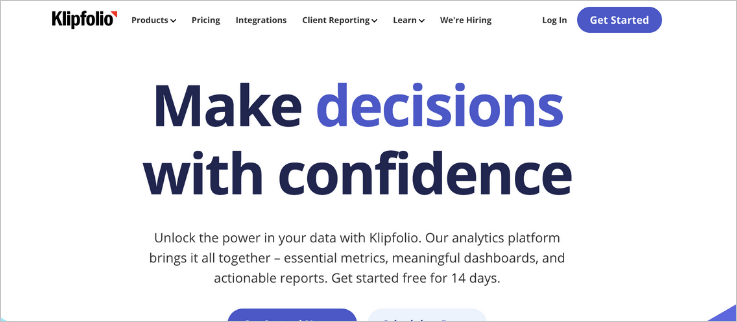 Another alternative to Databox for building marketing reports Klipfolio. Aimed at SMEs, startups, and marketing agencies, Klipfolio is an easy-to-use tool with plenty of timesaving features to make reporting simple.
Pros
Get started quickly with pre-built templates, or use the Klip Editor to create custom visualizations

Use the white-label options to add your own branding

Sharing options include links, PDFs, Slack messages, and scheduled emails
Cons
Klipfolio is easy to use, but they may have gone a bit too simple – their visualizations are limited, which restricts how you can display your data. Full white-label options come at an extra charge.
Pricing
Klipfolio has a free version that gives you access to the basic features. The entry-level paid plan is $70 per month, but discounts are available if you opt for annual billing.
6) NinjaCat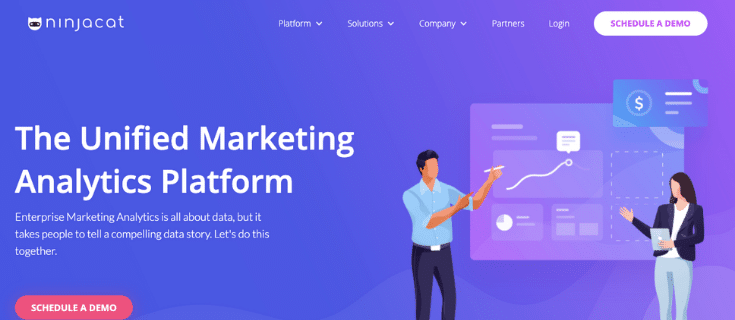 With plenty of native integrations, NinjaCat is a solid alternative to Databox for creating marketing reports and dashboards. It offers lots of options for customization too, so you can create exactly the visualizations you need.
Pros
Interpret your data for readers by adding insights and recommendations to reports

Create custom goals and monitor your progress against

Budget alerts via email help you keep track of your marketing
Cons
NinjaCat's sharing options are limited. You can either give clients or team members a custom URL, or email reports as a PDF attachment. Both options are clunky.
Pricing
NinjaCat doesn't offer pre-priced plans, so you'll need to contact them for a quote.
7) Swydo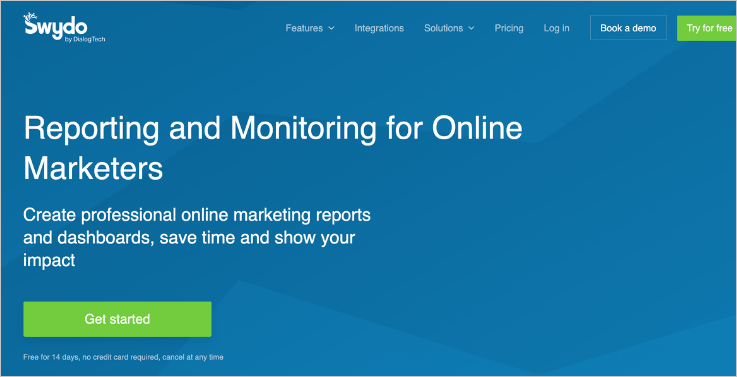 Designed with digital marketing teams in mind, Swydo integrates with the major social media platforms, as well as SEO tools, email marketing platforms, and call tracking software. It helps you keep a careful eye on your marketing KPIs in one place.
Pros
Keep track of your progress by setting targets

Create master templates of your favorite reports, making it simple to onboard new clients

Add your own brand colors, logo, domain name, and email address to personalize reports and dashboards
Cons
On the cheapest plan, you don't have access to Swydo's custom metrics, which limits the reports you can build.
Pricing
The basic plan is $39 per month. Swydo also offers a free 14-day trial.
8) Geckoboard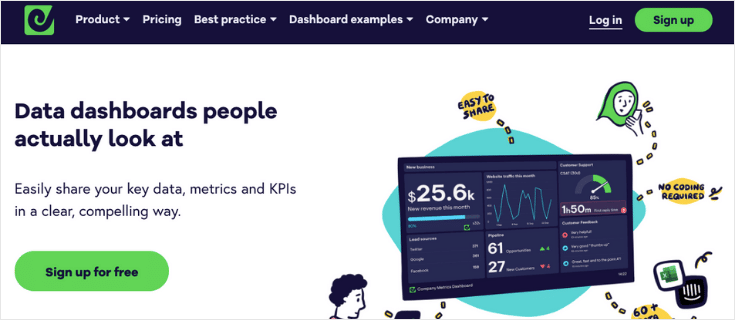 Geckoboard is a business intelligence and data analysis tool with an impressive range of integrations. The Slack integration is a nice touch for sharing information with team members, and the ability to combine marketing metrics with other business KPIs makes Geckoboard an interesting option for larger businesses.
Pros
An intuitive user interface makes it easy to create new dashboards

Goals and status indicators ensure you'll stay on track

Brings together digital marketing, accounting, customer support, and project management metrics in one place
Cons
For companies that don't use Slack, sharing your reports is Gecokboard's biggest downside. The process for automatically sending reports by email is complicated and involves third-party integrations.
Pricing
As well as a 14-day free trial, Geckoboard has a free plan that gets you access to one spreadsheet-powered dashboard. Paid plans start from $35 per month, with discounts if you choose annual billing.
9) AgencyAnalytics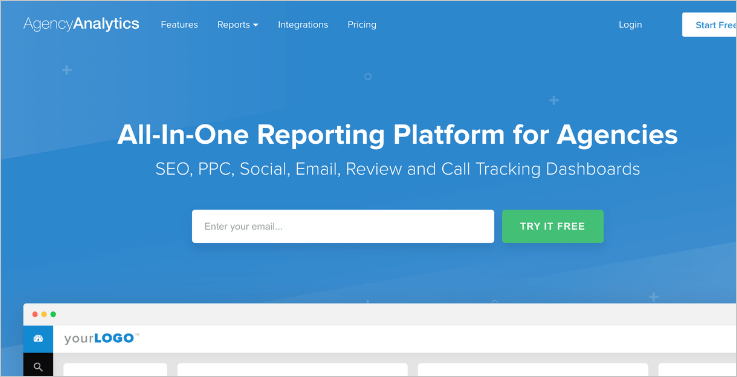 As the name suggests, AgencyAnalytics is specifically designed for digital marketing agencies. As well as reports and dashboards, it offers SEO tools to help you improve your clients' SEO.
Pros
Add your own logo and branding, with fully white-label reports and dashboards

Carry out site audits and monitor your clients' SEO easily

Explain marketing trends and highlight important stats by adding comments to reports
Cons
Again, sharing reports is where AgencyAnalytics falls down. Although the ability to schedule email updates is great, the reports arrive as PDF attachments, meaning there's an extra step before your clients can access their metrics.
Pricing
You can try AgencyAnalytics for free for 14 days. After that, paid plans start at $10 per month for the freelancer option. Discounts are available if you choose annual billing.
10) Grow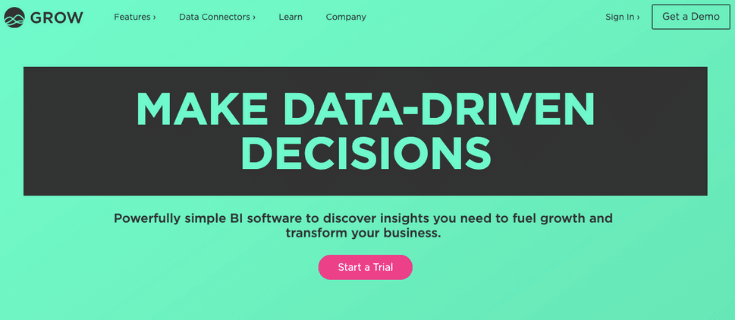 For larger companies looking for an alternative to Databox, Grow offers business intelligence visualization and analysis tools. It integrates with many different software solutions, helping you pull all your data together in one place.
Pros
A Slack integration means you can quickly share individual metrics with your team

White-labeling options mean you can add your own logo, branding, and domain name

A wide range of interactive visualizations gives you everything you need to analyze your data
Cons
Grow is aimed at larger organizations, which is reflected in the price. It also has a steeper learning curve than many Databox alternatives.
Pricing
Grow offers a free trial, but no pre-priced plans. You'll need to contact them for a quote – expect it to come in higher than most of the tools on this list.
And that's all for now! These have been 9 Databox alternatives that you can use to build smarter marketing reports today.
I hope you found this post helpful. If you did, then you'll definitely want to check out the following resources:
These resources will give you even more information on how data can help you create more profitable marketing strategies that build stronger relationships with your audience.