Are you looking for the best digital marketing report tools to track (and improve) your marketing strategy?
While there are hundreds of great digital marketing tools available, we want to focus on the ones that will specifically help you:
Track your progress in marketing

Identify weaknesses in your sales funnels

Drive more traffic to your site

Attract better leads for your business
And for that, you'll need a digital marketing report tool that shows how your marketing efforts stand at a quick glance.
Ready to get started? Let's dive straight into the list.
Best Digital Marketing Report Tools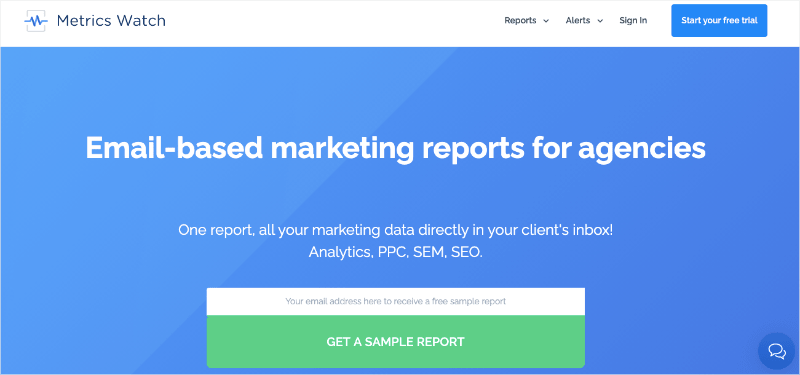 Metrics Watch is one of the best options available for creating digital marketing reports. It's easy to set up, doesn't require any coding or "tech skills," and it pulls data from your favorite marketing channels, such as:
Google Analytics

Google Search Console

Google Ads

Facebook (paid and organic)

Instagram (paid and organic)

LinkedIn (paid and organic)

Mailchimp
This allows you to create comprehensive marketing reports that you can share with your team or clients.
Plus, it has a codeless drag and drop report builder, so you don't have to worry about technical configurations.
And when it's time to share your reports, Metrics Watch offers the best method with the least amount of friction.
That's because unlike other report building tools, Metrics Watch shares reports directly via email. No more messy PDFs to organize and no more user role management for 3rd-party dashboards.
Instead, you get the data you need to the people who need it in a format they already know and love.
Pros
Drag and drop builder

Integrates with multiple channels

Automated sending options (daily, weekly, or monthly)

No PDF attachments

No 3rd-party dashboards to share access to

White-label branding options available

Free trial for 14 days (no credit card required)
Want to see it in action for yourself? Click below to start your 100% risk-free trial today:
Build Automated Digital Marketing Reports Today!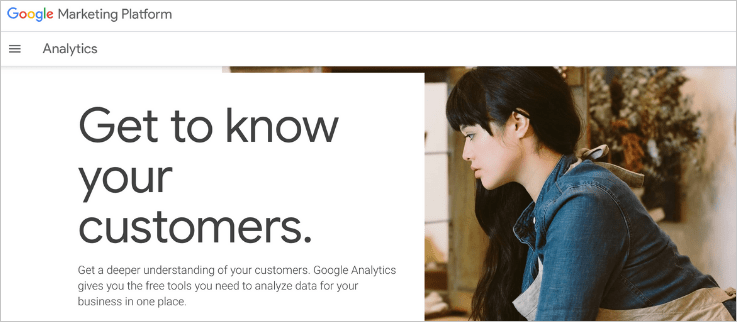 Google's free website analysis tool is the friend of digital marketers worldwide. With a vast range of metrics to offer, Google Analytics gives you insights into every aspect of your website's performance. Track customer journeys, analyze your content's performance, and see which channels drive the most visitors.
Pros
It's free

Easy to integrate with most CMS platforms

Integrates with many other digital marketing analysis tools
Cons
One drawback of Google Analytics is that it almost gives you too much data. All that information can be overwhelming and might mean you get distracted by vanity metrics, instead of focusing on the KPIs that really matter.
The other downside is that it really only handles website analytics, plus some limited SEO data from Google Search Console. If you want to track your social media stats and PPC advertising, you'll need an additional reporting tool.
Pricing
The free version of Google Analytics gives you access to all its core features. There is a premium version, Google Analytics 360, but most marketers won't need to upgrade.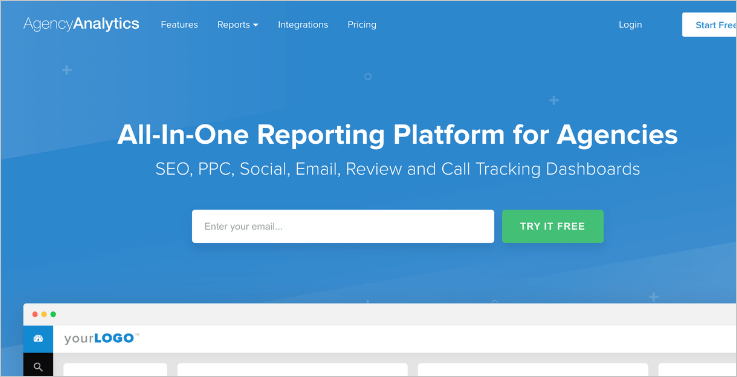 AgencyAnalytics is a digital marketing reporting tool aimed at agencies. It brings together social media, SEO, PPC, call tracking, website performance, and email marketing metrics in one place. It also includes SEO tools, such as backlink tracking, keyword rankings, and site audits.
Pros
Integrates with most major digital marketing platforms

Offers white-label reporting, so you can add your own logo and branding

Includes competitor analysis and SEO tracking

Personalize reports by adding comments and recommendations
Cons
The automated reporting with AgencyAnalytics is clunkier than I'd like. Giving clients access to dashboards requires them to have their own login. You can schedule email reports, but they arrive as PDF attachments, which are easy for busy clients to overlook.
Pricing
AgencyAnalytics' cheapest plan is $49 per month. They also offer a 14-day free trial.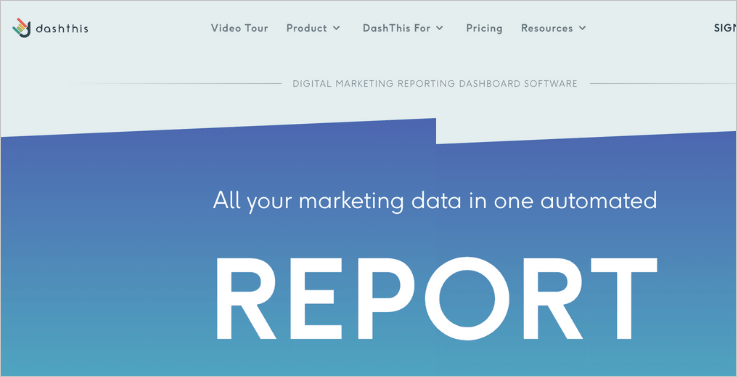 A user-friendly report-building tool, DashThis aims to bring all your marketing metrics together in one place. Whether you are an in-house marketing team, a freelancer, or a marketing agency, DashThis promises to save you time in analyzing your campaign performance.
Pros
Combine data from multiple sources in one report

Use preset templates or build your own dashboards

Add comments, images, sections, and headers to bring reports to life

Give access to unlimited users
Cons
DashThis bases its pricing on the number of dashboards you create. Small businesses may be OK, but most other users will quickly outgrow the limit on the cheapest plan. Pricing scales quickly. If you want to add your own branding, you'll need to pay extra for white labeling.
Pricing
A 15-day free trial gives you a chance to try DashThis out. After that, the cheapest plan is $29 per month.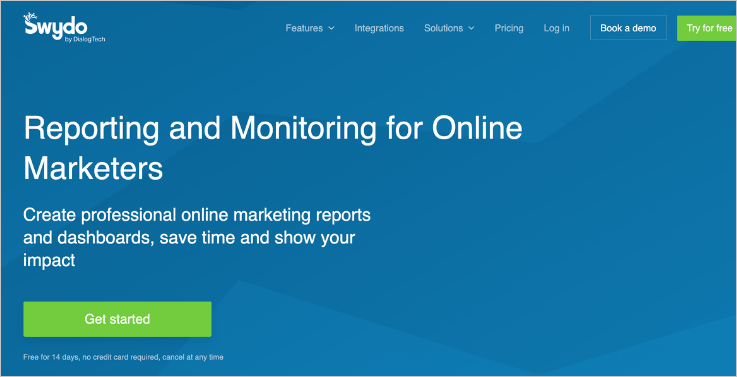 If you don't want to be limited by pre-built templates, Swydo's fully customizable marketing reports are worth a look. You can set up your own reports from scratch or customize one of the many templates available. You can also combine two metrics from the same data source to create custom metrics.
Pros
Build reports easily via the drag-and-drop interface

Customize widgets and report templates to suit your needs

Create reports in different languages

Monitor performance against your goals
Cons
There's no preview option for the widgets in Swydo, so building your report templates can involve some trial and error. The custom metrics also aren't available on the cheapest plan, which is worth bearing in mind if customization is a deciding factor for you.
Pricing
Swydo's entry-level plan is $75 per month. You can try it for free first for 14 days.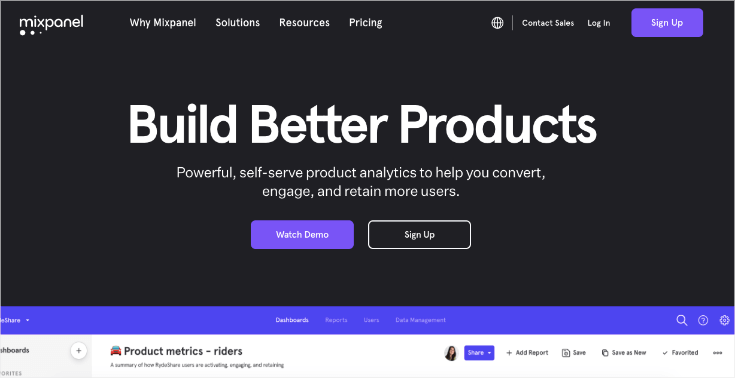 Aimed predominantly at SaaS companies, Mixpanel offers enhanced event tracking and customer behavior monitoring to help you optimize your conversion and retention rates. It helps you to dive deep into your user behavior trends, create segmentations, and answer vital questions about how your users interact with your website and digital products.
Pros
Customize dashboards and reports easily to answer your exact questions

Use segmentation tools to group users and uncover behavioral insights

Build and analyze funnels to find where potential customers drop off

Create custom alerts so that you always know when there's an issue
Cons
Mixpanel isn't an all-in-one reporting tool. Like Google Analytics, it will help you optimize your website and understand your visitors, but it doesn't offer other marketing insights. You'll need an additional reporting tool to cover your PPC and social media campaigns.
Pricing
Mixpanel's basic plan is free, which is why it makes my list, despite only addressing one area of your digital marketing. The cheapest paid plan is $25 per month. If you are a new start-up, you can claim $50,000 in credits to access it for up to a year.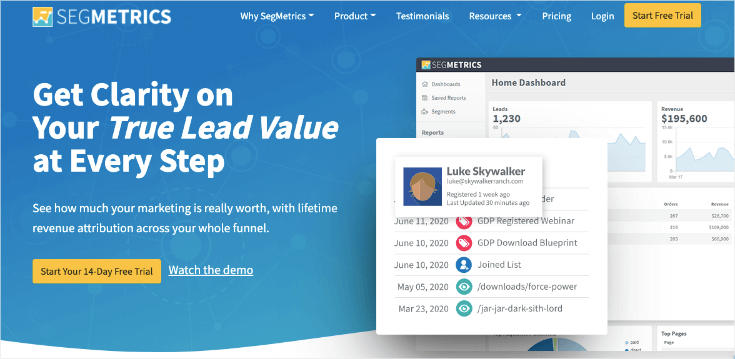 SegMetrics is all about funnel analysis. It aims to help you accurately track the lifetime value (LTV) of your customers. It integrates with your payment platforms and uses real revenue data to attribute sales income to each step in your customer's journey. That means you can track the true ROI of every channel.
Pros
Track every step of your customer's journey

Create detailed segments to understand customer behavior

Connect most major marketing platforms

Analyze the LTV of different customer segments to optimize your budgets
Cons
The learning curve with SegMetrics can be steeper than with some other tools, requiring you to have a good grasp on your data to get the most from it.
Although it integrates with social media platforms, it only gives you data on how those channels perform in generating leads, so you'll need another tool if you want to track how your audience engages with you on social media itself.
Pricing
The starter plan is $175 per month. There's a 14-day free trial to get you started.
And that's all for today! These have been the best digital marketing report tools that you can start using right now.
We hope you enjoyed this list of resources. If you did, you'll definitely want to check out the following articles:
These articles will have even more information on how you can create successful reports that drive more profits from your marketing efforts.