Do you want to learn how to set up and check eCommerce tracking in Google Analytics?
Knowing how much you're selling is one of the biggest keys to creating a responsible marketing budget that lets you scale. Afterall, your business will never be profitable if you're always spending more than you're bringing in.
That means you need to know how many sales you're generating month after month.
Once you have an idea about your company's growth, you'll be able to create a budget that allows you to scale without risking your entire business. Plus, you'll be able to double down on marketing channels that are showing the most potential.
That's why, in this post, I'm going to teach you how to track your eCommerce goals in Google Analytics.
But first, let's get clear on why you should keep such a close eye on these sales in the first place.
Why Tracking eCommerce Goals Matters
So, you've launched your eCommerce store. You're posting on social, you've optimized your product descriptions to show up on search engines, and you are experimenting with PPC advertising campaigns.
Perhaps you're using one of the popular eCommerce platforms, like WooCommerce, Shopify, or Magento. They give you data on your sales and most popular products, so you are sorted, right? No need to track anything else.
Yeah. Not so much.
Here's the thing about running a successful eCommerce store – or any other business that relies on digital marketing: if you're only tracking your day-to-day revenue and ignoring all your other metrics, then you are missing the bigger picture.
There's so much more you need to know.
Where are those sales coming from? Which of your digital marketing campaigns drive the most revenue? Are you targeting the right keywords? Does Facebook bring you the best customers, or should you be concentrating more on SEO?
Who are your customers anyway?
Until you can answer questions like these, you can't make strategic decisions about your eCommerce store's marketing plan. And you won't be able to answer those questions unless you set some goals and identify which KPIs will help you track them.
Don't get me wrong… revenue is still an important KPI. But it is only one of many.
Number of website visitors, conversion rate, bounce rate, new versus returning customers – there are many metrics that can help you monitor your eCommerce site's performance.
Once you have a clear picture of where you are now, you are better placed to plan for the future. Gather as much relevant data as you can on your store's visitors and how they behave. Use that information to shape your marketing strategy, tweak your online store's layout, and optimize your copy.
How to Check eCommerce Tracking in Google Analytics
Once you've decided on your goals for your eCommerce website and agreed on the KPIs you'll use to track your progress, you need to start gathering the data itself.
When it comes to capturing information on website performance (for free), you can't beat Google Analytics. Turning that data into reliable, user-friendly reports might be another matter, but more on this later.
Google Analytics tracks all your usual website metrics, such as visitors, page views, and traffic source. And it also gives eCommerce stores the option to import your purchase, product, and transaction data, so you can combine it with other information about your site.
Your first step is to link your eCommerce website with your Google Analytics account if you haven't already done that. You'll need to add a small bit of code to the header section of your website. Most eCommerce platforms have tutorials to help you add the code.
Next, you'll need to turn on eCommerce tracking in Google Analytics. Let's look at how you can do this with both Universal Analytics and the new Google Analytics (GA4).
Tracking eCommerce Goals with Universal Analytics
In the Universal version of Google Analytics, you can turn on eCommerce tracking by going to your Google Analytics dashboard and then clicking on Admin in the left-hand menu. It's near the bottom.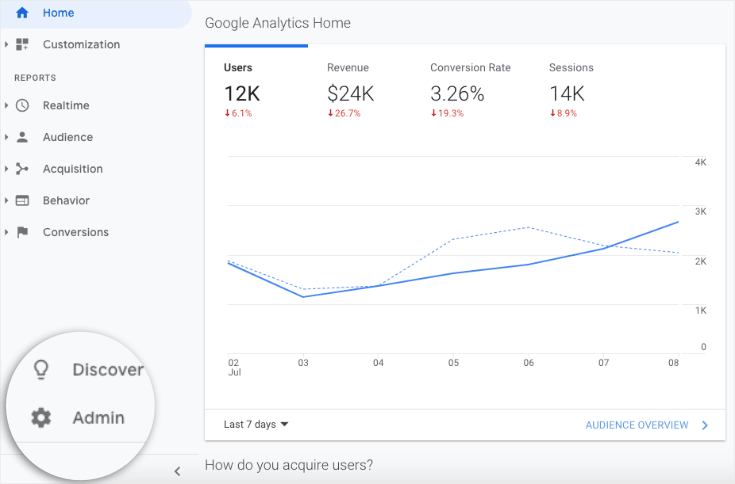 In the view column, click on Ecommerce Settings. Then toggle Enable Ecommerce to on.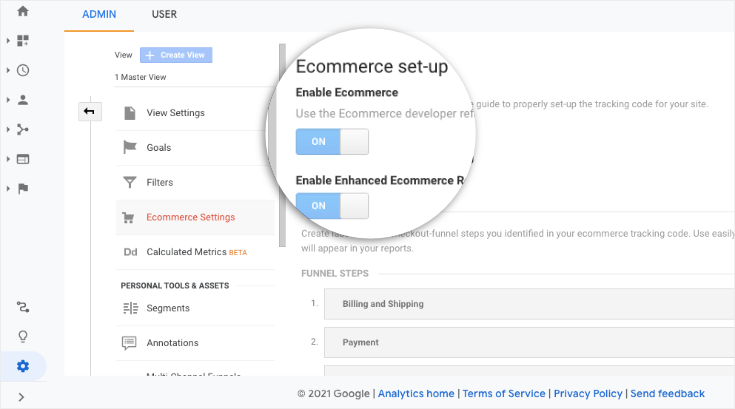 You can also switch on Enhanced Ecommerce Reporting here, which gives you more in-depth data analysis. It will replace the reports available from the original eCommerce tracking but gives you far more insights into your store's performance, including customer behavior and marketing reports.
Setting up Enhanced Ecommerce Reporting is more complicated, however, so bear that in mind. If your store is small or your processes are relatively simple, basic eCommerce tracking may be enough.
You need to switch on eCommerce tracking for each View that you want the reports to appear in.
Next, there's additional code you need to add to your website to track eCommerce data. I recommend getting a developer to help you with this step – it isn't a straightforward process for anyone who isn't comfortable with coding.
Some platforms, such as Shopify, don't require you to add the additional code for standard eCommerce tracking. Check what is needed for the specific eCommerce platform you use.
Once the code is installed, you should start seeing data in your eCommerce reports. You can find these under Reports > Conversions > Ecommerce.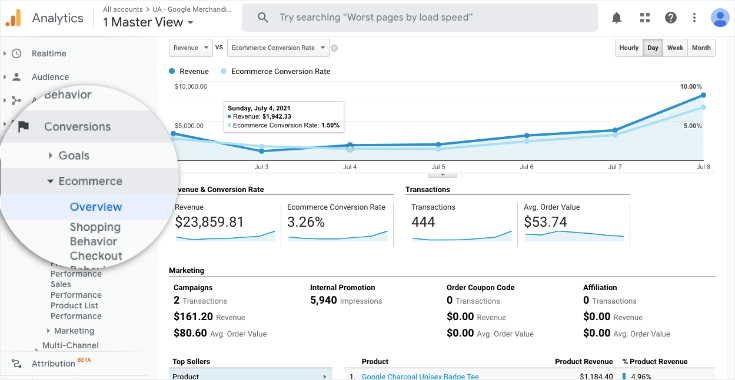 You'll also see your eCommerce data added to other reports. For example, you can see the revenue you've generated broken down by source/medium, customer location, device, etc.
Tracking eCommerce Goals with Google Analytics 4
If you are using the newer version of Google Analytics, eCommerce tracking works very differently. Google Analytics 4 is all about events.
Events can include page views, clicks, and scrolls. But they can also include eCommerce events, like product views, purchases, and refunds. These aren't collected as standard, so there's some setup to do before Google Analytics will start collecting data about your eCommerce events.
Again, unless you are comfortable using Google Tag Manager and have some coding ability, I'd leave the setup to a developer since it isn't the simplest process. Here's Google's guide if you want to learn more about how to do it.
Once you have eCommerce event tracking configured properly on your website, you'll be able to find the reports under Monetization in the left-hand menu: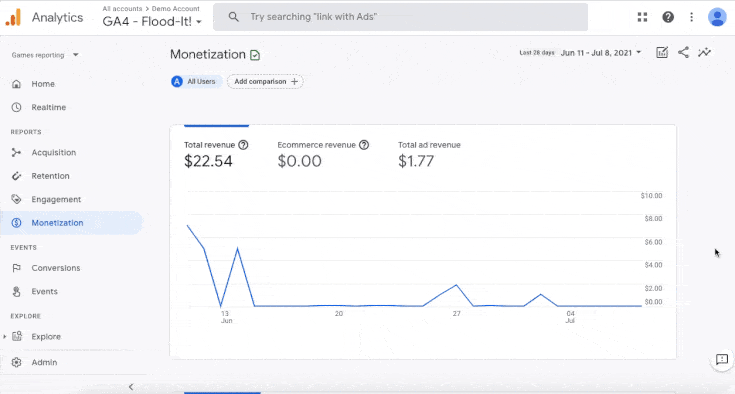 As things currently stand, Google Analytics 4 isn't compatible with all eCommerce platforms. Shopify, for example, only works with the Universal version at the moment.
This new version of Google Analytics has only recently been launched, so we can also expect that more features will appear in due course.
In the meantime, you may want to stick to the old Universal version since the eCommerce setup process can be a bit simpler. To help you make the choice, I recently wrote a post comparing the two versions.
From here, you should be all set to track your eCommerce goals in both Universal Analytics and GA4. The only question from here is how you can make sure you use the data you're working with.
Creating eCommerce Conversion Reports
There's an old saying, "out of sight, out of mind." This phrase is popular for good reason: it's 100% accurate.
That's why I see many marketers who know the KPIs they SHOULD track, but they never actually get around to implementing changes based on the data.
Why? Because they don't see the data often enough to create smarter marketing strategies.
That's why I always recommend creating and automating marketing reports with a tool like Metrics Watch: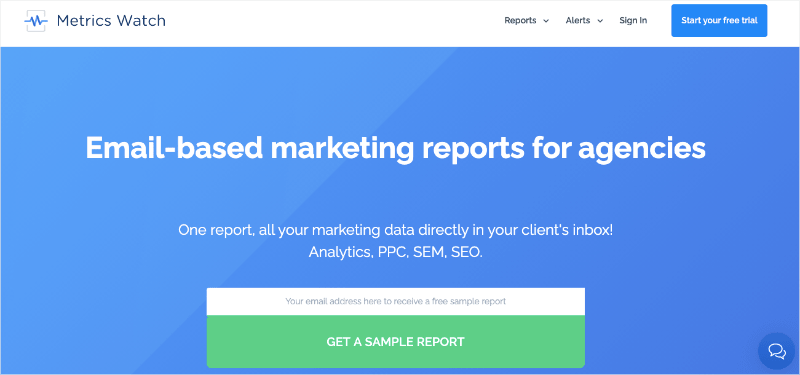 Metrics Watch is a report building tool that makes your marketing reports faster, more accurate, and more profitable.
That's because Metrics Watch syncs with your favorite channels, like:
Google Analytics

Google Ads

Google Search Console

Facebook (paid and organic)

Instagram (paid and organic)

LinkedIn (paid and organic)

And more…
You can create reports with the codeless visual drag and drop builder in minutes. Then you can automate these reports to be sent on a daily, weekly, or monthly basis.
But the best part is that when you share these reports, there's ZERO friction for the recipient. That's because Metrics Watch sends your reports directly to your team or client's inbox.
That means no more messy PDFs to organize, and no more 3rd-party dashboards that require user role management.
Instead, you send people the data they need in a format they already know and use.
This allows you to keep your eCommerce KPIs at the forefront of your team's attention. And as you review the results from your current marketing campaigns, you'll be able to refine your strategies to bring in more leads and sales.
It really is as simple as that.
Want to see it in action for yourself? Try out Metrics Watch FREE today, no credit card required!
Start Your Risk Free Metrics Watch Trial Today!
And that's all for today. We hope you enjoyed this post. If you did, you'll like want to check out the following resources:
These posts will have even more information on how you can create data-driven marketing plans with Google Analytics.