Google Data Studio, Tableau, or Metrics Watch - which tool do you need to track your marketing data?
Trying to choose between the three can be tough. Most platforms offer similar features, so it's not always clear which one will best suit your needs.
That's why today, we're going to take a close look at 3 of the most popular reporting tools on the market to help you find the right solution for your business.
We'll cover all the bases:
Overviews of each tool

How easy it is to share data with your team or clients

Pros and cons

Pricing
By the end of his article, you'll have all the information required to pick the right tool for tracking your results and making data-driven decisions.
Ready? Let's begin!
What is Data Studio?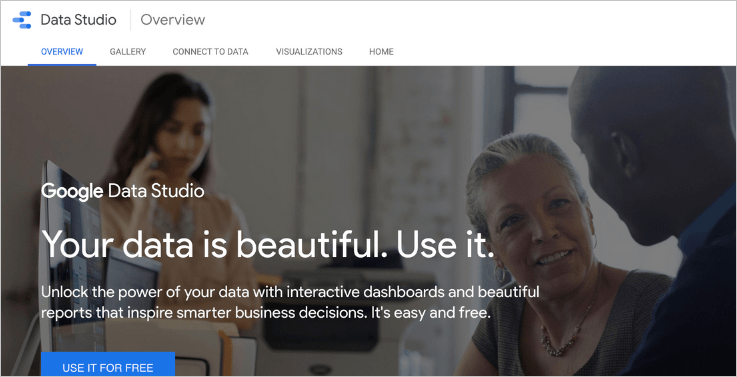 Google Data Studio is a free dashboard tool that lets marketers centralize their data from multiple sources. Data is visualized through customizable charts and graphs, making it easy to digest.
Collaborative dashboards allow your team and clients to update reports by themselves to help keep reports relevant. Viewer filters and date range controls also make it easy to customize dashboards based on the needs of each user.
Data from most connected sources are viewed in real-time. This can be great for larger organizations who need to update campaigns on the fly, but isn't necessary for most marketers (more on this later).
How is data shared?
As already discussed, clients and colleagues can be invited to collaborate with or view your dashboards via a sharable link.
Data Studio also lets you share PDF snapshots of your reports (which you can download and share offline, or schedule them to be sent automatically by email). You can even share reports direct to social media.
Pros
Integrates with most popular data sources

Easy to collaborate with your team or clients

Annotate your reports to add more context

Customizable report styles and color themes

It's free!
Cons
For being a free tool, Data Studio offers a lot of utility. However, connecting with third-party platforms can come at a premium (depending on the connector).
Data is only sharable by PDF attachment or by visiting the dashboard directly. While this may not seem like a disadvantage at first, it's a layer of friction between users and their data - as a result, they can forget to view their data and miss important information.
Pricing
Free*
* See Cons section above.
What is Tableau?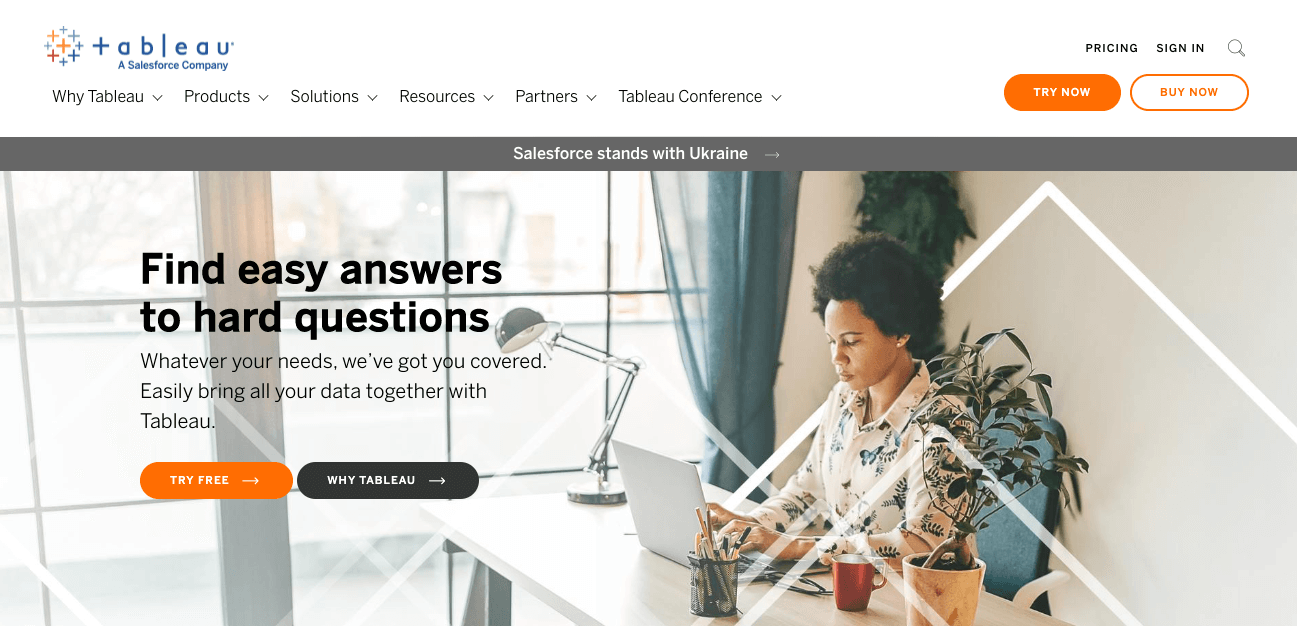 Tableau is an advanced business intelligence platform designed to help organizations track and understand their data. Users can create powerful, interactive dashboards to analyze data from multiple sources to reveal trends and measure performance.
One of the best things about Tableau is the ability to ask queries using natural language. You can type a question like, "What is the load time by device" and the tool will show you the data related to your query, helping you find the information you need fast.
The Prep Builder tool offers advanced options to clean and shape your data, which can then be visualized with charts and graphs.
How is data shared?
Data is primarily viewed via dashboards which users can subscribe to. You can also download data and visualizations to send as PDFs or PNG images.
Collaboration options let users contribute to the data prepping process and view analytics from any device.
Pros
Integrates with almost any data source (from text files to databases and more)

Advanced options for data prepping and analysis

Get answers to your questions using natural language

Offers training videos and technical support
Cons
Tableau is an advanced business intelligence tool which means that it has a steep learning curve. It does offer training videos and technical support but requires some time investment to learn to use it properly.
It's also tailored more to organizations which means that if you're a marketing agency dealing with clients, then it may not be the best option for you.
Pricing
Tableau offers a 14-day free trial. Paid plans start at $70/mo with additional user licenses costing $15/mo per user.
What is Metrics Watch?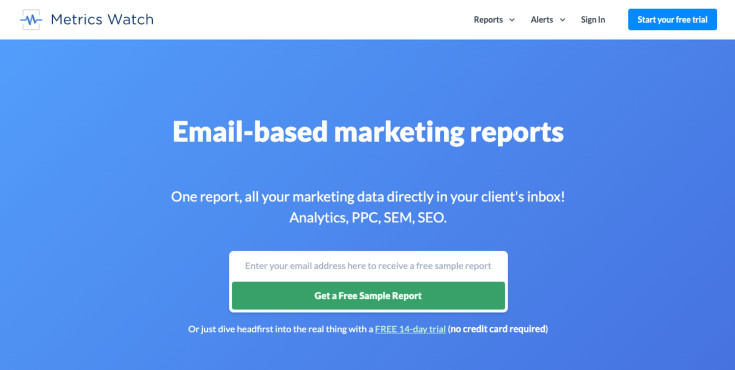 Metrics Watch is an email-based reporting tool that delivers key marketing data direct to your inbox. It lets you pull data from all your favorite marketing channels, including:
Google Analytics

Google Search Console

Google Adwords

Facebook

Instagram

Mailchimp

And more…
Build professional marketing reports fast with a simple drag-and-drop editor - no coding experience necessary.
From here you can fully automate your reporting process and schedule reports to send daily, weekly, or monthly so you can spend more time marketing and less time building reports.
But the best thing about Metrics Watch is how your data is shared…
Reports are displayed within the actual body of the email itself. This means no need to download PDF attachments or log in to third-party dashboards. Colleagues and clients can instead view their data without friction, having access to the information they need, when they need it most.
Pros
Integrates with popular data sources

Codeless drag-and-drop report builder

Data direct to your recipient's inbox

No PDFs or dashboard links required

White label options and concierge service with all plans
Pricing
Try Metrics Watch free for 14 days (no credit card required). Paid plans start at $29/mo.
Start Your Free Trial Today!
Google Data Studio vs Tableau vs Metrics Watch: Which Tool Do You Need?
By now you should have a better understanding of each tool's capabilities - but which one is right for you?
There are a couple of questions that can help you answer this question. So, let's take a look at the 4 main factors that can help you reach a conclusion and explore some scenarios in which you might choose one tool over another.
1) Who will be viewing the data?
The first thing to consider is who needs access to the data. Whether that be colleagues, management, stakeholders, clients, or even yourself, it's important to understand their needs so that you can choose a tool that integrates with the data sources they manage.
If you're creating marketing reports for team members or clients then Metrics Watch or Data Studio would be a good choice. But if you need an in-house solution for combining data from databases and CRMs with advanced data shaping features then Tableau would be a better solution.
2) How do they like to receive their data?
User-friendliness is the name of the game here. After all, data is only useful if the recipient can access it easily and understand what they're looking at. So, this part really comes down to 2 options: dashboards vs reports.
With dashboards, users have to physically log in to the platform to view their data. While this may not seem like a huge deal, you're relying on them to remember to do it on top of all their other duties. This means they're at risk of missing important information due to forgetfulness or being too busy to check their dashboard.
If you manage a large roster of clients or team members, this also means managing user roles. With a platform like Tableau, this requires you to keep on top of your licenses - purchase new ones when needed, delete users who no longer need access, reset passwords, etc.
With reports, their data is delivered directly to the recipient. This solves the issue of having to remember to log in to a third-party platform to look at your data. However, most tools like Data Studio only send email reports as PDF attachments that need to be downloaded, creating a layer of friction between the recipient and their data.
Metrics Watch displays reports inside the body of the email itself, providing a frictionless solution to email-based marketing reports. Your recipients can view their data at any time, on any device, just by using email - a tool they already use every day.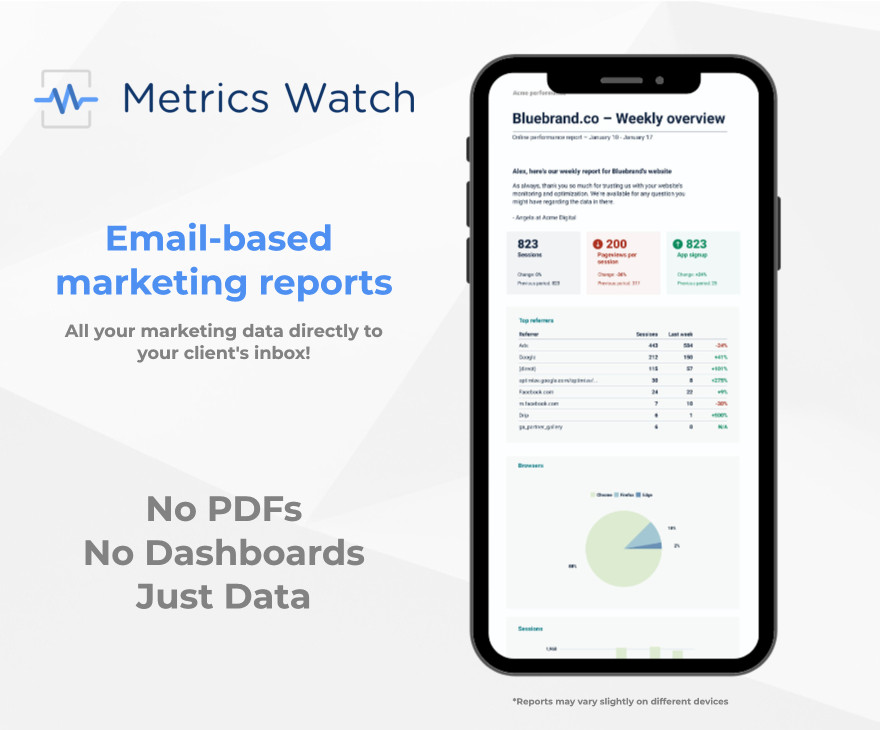 3) When do they need their data?
Some organizations need constant access to their data to make important decisions on the fly. Dashboard tools let you view data in real-time. So, if this applies to you then a dashboard tool like Data Studio or Tableau could be ideal.
Most businesses, however, don't actually need this. Or they don't have the capabilities to act on data at the drop of a hat.
For those that would rather receive snapshots of their key marketing metrics daily, weekly or monthly, then a tool like Metrics Watch is an excellent solution. Automating your reporting process lets you spend more time marketing and less time reporting.
4) Budget
Last, but not least - you need to ensure that cost of your tool fits within your budget.
If you're an in-house marketer for a small business and have zero budget to spend on a reporting tool, then Google Data Studio is a great free option. Some connectors do cost extra, but you'll be able to track key marketing metrics from other Google platforms for free (including Google Analytics, Adwords, Search Console, etc).
For those that do have a budget to spend, Metrics Watch and Tableau are great options.
Metrics Watch plans start at just $29/mo vs $70/mo for Tableau and pricing is clear for both platforms.
With Metrics Watch, plans are dictated by the number of different reports you want to send each month (you can have as many recipients as you like). Whereas with Tableau, you can create as many dashboards as you want, but you pay $15/mo per user on top of your monthly fee.
Wrap Up
By now you should have a better understanding of each tool's strengths and weaknesses to help you pick the best tool for your business.
As you can see, there is no "magic bullet" when it comes to data reporting tools. What works for one organization might not work for another. Each business is unique, so make sure you take the time to properly assess your needs first.
But we hope this article has helped you narrow down your choices a little further to get you closer to finding the tool to meet your needs.
And that's it!
This has been our comparison of Google Data Studio vs Tableau vs Metrics Watch. If you enjoyed this post, then be sure to check out these other articles:
These additional resources have even more advice and tips for helping you choose the right reporting tool to meet your business goals faster.