Are you trying to make a marketing report to get more clarity around your goals and build a strong marketing strategy?
Lots of new marketers or business owners love the idea of making a marketing report. But when it times to actually compile all the data, they tend to put the task on the backburner.
That's why, today, I want to teach you how to create a marketing report in under 10 minutes. I'll go through the 4 steps required to make your marketing report, and show you a way you can set everything on auto-pilot.
First, though, let's get clear on what makes marketing reports so crucial to your overall marketing strategy.
Why Marketing Reports Are So Valuable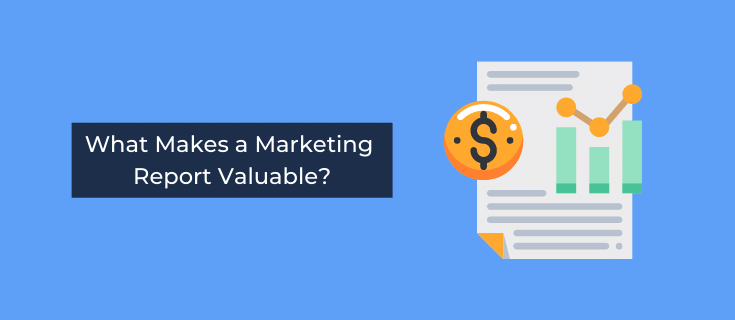 Great marketers know that they need to constantly monitor and evaluate the performance of their campaigns. Their creative ideas are backed up with solid data on what works and what doesn't.
This is where marketing reports prove their value. They give you the information you need to test your strategy, evaluate, and course-correct if necessary.
Compiling regular marketing reports gives you a fuller picture of which campaigns work best to drive engagement and bring in sales. And that has many advantages for your brand.
Marketing reports help you:
Generate content that speaks to your target audience by tracking what has worked well and what hasn't

Grow your brand awareness by identifying which marketing platforms bring you the most engagement

Increase your sales by comparing the revenue you generate from different channels

Formulate your strategy by giving you essential data to inform your decision-making
Marketing reports are also invaluable if you need to demonstrate your progress to colleagues, other teams, managers, or clients.
Ultimately, marketing reports help you grow your business and achieve your goals. No brand should be trying to get by without them.
So, we agree that marketing reports are an essential part of your company's success. But with so many metrics available, how do you know how to create one that will cut through the noise and give you the insights you actually need to improve your ROI?
Let's look at the four steps you need to take to start generating marketing reports that bring you real value.
How to Make a Marketing Report (in Four Steps)
Putting together a marketing report that helps you improve your ROI isn't rocket science. But many marketers still get it wrong.
The problem is that many of us jump straight to deciding which KPIs to include. And that means we're missing out the most essential step of all. That leads us nicely into step one.
Step 1) Define Your Goals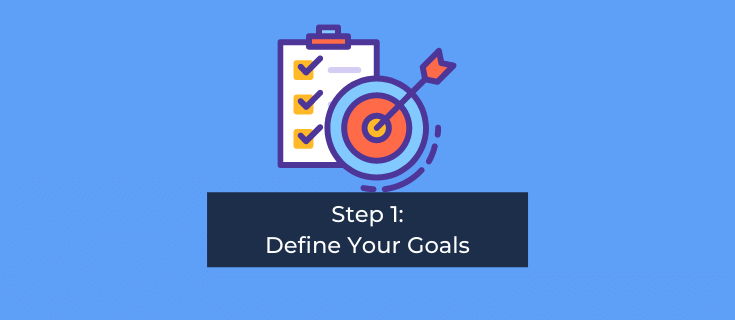 This step is crucial. Before you can decide how to build your reports or which marketing metrics to include, you need to know what questions you are trying to answer. And to do that, you need to decide what your goals are.
If you try to build your reports without understanding your goals, you run the risk of including tons of useless information or, worse, vanity metrics.
Sure, your follower count might look impressive. But does it tell you anything useful about whether your marketing is working as intended?
If you don't know your goals, you can't decide which metrics will be worth including.
This is the difference between metrics and KPIs. Metrics are simply something that you can measure. A KPI is that measurement put into the context of your company's goals.
If you need some more detail on the difference between KPIs and metrics, we've got a post on valuable KPIs for small businesses that covers it further.
So before you choose your KPIs, decide what your goal is.
Are you trying to build brand awareness by growing your online audience?

Do you want to optimize your time and money by focusing on the channels that bring you the best ROI?

Do you need to justify your spend or ask for a bigger budget?
Whatever your goal, your marketing reports help you monitor your progress.
Step 2) Select the KPIs that Best Reflect Those Goals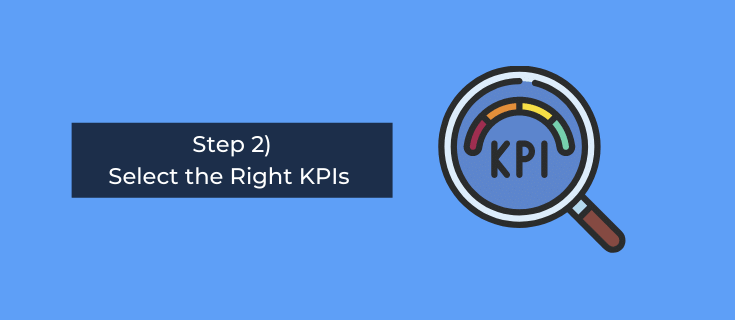 Once you've decided on your goals, you can compile a list of KPIs that can help you measure your success or identify areas for improvement.
For example, your focus might be on growing your brand awareness. So you might include KPIs such as the follower growth rate of your different social media platforms, the growth rate of your mailing list, and the pages of your website that get the most organic traffic.
If you want to use your time more wisely, you might want to uncover which of your marketing channels bring you the most revenue. In this case, you need KPIs that help you monitor your ROI.
These might include the cost-per-conversion (CPC) from different pay-per-click (PPC) campaigns, the channels that refer the most traffic to your website, or your conversion goal rate by source and medium.
To help you decide, look at what analytics are offered by the marketing platforms you use. For each one, pick the metrics that relate to your chosen goal and ignore the rest.
Step 3) Compile the KPIs From Your Marketing Sources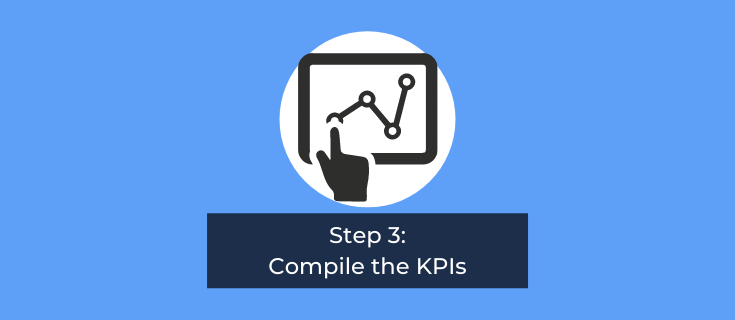 Once you have the final list of KPIs to include in your marketing report, you need to bring them together in one place.
You'll likely need to compile data from lots of different sources to build your reports. Most of us have several social media accounts, our website, PPC campaigns, email marketing platforms… the list goes on.
For your marketing reports to be valuable, they need to bring all this information together and present it in a visually appealing, easy-to-understand way.
Obviously, you can do this manually. Each of your marketing platforms will have its own analytics available. You can copy them across to something like Excel, then make your own graphs and charts and present them in your report.
On the surface, it's a cheap way of putting reports together. But your time isn't free. And building reports this way is very time-consuming. I'm willing to bet that's time you could use more effectively elsewhere.
The other option is to use a report-building tool like Metrics Watch to do it all for you. But more on that in a moment.
Step 4) Send to Your Recipients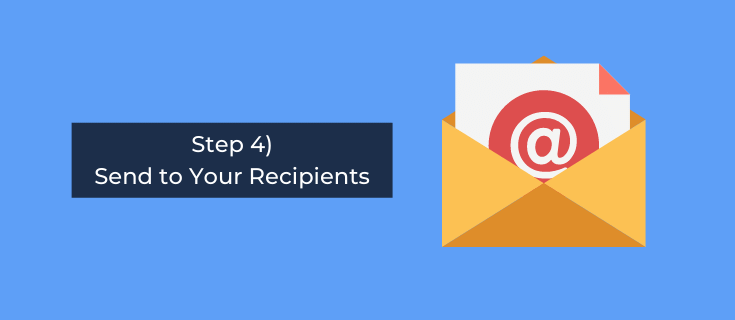 Once your KPIs are compiled and well-presented, it's time to share your marketing report with others who need to see it.
If you're using the manual approach, that means you'll need to email it over to them as an attachment or send a link to its location on a shared drive.
And if you're sending marketing reports to different people, you might need to send lots of emails to get each one to the right person. Give individual files a descriptive name so that you don't get them mixed up.
You'll also need to repeat this process regularly. Marketing reports are only worthwhile if they are done consistently at frequent intervals – daily, weekly, or monthly.
The good news is that there's a better solution: using a report-building tool.
How to Build a Marketing Report (the Easy Way)
The best way to compile your marketing reports is with a report-building tool like Metrics Watch: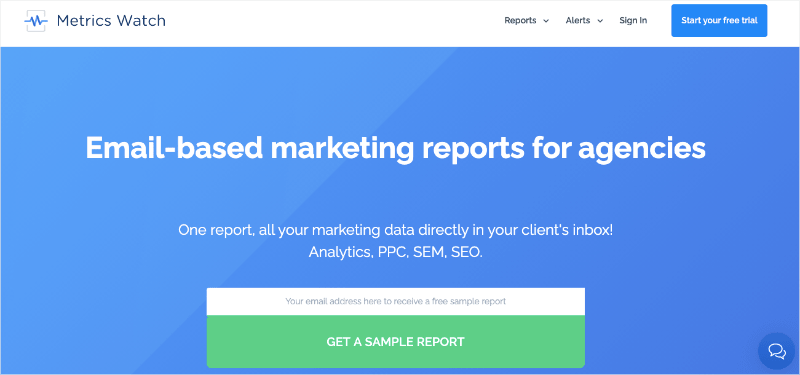 Metrics Watch is one of the best report-building tools on the market, and it does all the heavy lifting for you.
That's because once you set up your Metrics Watch account, you can pull crucial data from your favorite marketing channels, such as:
Google Analytics

Google Search Console

Facebook (paid and organic)

Instagram (paid and organic)

LinkedIn (paid and organic)

And more…
Plus, with Metrics Watch's drag and drop builder, anyone can create professional marketing reports in a matter of minutes.
Then you can remove all Metrics Watch branding and replace it with your own. This gives your clients or team a personalized experience and delivers them easily digestible marketing reports.
From there, simply determine who needs to get the reports and at what frequency - daily, weekly, or monthly.
But here's the best part: unlike other report-building tools out there, Metrics Watch sends reports directly to your recipient's inbox.
That makes this one of the most frictionless report-building tools on the market. Whereas lots of report builders will send reports via PDF or a 3rd-party URL (requiring user login management), Metrics Watch simply sends your reports via email.
This gives your key decision makes the data they need in a format they already know.
Once you've set up the report, it will run on auto-pilot saving you more time to focus on the parts of your business that you love.
Ready to see it in action for yourself? Click below to start your 100% FREE Metrics Watch trial today (no credit card required):
And that's it! This has been an in-depth tutorial on how to create a marketing report in 4 easy steps.
I hope you enjoyed this post and, if you did, you should definitely check out the following resources:
These articles will have even more information to help you make marketing reports that actually boost your ROI.