Are you trying to run a social media audit to improve your marketing strategy?
Social media remains one of the best ways to reach, target, and engage your audience. If you're like most companies, though, you likely put optimizing your social strategy on the backburner.
But what if you could get a quick glimpse of what parts of your social media efforts need improving?
That's what we'll cover today by showing you how to run a social media audit.
Ready to get started? Let's dive in...
What Is a Social Media Audit?
A social media audit is a process that helps you to identify what's working and not working on your content.
It also can serve as an initial step in determining how to constructively improve the effectiveness of your marketing efforts. It may sound like this sounds complicated, but it doesn't have to be!
A social media audit will help you identify what channels are working for you, and which ones aren't.
It'll also give you insights on how to improve your marketing strategy-whether it's increasing follower counts or engagement rates.
What Is the Purpose of a Social Media Audit?
The purpose of social media is to build relationships with both current customers and prospects. And, in some cases, you may want to get more detailed with your audit to see what's dirving click-through and conversions rates.
The three main objectives of a social media audit are:
Identify your strengths and weaknesses on each platform

Figure out how to use those channels strategically for the best results, which may mean altering your content strategy or investing more resources in specific platforms. It could also mean rethinking how you measure success.

Identify what social media KPIs to track in order to make data-driven decisions about your strategy.
Now that we know what a social media audit is and why they matter, let's look at how you can run a social media audit FAST.
How Do You Run a Social Media Audit?
1) Identify Which KPIs You Need from Which Channel
The first step is to determine which of the 6 following KPI categories are most important for your business:
Reach

Engagement rates

Follower counts

Click-through rates

Conversion rates

Data insights.
Then you create a plan to audit each one of those KPIs for your company on the social media platforms you use (like Facebook, LinkedIn, and Instagram, for example).
Let's look at each KPI listed above to get more information on why it matters.
a) Reach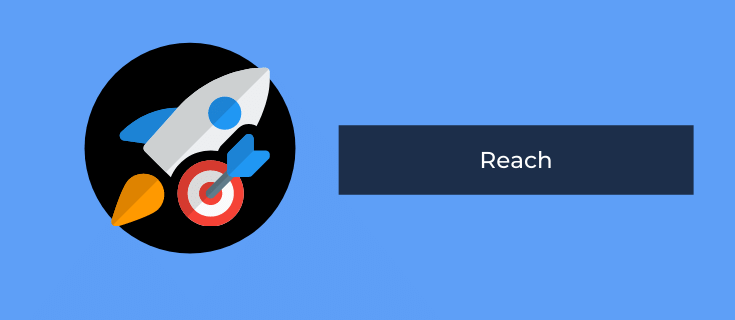 Reach is the number of people reached by a post. It's a bit different than "Impressions", which is how often your content was actually delivered to someone in your audience.
Why Does Reach Matter for Social Media Marketing?
In short, reach measures how many people are exposed to your content. Reach may be more important for social media marketing on channels that have a high percentage of organic engagement, like Facebook and Twitter.
b) Engagement Rates
Engagement rates are the number of likes, comments and shares a post receives divided by the total audience.
For example, if your Facebook post received 900 likes and 250 comments from an audience of 5000 people, then the engagement rate would be 18.75%.
Why Does Engagement Matter for Social Media Marketing?
The engagement rates tell you how well your posts are doing in terms of capturing a user's attention. The higher the percentage, the better it is for your social media strategy because users become more likely to share and engage with other content from your business.
It will also show you want kinds of topics your audience finds interesting so you can replicate those types of posts in the future.
c) Follow Counts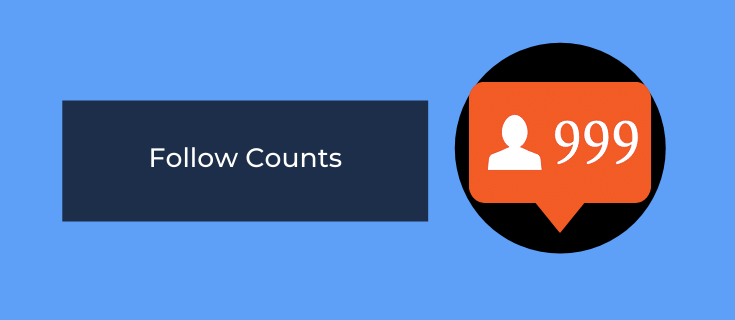 Follow counts are the number of followers you have on any given social media platform.
Why Does Follow Count Matter for Social Media?
Your follow count shows how much interest your company has generated on social media. It also gives you the opportunity to measure customer loyalty by looking at who's following what and for which channel they are most engaged with.
But be careful with this: follow count by itself is a metric, not a KPI. You'll want to compare the rate at which your follow count improves (or declines) month after month.
For more on this, check out this helpful post: What KPI Metrics Make a Valuable Report for Small Business?
d) Click-Through Rates
Click-through rates are the number of clicks on a link divided by the total audience.
For example, if your Facebook post links to an article and 500 people click through from an audience of 5000 followers, then only 1% clicked though.
Why Does Click Through Rate Matter for Social Media Marketing?
The higher the percentage of users clicking through, the better it is for your social media strategy. This indicates that people are interested in the content you're sharing with them and they want to see more of what you have to offer.
e) Conversion Rates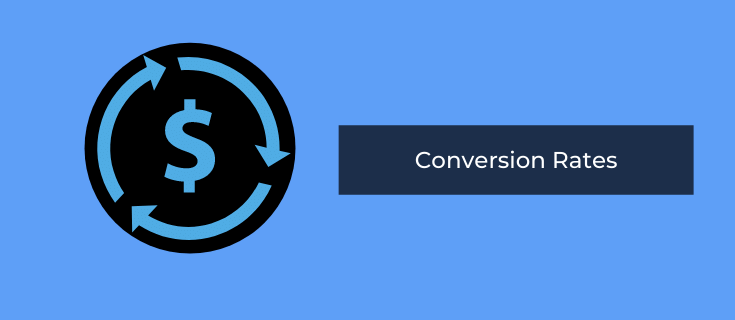 This is a measure of how many people clicked on the link in your post and then converted into customers.
For example, if you had 100 clicks from 1000 followers for one post with no conversion rates, that would be .001%.
If those were follow-up posts to nurture prospects or new leads, then it's probably not something to worry about.
Why Do Conversion Rates Matter?
The conversion rate can tell you a lot about how well your social media marketing efforts are working.
If the percentage is low, it may be time to update your strategy or invest more resources in specific platforms.
It could also mean rethinking your targeting or message.
But keep in mind that your conversion rates will depend on your conversion goals. If a conversion for you equals a sale, there are factors outside of your social posts (like landing pages or checkout pages) that can affect your bottom line.
f) Data Insights
This is the number of insights you have about data such as:
The percentage of content that was shared or liked by your followers. (For example, if one post has 100 likes and 50 shares on Facebook from 500 followers)

Your fans' interests, based on who they follow in common with you. It's important to understand the interests of your followers for two reasons:

If you're using social media as a referral tool. (For example, if one post has 100 likes and 50 shares on Facebook from 500 followers)

To identify new audiences who may be interested in what you have to offer. (For example, if one post has 100 likes and 50 shares on Facebook from 500 followers)

Your engagement rates.
Using this data, you can optimize your social media strategy to build a better (and more profitable) plan.
Why Data Insights Matter for Social Media Marketing
The insights you generate from social media are important because they help you find ways to improve your strategy.
For example, if you're struggling with engagement rates on Facebook and Twitter then it may be time to change the times that you post or rethink what kind of content is best for those platforms. Or maybe Instagram works better for your company and you need to invest more marketing resources there.
The bottom line is that social media data can help your business grow if it's used correctly. So don't be afraid to experiment and try new things as long as you're accurately tracking the results.
Otherwise, your entire social strategy may as well be left up to guesswork.
Once you've identified which KPIs you need from which platforms, it's time to create the actual audit.
Step 2) Build a Social Media Audit Report
When it comes to buildling your social media audit report, you have 2 options:
Create them manually

Use a report building tool
While the "DYI" route may make sense for some companies (that are just getting started with social media, for example), but it can be more time-consuming and expensive in the long run.
That's because these reports can take time when you're entering data manually, and you'll be paying those hours through your own hourly rate OR by hiring an intern to do it for you.
Plus, you always run the risk of inaccurately entering data which is an easy mistake to make after compiling data week after week.
Metrics Watch is hands down the best tool to conduct your social media audits: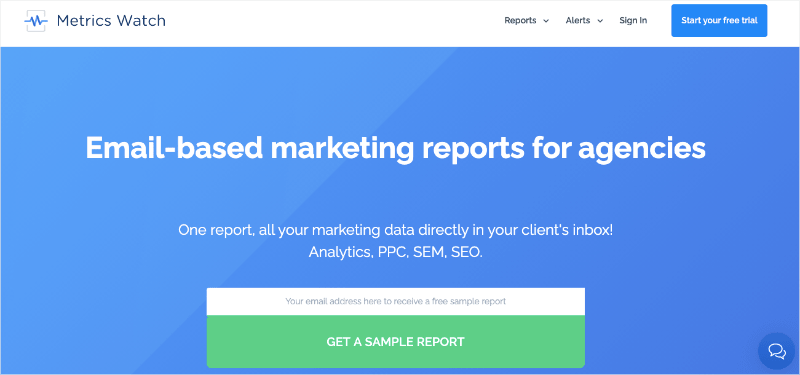 Metrics Watch is a report building tool that lets you automatically pull the data you need from:
Google Analytics

Google Search Console

Facebook

Instagram

LinkedIn

And more...
That means you can create stunning nad professional social media audits in minutes, even if you don't have any technical skills.
Then simply decide how often you want to send these reports (on a daily, weekly, or monthly basis). And once you set the recipeints to get these reports, the audits will go directly to their inbox.
That means no more messy PDFs to attach, and no more managing user roles for 3rd-party dashboards.
Instead, you'll simply send the data people need in a format they already know. Want to see it in action for yourself?
Why not try Metrics Watch 100% risk-free (no credit card required). All you need to do is click below:
Build Automated Digital Marketing Reports Today!
And that's all for today! This has been a post on how to create a social media audit.
We hope you found it helpful and, if you did, then you'll definitely want to check out the following resources:
These articles will have even more information on how you can build a stronger (and data-driven) social media strategy.