Are you trying to understand the difference between OKRs and KPIs?
Well, today we are going to look at what they are and how you can use them to achieve your business goals in 2022.
At a glance, OKRs and KPIs are quite similar in the sense that they provide a benchmark for you to measure your progress against, allowing you to see if you are on track to achieving your objectives in marketing or in general.
However, there are some key differences between the two.
By taking the time to understand these differences, you'll gain the knowledge to know when and why to use an OKR or KPI to measure and assess the results of marketing campaigns for you and your clients.
We'll also take a look at some examples as well as how to get the most out of your reporting so that you can create more profitable campaigns and reach your goals quicker.
So, let's dive in.
What Is An OKR?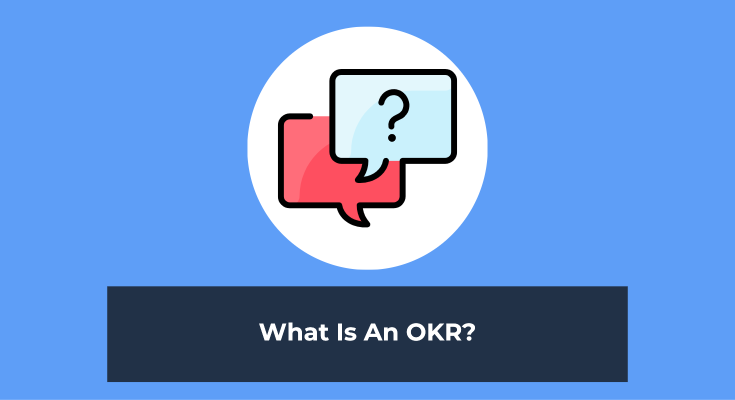 OKR stands for objectives and key results. They are used to set long-term objectives (typically quarterly and annually) whose success is then measured using key results.
An OKR should be ambitious and motivate a company, team, or individual to push forward aggressively to reach their goal.
Many attribute the rise in popularity of OKRs to Intel and Google. American investor and venture capitalist John Doerr was first exposed to the OKR methodology during his time working with Intel. Then in 1999, he introduced the concept to Google founders Larry Page and Sergey Brin. Since then, OKRs have been adopted by many of the world's leading brands to shape their business goals, including LinkedIn, Twitter, Spotify, GoPro, and many more.
To establish an OKR, ask yourself:
What do you want to accomplish?

How do you know that you're on track to achieve it?
By answering these questions, you have defined your long-term goal and identified the key performance indicators (KPIs) you need to track to measure your progress.
Here's an example of an OKR:
Objective: To have the best-selling sci-fi adventure video game in 2023Key Result 1: Perform competitor analysis and survey to identify the most-requested features for the game genre.Key Result 2: Conduct 10 rounds of focus groups during development to identify and address weak features in the story, gameplay, and graphics.Key Result 3: Attain 5-star reviews from the top 100 game review platforms and a 98% audience positivity score on the Steam PC game store.Key Result 4: Win the Game Developers Choice 'Game of the Year' award in 2023.
You may be thinking that this approach seems incredibly simple - and you're right, it is!
However, setting your goals is only the first part of the process. The second is just as important and is what can make or break your efforts - and that comes down to the effectiveness of your reporting (more on this later).
What is a KPI?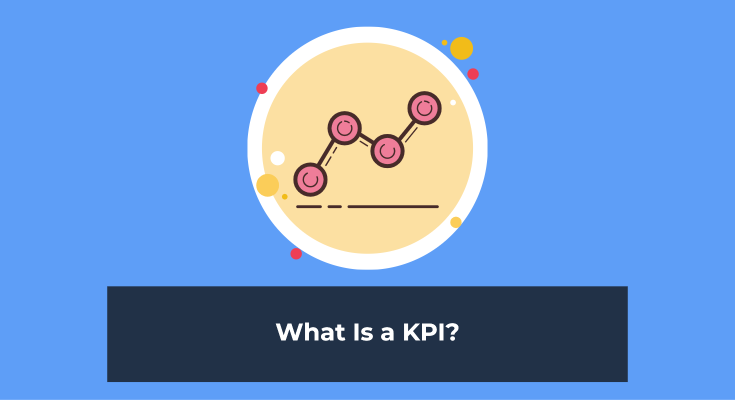 KPI stands for key performance indicator. These are metrics that you can use to measure an organization's progress over time.
Once a goal has been established, you should select only the most important metrics to track - those that will provide the best insight into its success or failure.
KPIs can be identified by asking yourself these questions:
What is the objective we're trying to reach?

Which metrics can be used to best track performance?

Are these metrics easy to measure?

Do they effectively communicate the progress being made towards the objective?
By answering these questions, you are ensuring that only useful metrics are being tracked. The problem many marketers face is including too much data in their reports to the point that they are rendered useless. This often comes as a result of either:
Not taking the time to ask these questions and choose the right KPIs

Including too many vanity metrics in reports
Vanity metrics can be hard to resist - they trigger a release of dopamine when we see the number of likes increase. But unless the data specifically correlates with the progress towards the objective then it isn't a useful KPI - it's just a metric.
All KPIs are metrics, but not all metrics are KPIs.
For example, if the goal of a campaign is to increase followers on Facebook by 25% then tracking the total number of followers is not the best metric to use as a KPI. In this case, it would be much more effective to track the follower growth rate as this will give you a clearer picture of whether the campaign is on track to meeting its goal.
KPIs will vary between industries and departments. Here are some quick examples:
Digital Marketing Team: number of website conversions, cost per click, click-through rate, ad frequency rate,Call Centre: customer wait time, average length of call, number of problems escalated to another departmentSales Department: sales per employee, total sales revenue, customer lifetime value
So, you may be wondering when you should opt to use an OKR over a KPI? Let's take a closer look at that now.
OKR vs. KPI: What's The Difference?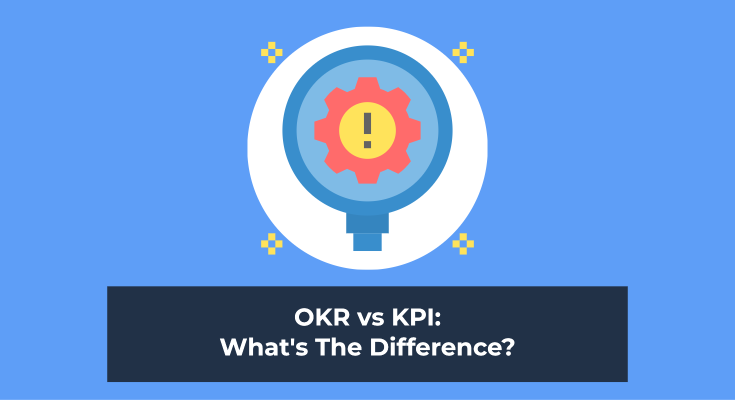 Organizations can use OKRs to set ambitious goals and define the necessary steps needed to achieve them. They can then use KPIs to track their progress over time to see whether they're making progress.
As opposed to being 2 completely different methods, OKRs and KPIs complement each other.
KPIs are typically chosen to monitor progress to an existing goal, whereas OKRs can be used to establish that goal.
Another thing to bear in mind is that while KPI goals are generally set to be realistically attainable (e.g. to increase email subscribers by 30% in 2 months), the nature of OKR goals is to be ambitious and should push an organization out of its comfort zone and to dream big.
A rule of thumb with OKRs is that if you find that you're constantly hitting your goals, then you're not being ambitious enough!
So now that you understand the difference between the OKRs and KPIs, let's talk about the best way to track your progress to reach your goals.
OKR & KPI Reporting
As we've already touched on, choosing the right OKRs and/or KPIs is only half the battle. To maximize the chances of success and reaching your goals, you need to ensure that you are regularly reporting your performance.
This step is crucial - otherwise, you're just driving blind with no way to tell if you're on track to meet your objectives.
Reports should be clear, concise, and contain only actionable information - no vanity metrics or information that isn't going to affect your decisions moving forward. Just key performance metrics… (you see where we're going with this.)
By now you should have a better understanding of the questions you should be asking to identify effective KPIs for measuring your progress towards your OKR goals. You know which data you need to report, but how often should you be reporting?
Different departments and employees will need to see data more regularly than others. Some data will also be irrelevant to certain recipients, so it's recommended to create custom reports to tailor to each of their needs.
By doing so, everyone has access to the data they need when they need it.
Remember: your reports should only contain information that is relevant and that you plan to take action on.
Building Better Reports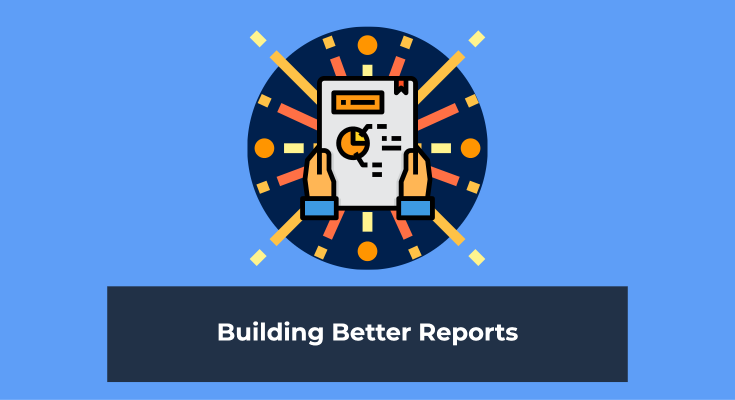 When it comes to reporting data, there are generally 2 options:
Manual report building

Automated reporting
In order to maximize efficiency, we always recommend automating your reports. Not only does this guarantee that data is delivered reliably and regularly, but it also eliminates the risk of human error that comes with manual reporting.
They're also less time-consuming and allow you to focus more of your valuable attention on following up new client leads and growing your agency.
Most automated reporting services allow you to deliver reports by either:
Logging into 3rd-party dashboards

Emailing a PDF attachment
But the biggest problem with these is the friction between sending and receiving reports. Introducing regular reporting on top of people's already busy schedules is already a big ask - requiring them to then have to log into a 3rd-party dashboard or download and organize PDFs is just adding another layer of unnecessary friction to their workflow.
So what's the best solution to ensure that your clients are actually reading your important marketing reports? For that, there's no better tool than Metrics Watch: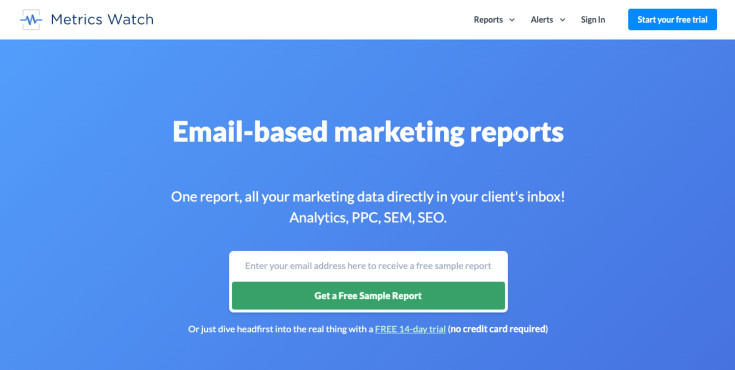 With Metrics Watch, reports are sent directly to your recipient's email and are viewable in the body of the email itself. No pesky PDF downloads or dashboards to log into - just the data they need, when they need it.
This allows clients to easily view reports on mobile or desktop and quickly see the changes since the last report for each KPI. It's that simple.
Metrics Watch connects with all your favorite platforms, including:
Google Analytics

Google Search Console

Google Adwords

Facebook

Instagram

LinkedIn

Mailchimp

& more…
Build professional marketing reports fast with our intuitive drag-and-drop builder (no coding experience necessary) or use one of our pre-made templates to start sending reports fast.
Ready to start building better reports? Try Metrics Watch for 14-days absolutely free and see for yourself.
No credit card required.
Start Your Free Trial!
And that's all for today! We hope you now have a better understanding of the difference between OKRs and KPIs, how to apply them, and how to build better reports in order to maximize your chances of reaching those goals.
If you enjoyed this post, then be sure to check out these other articles:
They'll give you even more tips on how to build better and more actionable marketing reports for you and your clients.