Are you trying to improve your pay-per-click (PPC) ROI tracking to see if you can justify the amount you're spending on ads?
Paid ads can be a great way to drive more traffic to your site and boost sales. Out of all the marketing strategies around, it's the one that delivers the fastest results.
But like everything in life, PPC campaigns require lots of testing, tracking, and tweaking to ensure you're always bringing in more money than your spending.
That's why, in today's post, I want to teach you exactly how to track your PPC's return on investment (ROI) with Google Analytics.
Before diving into that tutorial, though, let's get clear on why it's so important to track your paid campaigns in the first place.
Why Track Your PPC ROI?
In an ideal world, marketers wouldn't have to worry about budgets. We'd have unlimited funds to experiment, get creative, and try out new ideas.
Sadly, we don't live in an ideal world. In real life, balancing income and expenditure is a constant concern. No business owner is going to agree on a marketing budget unless they know it will bring them plenty of paying customers.
Tracking the ROI of your PPC campaigns means you can report back to clients or senior managers and demonstrate exactly why the cost of your advertising campaigns is justified. They'll need to see this evidence so that they can budget accordingly.
Your ROI is also an important KPI for tracking your team's performance. It's one of the best measures you have for the success (or otherwise) of your marketing campaigns. After all, a high number of sales means nothing if you spent more than you need to on PPC advertising.
And tracking your PPC ROI can also help you to improve your campaigns. By tracking where your return is good and where it is low, you can identify which platforms, keywords, and adverts bring you the biggest bang for your buck. This helps you plan effectively for the future.
With that in mind, let's turn our attention to how to track your PPC campaigns with Google Analytics.
How to Track Your PPC Campaigns in Google Analytics
Hopefully, you're fully convinced that you should be tracking the ROI of your PPC advertising. But how do you do that?
One option is Google Analytics, every marketer's best friend (or nemesis, depending on how easy you find it to navigate). Unfortunately, tracking ROI with Google Analytics isn't quite as simple as clicking a button. There are a few things you'll need to set up before you begin.
First, you need a way to track revenue.
If you run an eCommerce website, most platforms include an integration to share revenue data with Google Analytics, so this is relatively straightforward. But if your business is based on leads instead of product sales, you'll need to set up some conversion goals.
If you aren't yet familiar with setting up goals in Google Analytics, here's Google's own guide to help you get started.
Essentially, you'll go to the View of the property you want in your Google Analytics admin menu, click Goals, and click Create New Goal: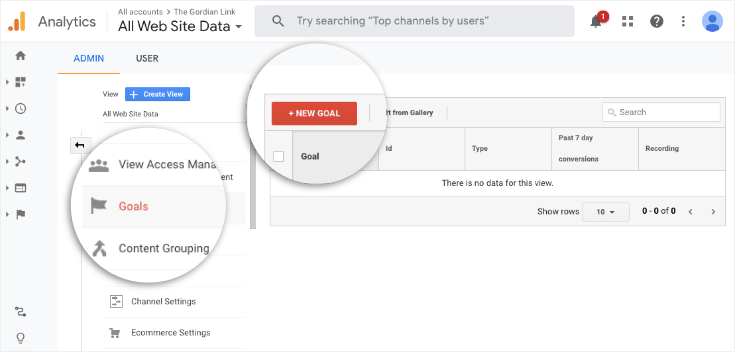 When you set up your goals, you'll notice there's a field called 'Goal Value':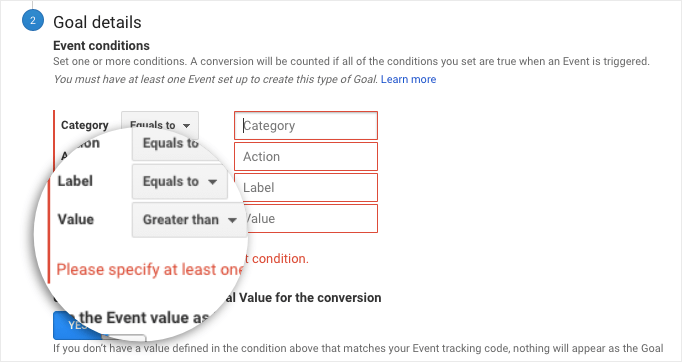 Now, this field is optional, so you can leave it blank. But if you want to track your ROI from PPC campaigns, you are going to need to put a figure in here.
Deciding what value to assign your goals can be tricky and requires you to dive into your historical data.
Perhaps your goal is to sign someone up for a free trial. You know from your past data that 20% of those who sign up then convert to paying customers. And you also know that customers who came via the free trial have an average lifetime value of $5,000. In this case, you might assign your free trial sign-up goal a value of $1,000.
Again, the exact value you assign to these goals will be particular to your product or services.
Repeat this process for every goal. Some will have a lower value than others. Someone who subscribes to your mailing list is probably not worth as much as someone who fills in a form to request a quote, for example.
If you are a start-up and don't have historical data to work from, you'll have to use your best estimate at first. Always go lower than your actual projections – it's better to underestimate your ROI than overestimate it.
The second step is to set up some UTMs to use in your PPC campaigns.
These custom URLs will help you track website visits from different campaigns and marketing channels, meaning you can assess your ROI more accurately. This is especially important if you are using multiple PPC platforms – perhaps you are advertising via Google, Bing, and social media, for example.
You can create UTMs with Google's own tool: URL Campaign Builder.
Now you have your revenue recorded and have a way to attribute it accurately to different campaigns. The final dimension you need to calculate for your ROI is the cost of your PPC campaigns.
If you are mainly running PPC campaigns on Google, you can link your Google Ads account with your Google Analytics account. Unsurprisingly, they already work together, so you can easily see cost data from Google Ads in Google Analytics.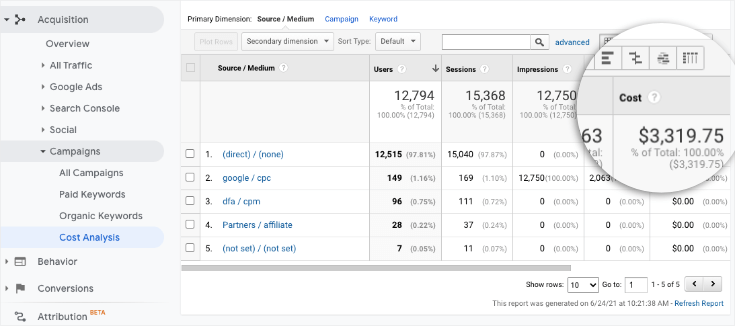 However, if you are using other PPC platforms, such as Bing or Facebook, you'll need to import the cost data yourself. The most straightforward way to do this is via a CSV file, but it is a manual process that you'll need to repeat every time you have new data to upload.
To import cost data this way, log into Google Analytics and go to the Admin panel. Find the right property and click Data Import. Then click the red CREATE button.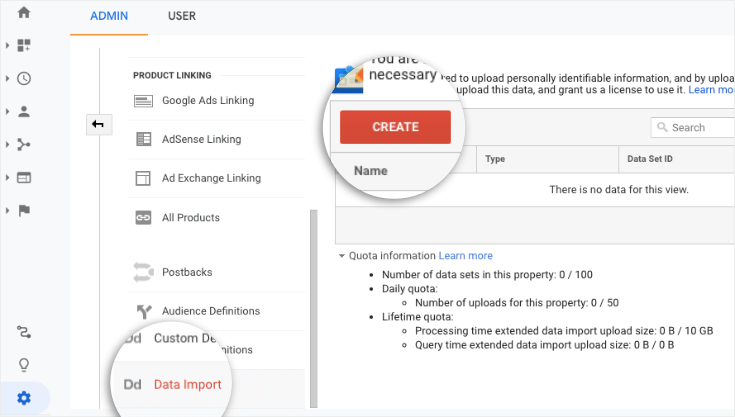 Choose Cost data as your dataset type. Give it a recognizable name and select which view you want to upload the data to. Then choose how your data set is structured – your CSV file will need to be arranged the same way, so take note of what you enter here.
Date, source, and medium are required columns. You'll want to use Cost at least as one of the other columns. Although it is optional, I recommend adding Campaign, too.
Finally, you need to tell Google Analytics whether it should add this data to existing data (if there is any) or overwrite it. Then click Save.
Once your data set is configured, you need to export your cost data from your PPC channels into a CSV file. Make sure that the file is structured correctly – there are some tips from Google in this guide.
When you are happy with your CSV file, upload it to the data set you created in Google Analytics. It generally takes around 24 hours before the data is ready for you to use in reports.
There is also an option to use an API and App Script to import data from Google Sheets. This is a semi-automatic process but requires a higher level of know-how.
Once you've imported your cost data, you have everything you need to track the ROI of your PPC advertising with Google Analytics. You'll find the report under your view. Go to Reports > Acquisition > Campaigns > Cost Analysis.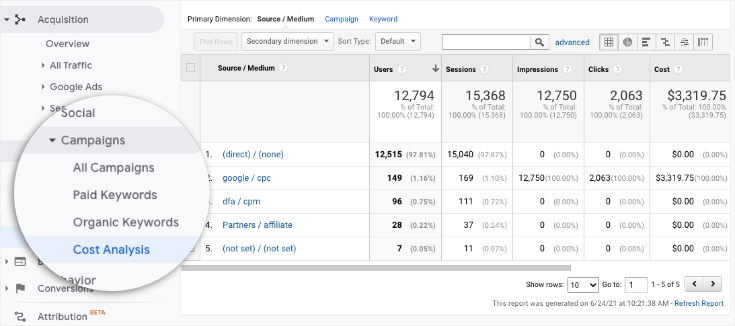 Here you'll see the breakdown of your costs, revenue, and ROI by source/medium. If you've added the right data, you'll also be able to dive down into the ROI of each PPC campaign.
And that's it! You've successfully tracked your PPC ad's ROI with Google Analytics.
Now that we've seen how to do that, let's quickly look at the easiest way to add these KPIs to your daily, weekly, or monthly marketing reports.
Adding PPC Campaigns to Marketing Reports
One of the biggest problems you might face is putting the PPC campaigns in a cohesive marketing report that also touches other aspects of your marketing strategy.
That's because none of your marketing strategies work in a vacuum. But compiling all that data into weekly reports can be as tedious as it is time-consuming.
Plus, it leaves you prone to human error. That means you could put a bunch of work into setting up your PPC revenue tracking, only to have the data skewed when it hits the reports.
That's why I always recommend using a report building tool like Metrics Watch: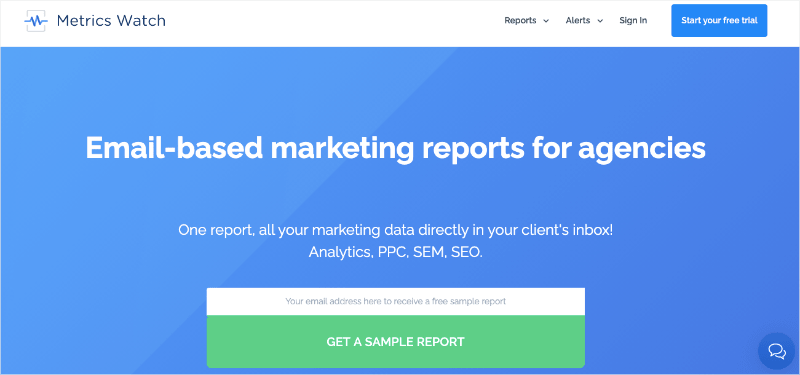 Metrics Watch is one of the best report building tools on the market. It makes it easy to create cohesive and automated marketing reports in minutes.
You also don't need any technical skills to create your reports because Metrics Watch has a codeless drag and drop visual editor. This allows you to pull data from your favorite marketing channels, including:
Google Ads

Google Analytics

Google Search Console

Facebook (paid ads and organic)

LinkedIn (paid ads and organic)

Instagram (paid ads and organic)

Mailchimp
This lets you build global marketing reports from multiple sources which gives you a more global view of your marketing strategy.
But the best part about Metrics Watch is how these reports are shared. That's because this tool doesn't send the information via PDF or 3rd-party user dashboards.
Instead, Metrics Watch sends these reports directly to your recipients' email. That gives you a frictionless report sharing process that's unmatched by other report building software on the market.
And once these reports are built the first time, you can flip everything to autopilot. That means you can build your PPC reports in minutes, and have it automatically sent to your team or clients on a daily, weekly, or monthly basis.
But seeing is believing, so why not see for yourself? Click below to start your 100% risk-free Metrics Watch trial today (no credit card required):
Start Your Free Trial Today!
And that's all for today! This has been a short tutorial on how to track your PPC ROI with Google Analytics.
If you enjoyed this post, then you'll definitely want to go through the following resources:
These articles have everything you need to create better, more profitable marketing reports to help grow your business.