Are you looking for the best way to create effective search ranking reports?
If so, then you've come to the right place. Because today we're going to walk you through everything you need to know to crush your SEO game.
Report building doesn't have to be scary. The problem many marketers face is not knowing which KPIs they should be tracking and why. These days we're bombarded by so much data that it's easy to feel overwhelmed or get distracted by vanity metrics.
So let's take a look at how you can cut through the noise and build better search ranking reports for your clients.
Within the next 10-15 minutes, you'll learn;
Which KPIs to track

Where to find them

And how to build a report for your team or your client
Let's get started...
What is a Search Ranking Report?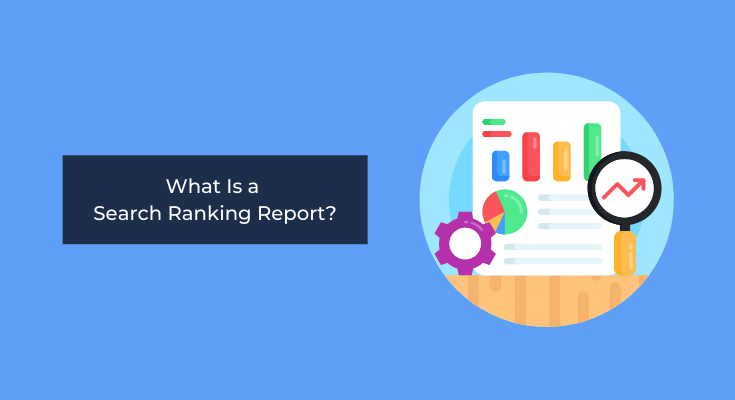 Monitoring your keyword rankings is a vital part of your SEO reporting process.
Without doing so, how can we be sure that we're producing relevant and optimized content for both our audience and Google?
Spoiler alert: you can't
But before diving into which KPIs to track, it's important to identify and understand the goals for our search ranking report. Otherwise, we run the risk of including useless data that only hinder us in our mission.
Ultimately, the end goal is to increase your site's ranking positions on SERPs. So how do you do that?
One factor is ensuring that content is optimized according to Google's standards.
Another - as we've already touched on - is making sure that content is relevant.
Regardless of your organization's niche, your content should be bringing value to the user.
But trends change and content can lose its relevance over time. This is why including search ranking reports in your digital marketing strategy is so important.
By highlighting opportunities to improve your search engine optimization, you'll be able to stay ahead of the curve.
The Benefits of Search Rank Reporting
So we know that our search rank report is useful in helping us to increase our Google keyword rankings. But once we've made the report, what actions can be taken to better reach that goal?
If you take the time to select the correct KPIs, the information in your report will help you do the following:
1. Better Understanding User Search Intent
Tracking how well your content is ranking over time is great for measuring how well you're understanding users' search intent.
Put yourself in their shoes - what would someone searching for a query like 'photography New York' be looking to find:
Photographs of New York?

Photography clubs/courses in New York?

Photographers in New York?
Understanding the motivation behind keyword searches improves your chance of satisfying the user's intent and increasing your rank position in the SERP.
2. Identifying Opportunities for Future Content
By examining the amount of organic traffic generated by a particular page, businesses can learn which keywords are more valuable than others.
For example, you notice that a recent article on a photography website about 'Sony camera lenses' is driving 5x more traffic than any other post in the past 2 months.
You may speculate that making more content about Sony cameras could prove to be just as popular.
Now you have a content marketing strategy being driven by data. Not just wild guesses, saving precious time and money.
3. Protecting Your Brand's Keywords
While it can be an effective tactic to try and rank for your competitors' branded keywords, don't forget that others could be trying to do the same to you!
The last thing you want to see is a competitor ranking above you on Google for your own brand name keywords.
Don't give them an easy win - including your own brand's keywords in your search ranking report will let you see when your SERP position starts to slip, so that you can take action to reclaim your spot at the top.
4. Identify Weak Keywords
As technology and trends evolve, you may find that your older content begins to lose its relevance.
Comparing the performance of keywords over time can reveal opportunities to refurbish aging content so that it continues driving traffic to your site.
You may find it quicker and more cost-effective than constantly creating brand new content from scratch. Allowing you to work smarter, not harder.
And one of the best (and easiest) tools that will let you do all of this is Google Search Console.
Google Search Console
Search Console is a free tool by Google for monitoring the search queries that bring traffic to your website, amongst other things.
However, to get the most out of Google Search Console, you'll want to connect it to your Google Analytics account.
The reason for this is that the data available to you within the Search Console itself is limited, only showing some of the queries resulting in traffic to your website.
By connecting it to Google Analytics, you'll be able to view more useful information to help you in your marketing efforts.
If your accounts aren't connected, feel free to use this helpful tutorial to rectify that.
Now that you're all set up, it's time to take a look at the KPIs you should consider for your search ranking report.
KPIs for Your Search Ranking Report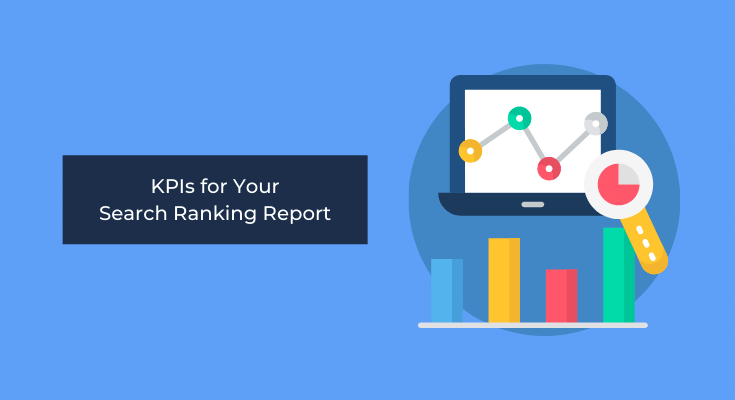 When it comes to deciding which data to include in your marketing reports, we're big believers that less is more.
Of course, that doesn't mean you should be restricting yourself to just a couple of metrics at the risk of missing out on useful information.
Each business has its own needs and objectives. And it's your job to identify which metrics are irrelevant and which can be used as KPIs to help them meet their goals.
By doing so, you are ensuring that your marketing reports are:
Clear and readable

Actionable

Valuable
While your client's KPIs might extend beyond the list below, here are 3 essential metrics that you'll want to include to effectively track their keyword rankings.
1. Average Keyword Rank Position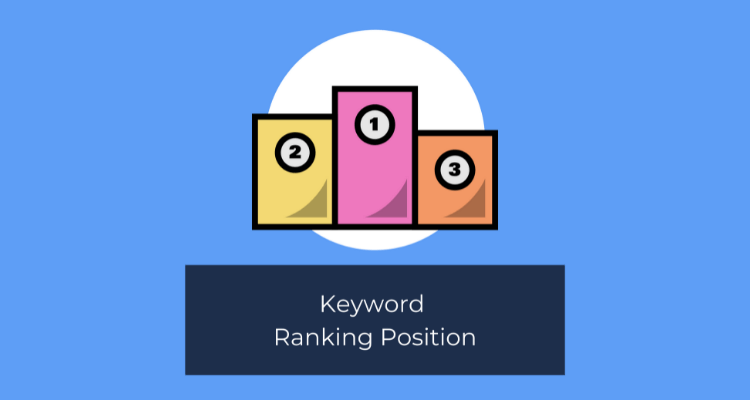 The first metric you'll want to include is the average rank position of your keywords and search queries.
Tracking your keyword positions and then comparing them to where they were last quarter and last year is an effective way of measuring the progress of your SEO strategy.
It's good to bear in mind that these are average positions, as pages may appear higher or lower on a SERP depending on the searcher's device, location, browsing history, and other factors.
Get the stats: Google Analytics > Acquisition > Search Console > Queries
2. Organic Search Engine Traffic
High-ranking keywords are only as good as the traffic they bring to a site.
Measuring organic traffic can identify which content resonates most with a target audience, revealing your most valuable keywords.
Knowing this gives marketers the ability to make data-driven decisions and create more content likely to lead to conversions.
Many experts will tell you that SEO is a marathon, not a sprint. Monitoring your organic traffic allows you to measure your progress over time.
Get the stats: Google Analytics > Acquisition > Search Console > Landing Pages
3. Conversion Rate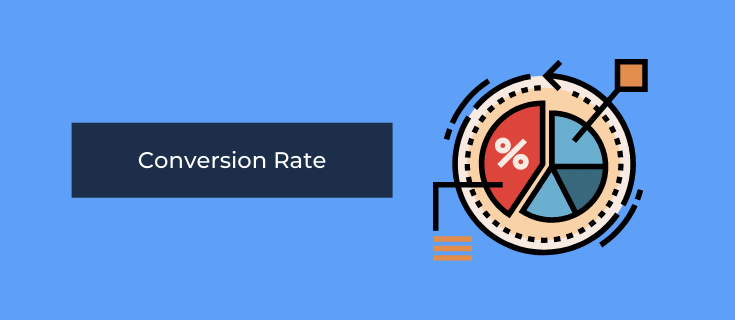 High traffic volume alone isn't necessarily a clear measure of success - if visitors to your site aren't performing the valuable actions that you'd like them to.
That's where tracking your conversion rate comes in. You need to make sure that you've set up goals in Google Analytics first in order to do so, but this is quick and easy to do.
A conversion goal could be any user action that you deem to be valuable. Typically this is an action that results in revenue (such as placing an order on an online store), or lead generation (like newsletter signups).
Now you can see which content is performing the best, allowing you to identify trends between high-converting pages. This information can help you find opportunities to create more high-converting content as well as optimize low (or non) converting pages.
Get the stats: Google Analytics > Acquisition > Search Console > Landing Pages
Digging Deeper
While we recommend tracking these 3 metrics in your search ranking reports, it's important to understand that every business has its own needs and objectives.
Take advantage of the abundance of information available in Google Analytics and consider what else could be an essential KPI for your client's report.
It may be useful to see how keywords are performing in different countries in order to identify potential marketing opportunities.
Or perhaps your client may need to know how their content is ranking for mobile searches because their goal is to have users download their app.
By connecting your Google Search Console account, you can view all of these metrics and more in Google Analytics.
Get the stats: Google Analytics > Acquisition > Search Console > Countries/Devices/Landing Pages
Building Your Search Ranking Report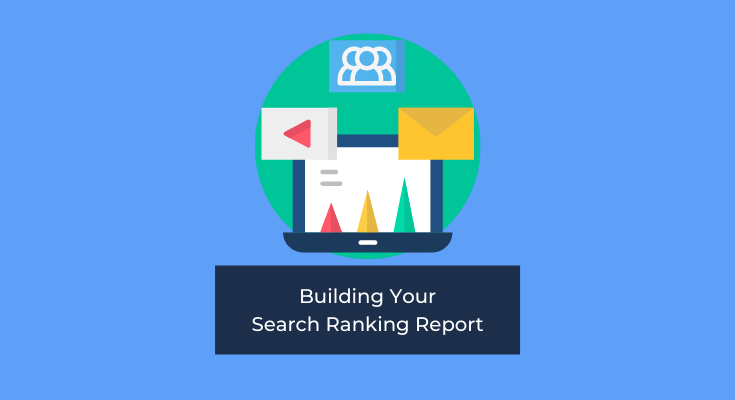 By now, you should have a good idea of which KPIs you should include in your client's search ranking report.
Now it's time to build it!
The most popular methods of delivering reports to clients are:
Using 3rd-party dashboard tools

Sending reports via email
The problem we've found with dashboard tools is that they're a bit of a double-edged sword...
On one hand, you can create a swanky interface for your clients to view your reports inside. But the main drawback with dashboards is the friction that comes with them.
A client may initially be excited about the shiny new toy, but it doesn't take long before busy schedules take over and they stop logging in to view reports.
Before you know it, months have passed since they last looked at it and now you've got a panicking client struggling to figure out why their keyword rankings have plummeted.
The alternative to this would be to set up an automated email report system.
Your client will receive regular updates of their KPIs straight to their inbox, so they won't even have to think about it.
So what's the easiest way to build marketing reports? For that, there's no better tool than Metrics Watch:
With Metrics Watch you can create professional search ranking reports FAST.
Connect with all your favorite marketing channels, like:
Google Analytics

Google Search Console

Google Ads

Facebook

Instagram

LinkedIn

Mailchimp

And more...
Customize your reports to include the KPIs your clients need to achieve their marketing goals.
Automated reporting frees up more of your time and ensures that clients receive important updates straight to their inbox daily, weekly, or monthly!
And the best part about using Metrics Watch to build your report over other tools? The process is completely frictionless!
No 3rd-party dashboards to log in to

No PDF attachments to download
Metrics Watch is the ONLY marketing tool that can provide all the information your client needs directly within the email itself.
What's more, our white-label reports are fully customizable so that you can incorporate your company's branding.
So what are you waiting for? Try Metric Watch FREE for 14 days and see how you could revolutionize your reporting!
Click below to start your 100% risk-free Metric Watch trial today (no credit card required):
Build Automated Digital Marketing Reports Today!
And that's all for today. We hope you learned something useful for building your next search ranking report.
If you enjoyed this article, then be sure to check out these other ones for more tips and level up your reporting game even more:
Be sure to check out these extra resources for more SEO tips and to create better, more profitable search ranking reports.