Are you looking for the best Semrush alternatives to track your keyword rankings?
The fastest way to improve the performance of your online content is by tracking the right data using an SEO tool like Semrush.
Semrush is a powerful platform (we're big fans!), but like every tool out there, it has its strengths and weaknesses.
That's why we've compiled a list of our top 7 Semrush alternatives to help you find the right tool to meet your needs and budget.
So without further ado, let's dive into it!
7 Best Semrush Alternatives for Rank Tracking
1. Metrics Watch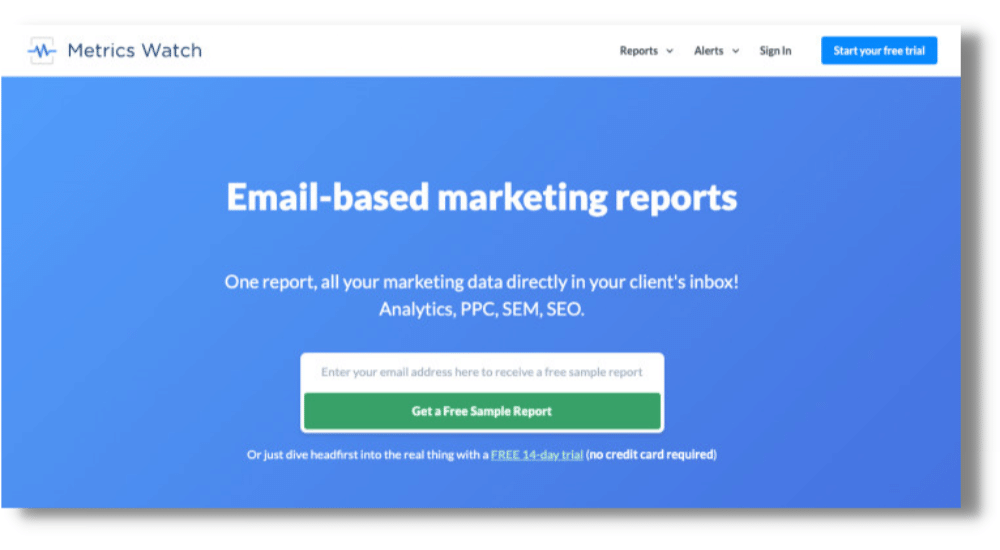 Metrics Watch is hands down one of the best alternatives for keyword rank tracking. It lets you build professional marketing reports fast, pulling data from your favorite marketing channels, including:
Google Search Console

Google Analytics

Google Ads

Facebook

Instagram

And more…
This allows you to easily measure how your SEO efforts are impacting your overall marketing strategy.
It features a codeless drag and drop report builder as well as a template library to get you set up fast. This is great because there are other tools that require some technical skill, creating a steep learning curve.
Reports can be scheduled to be sent daily, weekly, or monthly, so your team or clients never miss a beat. Freeing up more time for you to focus on the things that matter most.
But the best part about Metrics Watch is the way that data is shared.
Unlike most reporting tools on the market, reports are displayed in the actual email body itself.
This means no pesky PDF attachments to organize or 3rd-party dashboards to manage. Instead, recipients can reliably receive their data in a way format they already know and use (directly to their inbox) because of this frictionless approach.
Pros
Integrates with popular marketing channels

No coding skills needed

Data is shared directly to the recipient's inbox

Concierge support + white-label options for all plans

And much more…
Pricing
Plans start at $29/month. Discounts are available for annual subscriptions (2 months free).
Ready to try it for yourself? Click below to start your 14-day free trial - no credit card required.
Start Your Free Trial Today!
2. Moz Pro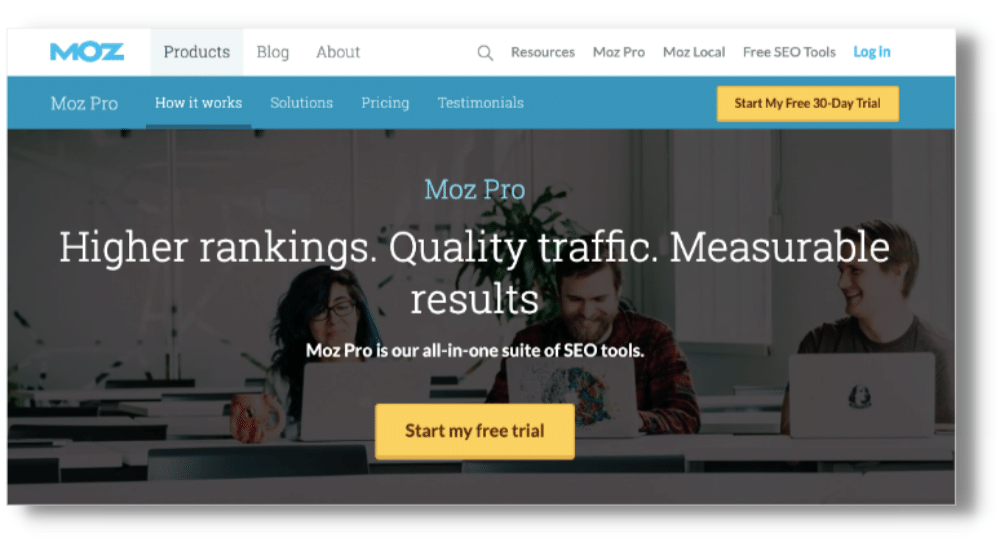 Moz Pro offers a range of tools to help digital marketers in every aspect of their SEO strategy.
Tools for keyword research and rank tracking will help you identify new opportunities and then track the results, while site crawling and content optimization tools will show you how to fix technical issues and provide on-page SEO recommendations.
Another cool feature is MozBar: a free Chrome extension that lets you see metrics like Domain Authority and the number of backlinks for the sites and pages you visit.
Pros
Wide range of tools in one platform

Free MozBar Chrome extension

Free training resources
Cons
With so many tools and data, the learning curve can be quite steep. Also, reports can only be sent as PDF attachments by email, which adds an unnecessary layer of friction between the recipient and their data.
Pricing
Plans start at $99/month. Moz offers a 30-day free trial for new users.
3. Ahrefs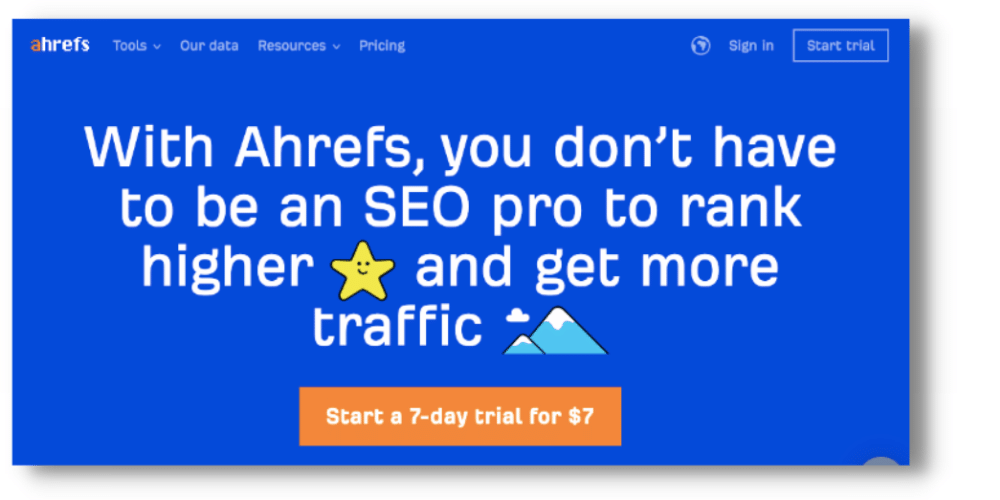 Designed for marketing professionals, Ahrefs provides a suite of tools to meet your SEO needs; from link building and keyword research to competitor analysis, rank tracking, and more.
While Semrush only lets you see Google search data, Ahrefs allows you to perform keyword research for the 10 most popular search engines. And while Google still owns around 92% of the market share, this is a clear advantage for those trying to rank their content on Bing, Yahoo, and other search engines.
Pros
Wide range of tools on one platform

Covers local, mobile, social, and global SEO

Free Webmaster tools
Cons
Individual marketers and smaller enterprises may find Ahrefs too expensive for their budget.
Data is shared via reports, which cost a minimum of $20/mo per user and this can add up quickly the more clients you have.
Pricing
Ahrefs offers a 7-day free trial.
Plans start at $99/month for the Lite option, but those serious about SEO will need at least the Standard plan ($199/mo) to gain access to more advanced features.
4. Serpstat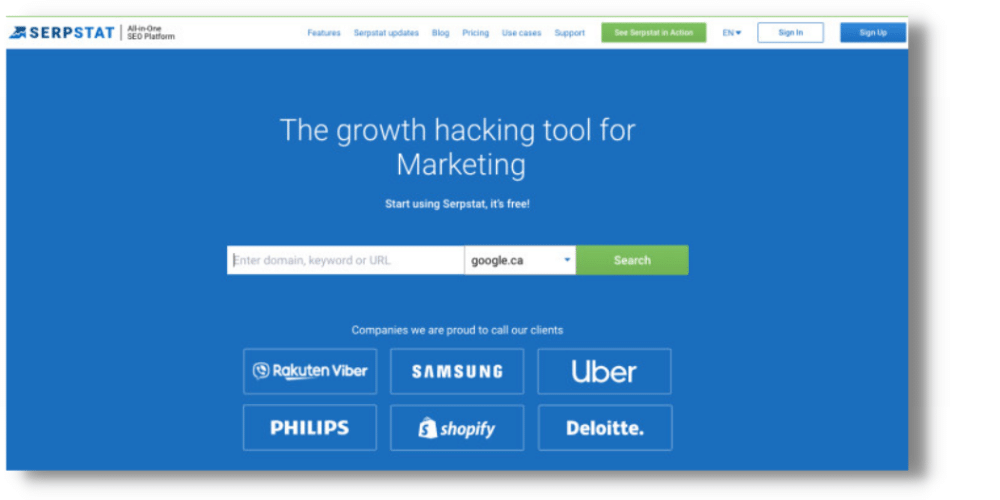 Serpstat is a growth hacking tool that covers all the bases - SEO, content marketing, PPC, search analytics, and more.
While it doesn't include all the same tools like Semrush, like social media and SEO writing tools, Serpstat offers an impressive suite of tools at a competitive price. This makes it a great option for those with smaller budgets.
Pros
Many tools on one platform

White-label report options available

Free plan available

Unlimited users
Cons
White-label options are only available with the Enterprise plan ($499/mo), which can make it an expensive option for smaller agencies.
Pricing
Serpstat offers a free account with limited capabilities.
Plans start at $55/month for the Lite subscription. However, most agencies and in-house marketing teams will mostly need the Standard plan at $199/mo to cater to more users and gain access to branded reports.
5. Google Search Console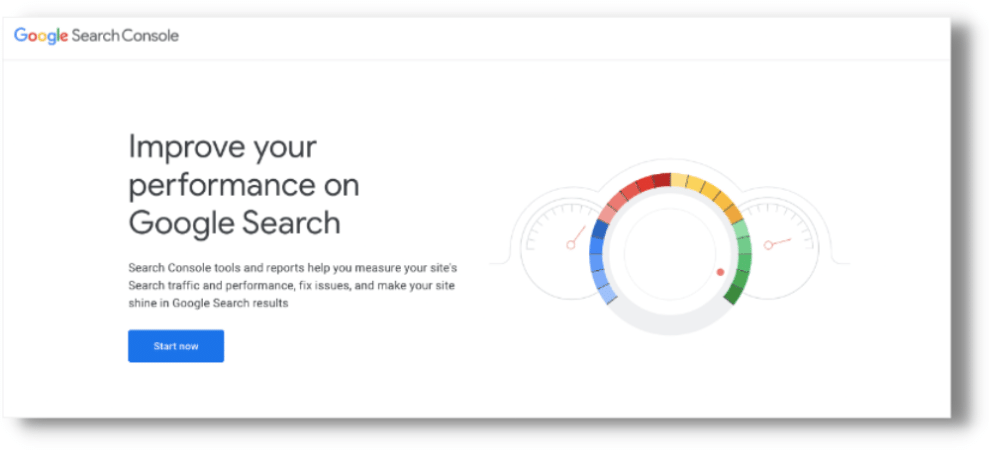 If you're a digital marketer on a budget, then Google Search Console has you covered.
This free tool lets you track your keyword rankings and see which queries users are typing into Google to find you. It also features to help you identify your highest-traffic pages and measure click-through rates to monitor the results of your SEO efforts.
In addition to all that, it can even help with your technical SEO by highlighting errors on your site like content indexing issues.
Pros
Integrates easily with other Google tools

Track keyword rankings on a budget

Helps identify vital website errors

It's free!
Cons
Despite being a great option for beginners or those on a budget, Good Search Console has its limitations - but what more do you want from a free tool?
The only option for sharing data is by exporting Excel, CSV, or Google Sheet files. Google Analytics lets you export your Search Console data as PDF if you've connected both accounts, but this isn't ideal.
Pricing
Free
6. AgencyAnalytics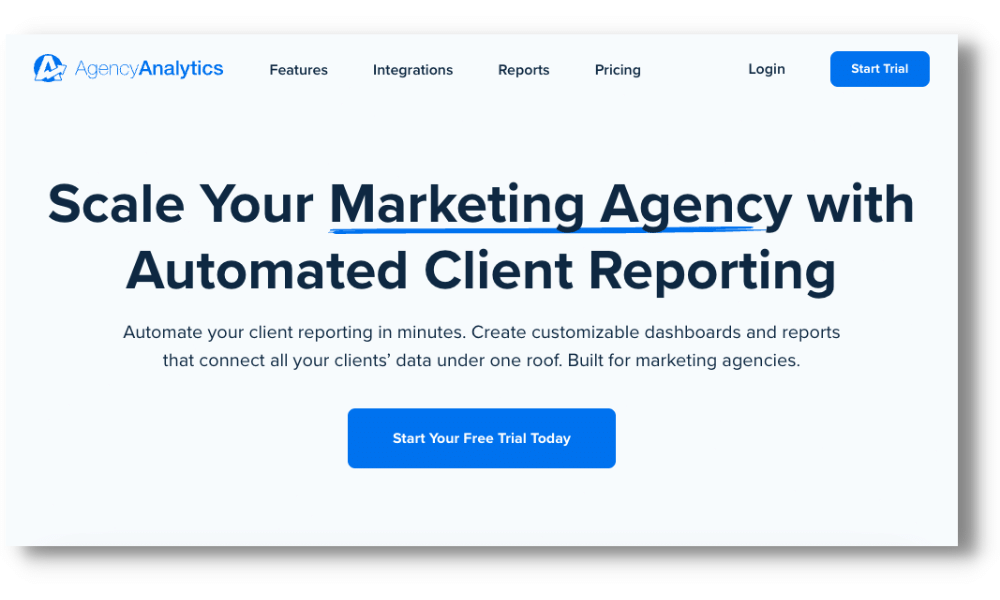 AgencyAnalytics is a marketing reporting platform built with agencies in mind. It lets you pull data from 60+ integrations and share comprehensive marketing dashboards with your clients.
They also offer tools for carrying out SEO site audits and keyword rank tracking for clients at a small premium.
Pros
Integrates with most popular marketing channels

Easy to use

Great customer support
Cons
Data is shared via dashboards. While this allows clients to view real-time data, it comes with some drawbacks including the need to manage user roles and adding an unnecessary layer of friction between the user and their data.
Pricing
AgencyAnalytics offers a 14-day free trial.
Pricing for premium plans is based on the number of clients you have - $10/month for the basic Freelance plan and $15/mo for the Agency plan.
Rank tracking and site-auditor tools cost extra at $50 each per month.
7. SE Ranking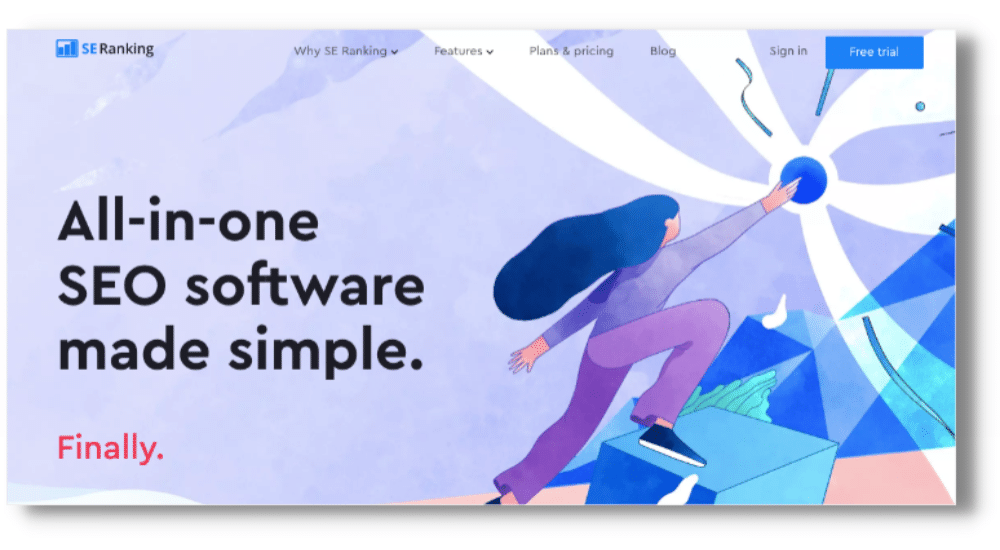 Last but not least, SE Ranking is an affordable all-in-one SEO tool to meet your rank tracking needs.
Their tools help you track keywords, backlinks, competitors, your website's performance, and more, making it an ideal solution for small and large businesses alike.
Pros
Wide range of tools on one platform

Easy to use

White-label report options available

Good customer support
Cons
Some plans may not have enough keyword rankings for your number of projects and may require the more expensive subscription levels.
Pricing
Plans start at $39/month for the Essential plan. If you're looking for some more advanced features and the option to create white-label reports, then you'll need at least the Pro plan at $87/mo.
And that's it!
This has been our list of the 7 best Semrush alternatives for keyword rank tracking.
We hope that this post has given you the information you need to pick the right SEO tool to meet your specific needs and fit your budget.
If you enjoyed this post then be sure to check out these other great articles:
These additional resources are packed with more useful information and tips to rise through the ranks and improve your SEO!