Are you trying to make an SEO dashboard to track your online marketing efforts, but don't know where to start?
SEO dashboards let you view your most important marketing metrics in one place, making it easier to; access data, understand it, and take action.
But it's not always clear what data to include, or even how to build one in the first place.
That's why in this post, we're going to show you:
What an SEO dashboard is

5 KPIs you should track (and why)

& How to make an SEO dashboard in 5 steps
Plus, we'll share a bonus alternative to streamline your workflow and help reach your SEO goals fast.
Let's get started!
What is an SEO Reporting Dashboard?
An SEO dashboard is a tool that measures the results of all your SEO efforts in one place.
They let you combine data from different sources (such as Google Analytics and Google Search Console) and use graphs and charts to visualize your data, making it easier to see what's working with your strategy and what's not.
Dashboard tools are typically web-based, meaning users are required to log in to an online portal to build and manage their dashboards.
Sharing dashboard data with clients and colleagues is typically done in 1 of 2 ways:
As PDF attachment

Via private link (manually or scheduled automatically)
Some tools even let you invite collaborators, so your team members and clients can leave feedback or edit dashboards further to meet their needs. These features aim to free up more of your time, but there is usually a slight drawback of having to manage user roles.
So now that you know what dashboards are, let's take a look at how they can you reach your SEO goals.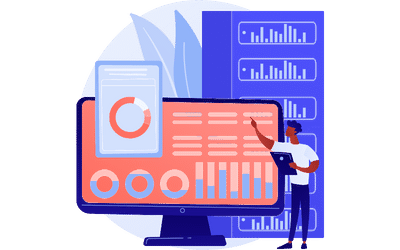 Why Do You Need an SEO Dashboard?
SEO is a marathon - not a sprint.
As such, it's important to look at long-term trends to inform your decisions.
Tracking your progress over time lets you see what's working and what isn't. With more experience, you'll also be able to identify opportunities, such as keyword gaps in your content.
Ultimately, dashboards help you improve your strategy and optimize landing pages so that you can reach your business goals faster (whether that's generating more sales, app downloads, gaining new subscribers, etc.).
Creating focused dashboards also allows you to split your data into meaningful reports so that the recipient can clearly understand its purpose and take appropriate action.
Some examples of what focused SEO dashboards could track are:
Technical website performance: page loading speed, broken links, etc.

Landing pages and content performance: top landing pages, average keyword rank, etc.

Local SEO: Google My Business reviews, website clicks, etc
At the end of the day, data is only useful when it can inspire action. So, make sure that your dashboards are clear and concise to avoid confusion.
But which KPIs should you track?
Let's take a look at 5 essential KPIs that you can start tracking today to improve your search engine optimization strategy.
5 KPIs for SEO Dashboard Reporting
Choosing which metrics to include in your dashboard can be tough.
But with so many to choose from, it's often tempting to add more than is actually necessary. However, this just renders your dashboard useless.
Unfocussed reports leave the recipient confused - they don't know which data they should pay attention to and (more importantly) how to use that data to inform decisions.
So to help you avoid falling into that trap, here are 5 essential KPIs that you can include in your SEO dashboard:
1) Organic Traffic
Organic traffic measures the number of users who visited your website after clicking an unpaid listing on a search engine results page (SERP).
If you see this number going up, it's generally a good indication that your SEO strategy is working as this suggests that your content is ranking well and being shown to your target audience.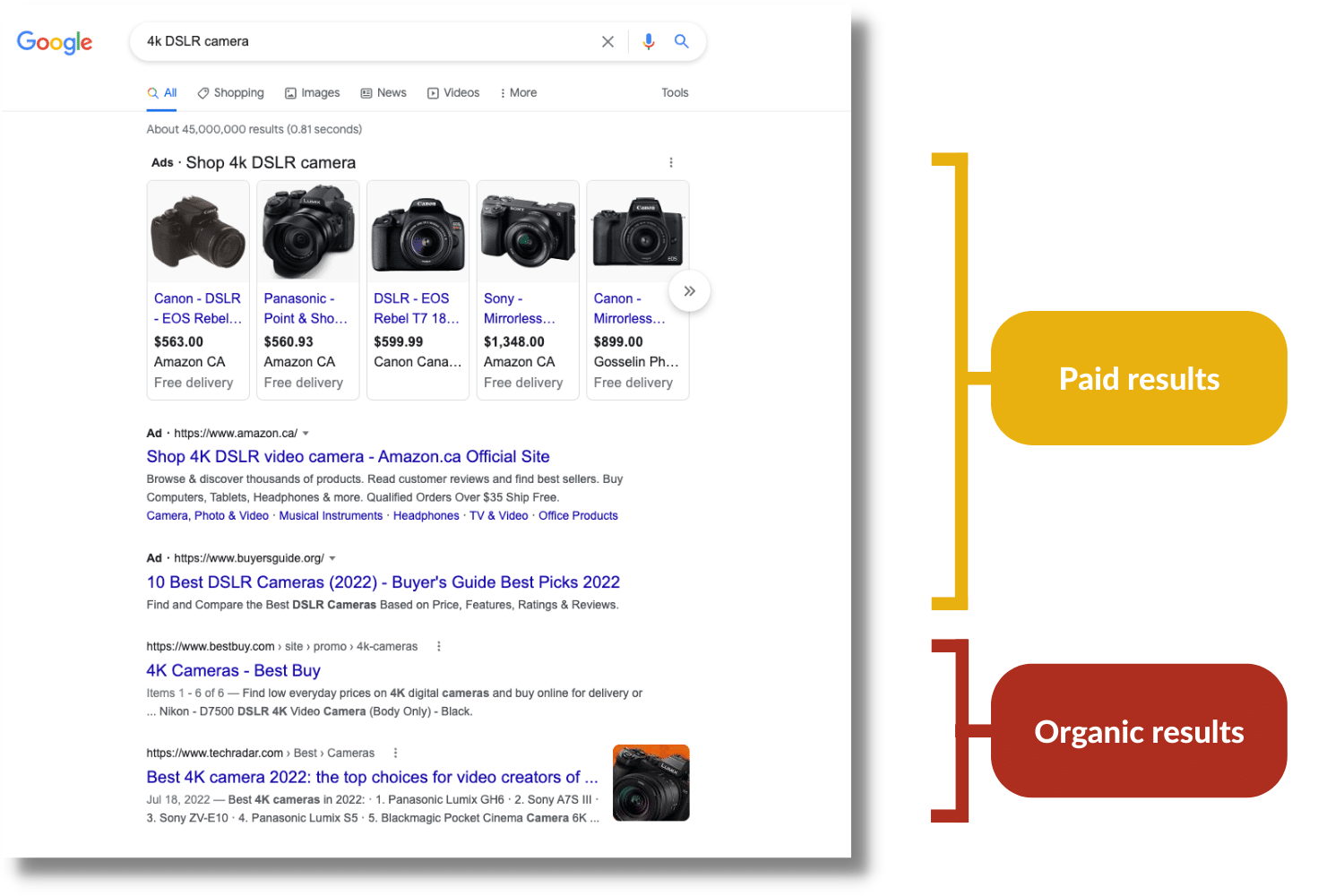 However, this metric alone only gives us one piece of the puzzle.
It's important to look at this metric in context to measure how much of that traffic is performing desirable actions on your site - such as signing up for a newsletter or making a purchase from an online store.
Setting yourself a monthly, quarterly, or annual goal for organic traffic growth can help you track your progress.
If you notice that your traffic is declining, it could be a sign that your content is out of date or that it no longer meets the expectations of users searching for that particular keyword.
Pro Tip: Make sure that your Google Analytics account is set up to ignore common Bots and Spam that can artificially inflate your organic traffic.
2) New vs Returning Users
New vs returning users measures the ratio of, well... new and returning users to your site.
Ideally, you want new visitors to come back again. As such, this metric can be useful for gauging the quality of your website content.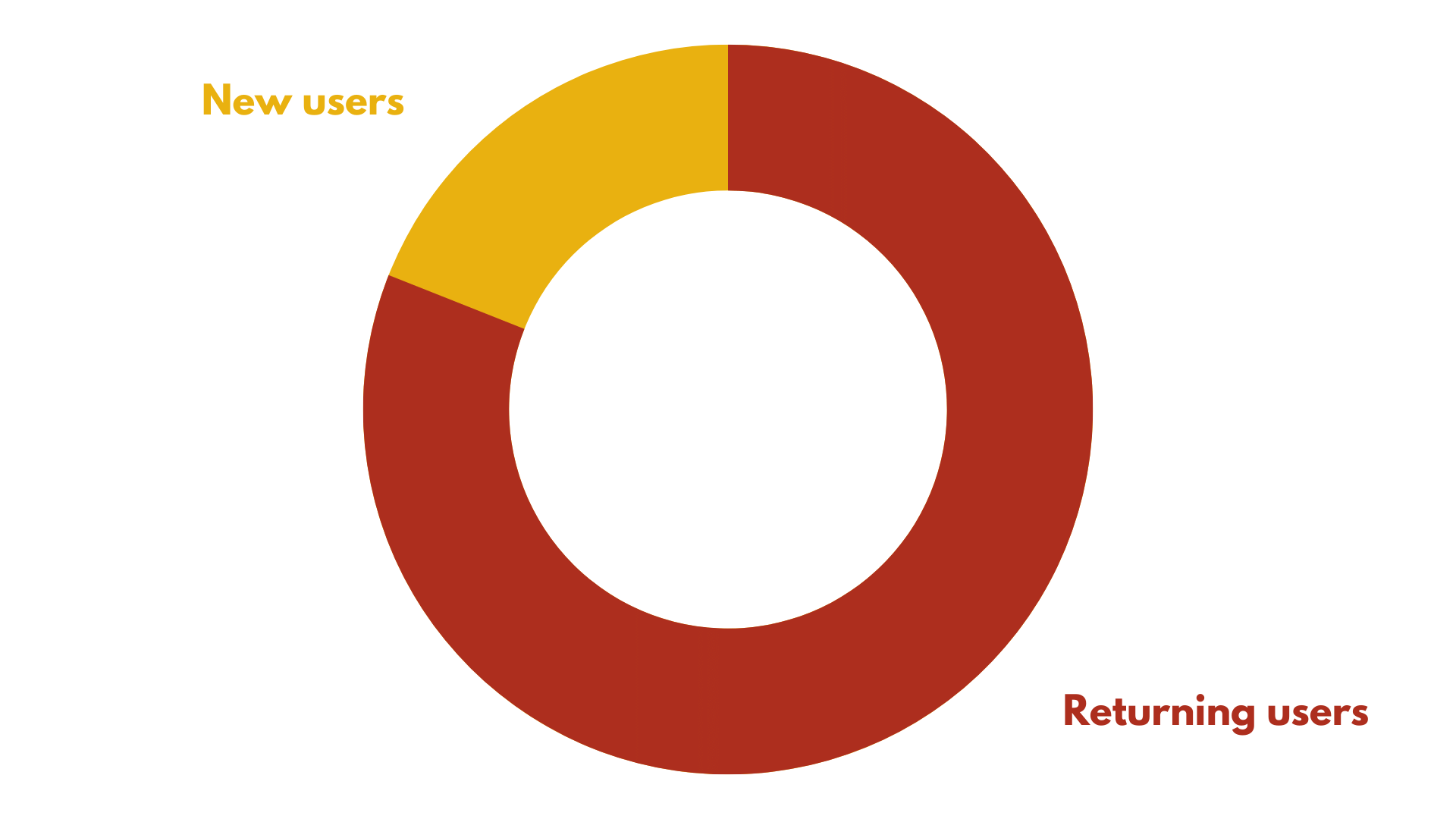 A low number of new users suggests that your content is no longer ranking well in the SERPs, whereas a low number of returning users may suggest that content isn't meeting users' expectations for your targeted keywords.
So what is a good ratio to aim for?
This depends on various factors, such as the age of your website and the nature of your landing pages, but for example; a blog-based site that has been publishing high-quality content for over a year should expect around 20% of their traffic to be returning visitors.
That said, it's important to look at this in the context of your business goals - if the purpose of your content is to generate one-time sales and you're meeting your targets, then you can forgive an "unhealthy" ratio.
3) Keyword Rankings
Tracking the average position of your organic keywords is a great way to measure the relevancy of your landing pages.
High-ranking positions indicate that your content is answering users' search queries and is SEO-friendly.

Low-ranking positions can identify problems with your content strategy. Some common causes of low rankings include:
Target keywords having higher difficulty ratings than what your site authority can realistically compete for.

The average monthly search volume of a keyword is too low.

Content is not SEO-friendly, e.g. improper use of H2 + H3 headings, not being keyword optimized, etc.

Content is new and still being tested for relevancy by Google.
If your rankings start to slip, try performing a Google search for your target keyword and see how your content compares to the top results.
This can give help you identify the improvements needed to bring your rank back up. Try asking yourself:
Is your content too short/long?
Are there aspects of the topic that your competitors are covering that you're not?
You can also use tools like Semrush and Frase to help your content rank better by identifying keyword gaps and providing other tips for organic search optimization.
Bear in mind that Google's ranking algorithm is constantly being updated (such as the recent Helpful Content Update) and dips/spikes in traffic can happen sporadically. Hence why it's important to measure the performance of your keyword ranks over time and not focus too much on the short-term.
4) Goal Completions & Conversion Rates
Setting goals in Google Analytics lets you track how many visitors are performing desirable actions while on your site.
It's great to see content rank well and drive traffic to your site, but what clients and stakeholders really care about is whether or not SEO campaigns are positively affecting their bottom line.
One way to do this is by tracking the number of goal completions:
This method lets you see the exact number of goals completed, for example; new subscribers, web store purchases, app downloads, etc). With Google Analytics, you can even assign a monetary value to each objective to measure the contribution of a specific piece of content to your business.
Another method is to track the conversion rates of top landing pages:
As your content generates more traffic, tracking the number of conversions doesn't always accurately reflect its effectiveness. Conversion rates, however, make it easy to compare the value of landing pages with different levels of traffic by displaying goal completions as a percentage.
5) Bounce Rate
Bounce rate tells you what percentage of visitors perform a single action during a session, such as viewing a landing page.
Typically a high bounce rate can be used to identify poor-performing content and potential problems with user experience.
Are high bounce rates bad?
Not necessarily. It's all about context.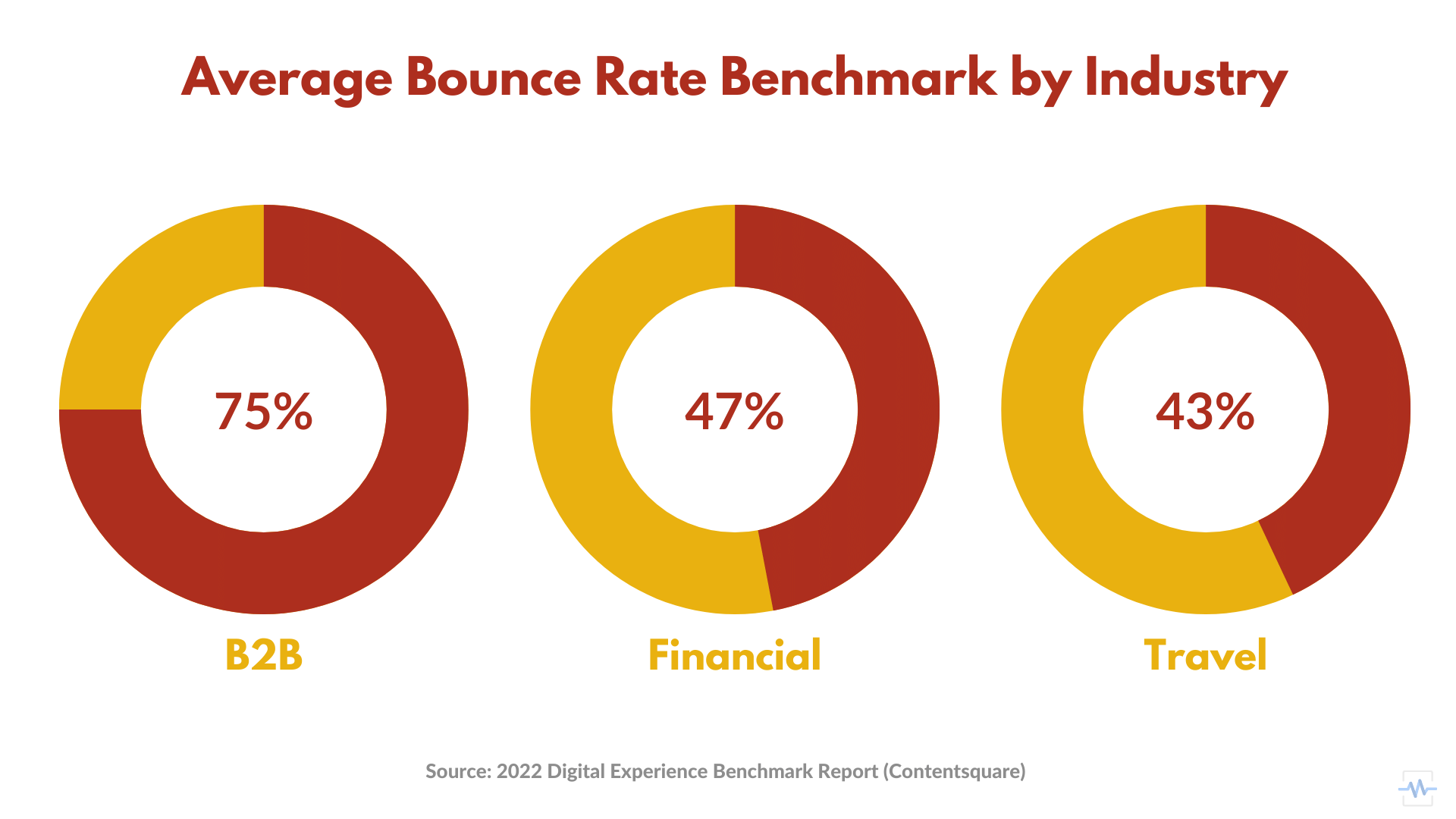 Pages that answer search queries well are less likely to inspire further actions during that session.
Examples of these include government websites that are designed to inform the public, how-to guides, and Contact pages (when a user is searching for a phone number or opening hours).
The same can be said about pages that don't meet user expectations, as they are likely to exit your site and look elsewhere for their answer.
Having clear calls to action and publishing high-quality will increase the chances of users performing additional actions in a session.
High bounce rates can also indicate issues with your user experience (UX). Some common culprits are:
Broken links

Messy layouts

Nonintuitive navigation

Non-responsive websites
Carrying out technical SEO reports on a regular basis and prioritizing UX when building landing pages can help eliminate the chances of these contributing to your bounce rates. This enables the metric to be used as a more effective KPI to measure the performance of the content.
A final note about bounce rates:
Some marketers get bogged down in the details and forget to look at the bigger picture, particularly in regard to bounce rates - they see high bounce rates and automatically think something is wrong.
But remember - context is king.
Pages with high bounce rates can still be adding value to your business.
Other Useful SEO Metrics to Track
The list above is by no means definitive.
There are many other useful metrics that can be used to measure SEO performance and these will vary from business to business.
It also depends on whether you are building a dashboard for technical SEO analysis or SEO content analysis, as you will want to choose KPIs that correspond to the purpose of the report.
Some examples of other useful SEO metrics are:
Backlinks

Average Time Spent on Page

Revenue from Indexed Content

Page Loading Speed
We won't be covering these in this article, but you can find out more in our other SEO guides (we've linked our favorites at the bottom of this page for you to explore at your leisure).
Now that you have a better understanding of which KPIs to track, let's take a look at how to build your SEO dashboard (the easy way).
How To Make an SEO Dashboard (5 Steps for Success)
The principles of creating an effective SEO dashboard are the same whether you build it manually in a spreadsheet or using professional dashboard reporting software.
Here 5 steps you can follow to produce a dashboard that is effective and actionable, allowing you to make data-driven decisions fast.
1. Know the difference between a metric and a KPI
Many people get confused between KPIs and metrics, but knowing the difference between them can help you create better reports.
Metrics are quantifiable, i.e. things that you can measure.
Key performance indicators (KPIs) are those same metrics, but used within the context of a goal to measure success or failure.

It can take some time to get this right for your reports, so don't worry - dashboards can be edited.
If you're unsure whether or not a metric is useful as a KPI, try it out! If you later realize that it isn't helping to measure success and make decisions then you can just remove it from your report.
2. Avoid vanity metrics
Vanity metrics are data that make you feel good but don't provide you with any real insight.
For example, let's say you're trying to measure the performance of a blog:
Tracking the number of blog post views isn't very useful on its own. While seeing a post attract thousands of views might make you feel good, it isn't meaningful information. Instead, you would be better off measuring the number of conversions or conversion rates of your posts as key performance indicators.
Dashboards aren't supposed to boost your ego as a marketer. They should accurately reflect the performance of your campaigns.
So leave the vanity metrics at the door.
3. Limit your KPIs
Limiting the number of KPIs in your dashboards is good for a number of reasons. It makes your reports:
Easy to digest

Easy to act on
When a report has a clear purpose, the person receiving it is more likely to read it, understand it, and then take action based on the data.
On that note - KPIs should also be tailored to the needs of the recipient.
For example, metrics like page loading speeds might help an SEO expert to do their job, whereas company directors are more interested in results like the total revenue generated.

Trust us, your clients will thank you.
4. Visualize your data
Let's face it - you wouldn't appreciate receiving a spreadsheet full of numbers, and neither would your clients.
Boring reports have a higher risk of being ignored, resulting in missed opportunities that negatively impact your bottom line.
Visualizing your data with charts and graphs helps to:
Identify trends and anomalies

Add context

Make information easier to digest
For example, displaying your total number of website sessions in a bar graph makes it possible to understand the data at a glance - saving time and making it clear to see when action needs to be taken: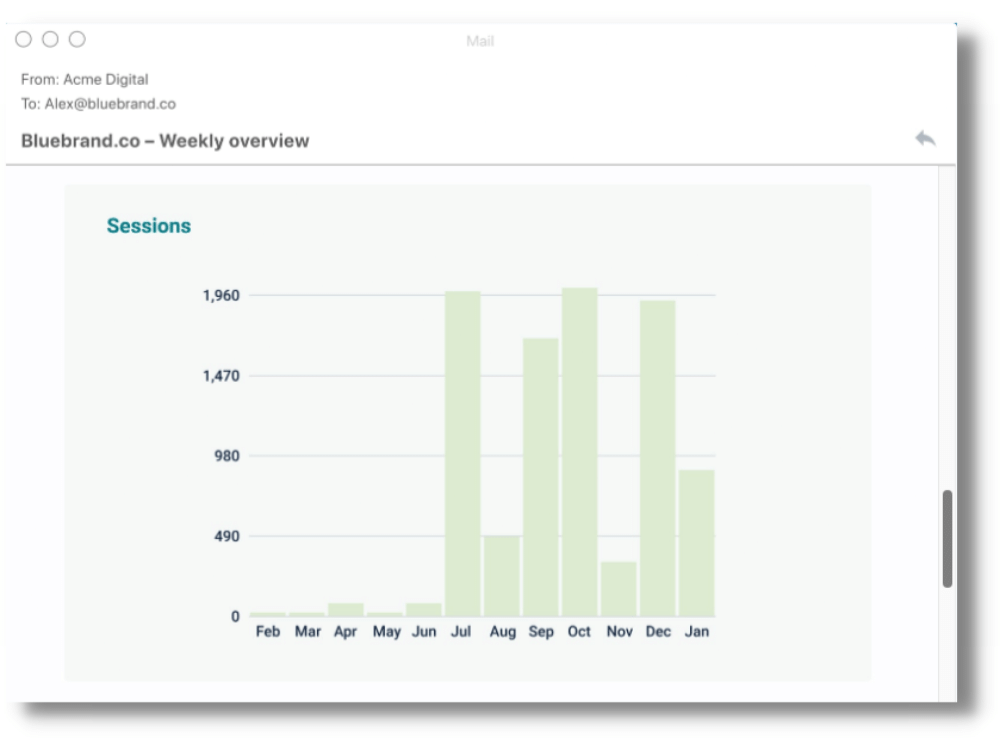 Try to visualize as much of the available information as possible so that the reader understands what actions need to be taken.
5. Automate your reporting
When it comes to building your SEO dashboards, there are generally 2 ways to do it. You can either:
Build them manually using spreadsheets

Automate the process with dashboard reporting software
But which method is best?
Building dashboards manually might seem like a good option to keep costs down. But there are some major downsides to this approach.
First, it introduces the risk of human error.
Copy and paste errors can (and will) happen. And bad data leads to bad decisions. Depending on the size of the business you're working with, this could end up costing thousands (or even millions) of dollars due to human error.
You don't want to be the reason for that!
Second, it's time-consuming.
It takes a long time to create reports by hand and this only increases with each recipient that requires their own set of KPIs.
You also have to remember to physically send your reports, which - if forgotten about - can result in missed opportunities and people not having the data they need when they need it.
Fully automating your reporting process makes sure that data is accurate and reliable. It also means you can spend more time marketing instead of building reports.
And for that, there's no better tool than Metrics Watch: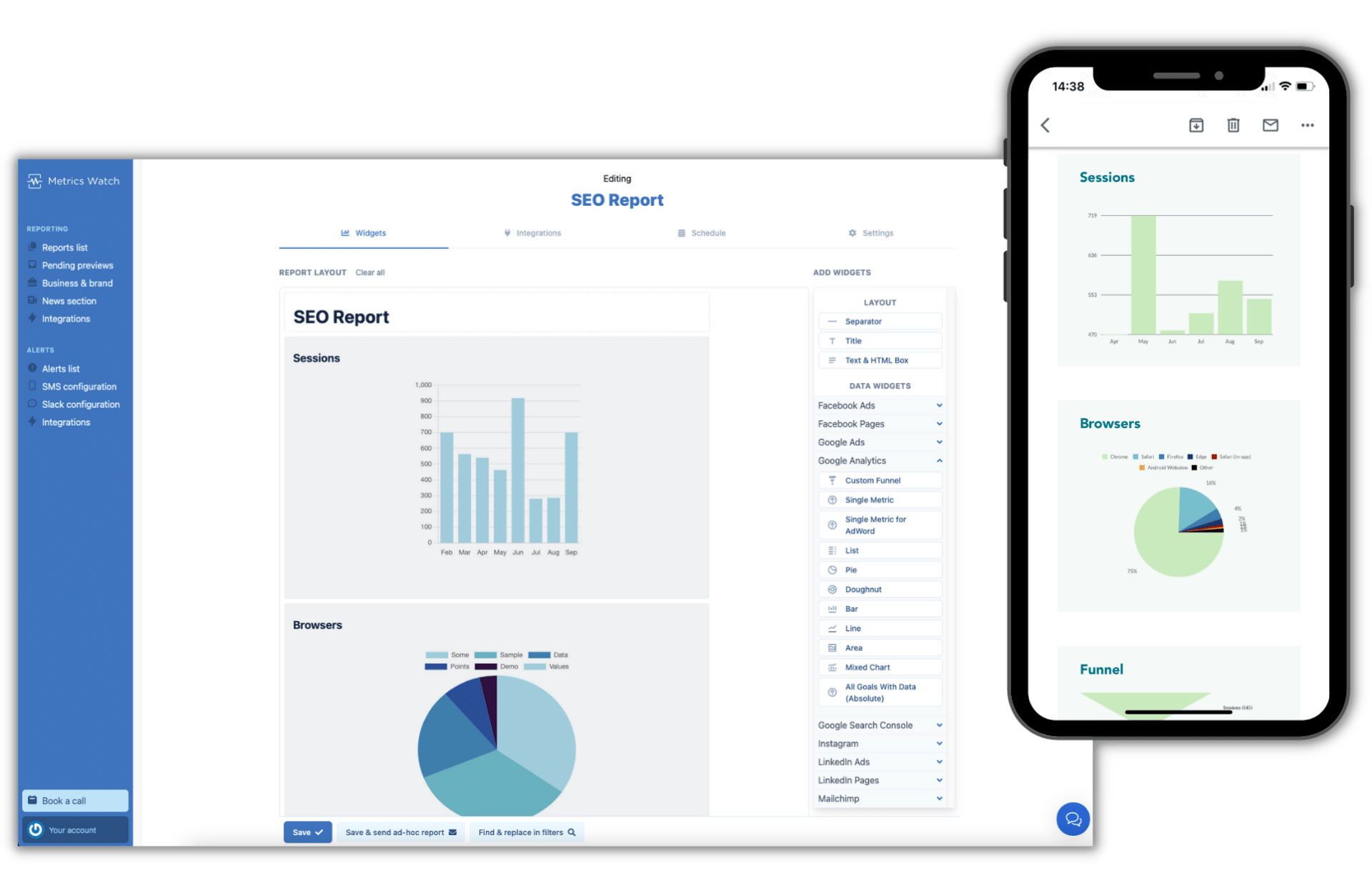 Metrics Watch is hands down one of the best ways to automate your reporting process.
It automatically pulls data from your favorite marketing channels to save time and guarantee that your data is accurate every time. Metrics Watch connects with:
Google Analytics

Google Search Console

Google Adwords

Facebook

Instagram

Mailchimp

And more...
A codeless drag-and-drop editor lets you build professional marketing reports with ease, while customizable graphs and charts help to add context and bring your data to life.
But the best thing about it is how data is shared...
Dashboards are typically only able to be shared as PDF attachments or links to third-party dashboards, creating an unnecessary layer of friction between marketers and their data.
But with Metrics Watch, your reports are displayed in the body of the email itself!
No pesky PDFs.
No third-party links.
As a result, clients and colleagues can easily incorporate SEO reporting into their busy schedules using a tool they already know and use every day - email.
This increases the chance of them reading your reports and being able to act on their data.
Ready to see it in action for yourself?
Click here to start your 100% risk-free trial of Metrics Watch and start building better reports today!
Start Your Free Trial Today!
And that's it!
This has been our list of 5 KPIs to include when making your SEO reporting dashboard. If you enjoyed this post, be sure to check out these other articles:
These additional resources have even more useful tips and tricks for leveling up your SEO game to create more effective reports!