Are you looking for the best SuperMetrics alternatives for creating your marketing reports?
The fastest way to improve any marketing or sales strategy is hands down collecting and analyzing the right data.
But to do that, you need to have the right data at your disposal to make the best decision for your or your clients' business.
While SuperMetrics is a solid tool for collecting data from various channels, it might not be the right fit for everyone.
That's why, in this post, we'll look at 7 of the best SuperMetrics alternatives on the market.
Ready to get started? Let's dive straight into the list.
7 SuperMetrics Alternatives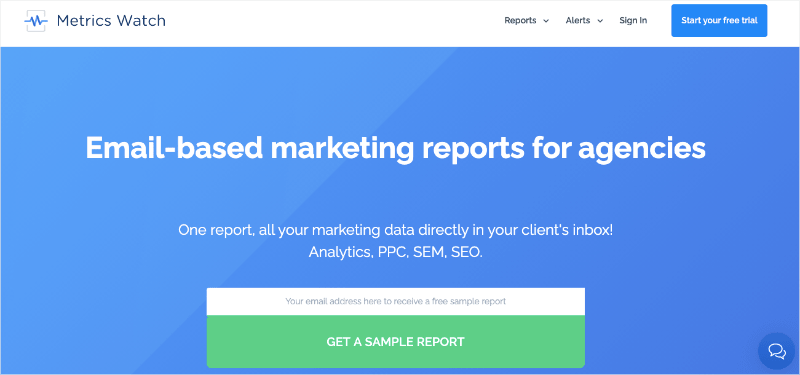 Metrics Watch is definitely one of the best alternatives to SuperMetrics. It allows you to quickly and easily create marketing reports from your favorite channels, including:
Google Analytics

Google Search Console

Google Ads

Facebook (paid ads and organic)

Instagram (paid ads and organic)

And more...
Plus, it uses a codeless drag and drop report builder, so you don't need any technical skills to get started FAST.
And once you've created your reports, you can throw everything on autopilot. That's because these reports will automatically be sent to your recipients on a daily, weekly, or monthly basis.
But the best part is that there's ZERO friction when it comes to sharing these reports. Unlike most reporting builders out there, Metrics Watch sends your reports directly via email.
That means no more messy PDF attachments to organize or 3rd-party dashboards to manage user roles for your clients.
Instead, you can simply send the right data, to the right people, and at just the right times to improve your marketing strategy. And since you're sending it in a format people already know and use (directly in their inbox), you can rest assured that people will actually look at the reports and take data-drive action.
Pros
Connects with your favorite marketing platform

Automated report sending

No coding skills required

Emails sent directly to the recipients' inbox

And much more...
Ready to see it in action for FREE? Click below to start your 14-day free trail (no credit card required):
Start Your Risk Free Metrics Watch Trial Today!
2. Adverity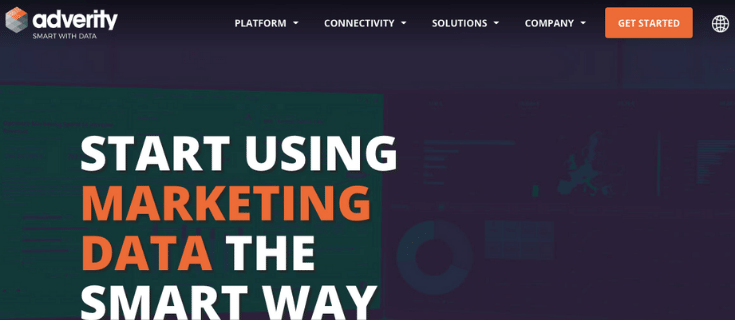 If you want to see all your metrics on a single dashboard, but also enjoy SuperMetric's ability to collate your data and send it to other platforms, Adverity might be the alternative you are looking for.
Aimed mainly at marketing teams, Adverity offers dashboard and reporting tools to help you track all your main KPIs. It also connects with a wide range of data storage and analytic platforms. This means you can choose whether to analyze your data within Adverity or push it to another solution.
Pros
Over 600 connectors are available, so you can easily gather all your data in one place

Extensive library of dashboard templates to help you get set up quickly

Flexible widgets let you configure reports and dashboards to meet your needs

AI-powered analysis detects anomalies and identifies trends you may have missed
Cons
Adverity is a complex tool and there's definitely a steep learning curve when you first get set up. For smaller marketing teams who won't make the most of its features, it might be overkill.
Pricing
Adverity doesn't offer pre-priced plans but will quote based on your needs, so you'll need to contact the team to discuss options.
3. Improvado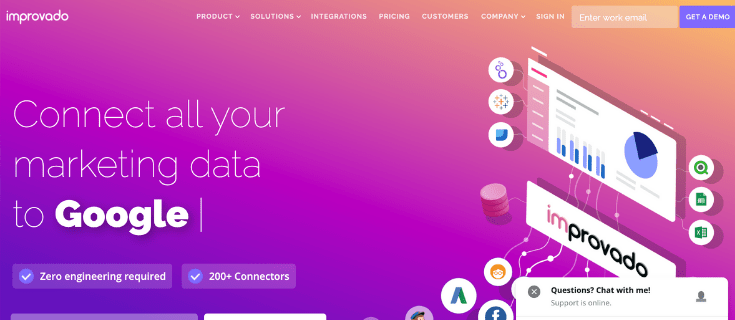 Aimed at marketers, Improvado helps you bring data from multiple platforms together so that you can report on your marketing activities with minimal effort.
You can either use Improvado's own dashboards to analyze your data or push it to another visualization or storage platform. This makes it a flexible option that works with your existing data solutions.
Pros
Pre-built dashboards help you visualize your data quickly

Data transformation tools standardize and compare data from different channels

Option to view ad creatives from within the dashboard

Connects with your other data tools or with their own database
Cons
It takes time to learn how to use Improvado to its full capacity. The process of getting your dashboards and reports set up exactly as you want them can be frustrating – there are more intuitive platforms out there.
Pricing
Improvado doesn't have set pricing plans available. You'll need to contact their sales team to discuss your needs and get a quote.
4. Funnel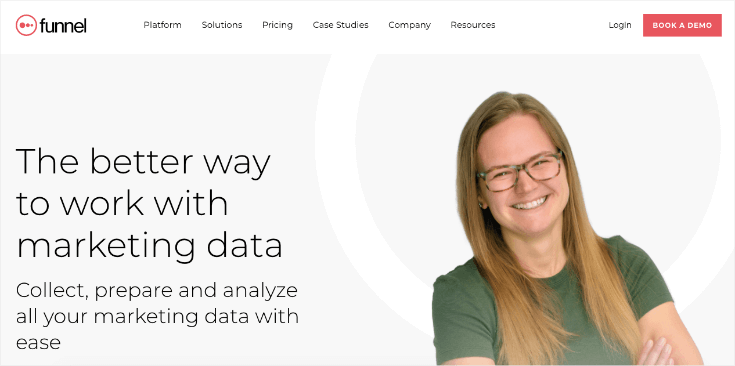 Like SuperMetrics, Funnel promises to make reporting smoother by pulling together all your data in one place.
You can use the Data Explorer feature to generate quick reports and do ad hoc analysis or push data to another platform for storage, analysis, or visualization.
Pros
Over 500 connectors, including most major marketing tools

Stores up to 2 years of historical data

Standard and custom rules help you map and segment your data without any coding

Automated updates collect and send out your data to your chosen destinations
Cons
This platform assumes you'll be pushing your data to another place before you dive into it. As a result, Funnel's in-app data visualization and analysis tools are limited in their scope. Fine if you already have other platforms that do these tasks, less good if you are looking for a single solution to your data collection and reporting issues.
Pricing
The base-level plan will set you back $299 per month. You can try it for free before you commit by reaching out to Funnel's sales team.
5. Domo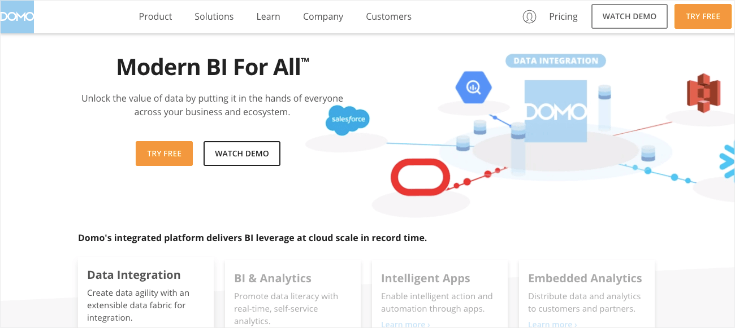 For those interested in more than just marketing, Domo is a business intelligence platform that automates your data collection and reporting processes.
With over a thousand pre-built connectors, Domo integrates with a wide range of business tools, helping you get a 360 view of your operations.
Pros
Huge range of connectors, including most of the major marketing platforms

Custom alerts for when anomalies occur

Simple user interface for those with little SQL knowledge

An extensive library of visualizations helps you build reports and analyze your data
Cons
Price is a drawback with Domo, especially for smaller teams. It is really aimed at the bigger players. Because of this, it may also offer too much complexity for some companies.
Pricing
Domo offers a free trial, so you can try it before you buy. But pricing is done on a custom basis, so you'll need to speak to the team to get a quote.
6. KlipFolio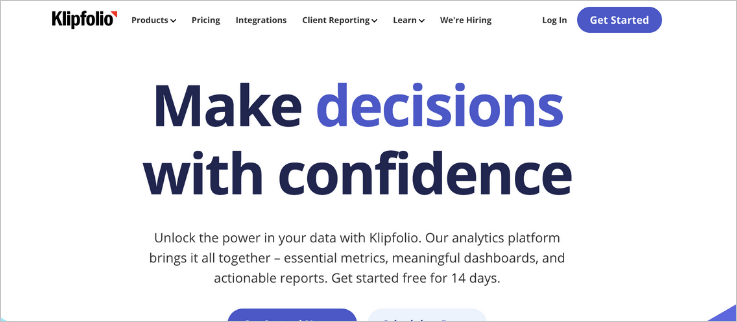 Business intelligence tools don't have to be overly complex. Aimed at marketing agencies, startups, and SMEs, Klipfolio sells itself as a lightweight solution that makes collating and analyzing your data easy.
With a focus on dashboards and reports, it is an easy-to-use tool with a variety of solutions, depending on your needs.
Pros
Library of dashboard templates available to get you set up quickly

Klip Editor offers tools to help you build custom visualizations

Sharing options include live dashboards and automated reports

White-label dashboards let you add your own logo and branding
Cons
Klipfolio has a smaller range of connectors than many of the tools on this list, although it still integrates with most major marketing tools. Its visualizations could be stronger – in a bid to keep things simple, Klipfolio has perhaps gone too far the other way.
Pricing
Klipfolio offers a free version that gives you access to the basic features. The entry-level paid plan is $142 per month.
7. TapClicks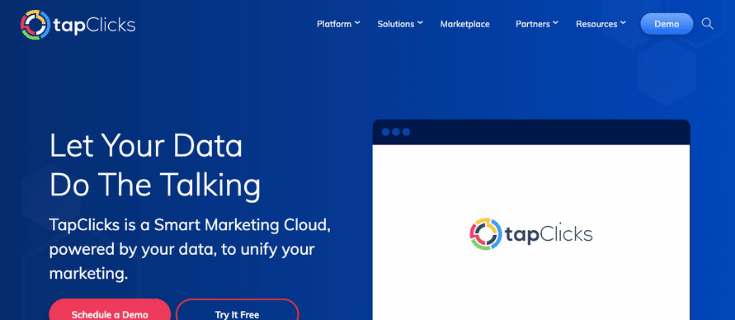 Designed for marketers, TapClicks offers a range of tools to help you get on top of your data. As well as pulling together all your important metrics, it offers workflow and order automation tools to help you work more efficiently.
You can build reports and dashboards with TapReports or send your collated data out to other data solutions.
Pros
Simple to create custom metrics for reports

Automated reporting

Includes competitive intelligence and SEO monitoring tools

Plenty of visualizations to bring reports to life
Cons
Some of TapClick's features can be difficult to use at first. If you need custom reporting options, you'll need to make sure you are on the right plan – this feature isn't available on the basic plan.
Pricing
TapClicks offers a free trial to help you decide if it is the tool for you. Pricing starts from $297 per month for the basic plan.
And that's all for today! These have been 7 of the best SuperMetrics alternatives that you can use to build your marketing reports.
Start Your Risk Free Metrics Watch Trial Today!
I hope you enjoyed this post. If you did, you'll definitely want to check out the following resources:
These resources will have even more information you can use to build more accurate (and profitable) marketing reports.