Are you looking for which KPIs you should include in your weekly marketing reports?
Recently we released a post on "daily marketing reports" as the first article in a series of 3. Today we are looking at the second edition, weekly marketing reports.
We're going to cover a few of the most popular KPIs that marketers put in their weekly reports.
Before diving into the list, though, let's make sure we're clear on why weekly reports are so important in the first place.
Why Are Weekly Marketing Reports Important?
While daily reports let you identify urgent issues with your brand's marketing plan, your weekly marketing report acts as a medium-term overview of your current campaigns.
It's for what I call your "Goldie Locks metrics": the ones that aren't quite important enough for daily marketing reports, but that are too urgent for monthly reports.
As such, your weekly marketing reports should be more detailed than your daily ones and feature KPIs that help you get a big-picture view of your online marketing.
It can take a few days for content to gain traction online. Blog posts, marketing emails, and new PPC campaigns won't always have an instant effect – monitoring these things daily can give you a false impression that they aren't doing well.
Or it can just drive you insane thinking about them 24/7.
But tracking these KPIs weekly will give you enough time to accumulate meaningful data. This gives you the insights you need to evaluate campaigns and make any necessary changes.
If you're reporting to clients, managers, or other departments, they'll often want to see your weekly reports, too.
Unlike daily marketing reports, which are usually only of interest to the marketing team, weekly reports are a useful way to demonstrate the value of your online activities to others.
Before moving on to our list of what to include in your weekly marketing reports, keep one thing in mind: your weekly reports will be unique to YOUR needs.
There is no "one size fits all" approach to marketing reports. So use the following information as a guide from which you can pick and choose the right KPIs to grow your business.
Let's dive in.
KPIs to Include in Weekly Marketing Reports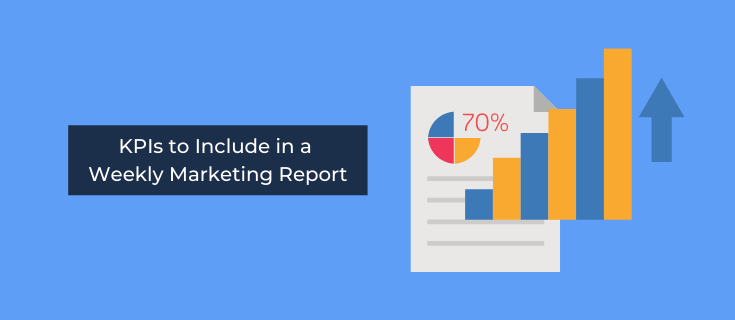 Your weekly marketing reports should provide you with essential insights you can use to plan ahead.
Or it should show clients that your team's efforts are making enough progress to justify your company's price tag.
Either way, reports need to provide meaningful information that readers can use to make smarter marketing decisions. So, before anything, you should consult with clients or your sales team to find out what KPIs are important to them.
Assuming you're using a decent reporting tool like Metrics Watch, you can easily set up different reports to go to clients or other departments. Or you can combine everything into one report, so everyone is on the same page.
(You can also create weekly reports for different departments and send out a global monthly report… You've got LOTS of options here 🙂 ).
We'll be breaking down the KPIs that you should include in your weekly reports into the following categories:
Email Marketing

Email List Growth

Social Media Engagement

Website Traffic

Website Engagement

PPC Channels
Let's dive in!
a) Email Marketing
Once an email is sent, there isn't a lot you can do to change the campaign. For better or worse, it's out in the world, and you need to trust it to do its thing. Or you need to learn from your mistakes.
But the data takes time to become accurate. Why? Because not everyone checks their email the second it's sent.
It can take a few days for your email campaigns to get accurate open and click-through rates. That's why I don't suggest putting email metrics in your daily reports.
They should absolutely go in your weekly marketing reports though, as you'll want the data to plan future emailing campaigns, schedule follow-ups, and decide on your remarketing approach.
KPIs that help you to monitor the success of your email marketing include:
Open rate

Click-through-rate

Unsubscribe rate
These are good indicators about how well your last week's email performed and will let you see if anything was particularly "good" or "bad" depending on what your goal for that campaign was.
b) Audience Growth
While we're on the subject of emails, the number of new subscribers to your mailing list is another KPI worth including in your weekly reports. Each new person on the list represents a potential new customer, so you'll want to see a steady increase in the size of your list.
You'll want to see your audience growth each week to identify any strengths or weaknesses in changes you've made in your marketing strategy.
That's because audience growth rate is an indicator of how successful your website, blog posts, and social media marketing are in encouraging people to sign up. You want to make sure you're giving site visitors a compelling reason to want to stay in touch.
For most email service providers like Mailchimp, this KPI will be readily available:
c) Social Media Engagement
If you're scheduling daily reports, you'll have an eye on your social media engagement already. But you should include this in your weekly marketing reports as well.
Your daily reports alert you to any worrying short-term changes. But monitoring social media engagement weekly helps you to spot longer-term trends, identify which content attracts the most attention, and plan your future posts accordingly.
In other words, social engagement on your daily reports lets you react to emergencies or problems FAST.
Tracking it weekly helps you create more engaging content for your future social posts.
And if you're sending reports out to others, they'll want to see an overview of what's been happening on their social media channels over the past week, too.
Some examples of KPIs to track your weekly social media engagement are:
Follower growth rate

Engagement rate

Weekly reach

Top performing posts (likes, shares, follows, etc.)

Click-through-rate
The two KPIs that I'd recommend most highly are the last two: top performing posts and click-through-rate.
The former will tell you which types of posts your social audience finds most appealing. That allows you to plan more meaningful content in the future.
The latter tells you which ones are most effective for your business. This lets you find the right balance of creating content your readers enjoy but also ensuring you'll see a large enough ROI from your efforts.
d) Website Traffic
Website visitor numbers vary day-to-day. Sudden spikes or dips can be noteworthy - daily reporting helps you monitor these. But your longer-term trends are more significant to the development of your brand's online presence.
Ideally, you want to see your visitor numbers growing over time, or at least holding steady.
Your weekly reports give you a bigger picture view of your website traffic, instead of those short-term peaks and valleys. They pinpoint channels that consistently drive traffic to your site.
And they help you monitor which digital marketing campaigns are sending the most visitors your way.
To monitor your website traffic, make sure you have the following KPIs in your weekly marketing reports:
Total sessions

Total unique visitors

New versus returning visitors

Traffic source/medium

Sessions/users by campaign
Again, the goal here is to see what type of visitors are coming to your site, how often, and what content brought them in the first place.
e) Website Engagement
The number of people coming to your site and where they come from is vital information. But your weekly report should also give you an overview of how visitors are engaging with your site.
If your content marketing efforts include regular blog posts, you'll want to know which are the most popular. You'll also want to see which landing pages are bringing in the most traffic/clicks, and where your site is losing potential leads.
Monitor your website engagement by including some of the following KPIs in your weekly marketing reports:
Most popular pages

Most popular landing pages

Pages with the highest exit rate

Time on site

Bounce rate

Specific conversion goals that you've configured
In this post, I've already looked at one sort of conversion goal – email subscribers.
But, let's be honest, we're all most interested in our bottom line. So, you'll want to set up some goals around sales and then include your conversion rate in your weekly marketing reports.
As well as the overall conversion rate for your sales goals, you can drill down to see conversion rate by source and/or campaign. This helps you identify which channels are sending the best leads through to your site.
f) PPC
Both you and anyone else who reads your weekly reports will want to know how paid ads are performing and how much they're costing.
It can take a few days for new ad campaigns to generate useful stats, so you'll want to monitor your PPC campaigns every week, as well as casting a quick eye over them in your daily reports.
This goes for paid advertising on social media platforms as well as on Google and other search engines. The metrics you'll be able to get can vary depending on the platform, but some advertising KPIs to put in your weekly marketing reports include:
Cost-per-click

Cost-per-conversion

Reach

Click-through-rate
For your weekly reports, these are all valuable metrics to watch for your paid ads.
But, again, this will largely depend on your company's (or clients') specific goals. I'm a big fan of keeping an eye on paid ads to optimize them, so these KPIs would be on my daily, weekly, and monthly marketing reports, to be honest.
How to Build Your Weekly Marketing Reports
When you get down to it, there are only 1 of 2 ways you can create comprehensive weekly marketing reports with the KPIs you need.
You can either compile them manually using a spreadsheet. This is usually time-consuming, boring, and leads to reports riddled with errors.
Or you can use an automated report building tool like Metrics Watch: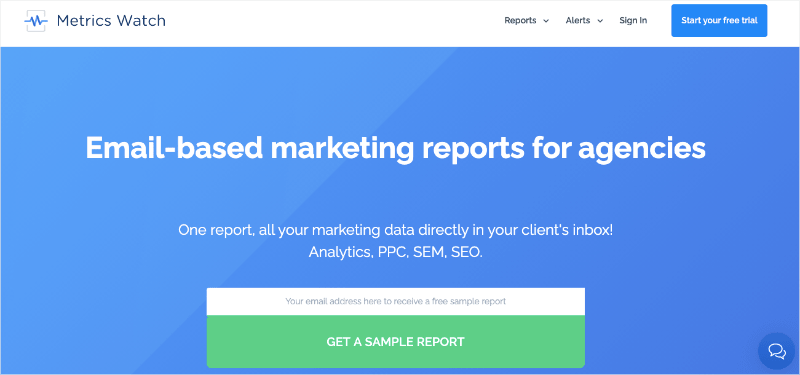 Metrics Watch is hands down your best bet for creating weekly marketing reports that your team or clients will actually read.
Why? Because it's one of the few tools on the market that doesn't send these reports via PDF attachments or through a 3rd-party URL.
PDF attachments can be difficult for your clients to manage, and sending them to a user dashboard (with a URL) requires them to remember their login information.
Oh, and they have to remember to actually go visit the site. That last part also means more transactional emails for your to configure, too.
But with Metrics Watch, you can weekly reports with KPIs from all of your favorite marketing channels so they go straight to your recipient's inbox.
It's the most frictionless report-sharing process on the market.
Plus, with an easy-to-use drag and drop builder, creating the reports couldn't be easier. Want to give it a shot for FREE? Just click below to get started with your free 14-day trial (no credit card required):
Start Building Weekly Marketing Reports Today!
And that's it! These have been everything you need to include in your weekly marketing reports.
We hope you found this post helpful. If you did, you might also want to check out the following resources:
These articles will have everything you need to boost your ROI and make smarter data-driven decisions about your marketing efforts.