What is a metric in Google Analytics and which ones should you be tracking?
Google Analytics is a powerful tool for marketers to track their website performance and how users behave on it.
But with great power comes great responsibility.
As marketers, it's our responsibility to understand which metrics to track to help reach the goals of our clients or business.
That's why in this post, we're going to explain:
What a metric is in Google Analytics

How do decide which metrics to track

And the best way to track those metrics
By the end of this article, you should have a clear understanding of what a metric is and which ones you should be paying attention to. Not only that - you'll know the best way to track the data from your digital campaigns to produce meaningful marketing reports.
Ready? Let's begin.
Metrics vs. Dimensions in Google Analytics
Reports in Google Analytics are made up of 2 main components: metrics and dimensions.
It's important to know the difference between them so that you can read your data correctly and use it to help inform key business decisions.
The term metric refers to a quantitative measurement, e.g. the total number of Sessions or Pageviews.
Dimensions are attributes that filter that data, e.g. the Device Category dimension will sort out how many sessions specifically come from users on desktop, mobile, and tablet.
Put simply; if it has a numerical value, it's a metric.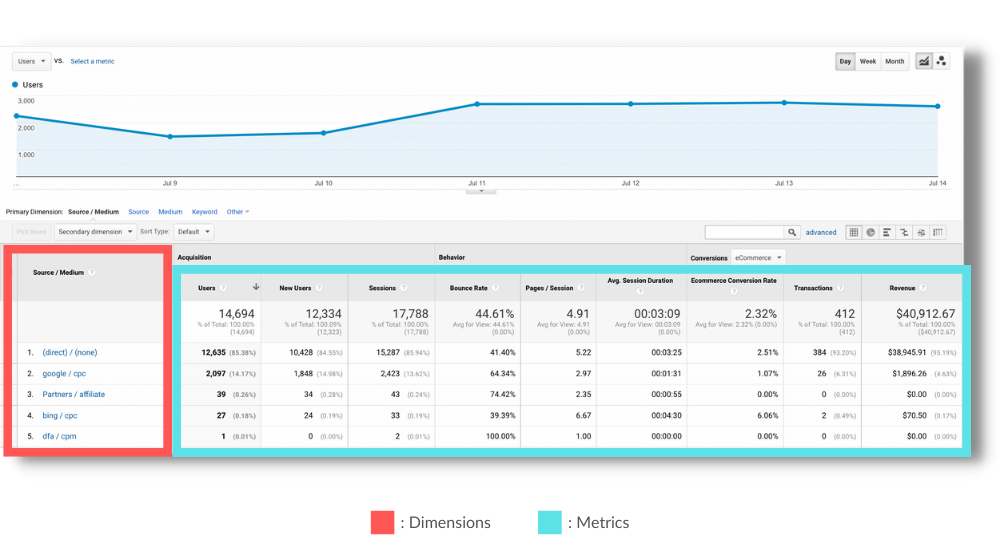 The screenshot above is taken from the Google Analytics demo property: here, you can see dimensions on the left (highlighted in blue) and metrics on the right (highlighted in red).
Now that you know the key difference between metrics and dimensions, let's take a closer look at what a metric is in Google Analytics.
What Is a Metric in Google Analytics?
We've already established that a metric in Google Analytics has a numerical value. These can be specific amounts (e.g. the total number of impressions) or percentages (e.g. conversion rates).
Some examples of common metrics you'll find in Google Analytics are:
Impressions

Clicks

Click-through rate (CTR)

Bounce rate

Conversion goals
To help you read the data on your dashboard more clearly, Google Analytics categorizes metrics into 4 sections: Audience, Acquisition, Behavior, and Conversions.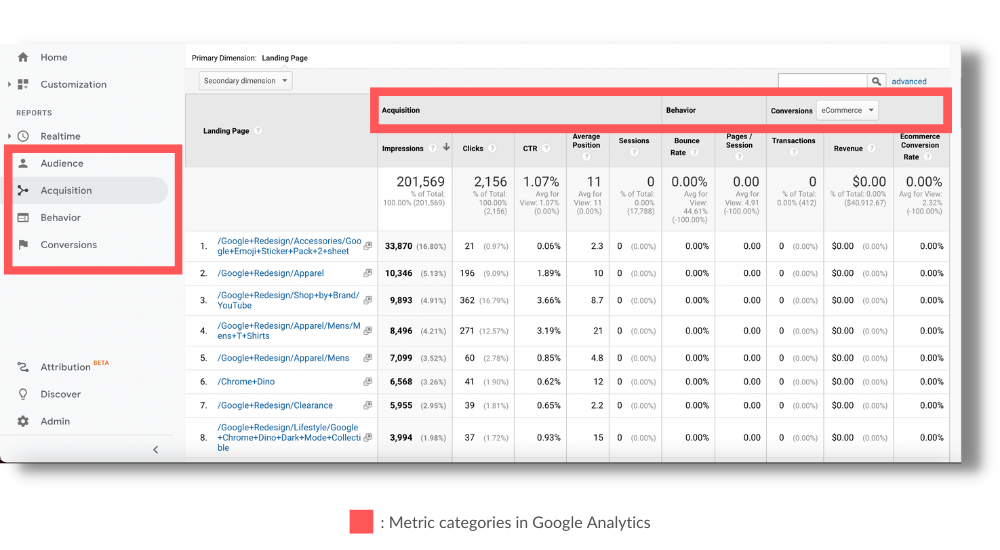 1) Audience
Audience data lets you see who is visiting your site.
Information such as Demographics, Country, City, Device, and Browser can be used to help optimize ad targeting strategies, online content, and even technical aspects of your website.
2) Acquisition
Acquisition data reveals where your traffic is coming from. You can see how many users are coming from various channels to help track the impact of your marketing efforts.
The Source dimension will let you see broad results, like how many visitors come from organic, social, and CPC campaigns.
The Medium dimension shows how many users came from a specific platform, such as Facebook, Google, Instagram, etc.
The Source / Medium dimension will show you both at the same time.
3) Behavior
Behavior data shows what your visitors do while they're on your site.
Metrics like Average Session Duration and Bounce Rate can help identify which landing pages and content (such as blog posts) are performing well and which ones aren't.
4) Conversions
Conversion data tracks how many visitors are performing desired actions on your site.
Conversion goals are custom and will vary from business to business, but common examples include Ecommerce store purchases, cart abandonments, lead form submissions, etc.
This shows you which landing pages and acquisition channels are generating the most value for your business, making it easy to reallocate your budget to the highest-performing campaigns.
What is a Secondary Dimension in Google Analytics?
A secondary dimension is exactly what it sounds like - an additional filter that let you drill down deeper into your data.
For example, let's say you run an e-commerce store and you want to know where the majority of your customers live because you want to target them with social media ads.
By using the Country dimension, you see that most of your conversions come from the USA; however, by adding City as the secondary dimension, you learn that a whopping 73% of purchases come from San Diego, followed by 18% from Encinitas.
You can then use this information to prioritize ad placements in these cities instead of the entire USA to get a better return on your investment.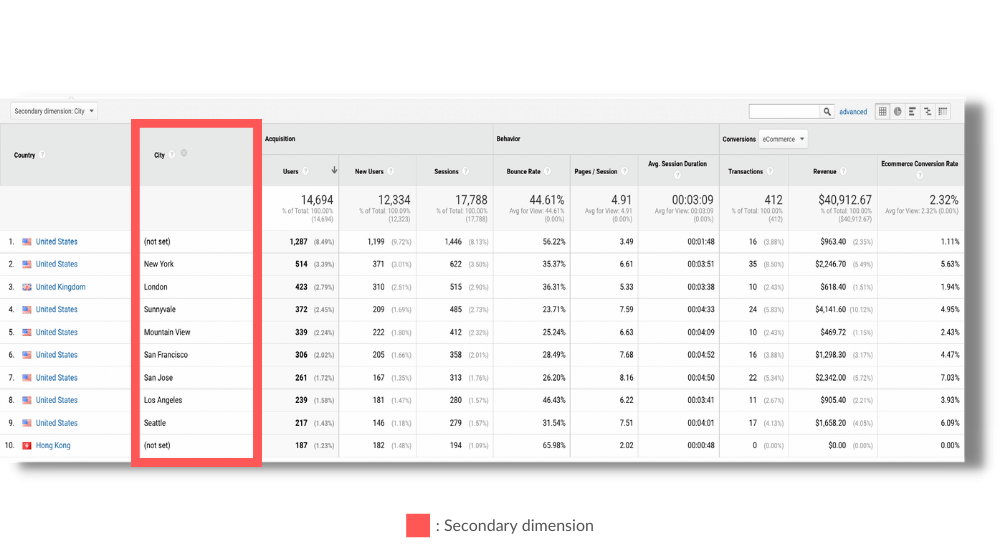 Now that you know the difference between a metric and a dimension, let's see which ones you should be tracking.
Which Metrics Should You Track in Google Analytics?
Google Analytics provides so much data on your website users that it can be hard to know what you should be paying attention to.
So, which metrics should you be tracking?
Well, that depends on your marketing objectives and the goals of your business.
Each organization is different, so you need to assess your needs first before you can determine which metrics will help you accurately measure success.
To create meaningful reports, you need to identify which metrics are just metrics and which ones are key performance indicators (KPIs). As a result, your marketing reports will only contain data that measures the success or failure of a campaign, allowing you to take action.
We won't be going over lists of specific KPIs to track in this article, because these vary drastically depending on which kind of report you're making.
However, we will discuss some best practices to help you choose the right KPIs for your own Google Analytics reports.
If you want to see some examples of KPI reports, you can visit our Martech Hub (we've also linked our most popular ones at the end of this post if you need some inspiration).
While example reports can be a useful place to start, knowing how to identify KPIs on your own reports is a more valuable skill to learn in the long run, as you'll be able to apply this to any campaign you work on to get the results you need!
Now let's take a look at some best practices to follow when choosing KPIs.
How to Choose the Right KPIs: Best Practices
When choosing KPIs, the clue is in the name: key performance indicators. You are trying to identify only metrics that correlate with the success or failure of a campaign.
The most important thing to remember is to keep reports clear and concise. This lets your clients or team members know:
The point of the report

Which metrics they should be paying attention to

What actions need to be taken
Your report should be brief, yet comprehensive.
If you find yourself including metrics that you consider to be important but aren't directly related to the rest, then consider creating a separate report for that.
Avoid using vanity metrics.
This is data that makes you feel good but doesn't actually measure performance.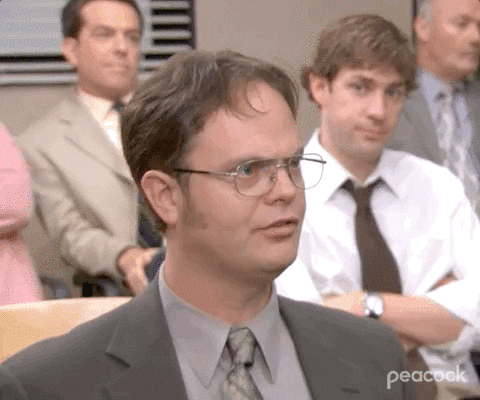 Seeing a landing page get thousands of visits might give you a warm, fuzzy feeling, but if none of those visitors are converting then it isn't a useful metric to track. In this example, it would be more valuable to track the page's conversion rate instead.
Now that you know how to choose your KPIs, let's look at how to create your Google Analytics reports.
How To Track Metrics from Google Analytics
Google Analytics is an incredible tool when it comes to gathering marketing data, but it has its limitations when it comes to sharing that data with clients or team members.
Once you've created a custom dashboard view in Google Analytics with your KPIs, you can either:
Download a PDF and send it by email

Share a URL with someone that has access to the GA property
However, there are problems with these options.
For starters, they to be done manually. Not only does this waste valuable time, but you have to actually remember to do it.
This puts your team or clients at risk of not having access to their data when they need to make decisions.
Requiring the recipient to download a PDF attachment or log in to dashboards also creates an unnecessary layer of friction between the marketer and their data - adding more tasks to already busy schedules, further increasing the chance of important results being missed.
This can end up costing a business hundreds or even thousands of dollars if issues like unoptimized ad campaigns or broken checkouts go unnoticed.
The best solution to this is to automate your Google Analytics reports.
And for that, there's no better tool than Metrics Watch: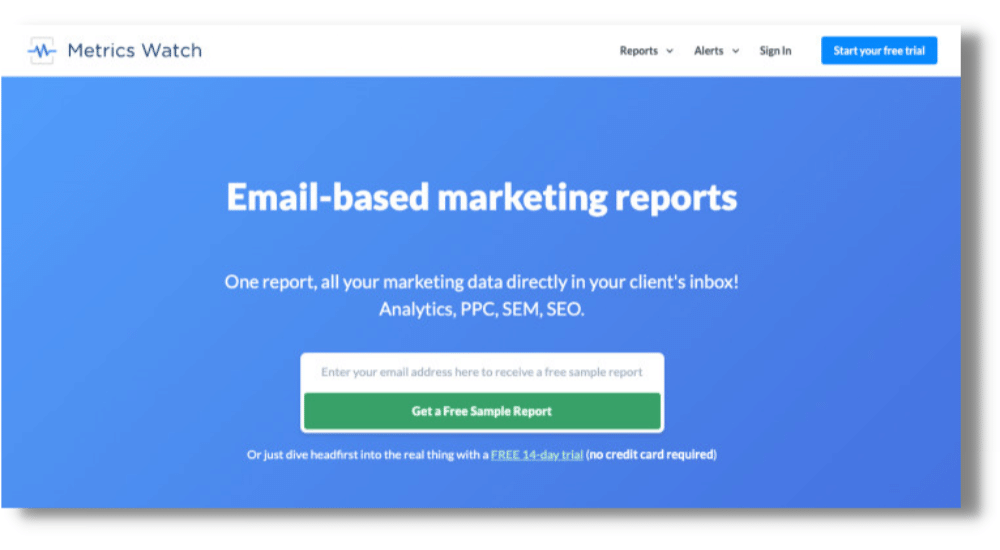 Metrics Watch is an email-based reporting tool that lets you pull data from all your favorite marketing channels to create comprehensive reports, including:
Google Analytics

Google Adwords

Google Search Console

Facebook

Instagram

Mailchimp

And more…
No coding experience? No problem.
Build professional marketing reports fast with a drag-and-drop editor or choose a template from our library - each one easily customizable to tweak reports for each recipient.
Automate your reports to send daily, weekly, or monthly to ensure that recipients have access to their data when they need it most.
But the best part is how data is shared…
Unlike other reporting tools on the market that require logging in to 3rd-party dashboards or downloading pesky PDF attachments to view your data, Metrics Watch lets you view your report in the body of the email itself!
This eliminates that unnecessary friction between marketers and their data.
Reports can be viewed by recipients at any time, on any device, using a method they already know and use every day - email.
Ready to try it for yourself?
Start your 14-day free trial of Metrics Watch and start building better reports today!
100% risk-free. No credit card required.
Start Your Free Trial Today!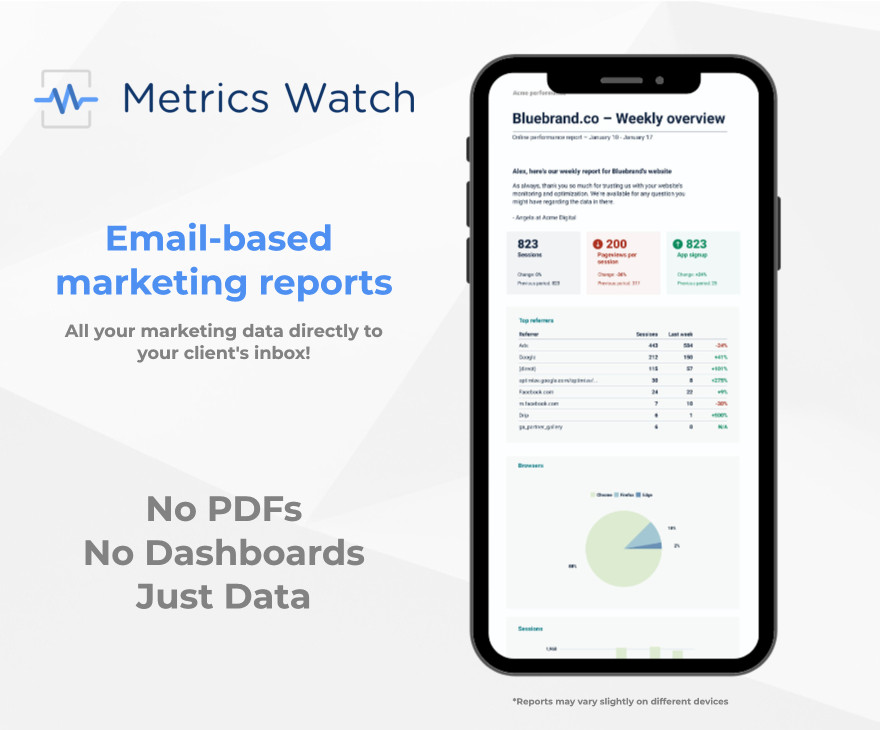 And that's it! We hope that you now have a better understanding of what a metric is in Google Analytics and which ones to track.
If you're still unsure which metrics you should be tracking as KPIs, then check out some of our other articles:
These additional resources have even more useful tips for creating actionable KPI reports to help you reach your business goals faster.