Are you considering using white label content to help your marketing strategy?
Outsourcing your content writing is a great way to free up your time and get automated results.
But before you hire the first white-label content creator or agency you come across, read this.
Because, today, we're going to give you more information on what to look for in content writers. Then, we'll teach you which metrics to track to make sure you're getting the right value for your expenses.
First, though, let's get clear on what white label content is and why you should consider it moving forward.
What Is White Label Content?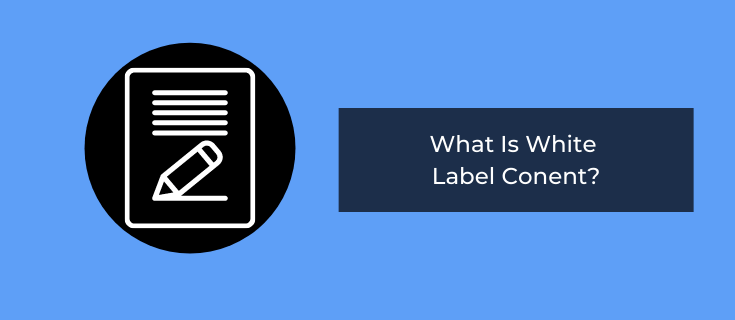 White label content is a strategy where an organization partners with another company to provide content for its website.
In most cases, this simply means you're hiring a writer for long-form blog posts. But this isn't always the case.
You might also use a white label content creator for:
Social media posting or ads

Email campaigns

Newsletters or white papers

Video creation

And much more...
For today's post, though, we'll assume that you're looking for white label content for longer texts (like blog posts).
Which begs the question, "Why should you hire a white label content creator?"
There are lots of reasons why you might want to hire another company to handle your content needs, including:
Save Time: You have a lot of work to do, you're short on time, and white label content is an efficient way for you to get some help.

Save Money: Hiring white label content creators can be more cost-effective than hiring in-house staff or working with agencies that charge by the hour.

More Control: You know what your company needs and white label content creators can help make that happen.

You Can Outsource The Very Best: There are some talented white-label content writers in the world, which means you can actually get the best talent for less money.
That said, there are a few things to keep in mind when searching for quality writers. Let's look at how you can go about hiring the best white label company for your business.
Hiring a White Label Content Creator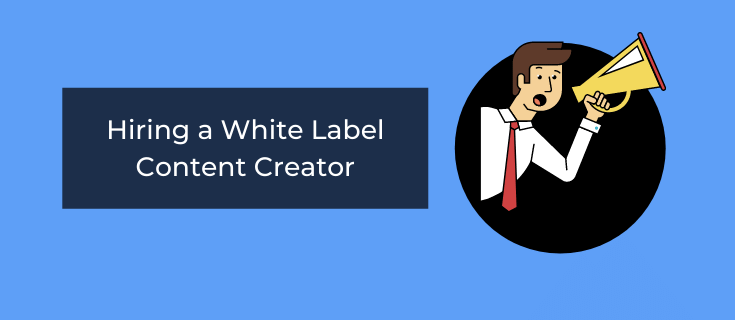 White label content creators are all about quality. But there are a few different things you should keep in mind when searching for white label writers:
1) What's Their Writing Style?
Be aware of the company's writing style and make sure it aligns with your own. If not, you'll need to work on consistency.
If you're not sure about white-label content creators' writing style or it doesn't match the tone of your company's website, avoid contracts with them. It won't be worth the trouble.
This is also a good time to check white-label content creators' social media presence before hiring them as well.
If they have too much negativity or don't seem like someone you want representing your brand, then it's probably not wise to work with them either.
2) How's Their Portfolio?
It's not enough to just glance at a white label content writer's portfolio. You need to look over their portfolio with a fine-tooth comb and then make sure they have experience writing in your niche or industry before you work with them.
This will help ensure that the white label company knows what it takes to write quality blog posts for an audience and your company.
3) How Much Do They Charge?
The white label content creator's pricing structure is also important to consider. There are a lot of white-label companies that have different rates depending on the package they offer, so make sure you know what you're getting for your money before signing an agreement.
It's not enough just to look at how much white-label creators charge; it's also a good idea to know what's included in the price, which leads to our next point...
4) How Do They Define "Success" for Your Content?
A white label content creator's success metrics depend on what you're looking for out of your agreement.
Even if you only need a company to produce blog posts, what is the goal of that blog posts?
This is important because many white label content agencies give you 2 metrics:
Then you send the content brief, and the writer sends you a draft of the post.
But you should focus on an agency that understands what the goal of your content truly is:
Get more traffic to your website

Convert that traffic into customers or warm leads
This is important because it will change the way the content is written. Your content should be backed by the best SEO strategies and written in a persuasive way to convert your traffic.
With that in mind, let's turn to 3 metrics that you should track to ensure you're white label content is giving you an ROI to justify the cost.
3 Metrics to Track to White Label Content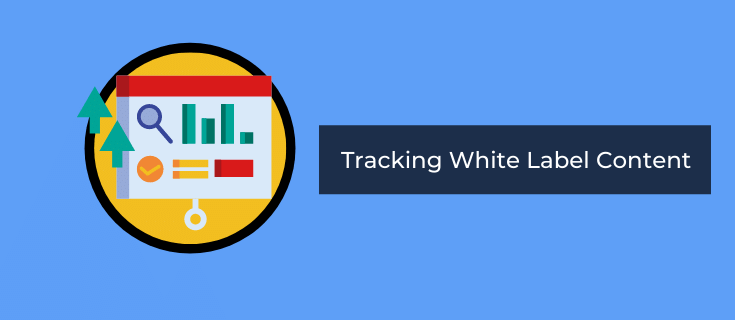 Before starting the metrics you should track for white label content, let's get one thing clear: this isn't an exhaustive list.
But these are 3 metrics that you'll DEFINITELY want to use to track the success of your content marketing campaigns.
1) Organic Traffic
Organic traffic is the best way to measure white label content's ROI. If you're getting more organic traffic because of your white-label company, then it means that the white label writer did a good job - not just in writing but also with SEO strategies too!
This will help you justify hiring them and make sure they're worth the money.
2) Time on Page / Bounce Rate
If white label content is doing a good job of engaging your audience, then they'll be spending more time on the website. If their average time spent on page metrics are high (over 2-3 minutes per visitor) it means that white label writers did something right.
That said, you'll want to compare this with the average time on page for other areas of your site, too.
It could be that you're targeting the wrong audience from the start OR that you're content calendar needs a little work.
It's also smart to look at bounce rates for white label content.
The bounce rate is how many people come and go or just click around without reading any of the content on your website.
It can be tough to measure this metric because you have to compare the bounce rates of white label content vs. other areas on your site (like blog categories or product pages), but white-label content SHOULD have a lower bounce rate than the rest of your website.
So remember: Time on page and bounce rates are good indicators of how well the content writer is engaging your audience, but it's not a
3) Custom Conversion Goals
The white label content creator or agency you hire should be able to track custom goals for your company. This is important because it will give you more insight on what's working and not working with your campaigns.
For example, if your writer has been tasked with converting visitors into customers, then they should be able to tell you exactly how many new sales come directly from their content.
Remember though, conversions don't always mean sales. Instead, you might want your content to:
Increase webinar registrations

Grow your email list

Download a piece of content

Or any other sales/marketing goal you have to grow your business...
Don't have conversion goals set up? Be sure to talk about them BEFORE you hire white label writers or agencies.
That way, it's clear what you're trying to accomplish with your content marketing strategy. Then (and only then), you'll be able to find a white label content creator who's on the same page as you!
How to Track White Label Content Results
Once you've settled on a white label content agency or creator, then next step is tracking the results.
You can use the metrics from above, but how do you make sure to keep this data close at hand?
For that, I always recommend using a reporting tool like Metrics Watch: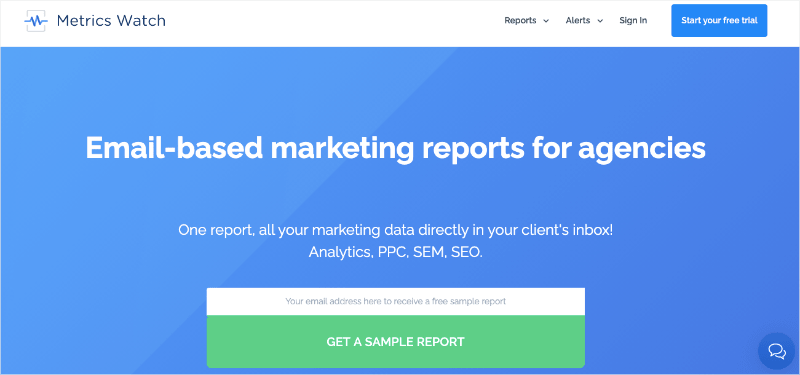 Metrics Watch is hands down one of the top marketing report builders on the market. It allows anyone to quickly and easily create reports that boost their content marketing strategy.
That's because you can connect KPIs from your favorite marketing channel. For your white label content strategy, that means getting automated reports from Google Analytics.
Metrics Watch allows you to take these KPIs and combine them with data from other sources, too, including:
Google Search Console

Google Ads

Facebook (paid and organic)

LinkedIn (paid and organic)

Instagram (paid and organic)

And more...
With this data at hand, you can send daily, weekly, or monthly reports automatically.
And with a drag and drop report builder, you don't need any coding or tech skills to build professional reports in minutes.
Finally, when you share these reports with your team or clients, you'll remove all friction from the process. That's because, unlike most report builders, your reports are sent directly to your recipeints' inbox.
That means no more PDF attachments to organize and no more user login roles to manage.
Instead, you can get the data people need in a format they already know and love.
Ready to see it for yourself? Click below to start your 100% risk-free Metrics Watch trial today (no credit card required):
Build Automated Marketing Reports Today!
And that's it! This has been your guide to white label content creation.
I hope you found this post helpful. If you did, you'll definitely want to check out the following resources:
These articles will have even more information for your to find quality white label services and grow your business.