Are you searching for white label digital marketing agencies to help lighten your marketing load?
Digital marketing agencies can be a game-changer for businesses with a large enough budget to kickstart their marketing, but not enough to hire an in-house team.
Other business models prefer having fewer employees to manage and think it's simpler to outsource their digital marketing strategies. But with so many options available on the market, how can you choose the right agency for your business?
To help with that, I've created a list of 7 reputable white label digital marketing agencies that you can check out.
While you should still do your due diligence in researching each company, this will serve as a launching pad as you find the right fit.
Before we dive into the list, though, let's get clear on what white label agencies are and why they can be a good option for you.
White Label Digital Marketing Agencies and Tools: Why Use Them?
White label digital marketing agencies are 3rd-party companies that handle your business's digital marketing efforts. As a result, you get more exposure, traffic, and leads for your (or your clients') business.
White label digital marketing agencies are perfect for other agencies who are scaling and need some added support. That's because the key to white label agencies and tools is that you can rebrand them with your own logo, tag lines, and colors.
In other words, your clients will never see the 3rd party agency or tool you used to get the job done.
There are LOTS of reasons why you might hire a white label digital marketing agency. They can save you tons of time, money, and headaches as your company does its best to get new clients and grow.
So, now, let's turn our attention to the top 7 agencies and tools we've found. These will give you a good starting point in your search for the best white label digital agency on the market.
7 White Label Digital Agencies and Tools to Check Out
Before we see what's first on the list, I wanted to quickly mention one problem with white label services: they can make it difficult to compile coherent marketing reports.
Depending on which service you choose, the data is sometimes fragmented as they pull from some channels but not other.
For instance, if you hire a digital marketing agency to help with SEO and email marketing, you'll likely get monthly reports from those channels. That means you'd have to compile your social media KPIs separately.
Plus, you may have limited access to these reports, depending on how often your digital agency will send them out.
The best way to build a cohesive marketing report with all of the KPIs you need is with a report builder like Metrics Watch: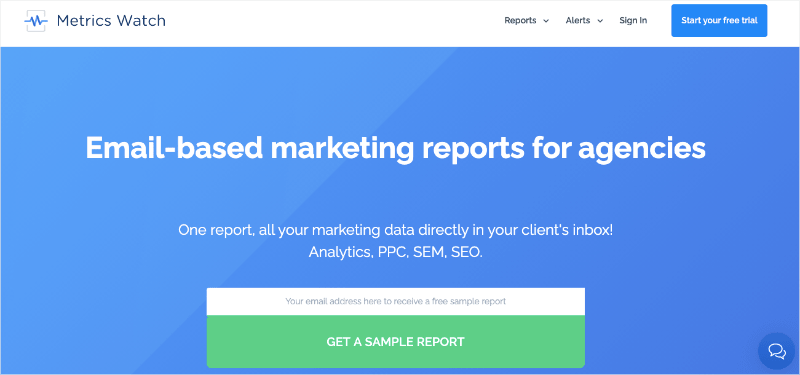 Metrics Watch is the best report builder on the market. It comes with a drag and drop builder that allows you to pull marketing data from all of your favorite channels, such as:
Google Analytics and Google Search Console

Mailchimp

Instagram, LinkedIn, and Facebook (pages and paid ads)

And more...
Rather than receiving PDF attachments or needing to log into a 3rd-party dashboard, you can have full reports sent straight to you (or your clients') inbox. You can even add your own branding, making Metrics Watch a great white label marketing report builder.
These frictionless reports can be sent daily, weekly, or monthly, depending on your goals and needs.
The point of this isn't to sell you on Metrics Watch, but to let you know of what things you should be looking for from white label digital marketing agency reports.
You want to make sure you're getting your money's worth, so you really want to double-check how they'll report progress, and how accurately you can track your ROI.
They may use another tool than Metrics Watch–which is totally fine, there are tons of them out there. But you'll at the very least want to verify how they make reports, what data is included, and how often you or your clients will receive them.
If you do want to check out Metrics Watch, though, click below to start your free 14-day trial (no credit card necessary):
Get More ROI from Your Marketing Reports Today
Now let's dive into the list!
1. ClickX.io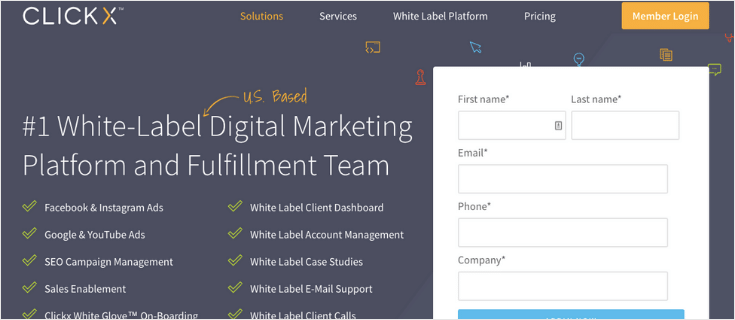 Based in Chicago, ClickX.io is a white-label digital marketing agency that specializes in social media advertising, PPC, SEO, and landing page development. Their customizable client dashboard lets you add your own branding and logo to share results with clients easily.
Pros
Personalized marketing strategies based on analysis of a wide range of metrics

A white-label dashboard with unlimited client logins makes it easy to share data in real-time

Comprehensive list of services, including keyword research, competitor analysis, website audits, and campaign management

White-label support and sales teams
Cons
The dashboard isn't the most intuitive, so it can take a while for new users to get used to navigating it.
Pricing
ClickX.io starts at $79 per month, plus a one-off onboarding fee.
2. HighLevel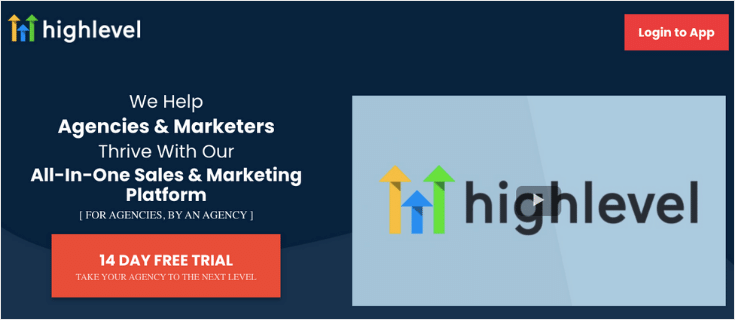 Founded in 2016, HighLevel offers a suite of digital marketing solutions via its desktop or mobile platform. They also deliver white-label fulfillment services for social media advertising and management, Google advertising, and more.
Pros
One platform that integrates a full suite of digital marketing tools, including a CRM, website designer, funnel builder, email and text marketing, call recording, and more

White-label desktop and mobile app available

Resellers can set their own prices

Migration service available to import data from your previous marketing tools
Cons
The starter pack is very limited, only giving you one account. Smaller agencies might find that there isn't an affordable pricing package that fits their needs.
Pricing
$97 per month for a starter account, $297 for the unlimited version.
3. DashClicks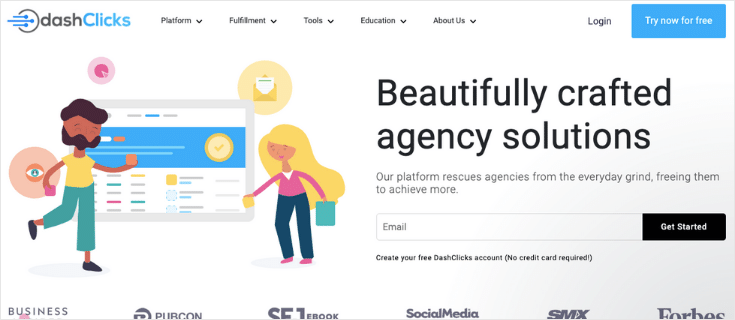 DashClicks offers a white-label fulfillment center for agencies looking to outsource some of their work, as well as a platform for reporting and analytics. They'll manage social media posting and content creation, create Facebook or Google ad campaigns, build websites and sales funnels, and handle SEO.
Pros
The intuitive platform makes it easy to order services and onboard clients

Customizable dashboard, reports, forms, and emails mean you can add your branding and logo

InstaSites and InstaReports let you quickly create samples for prospective clients

Free account setup – you only pay when you make an order
Cons
Although you can sign up for free, you won't be able to test out some of their tools without paying, which means you have to wait for a client to make an order and hope for the best.
Pricing
DashClicks is free to join. Prices for fulfillment orders vary depending on the service you purchase.
4. Vendasta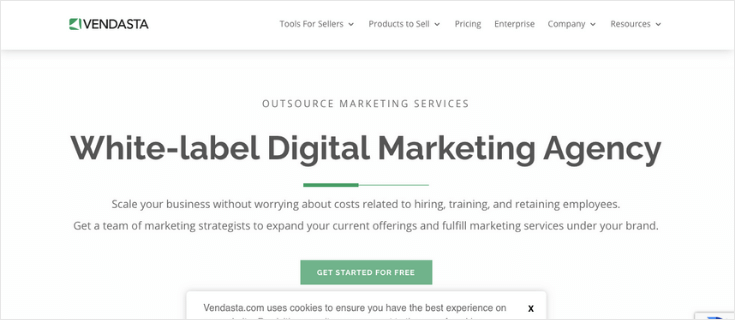 The Canadian company, Vendasta, specializes in bringing together a range of white-label digital marketing solutions and tools that you can resell or use to manage your clients' marketing campaigns. For those looking to outsource aspects of their digital marketing, Vendasta's in-house team can take care of social media management, PPC campaigns, website design, listings, and more.
Pros
Lots of different tools brought together on one platform

White-label dashboard and reports to share with clients

Includes invoicing and billing services to manage your finances easily

Resellers can set up their own branded storefront to sell products
Cons
White-label options aren't available on the basic plan, so you'll need to upgrade to add your own branding and logo. That makes Vendasta a pricier option.
Pricing
Vendasta's basic plan is $49 a month, but you'll need at least the essentials plan for white-label digital marketing services. That's $345 per month, plus a one-off $500 onboarding fee.
5. ActiveCampaign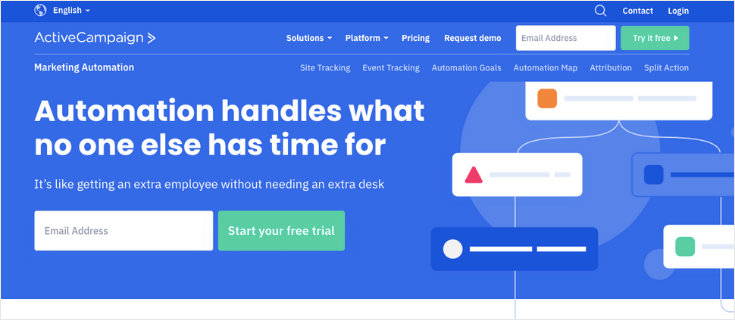 If you are looking to automate your clients' digital marketing campaigns, then ActiveCampaign might be the option you need. Although its specialty is automated email campaigns, many marketers don't know that ActiveCampaign offers several other digital marketing solutions too.
This includes things like social media marketing, lead nurturing, and landing page building.
Pros
Integrates with a range of marketing tools so you can manage everything in one place

Cloning tools help you add new clients quickly

CRM to manage clients and assign tasks within your team

Sophisticated workflows and segmentation tools to automate your clients' engagement with their customers
Cons
Although they provide templates and training guides to do a lot of the work for you, ActiveCampaign does not offer digital marketing fulfillment, so this is more of a hands-on tool than some of the other options in this list.
Pricing
Prices start at just $15 per month and there are discounts if you pay annually. Agency partners can access discounts.
6. Workify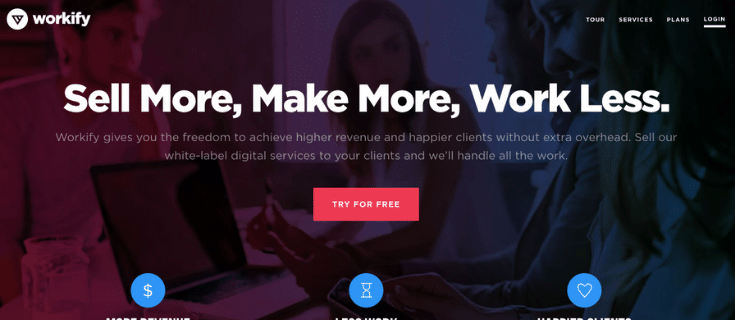 Workify acts as a middleman, letting you order white-label digital marketing services for your clients which are then delivered by someone from their network of freelancers. They offer everything from social media management to website design to SEO and content writing.
Pros
Pre-packaged options make it easy to find and order the services you need

Choose which services you want to offer and display them on a branded storefront, or purchase directly on behalf of your clients

Set your own prices for services

Commission structure earns you 50% of the profit from each service you sell
Cons
Workify is set up on a subscription basis, meaning you'll need to generate enough sales to cover the $99 per month subscription fee before you start to see a profit from commissions.
Pricing
After a 21-day free trial, Workify is $99 a month. Services themselves are priced separately and you can also choose what to charge your clients for them.
7. Marketing360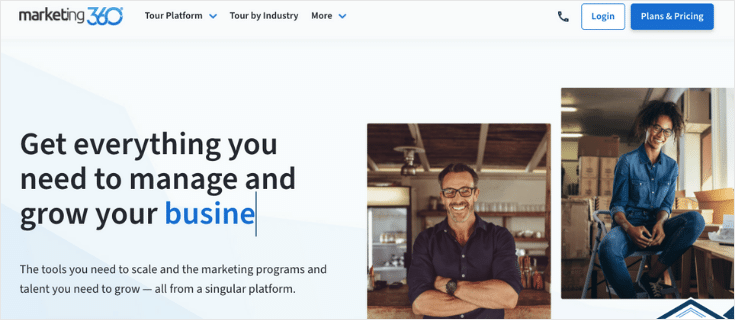 Aimed mainly at small businesses, digital marketing platform Marketing360 also works with agency partners to deliver a comprehensive list of services. The platform itself brings together a range of marketing tools, including website building, CRM, automated emails, social media management, ad campaigns, local listings, and analytics and reporting. Then there's the option to add a team of digital marketing experts who will work on your behalf.
Pros
You can choose whether you just want the software, or to outsource marketing tasks too

Excellent customer service

Your own dashboard to track leads and conversions, as well as reporting dashboards for your clients

Dedicated marketing consultant assigned to your company
Cons
Strictly speaking, Marketing360 isn't a fully white-label option, since dashboards and landing pages are co-branded instead.
Pricing
It is free to create an account, which you'll need to do to access further pricing information.
And that's it! These have been the best white label digital marketing agencies you can start checking out.
Get More ROI from Your Marketing Reports Today
Again, you'll want to do your due diligence and research each company before hiring any of them. The marketing world changes more frequently than blog posts are updated, so it's always smart to look for any changes.
That said, we hope this article gave you a starting point as you find the right marketing agency for you. If you did find this post helpful, you may want to check out the following resources:
These resources will have everything you need to build better marketing reports and see more ROI from your marketing strategy.