Are you looking for the best white label Facebook Ads agency or tool to help with your paid ad strategy?
Advertising on Facebook has the potential to be one of your biggest lead generators. But it also has the potential to be one of your biggest budget-wasters.
That's because Facebook Ads have become more competitive, more expensive, and more time-intensive to navigate. Frankly, many businesses just don't have the time and energy required to master Facebook Ads.
That's where white-label agencies and tools come into play. By working with a white label Facebook ad agency or service, you can get the results you want but without the headaches.
And since these resources will likely get you a bigger ROI than you'd achieve on your own, they can often pay for themselves.
So let's dive into our list of the best white label Facebook Ads agencies and tools that you can start using to get better results from your paid ads strategy.
Best White Label Facebook Ads Agencies and Tools
Before we get started, I wanted to share one danger in using white label services: you need to make sure you can still integrate their reports with yours.
In other words, if you're outsourcing part of your marketing strategy, you need a comprehensive report that efficiently gets the right information to the people who need it.
This often means combining data from multiple sources, tracking organic and paid ads results, and determining how well each of your KPIs are doing.
The best tool for building any kind of marketing report is Metrics Watch: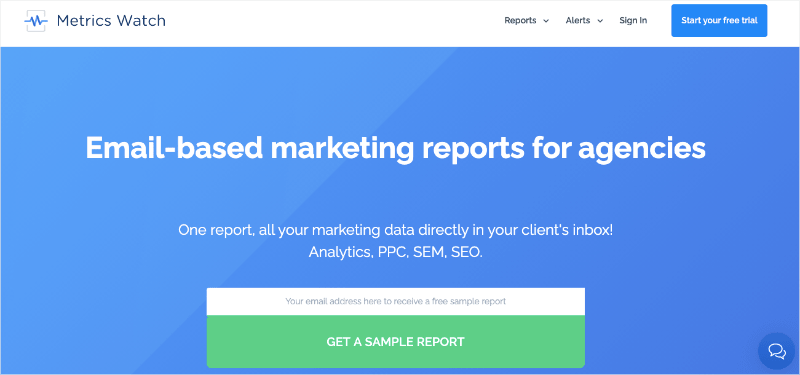 Metrics Watch is hands down your best bet for creating marketing reports in a way that your team or clients can easily understand. That's because we pull data from your favorite marketing channels, and combine them into one cohesive report.
Plus, with our drag and drop report builder, you don't need to be a graphics designer or statistician to make the data digestible for your team.
Finally, we're one of the only marketing report builders that doesn't send the information in a PDF attachment or in a link to a 3rd-party dashboard.
With Metrics Watch, your reports are automatically sent via email, and the information goes straight to your recipients' inbox.
That's one of the reasons why the German stock trading company onvista chose Metrics Watch over 20+ other marketing report builders. As project manager Apostolos Tsiter said:
"Our clients needed very fast information about all the proceedings of the last day directly to their email. Because this is the format in which they operate. They don't use apps or other stuff or even a web browser where they can see a dashboard. They wanted email which they already knew how to operate."
So regardless of which white label Facebook Ads agency or service you use, you can gather their successful results with data from all your other marketing platforms, too.
Want to see it in action for yourself? Click below to start your free 14-day trial (no credit card needed):
Start Your FREE Trial Today
Now, let's dive into our list of the best white label Facebook Ads agency and tools.
1. dashClicks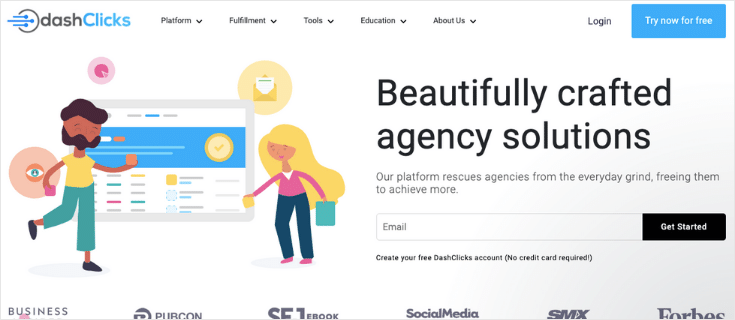 If you're looking for a solution that includes analytics and reporting, as well as Facebook Ad fulfillment, dashClicks will have you covered. You can sign up with them and order ad campaigns for your clients via the fulfillment store.
Once you order, dashClicks assigns you a project manager, and their team will create and run the ads on your clients' behalf.
Pros
The client dashboard can optionally include an upsell tool that suggests other services

The service is fully white-label, allowing you to apply your own branding, logos, and domain name

The InstaReports tool helps you attract new clients by creating an automatic assessment of their current social media channels, as well as their other digital marketing efforts

You can create an account and access the platform for free
Cons
Not all services are available for all niches, so you need to double-check that you can offer Facebook Ads for clients in each niche before selling the service to them.
The pricing is also not transparent – you'll have to create a free account before you can see prices, and these can work out being more expensive than some other platforms.
Finally, the reports you get will be comprehensive, but limited to Facebook Ads. You'll still want to create comprehensive reports for clients if you're handling other parts of their marketing strategy.
Pricing
Pricing is done per order – you'll need to create an account to see their options.
2. Clickx.io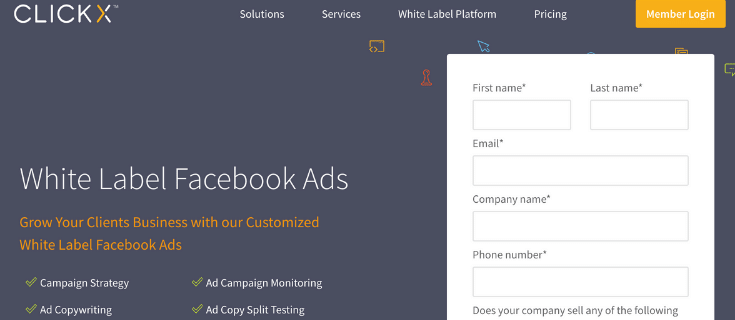 Facebook Ads are just one of the white-label digital marketing services offered by Clickx.io. If you're looking to outsource your Facebook advertising completely, this is a good option to check out. Their team will handle every aspect of your campaign, including coming up with the strategy, designing your ads, testing, optimization, and monitoring spend.
The Clickx.io team will work with you to design and deliver customized ad campaigns for each of your clients. Their white-label client dashboards help you monitor and report on campaign performance.
Pros
The dashboards integrate with other digital marketing platforms, so you can show clients how Facebook Ads are performing against other campaigns

You can hand over the entire campaign – from planning to implementation

For clients who serve a local audience, they'll build location-targeted ads

The onboarding process is straightforward and makes it easy to add new clients
Cons
The user interface can be confusing, making it harder to find your way around at the start.
Pricing
Clickx.io starts at $99 per month. A 20% discount is available if you opt for annual billing instead.
3. Madgicx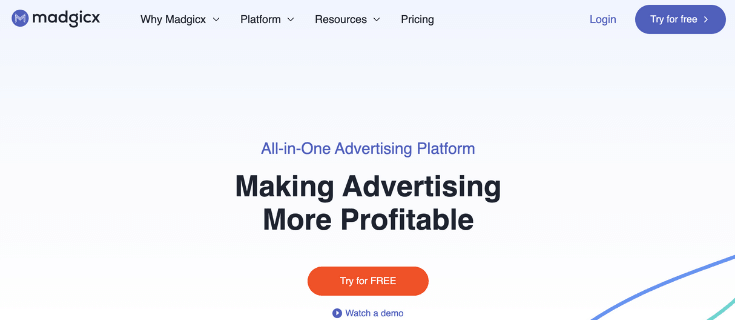 Madgicx is embracing the latest AI technology to make it easy for marketers to automate their Facebook ads and manage their campaigns. It's aimed at businesses and agencies who want to scale their Facebook Ads without bringing on new team members.
Although it won't create the ads themselves for you, Madgicx lets you automate the buying process. You can set rules around spend and performance, then Madgicx will start and pause your campaigns to maximize your return on ad spend (ROAS).
Customers say it lets them do far more with their existing resources. So while it isn't strictly a white label Facebook Ads agency, it's a pretty neat tool that can help you get more ROI from your Facebook strategy.
Pros
Set up your ads once and then forget about them – the automation will take care of the rest for you

Target the right audiences with machine learning and historical data insights

Choose the right creative and copy for your next campaign using the suggestions in the Ad Launcher

Apply your own branding with scheduled white-label reports
Cons
If you're looking for a solution that will manage your Facebook Ads entirely, including generating the creatives and copy, Madgicx won't be the right one for you.
It can also have a steep learning curve at the start as you get to grips with all the different functions and insights.
Pricing
Madgicx starts at $49 per month and discounts are available if you choose quarterly or annual billing. The price increases depending on how many ad accounts you want to include, and your monthly ad spend.
4. AgencyElevation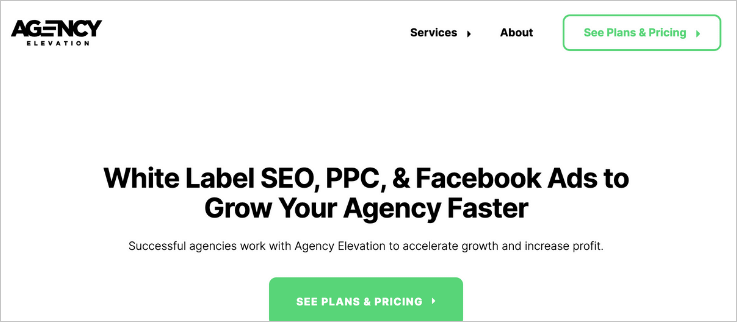 If you prefer a more personal touch, AgencyElevation is an option worth considering. They have two offices, one in Wisconsin and one in Pennsylvania, and all their staff members are based in America (even those who work remotely).
AgencyElevation will manage the entirety of your Facebook Ads campaign. They can take over existing campaigns for your clients or create new ones. They'll also handle testing and optimization.
Pros
Fully managed service – you can pass Facebook Ads over entirely

Unique campaigns created for every client based on their goals and needs

Automated monthly white-label reports are sent directly to your clients' inboxes

The team will communicate with you via email or join your Slack, so you are regularly updated
Cons
AgencyElevation only sends automated email reports to your clients at the end of every month, so if you want more regular reporting, you may have to negotiate on an increased price for this service.
You'll also need a minimum of 5 clients to sign up.
Pricing
Facebook Ads start at $199 a month, which is on the pricier side but includes the full service. It isn't clear how many client accounts this covers.
5. SEOReseller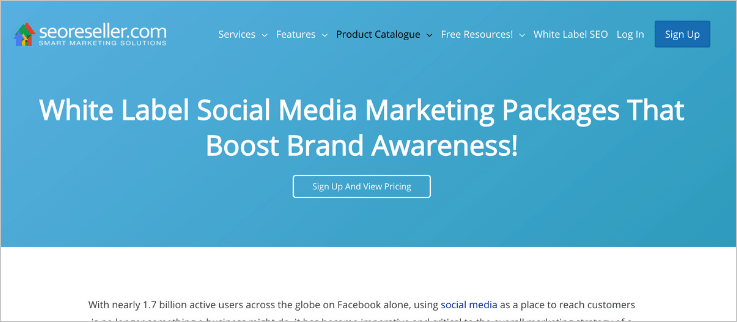 As the name might suggest, SEOReseller specializes in white-label fulfillment solutions for digital marketing agencies. That includes social media management – SEOReseller will handle both Facebook Ads and organic content for your clients.
You can also choose different packages depending on your clients' needs, with video, image, collection, and carousel ads available. SEOReseller will handle optimization and do all the necessary background research too.
Pros
Plenty of different packages available so you can choose the option that is right for your clients

The fully white-label dashboards let you add your own branding and logo

A/B testing and audience optimization are all done for you

Creative design, copywriting, and buying are all part of the service
Cons
Although they have reps in both the USA and the UK, SEOReseller is registered in the Philippines, which may put you off using them if you prefer to work with people in the same time zone as you. Most packages also limit you to 8 paid ads per month. Plus this is a pricey option compared to some on the list.
Pricing
The basic package covers just Facebook Ads and starts at $500 per month. To access more services and features you'll need to upgrade – other plans are $2,000+ per month.
6. FunnelDash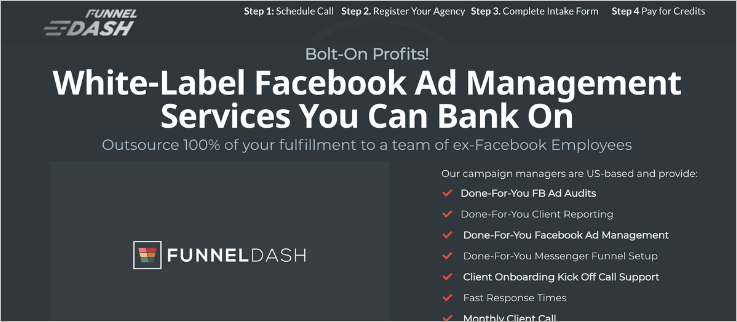 FunnelDash is mainly known for offering AdCard, a charging card that is dedicated for use in paying for digital ads. However, they also offer a white-label Facebook Ads service.
The team will do a full audit of your client's current campaigns and suggest areas for improvement, which you can also use as part of your pitch to attract potential clients. They'll then create, implement, and monitor the Facebook Ads on your behalf.
Pros
Everything is done for you, including copywriting, image sourcing, and even video if needed

They'll build the client dashboard for you and help with writing full monthly reports

There's an option to have them build and support Facebook Messenger funnels for your clients

You can also ask them to handle client support in the name of your agency
Cons
If you opt for the basic plan, there's a $1,000 setup fee to pay which feels like a gouge. Plans are on the pricier side and you are locked in for 90 days.
Pricing
The basic plan is $1,000 a month and the full-service plan will set you back $2,500 a month (but there's no setup fee). Custom plans are available on request.
7. Lyfe Marketing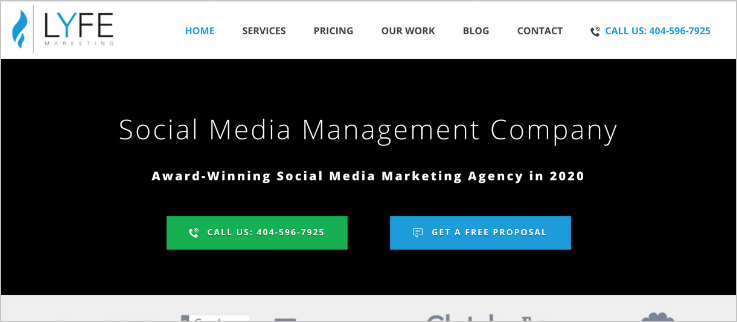 Based in Atlanta, Lyfe Marketing specializes in social media marketing and will work with you to create Facebook Ad campaigns for your clients. They'll come up with a strategy, create the ads, and manage the whole campaign.
They'll also provide you with reports to send back to your clients and promise to communicate regularly so you know how campaigns are going.
Pros
They'll test and tweak campaigns to get the best results

You can add other services, such as email sequences and landing pages

Plans include Instagram as well as Facebook

Remarketing is also included, even in the basic plan
Cons
Graphic design and video production are add-on services, so you'll need to pay extra for these. Some past customers complained that Lyfe Marketing doesn't always meet their deadlines.
Pricing
The basic plan is $500 to $3,499 per month, depending on ad spend. There's also a $300 account setup fee, which you can apparently avoid by calling them (yeah, it was weird for me to read that, too).
Start Building Marketing Reports FREE Today
And that's it! These have been some of the best white label Facebook Ads agencies and tools that you can use to boost your paid-ads ROI.
If you enjoyed this post, you might also want to check out the following resources:
These articles will have everything you need to increase your social media strategy (both paid and organic).