Are you searching for the best white label SEO agencies to improve your rankings?
Search engine optimization (SEO) can be one of your marketing team's most valuable strategies. It can lead to tons of organic traffic and doesn't cost anything other than time (and tools) to get started.
The problem is that SEO is more competitive than ever. That means, your team may need some help. One popular option is using a white label SEO agency to do some of the heavier lifting for you.
That's why, in today's post, we have the best white label SEO agencies listed below. That way, you can find the right agency to help grow your business.
But first, let's get clear on what white label SEO agencies are and why they're so important.
What Are White Label SEO Agencies?
White label SEO agencies are companies that will handle your entire SEO strategy for you. In other words, these are the people you outsource to when the world of SEO gets too demanding.
Because while it's nice to think that you can run your own SEO department, sometimes it simply isn't possible. Between on-page, off-page, and technical SEO, you're looking at tons of information to keep track of.
For some companies, using a white label SEO agency is a more affordable–and effective–option than hiring a team of content writers.
Here are a few advantages of using a white label SEO agency:
Save Time: When an agency is running your SEO, you can focus on converting the organic traffic they'll bring in.

Rank Faster: Nowadays, it can take several months or longer to see the smallest results from your SEO efforts. But trusting this job to professionals ensures that you always have experts working on your side.

Spend Less Money: This may seem counterintuitive because white label SEO agencies can cost a lot upfront. But when you factor in the team you'd need to hire (not to mention the expensive tools), outsourcing SEO to another agency can actually save you money in the long run.
Now that we know what white label SEO agencies are and why they're so valuable, let's look at a few agencies you can entrust with your SEO strategy.
The Best White Label SEO Agencies
Before diving into the list, there's one last thing I wanted to mention.
One of the disadvantages of using white label services is that you still need to compile global marketing reports. That means adding data in from these 3rd-party sources.
Even though each SEO agency listed below will send a comprehensive report your way, it will only focus on SEO.
That means you'll need reports for other marketing channels, too, like:
Social media

Conversion tracking

Email marketing

Paid ads

And more
Luckily there's an easy workaround to put all this fragmented data in the same place. By that, I'm talking about Metrics Watch.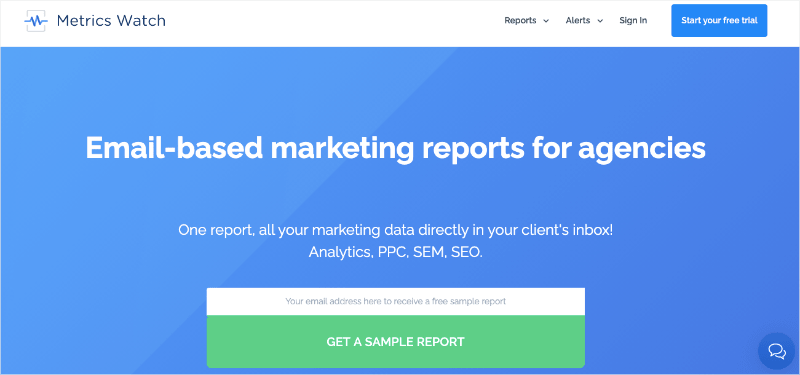 Metrics Watch is the best marketing report builder on the market. Not only does it integrate with all of your favorite marketing platforms, but there are no messy PDFs to organize or 3rd-party dashboards to deal with.
That's because you can create custom marketing reports (with your logo and branding) and send them straight to your team's or clients' inbox.
This gives them the data they need, when they need it. And you don't have to keep track of external documents or user roles for a marketing dashboard.
Plus, you can try all this out totally free (no credit card required). Just click below to get started!
Build Custom Marketing Reports Today!
With that disclaimer in mind, let's dive into the best white label SEO agencies you can start using today.
1. HigherVisibility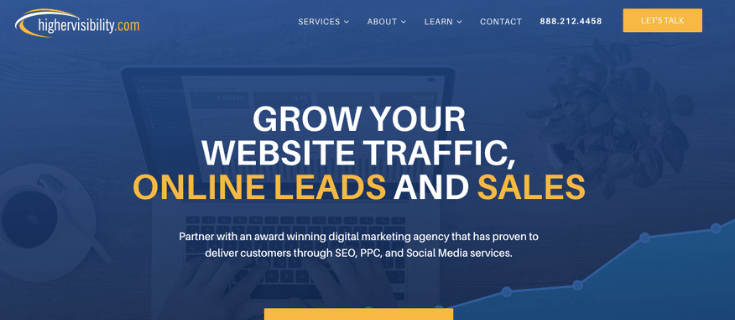 Based in Memphis, Tennessee, HigherVisibility was founded in 2009 and offers a range of services, from pay-per-click (PPC) campaign management to website design. But SEO is this agency's true specialization and the focus of its business.
They offer on- and off-page SEO, including link building and keyword research. They also have a reseller program offering white label services to the companies they partner with.
Pros
Excellent customer service

Plenty of experience working with companies of all sizes

Client dashboard makes reporting easier

Everything is done in-house (no outsourcing to other agencies or freelancers)
Cons
HigherVisibility is a highly-rated SEO agency and their price tag reflects that. This may put them out of budget for some businesses.
Pricing: They don't list prices on their website, so you'll need to contact them for a quote.
2. Boostability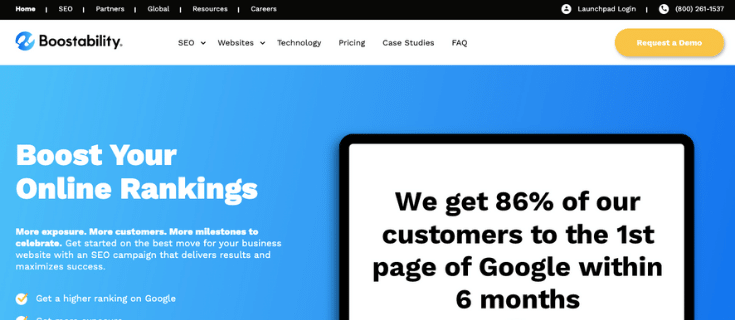 Boostability claims to be the largest SEO reseller in the world and also offers direct SEO help to small businesses. Their services include content creation, on- and off-page optimization, keyword research, and more.
On top of their headquarters in Lehi, Utah, they have a European office based in Berlin, Germany.
Pros
Large sales team to support you in attracting new clients

A reporting dashboard can be customized with your branding

50/50 revenue share for partners

White label case studies and other marketing materials available
Cons
While most customers seem satisfied, some users report that Boostability's keyword research prioritizes keywords that are easier to rank for over those that are most relevant for the business.
Pricing
Boostability says that they work on a flexible pricing model, which means you'll need to contact them for a quote. They are generally considered one of the more affordable white label SEO agencies.
3. The Hoth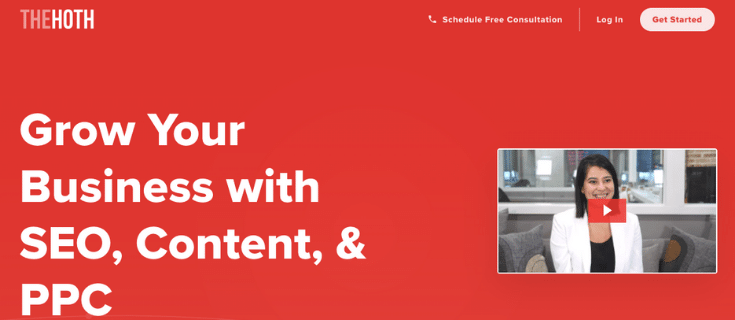 Florida-based agency, the Hoth, specializes in reseller-friendly SEO and PPC campaign management. Their comprehensive SEO management offering, Hoth X, includes website audits, content creation, and link building.
Their reports are free of branding, so you can easily pass them onto your clients.
Pros
Dedicated campaign manager

Easy-to-order content, including blog posts, video, and web copy

Good customer service

Ability to set your desired budget
Cons
The Hoth outsource their content creation to a team of freelance ghostwriters, which means the quality can vary significantly from order to order.
Pricing
The Hoth's pricing varies depending on which package you choose, and they'll work according to the budget you set. For their managed SEO package, prices start at $500 per month, plus a one-off $250 setup fee.
4. Semify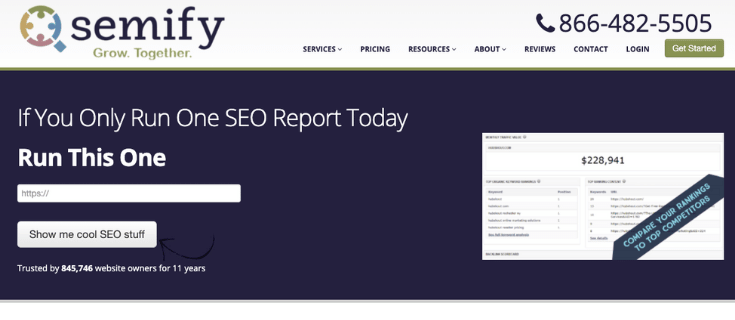 Previously known as HubShout, Semify is a white label SEO agency based in Rochester, New York. They introduced their reseller program in 2008 and all their services are fully white-label, allowing you to add your logo, branding, and domain name to reports and dashboards.
They provide SEO analysis, content creation, and link building services.
Pros
Featured News service aims to get your clients' content onto independent news sites and blogs

The easy-to-use dashboard can be customized with your logo and branding

Their content creation services include graphic design as well as articles and blog posts

Good onboarding experience
Cons
Although most customers seem satisfied, some report that customer communication from Semify isn't as good as it should be. This can be frustrating when you're trying to resolve problems for impatient clients.
Pricing
For small businesses, Semify's prices start at $294 per month. To get their full rate card for the reseller program, you'll need to hand over your email address, but they aim to be competitive.
5. AgencyPlatform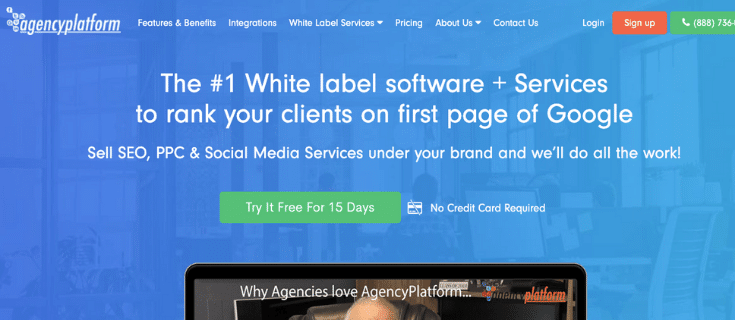 AgencyPlatform is a fully white label SEO agency aimed at smaller companies that want to be able to offer SEO services to their clients. Founded in 2003, they have an office in New York and another in Lee's Summit, Minnesota. They offer on-page SEO, link building, website audits, and keyword tracking, as well as other SEO services.
Pros
The white label reports and dashboards can be customized with your own logo and branding

The dashboard integrates with several SEO tools

Free 15-day trial available to try their services before you commit

Provide white label case studies and sample reports that you can use to attract clients
Cons
AgencyPlatform works on a membership basis and there are different types of membership available depending on which services you want. This can be confusing and means you need to compare plans carefully to make sure you are getting the services you need at the right price.
Pricing
Prices are listed on their website and operate on a membership model, with more expensive plans giving access to more features. For reports and dashboards, membership starts at $60 per month. Local SEO services start at $168 per month and national SEO at $337 per month.
6. Workify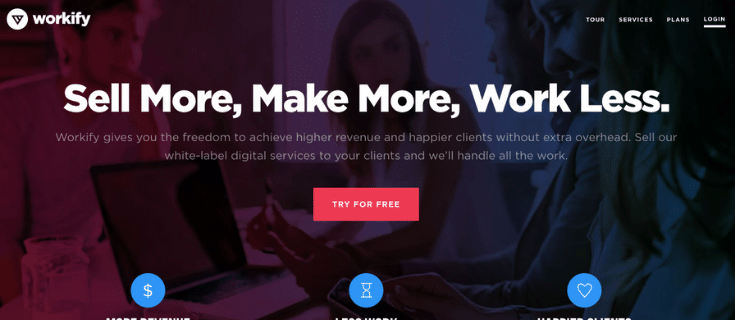 Workify offers a wide range of digital marketing services to resellers, including SEO and content creation. Their complete SEO package includes on- and off-site SEO, with website audits, keyword research, and link building. They also offer a local SEO package and multiple content packages, from blog posts to web copy to email marketing.
Pros
The free 21-day trial lets you try before you buy

Commission structure means you'll get 50% of the profit from every client you bring

Freedom to set your own prices for their packages

Build your own branded site to market SEO services
Cons
There's a further level of outsourcing involved when you sign up with Workify, who then send the work out to their network of freelancers. Workify says they only work with digital professionals based in North America, but this model means you won't have direct contact with the person delivering the work.
Pricing
Workify's reseller program is $99 per month and you'll also need to charge clients for the packages they choose. You'll get 50% of the profit from the packages your clients buy and can set the prices yourself. You'll need to sell enough to cover the $99 fee to make outsourcing to Workify worthwhile.
7. Vendasta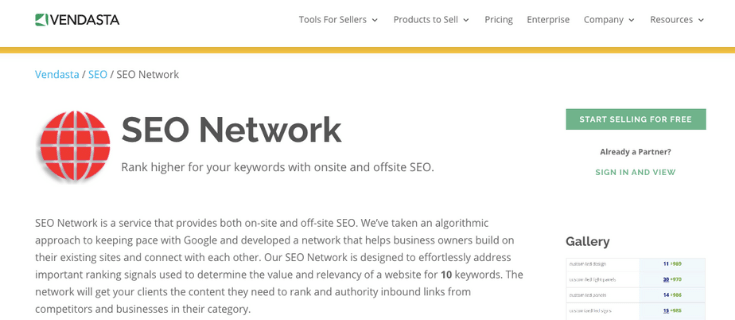 Vendasta works a little differently from most of the other white label SEO agencies on this list because they don't actually offer SEO services themselves. Instead, Vendasta acts as a dashboard that brings together a wide range of digital marketing services that resellers can offer to their clients.
For SEO, they work with Boostability SEO (also on this list), Alpha SEO, and SEO Network.
Pros
A one-stop-shop for a wide range of white label digital marketing services

Apply your own branding and logo to all their products, reports, and dashboards

Set up your own branded online storefront

Training library to help you get the most from the platform
Cons
Although the basic plans are affordable, they won't get you access to the full range of products available on Vendasta. The price increases steeply as you upgrade your plan, which may mean it isn't an affordable option for those on a stricter budget. On most plans, you have to sign up for a 12-month contract.
Pricing
Vendasta offers a range of membership options that start from $49 per month ($42 if you pay annually). But the next plan up is $345 per month, which is a steep increase.
Final Thoughts on Using a White Label SEO Agency
Working with a white label SEO agency can be an excellent option for businesses of any size. In many cases, it will actually be cheaper in the long run than hiring an SEO department.
Plus, you don't need to pay for any of the expensive tooling that SEO is known for.
But you'll want to make sure that you're integrating your SEO results with all the data from your marketing department. That way, you can have a cohesive marketing strategy moving forward.
Again, for building marketing reports that make life easier for everyone, there's no better solution than Metrics Watch.
Want to see for yourself? Just click below to get started 100% risk-free:
Build Custom Marketing Reports Today!
And that's it! I hope this post helped you find the right white label SEO agency for you. You might also want to check out the following resources:
These articles will have all the information you need to optimize your marketing reports to make smarter, data-driven decisions.
Ready to start building and sending cohesive marketing reports (the easy way?). Start your risk-free Metrics Watch trial today (no credit card required).