Are you looking for the best white-label social media posting agencies or tools to help with your social strategy?
Social media can be one of your best assets when you're trying to grow your business and build brand awareness. But with over 60 social media channels out there, it can be hard to stay organized.
And it can be even harder to make sure you're getting the ROI you're looking for from your time, money, and energy.
That's why some agencies choose to hire white-label social media services. It lightens the load and lets them focus on other parts of their clients' needs.
So, today, we're going to share 7 white-label social media posting tools and resources that you can use to stay on top of things.
But first, let's get clear on what a white-label social media posting means and why you may want to consider it for your team.
What Is white-label Social Media Posting
White-label social media posting is an agency, tool, or resource that you use to write, schedule, post, and/or track your social media content.
The most common use of white-label services is for agencies who need a little help with their clients. Usually these agencies are caught between a rock and a hard place:
On the one hand, they want to scale their business and take on new projects

But as those projects are developing, these agencies may not have the budget to hire new full-time employees, so they need another form of help
That's where white-label services come in. white-label agencies will do all the work and give your agency or team all the credit.
But when it comes to white-label social media posting, more people than just agencies can benefit.
That's because the key to white-label services is that they remove all custom branding, letting you add your logo, tag lines, color schemes, and more to the final product. In most cases, when customers see the result, it has your agency's branding on it.
But for social media posting, logos, taglines, and other branding elements are less relevant. Here's why:
If you're a marketing agency creating social posts for your clients, only THEIR branding will appear in the posts anyway

If you're a small business looking for social media posting help for your company, only YOUR branding will appear
In other words, the only brand that will appear to the public is the business behind the social media account.
Whether you have a white-label service create the posts for you or for a client, the result is the same: their brand wouldn't be anywhere except for a few emails and/or social media reports.
But more on that last part in just a minute.
That's why when we look at white-label social media posting services, the list can range from full-on agencies to individual SaaS products. Regardless of your situation, though, all the tools and resources on this list can help.
So let's dive into our top white-label social media posting tools and services.
8 Best white-label Social Media Posting Resources
Before we begin, there's something we do want to point out. white-label services remove all their own branding from the final product. We already covered that.
One area where this becomes really important is social media reports.
When you send a scheduled report to clients, you'll want your company name and branding on them.
But you may also need to include other KPIs or metrics that extend beyond social media. If you run a marketing agency, for example, you may need to include data for site performance, SEO, traffic, custom conversion goals, analytics data, UTM parameters, or other important information to help your clients make smarter marketing decisions.
For that, there's simply no better tool than Metrics Watch: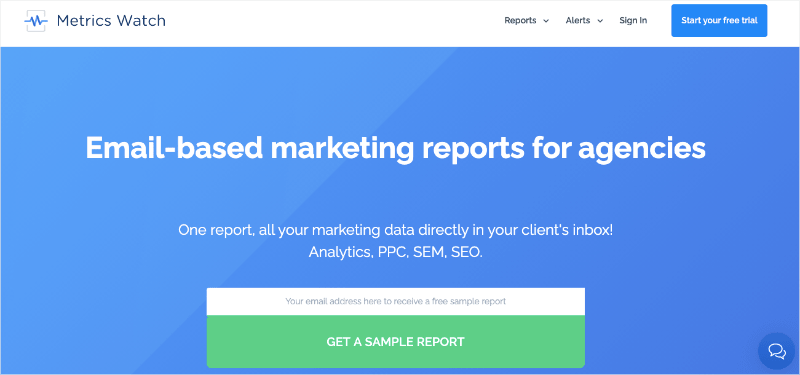 Metrics Watch lets you pull data from all of your favorite marketing channels and put them into one easy-to-read report. Plus, with its drag and drop builder, you can create professional reports in a matter of minutes.
And when you've compiled data from channels like Google Analytics, Google Search Console, Mailchimp, Facebook, Instagram, and more, you can send them straight to your team's or clients' inbox.
Also, Metrics Watch doesn't deliver these reports in a PDF attachment or via a 3rd-party link. We're one of the few (if not only) marketing report builders that sends reports directly to the recipient's inbox.
This gives them the data they need in a format they already use. That's one reason why the German stock exchange company onvista chose Metrics Watch over 20+ other marketing report builders.
They had so many daily reports to deal with that they didn't want to mess around with organizing PDFs or managing user accounts.
And they also wanted their own branding, which Metrics Watch allows you to customize, making it one of the best white-label marketing report tools on the market.
Want to see for yourself? Click below to sign up for your free 14-day trial (no credit card needed):
Build Automated Marketing Reports Today!
Now, let's check out the top white-label social media posting tools and services.
1. SocialPilot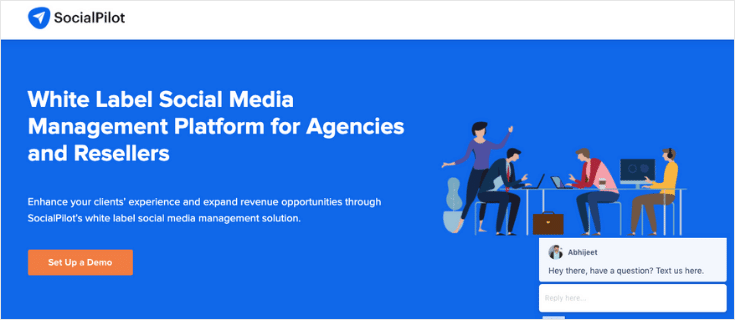 With publishing, reporting, and collaboration tools available, SocialPilot lets you and your team manage your social media posting and engagement from one dashboard.
Agencies and resellers can add their branding, logo, and landing page URL to every part of the platform (including reports, dashboards, URLs, and email addresses).
Pros
SocialPilot integrates with TikTok, as well as Facebook, Twitter, Instagram, LinkedIn, Pinterest, and Russian social media site VK

Once you've created a post, you can easily customize it for each platform

The approval workflows make it easy to collaborate with team members

Good customer support to help you troubleshoot any issues
Cons
Although the platform lets you schedule posts to lots of platforms, analytics are only available for a handful of them. White-label options are only available for the Small Team plan or above.
Pricing
The basic plan is $30 per month but doesn't include white-label options. For that, you'll need the Small Team plan at a minimum, which is $50 per month. Discounts are available if you choose annual billing and a 14-day free trial is on offer.
2. CloudCampaign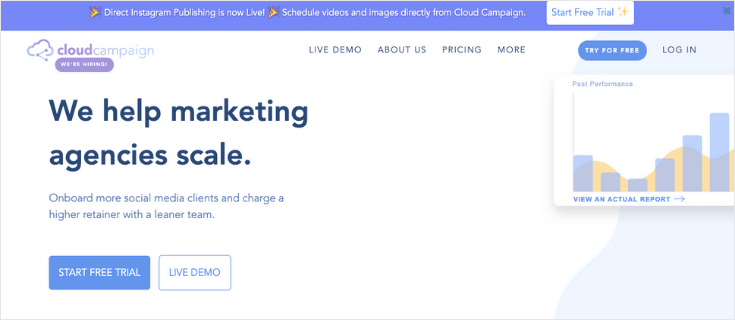 CloudCampaign is specifically aimed at marketing agencies wanting to scale their social media posting. It offers an unlimited content library with a dedicated area for each of the brands you work with.
You can schedule and publish posts easily and manage engagement through the social inbox.
White-label reports and dashboards can be customized so all your clients see is your branding.
Pros
A 1-click report creation tool makes reporting easy

You can build custom dashboards for each client and add your own branding

There's an option to set up triggered posts based on search trends or the weather

Unlimited users are available for every plan
Cons
The white-label options are only available on the Studio plan and above. This is also a pricier option than many on this list.
Pricing
The basic plan is $39 a month but you'll need at least the $199 per month Studio plan to access white-label options. There's a 14-day free trial and you can get 2 months free if you choose annual billing.
3. Sendible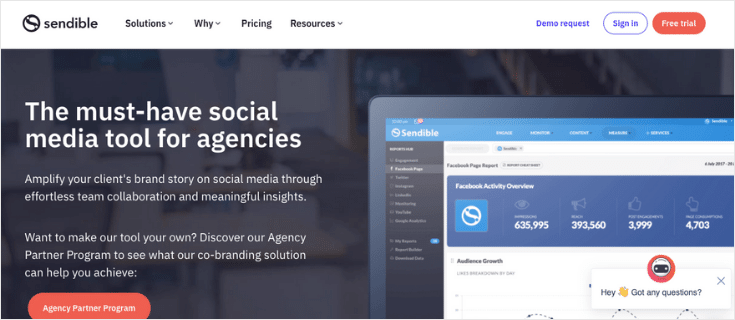 Sendible lets you create and post to a wide range of social media platforms, including Facebook, Instagram, Twitter, LinkedIn, Pinterest, and YouTube. You can also plan and schedule blog posts to WordPress, Tumblr, Blogspot, and Medium.
Both co-branded and white-label reports and dashboards are available for agencies wanting to report back to clients. And social listening tools let you track conversations about your clients on social media.
Pros
You can set up mention alerts to your email or Slack account

Sendible integrates with Canva, Slack, and Google Analytics

Content suggestion tools help you pick the content that will work best for your audience

Collaboration tools let you assign tasks between team members easily
Cons
Although white-label reports and dashboards are available, Sendible pushes you fairly heavily towards co-branding instead. No pricing information is listed on their website for full white-labeling but expect it to cost extra.
Pricing
$29 per month is the cheapest plan, which gets you 1 user and limited reporting capabilities. There's a big jump to the next plan, at $99 per month. Discounts are available for yearly billing and there's a 14-day free trial.
4. AgencyPlatform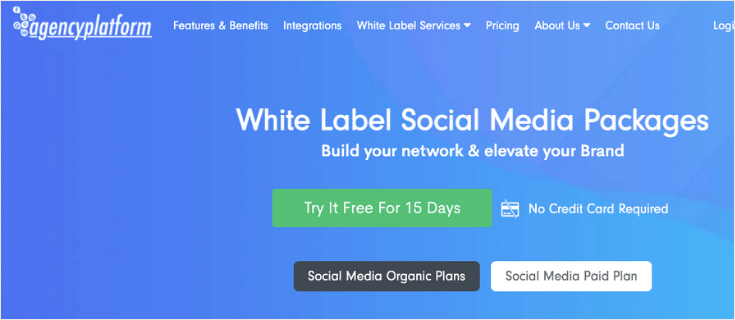 If you prefer to outsource your social media posting entirely, AgencyPlatform is a good option to check out. Although their main specialty is SEO, AgencyPlatform can also look after your social media management for you.
They'll take over your clients' Facebook, Twitter, Instagram, or Pinterest accounts and can handle both organic posts and paid ads. Automated reports and client dashboards are available for reporting too.
Pros
It is a fully managed service – you can hand social media posting to them entirely

Add your own branding, logo, and domain name to reports and dashboards

AgencyPlatform is specifically aimed at resellers

White-label case studies and newsletters help you attract new clients
Cons
The basic plan only gives you a small number of posts on one social media account, so you'll need to choose a more expensive option to get posts on all your clients' accounts. Depending on the plan you choose, up to two-thirds of the monthly posts will be generic, rather than about the business specifically.
Pricing
Organic posting plans start at $89 per month. There's no annual contract for this one but there is a free 15-day trial. Add-ons are available if you want more business-specific posts or profile creation done too.
5. Mention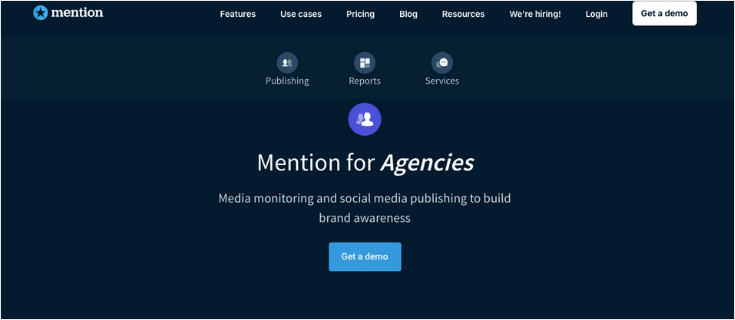 Mention is a social media management tool that lets you keep track of conversations about your brand by trawling social media, blogs, news sites, forums, and review sites, then delivering it all to one streamlined feed. You can also keep an eye on your competitors, schedule social media posts, and keep track of your analytics data.
For agencies, Mention offers white-label reporting options to keep your clients up to date on how their social media posts are performing.
Pros
The user interface is clean and easy to use

The insights from its social listening tools let you plan and tweak social media posts according to current conversations about your brand

The competitor analysis options give you an edge in knowing what is likely to work well for your target audience

You can build alerts using Boolean queries to target exact keywords
Cons
Although you can schedule posts to Instagram, LinkedIn, Facebook, and Twitter, you'll only be able to respond to comments on Facebook and Twitter from within the software itself. The automated email reports can be customized with your branding, which is great, but arrive in your clients' inboxes as PDFs, meaning they'll have to download and save a bunch of attachments.
Pricing
The basic plan is affordable at $29 per month, but this only gets you one login and limited reports. Most agencies will be looking at the Pro account at the very least, which is $99 per month. Discounts are available if you choose yearly billing. There is also a free plan available with 1 user and up to 3 accounts.
6. DashClicks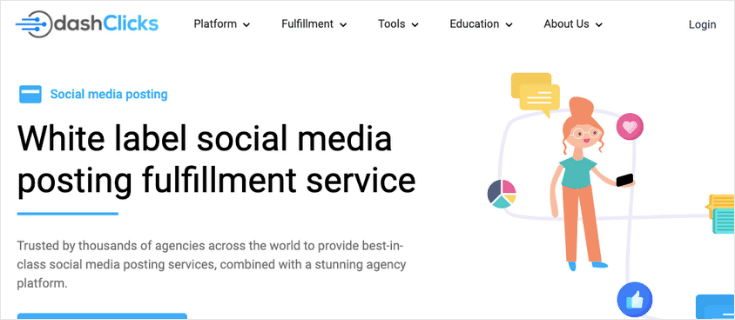 Don't have time to write all those social media posts yourself? DashClicks is another option for those looking to outsource their social media posting entirely.
With dedicated digital marketing consultants to plan your campaigns, you can hand over everything from posting to reporting.
Aimed specifically at agencies, DashClicks lets you choose how frequently you want posts and then schedules and publishes them across Facebook, Instagram, Twitter, LinkedIn, and Pinterest.
Pros
DashClicks takes care of all the content creation and scheduling for you

The white-label dashboards and reports make it easy to report to your clients

You can add optional upselling tools to your client dashboards

You can order additional packages as needed from the fulfillment center
Cons
Although it is free to create an account, DashClicks then charges for each package you order from their fulfillment center, meaning you may need multiple plans to get your clients the exact service they want.
Pricing
Pricing is per package – you'll need to create an account to see the options available.
7. NapoleonCat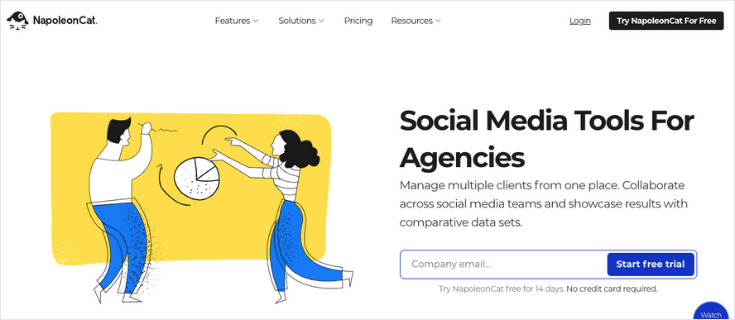 NapoleonCat lets you manage your social media posting with ease. As well as scheduling posts, you can automate some of your engagement by creating automatic replies to frequently asked questions in comments and direct messages.
NapoleonCat will automatically remove spam comments, too. And you can set workflows to alert team members when a comment or complaint needs a human response. And the platform offers white-label reports for agencies.
Pros
The automated replies and social inbox save your team time in responding to inquiries

Competitor analysis tools are available to help you plan your strategy

Customizable pricing plans get you the exact package you need

Easy-to-use dashboard creator lets you customize the metrics for each client
Cons
Although you can send white-label reports to clients automatically, they go as PDF or Excel attachments, which is a clunky way of reporting. The automated moderation is limited to Facebook and Instagram and the scheduling tool is limited to Facebook, Instagram, and Twitter.
Pricing
The basic plan starts at $27 per month but doesn't include reporting tools. Pro plans start at $55 per month. For each plan, you can add more users or profiles, and the price scales accordingly. Discounts are available for yearly billing and there is a free 14-day trial.
8. Vendasta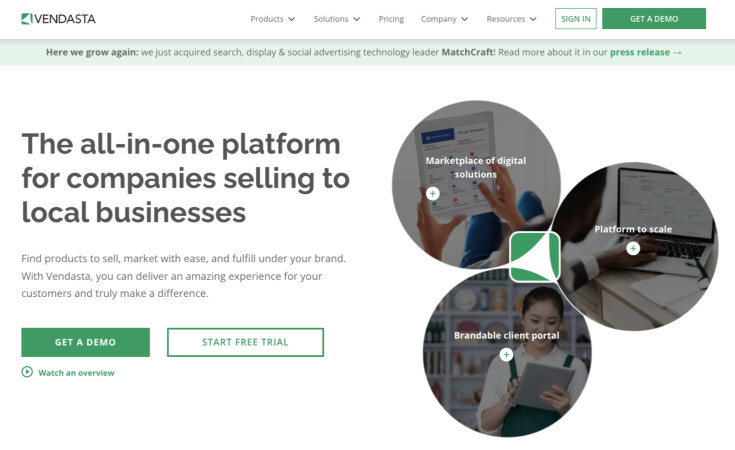 Vendasta provides agencies with a platform to discover and re-sell tools to clients - from social media posting, SEO, website chatbots, and more.
With a marketing place of over 250 curated products to choose from, your agency can grow its revenue by combining your own services and rebranding those of others through one portal.
Pros
250+ digital solutions available to resell as your own

Create your own store to sell your products to clients

White-label dashboards and reports

Top class products at wholesale prices
Cons
white-label features are only available on the more premium Growth and Scale plans.
Pricing
Plans start at $99/mo. Or you can use a "free" plan that lets you pay for just the licenses you need individually.
And that's it!
These have been some of the best white-label social media posting tools on the market.
Build Automated Marketing Reports Today!
We hope you enjoyed this post. If you did, you may also want to check out the following resources:
These resources will help you gather the data you need to improve your (or your clients') social media strategy.