Are you trying to build WooCommerce reports for your online store, but having trouble syncing data from other platforms?
WooCommerce can be one of the best ways to enter the world of eCommerce. And it's not just for small startups, either.
Major companies have turned their idea into a 6 or 7-figure business using WooCommerce. But there's just one problem for people who want to build a business rather than a small WooCommerce storefront:
It can be difficult to sync reports from all your marketing channels to build a stronger sales funnel.
That's why, today, we're looking at the best reporting tools to build your WooCommerce report. Ready to get started? Let's dive straight into the list.
The Best Tools to Build WooCommerce Reports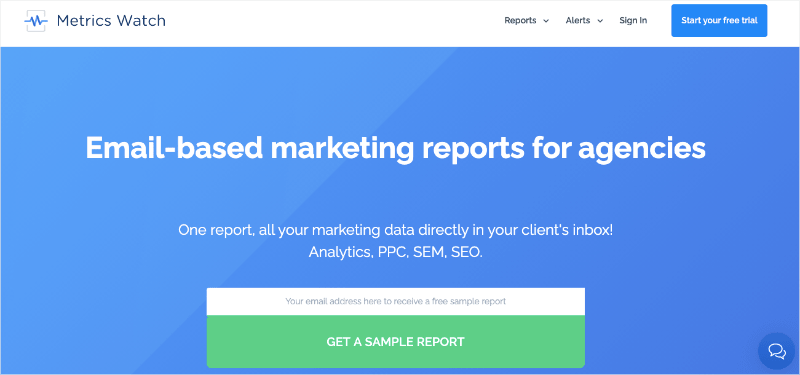 Metrics Watch is one of your best options for creating comprehensive marketing reports that use your favorite marketing tools. With Metrics Watch, you can create WooCommerce reports in a matter of minutes. Plus, you can get data from all of your pay-per-click (PPC) sources, social media, email marketing, SEO, and more.
These are sources like:
Google Analytics

Google Search Console

Facebook (paid ads and organic posts)

LinkedIn (paid ads and organic posts)

Instagram (paid ads and organic posts)

Mailchimp

And more...
Finally, the biggest advantage of Metric Watch is frictionless report sharing. Most report builders share reports with a PDF attachment or with a 3rd-party URL link.
With Metrics Watch, all the reports go straight to your recipients' inbox. That means you can get the right data to the right people in a format they already know.
Ready to see it in action for yourself? Click below to start you 100% FREE trial (no credit card required):
Start Your Free Trial Today!
2. Metorik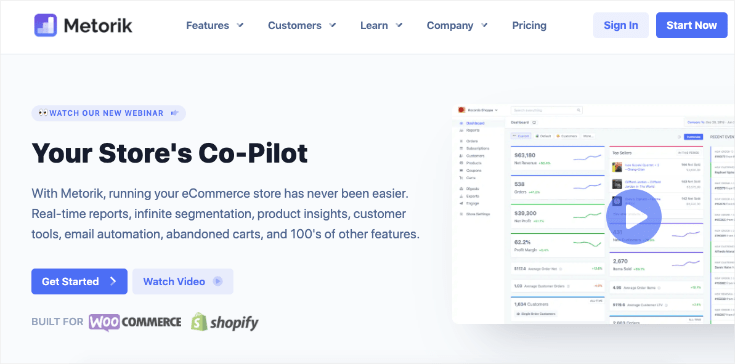 Combining reporting, segmentation, and email automation into one handy dashboard, Metorik is a popular tool for WooCommerce users. It integrates with your WordPress site via a plugin. It can also integrate with Google Analytics and several of the best-known customer service systems, including Zendesk, Help Scout, Freshdesk, and Intercom.
Pros
Customizable dashboards and reports display all your eCommerce KPIs in one place

Powerful filtering options let you segment and drill down into your data easily

Rule-based email automation tools allow you to engage potential and existing customers

Product reports include inventory management, as well as analysis of sales by product and category
Cons
The email automation tools aren't included in the main package, so you'll need to pay a little extra to get this feature. The analytics are accessed via Metorik itself, which means you won't be able to see your KPIs from your WordPress dashboard.
Pricing
Metorik offers a 30-day free trial. After that, your monthly bill will depend on your number of orders. It starts at $20 per month for up to 100 orders. The email automation add-on also increases depending on the number of orders, starting at $10 per month.
3. Glew.io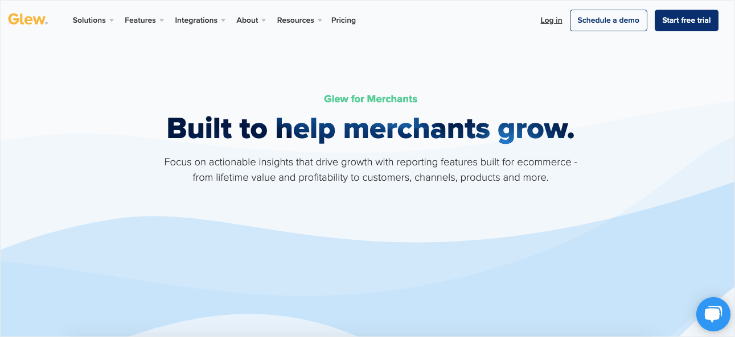 If you want a business intelligence dashboard aimed specifically at eCommerce brands, Glew.io is an option to check out. It integrates with WooCommerce, as well as a wide range of other eCommerce and digital marketing platforms. You'll be able to track your store's performance and your marketing ROI in one place.
Pros
A wide range of integrations means you can combine data from your social media, PPC, and email campaigns with your WooCommerce reports

Inventory reports help you to manage your ordering and stock easily

Build customized reports and schedule them to automatically send by email

Segment your customers based on their behavior and past purchases
Cons
Although it does integrate with MailChimp, you can't send automated marketing emails from within Glew.io itself. The automated reports are a handy feature, but they send as PDFs, which means you'll need to keep track of a bunch of files.
Pricing
Glew.io offers a 10-day free trial. There are no pre-priced plans, so you'll need to contact them for a custom quote that meets your needs. If you are an agency, Glew.io has different prices available to cover all your clients. You'll still need to contact them directly to get a quote.
4. Metrilo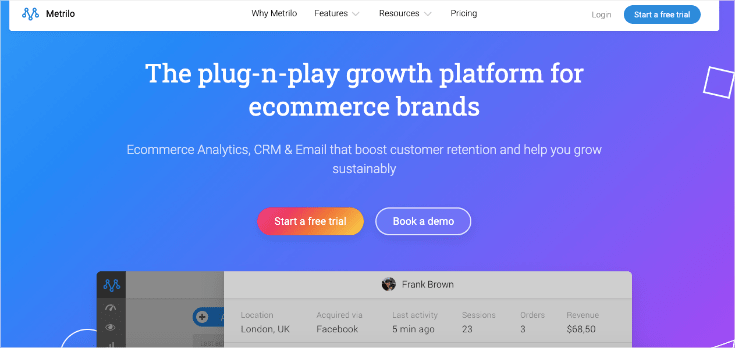 Metrilo offers analytics and reporting for WooCommerce stores. It also integrates with Shopify and Magento. As well as helping you track your store's performance, Metrilo includes email marketing tools and an eCommerce CRM system.
Pros
Funnel reports help you identify where you are losing potential customers

The CRM database tracks each customers' full journey

Segmentation and automated emails mean you can win back customers with targeted communications

Measure the performance of different products with product reports
Cons
Metrilo doesn't offer inventory management tools, although it does track sales data for you. Many features are only available on the more expensive plans.
Pricing
You can try Metrilo free for 14 days. After that, pricing depends on the features you want to have. The Essential plan is $119 per month.
5. Putler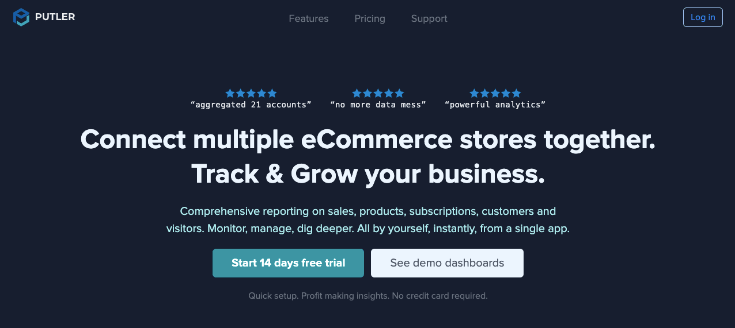 Putler aims to bring all your essential eCommerce KPIs together in one place, making it a popular tool for building WooCommerce reports. It combines data from WooCommerce, your payment processor, and Google Analytics to give you a thorough view of your store's performance.
Pros
Reports and dashboards include actionable insights to help you retain customers and boost sales

You can link multiple different stores from a variety of platforms, including Etsy and Shopify, as well as WooCommerce

It integrates with your payment processors and automatically deduplicates transactions, so you have an accurate picture of your sales income

Individual customer cards help you track each customer's journey
Cons
Unlike some of the WooCommerce reporting tools on this list, Putler doesn't include automated emails. However, it does integrate with MailChimp.
Pricing
Putler has a 14-day free trial to get you started. After that, pricing depends on the number of orders and integrations you need covered. The Starter plan gives you 300 orders a month and 2 integrations for $29 per month.
6. Woopra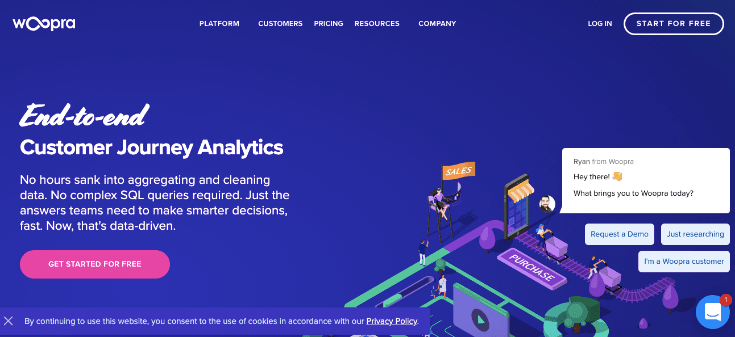 For eCommerce brands who like to keep their focus firmly on the customer, Woopra is an end-to-end customer journey analysis tool that integrates with WooCommerce. You'll still be able to track some product and sales KPIs with Woopra, but customer behavior is where it really shines. As well as WooCommerce, it integrates with a variety of platforms, including email marketing providers, customer service systems, and CRM databases.
Pros
Map your customers' journeys, helping to uncover insights to improve your conversion and retention rates

Analyze the effectiveness of your various marketing channels, with campaign attribution reports

Automation tools save you time on routine tasks, including sending monthly reports

Track which products are most popular with which customers
Cons
Because it is very much focused on customer journeys, Woopra doesn't offer the in-depth product performance analysis that some other WooCommerce reporting tools do. It is also a pricier option than most on this list, although it does offer a free version.
Pricing
You can access some of Woopra's basic features for free with their Core plan. For paid plans, there is a 14-day free trial and the price then varies depending on the features you need. The Startup plan is $349 per month.
7. MonsterInsights eCommerce Add-On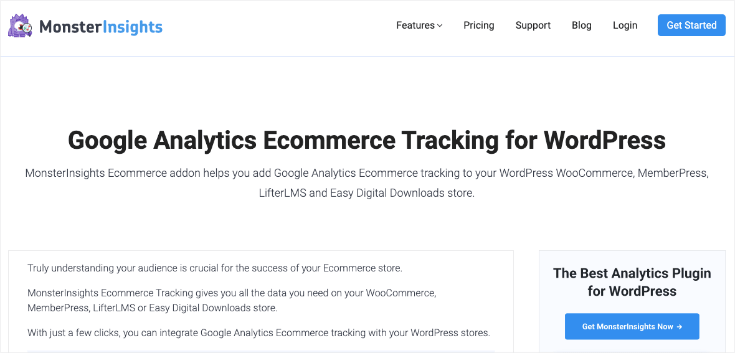 If you prefer to see your WooCommerce reports and analytics right in your WordPress dashboard, you might want to take a look at the eCommerce add-on from MonsterInsights. This WordPress plugin lets you see insights from Google Analytics via your website's admin dashboard, meaning you won't need to juggle lots of different accounts.
Pros
Combine your WooCommerce metrics with data from Google Analytics for a comprehensive view of how customers behave on your site

Track your best-performing products, traffic referral sources, and other essential KPIs

Get quick insights into your WooCommerce store's performance directly in your WordPress dashboard

Schedule weekly email updates to keep your team or clients up-to-date
Cons
The reporting and analysis available from MonsterInsights are limited to the metrics already available in WooCommerce and Google Analytics, so it doesn't have the depth of most of the other reporting tools on this list. It also doesn't offer customer segmentation or automated emails.
Pricing
Although a cheaper plan is available, you'll need the Pro or Agency plan to access WooCommerce reports via MonsterInsights. Those are $399 and $799 per year respectively, although they were offering 50% off at the time of writing. You can get a full refund if you decide you don't like it during the first 14 days.
And that's it! These have been the best WooCommerce report builders that you can use to build smarter marketing reports.
Start Your Free Metrics Watch Trial Today!
We hope you found this post helpful. If you did, you might also want to check out the following resources:
These resources will have everything you need to create better data-driven marketing reports for a larger ROI.