Are you looking for the best client reporting software for your agency?
Client reporting can be one of the biggest assets to your company's growth. Not only does it improve your customer experience, but it demonstrates (and justifies) your value to your clients.
This kind of information is crucial in retaining customers and reducing churn.
But let's be honest: creating client reports can be tedious, tiring, and time consuming. That's why we're going to share 7 of the best client reporting software on the market.
These tools automate the report building process. Ready to get started?
Let's dive straight into the list.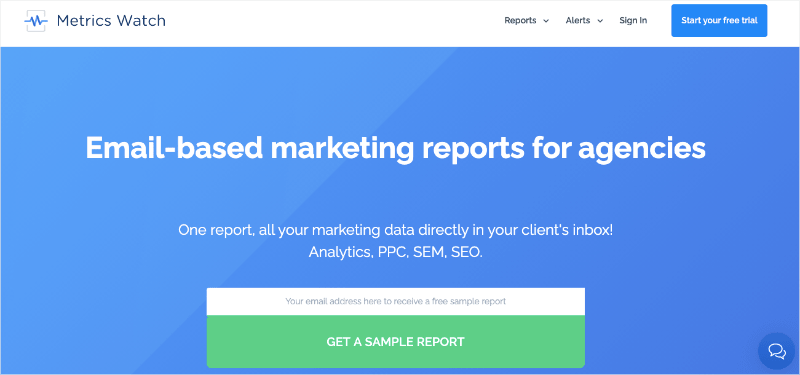 Metrics Watch is one of the best client reporting software on the market. It comes with a codeless drag and drop report builder, so anyone can create professional marketing reports for clients in a matter of minutes.
With Metrics Watch, you can pull your key performance indicators (KPIs) from your favorite marketing channels, including:
Google Analytics

Google Search Console

Google Ads

Facebook (paid and organic)

Instagram (paid and organic)

LinkedIn (paid and organic)
And more.
This allows you to quickly and easily create comprehensive reports for your clients.
But what really sets Metrics Watch apart from other tools on this list is how frictionless the sharing process is. Most report building tools share data via PDF attachments or 3rd-party user dashboards.
Metrics Watch does things a little differently because the reports are sent directly to your recipients' inbox. That means no more attachments for your clients to manage, and no more trying to manage user login information.
Instead, you send the data your clients need in a format they already know.
Pros
No coding or "tech skills" required

Drag and drop form builder

Connects to your favorite marketing channels

Frictionless report sharing

Custom design (add your logo and messages)

100% free trial to try at no risk to you
Pricing
There's a free 14-day trial. Paid plans start at only $29/month, though agencies will likely want an upgrade to send more reports.
But, again, why not try it out for free? Click below to start your free trial today:
Start Your Risk-Free Trial Today!
2) AgencyAnalytics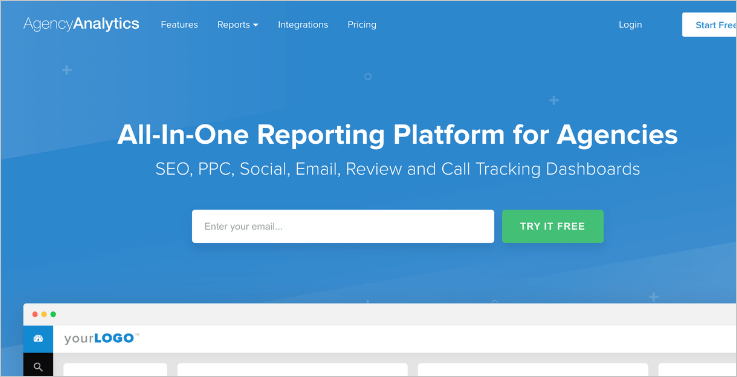 As you might guess from the name, AgencyAnalytics was built to help marketing agencies report back to clients. It has plenty of connectors available, so you can bring all your clients' marketing data together in one place.
AgencyAnalytics includes SEO auditing tools that automatically scan clients' websites and alert you to any issues. Reports and dashboards are fully white-label, so they carry your agency's branding.
Pros
Create custom dashboards easily with the drag-and-drop tool

Manage permissions so that staff and clients only see what they are supposed to

Add annotations to highlight information for clients

Use the task management tools to assign clients and tasks to staff members
Cons
AgencyAnalytics trades heavily on the option to give your clients access via a custom URL. In reality, I doubt that many clients will remember to log in regularly or want to keep track of yet another password. You can opt to share reports via email instead, but they come as PDF attachments, which still seems unnecessarily clunky.
Pricing
After a 14-day free trial, AgencyAnalytics costs $49 per month on the basic plan, which is aimed at freelancers. The agency plan is $149 per month. Discounts are available if you pay annually.
3) Swydo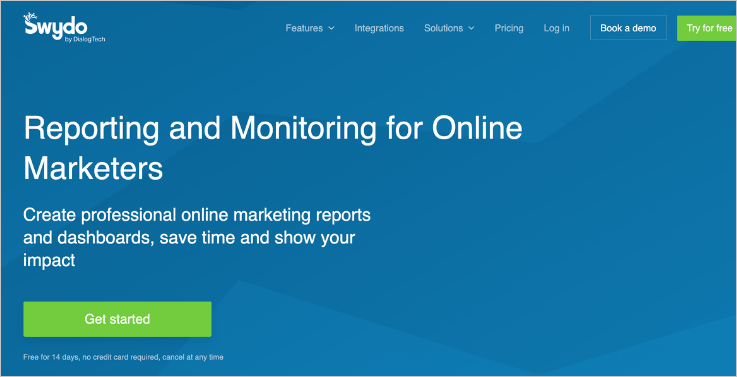 With straightforward reporting and monitoring tools, Swydo helps digital marketing agencies save time on updating clients. A comprehensive library of templates and widgets lets you create the reports you need quickly and easily.
Swydo's white-label options mean you can add your own branding and logo to reports. And it integrates with the majority of the popular digital marketing platforms.
Pros
Customize your reports with a wide range of widgets and visualizations

Add executive summaries to reports to explain vital points to clients

Set and track goals and KPIs

Track client activity, seeing who has received and read your reports
Cons
Custom metrics aren't available on the entry-level plan, so you'll need to upgrade if you want to make reports that fit your clients' exact needs.
Pricing
You can use Swydo for free for 14 days. After that, plans start at $75 per month.
4) TapClicks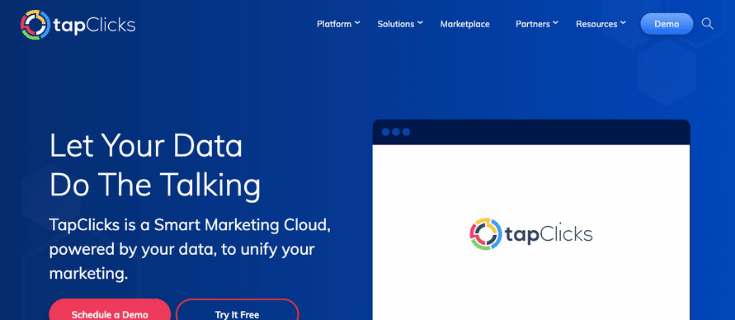 With an impressive range of integrations, TapClicks aims to be a one-stop shop for digital marketing agencies looking to step up their reporting game. Whatever tools your clients use, you can be fairly sure TapClicks will have a connector available.
White-label options mean you can add your agency's branding and impress clients with professional-looking reports. And you can use the analytics tools to segment data and uncover marketing insights.
Pros
Create custom metrics to meet your clients' exact needs

Add your own branding, with white-label reports and dashboards

Set goals and track your progress against them

Add markup to your reports to explain points of interest to clients
Cons
The cost is a drawback with TapClicks, which is the priciest on this list, even at the entry level. Budget-wise it is likely to be a better option for larger agencies.
Pricing
You can try TapClicks for free for 14 days. After that, the cheapest plan is $297 per month. There is a discount if you choose annual billing.
5) NinjaCat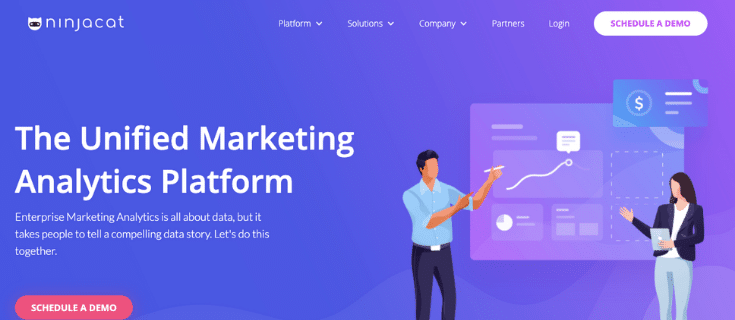 With an emphasis on visually appealing reports, NinjaCat's reporting tools help you impress your clients and monitor all their digital marketing campaigns in one place.
NinjaCat includes budget and goal monitoring tools to keep your campaigns on track. You can easily customize the design of your reports and add your own branding too.
Pros
Add insights and recommendations to reports to inspire clients

Create reports quickly with pre-built templates

Set budgets and receive automated alerts if you are heading off-track

Brand reports, emails, and dashboards with your agency's logo and colors
Cons
Reporting back to clients with NinjaCat could be a smoother process. You'll need to create logins for them, which they will lose or forget to access. Or you can send reports by email, but they arrive as PDF attachments, meaning there will be loads of files for clients to keep track of.
Pricing
You'll need to set up a demo call to enquire about a pricing plan for your business.
6) DashThis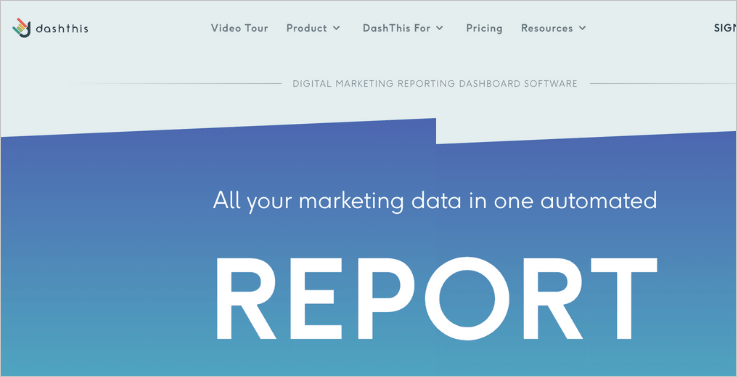 When you are first getting set up with a new tool, getting all your reports and dashboards configured for every client can be a headache. DashThis feels your pain, so the platform is designed to make it as easy as it can be, with report templates that you can customize and reuse for each client.
There's even a bulk dashboard creation service available if you have lots of clients to set up at once. While the integrations available aren't as wide-ranging as some of the tools on this list, they cover all the most popular digital marketing channels.
Pros
Add unlimited users, even on the cheaper plans

Get set up quickly with template reports and widgets

Use headers and comments to make your reports more client-friendly

Create new dashboards easily with the drag-and-drop builder
Cons
White-label options are available via DashThis, but you will need to pay extra for them. Although you can add unlimited users, you are limited in the number of dashboards you can create, which means most agencies will need to opt for one of the pricier plans.
Pricing
DashThis offers a 15-day free trial. The entry-level plan, with three dashboards, is $39 per month. There's a discount if you pay annually.
7) Klipfolio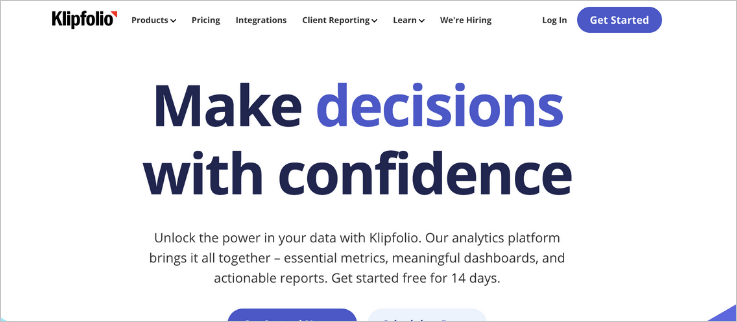 Klipfolio is a business intelligence dashboard, not just a digital marketing reporting tool. But it includes integrations with most of the major digital marketing platforms and pitches itself at agencies wanting to report back to clients.
It will save you time by helping you manage all your clients' data from one place. Templates are available to get you started quickly, and you can customize them as needed for each client.
Pros
Add white labeling to make on-brand reports and dashboards for clients

Manage permissions for each user, so they only see what they should

Customize charts and widgets to fit the reporting needs of each client

Get set up quickly using pre-built templates
Cons
Although you have the option to add your own logo, there's an extra charge for full white labeling. Getting the most of some features requires scripting, so it isn't a completely beginner-friendly option.
Pricing
A 14-day free trial gives you a taster of what Klipfolio is all about. After that, there's a $49 per month starter plan. You'll need to contact Klipfolio for pricing for the more expensive plans.
And that's it for today! These have been 7 of the best client reporting software on the market:
Start Your Risk-Free Trial Today!
We hope you enjoyed this article. If you did, you'll definitely want to check out the following resources:
These articles will have even more information on how you can create client reports and grow your business.