Are you looking for the best marketing dashboard software for your business or agency?
Dashboards can be an effective way to centralize all of your marketing data and share it with your colleagues and clients.
But with so many tools available, it can be hard to know which one is right for you. Pick the wrong one, and you're wasting time and money creating ineffective reports that don't help you reach your business goals.
So, in this post, we're going to share our 7 favorite marketing dashboard software on the market to help you find the best tool to meet your specific needs.
Let's dive into the list!
7 Best Marketing Dashboard Software for Client Reporting
1) Metrics Watch
Metrics Watch lets you build professional marketing reports fast using a codeless drag-and-drop editor to bring data to life and fully automate your client reporting process.
Reports can be scheduled daily, weekly, or monthly to ensure your clients have the data they need when they need it most.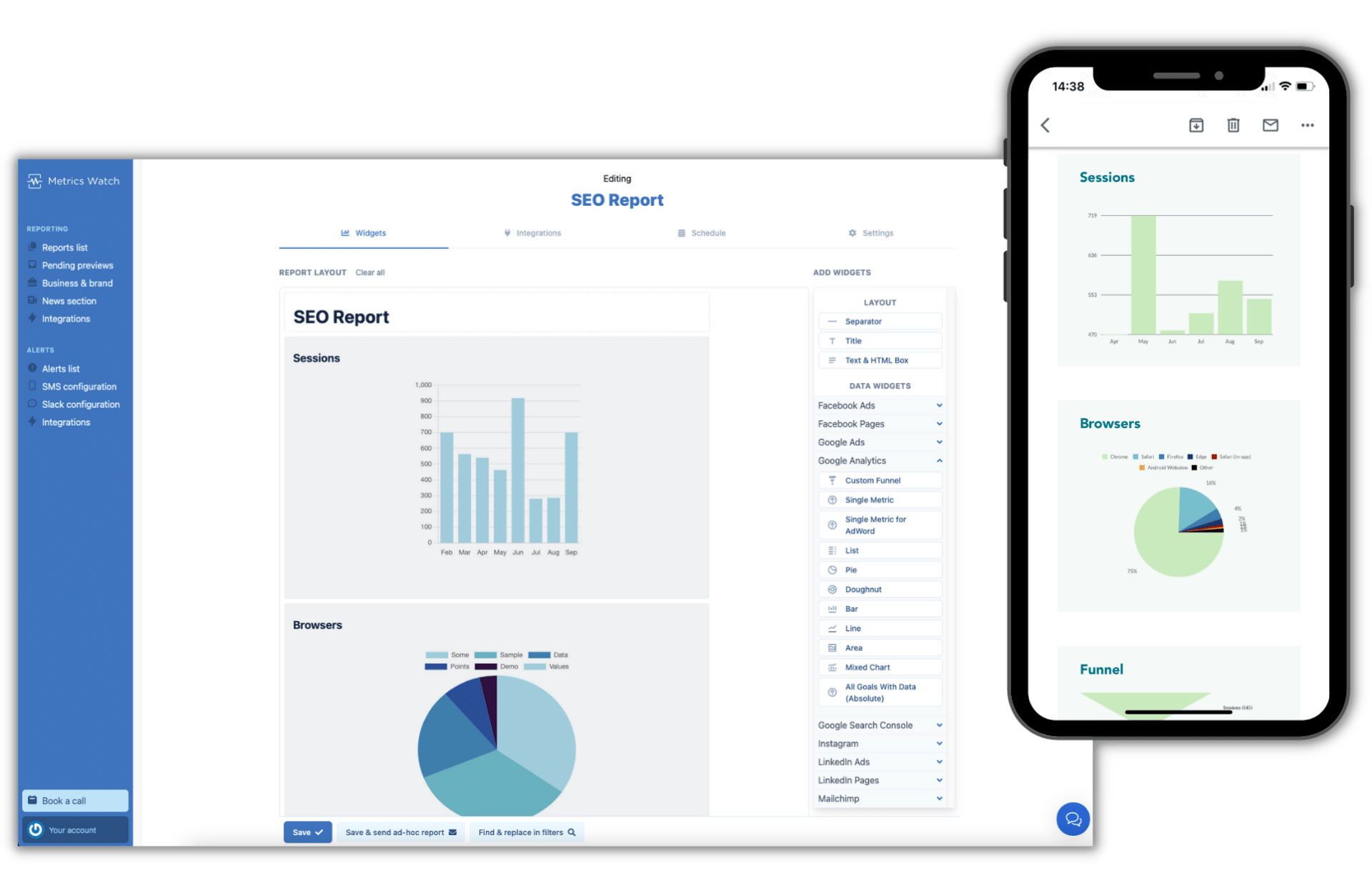 While not technically a dashboard tool, Metrics Watch is hands down one of the best reporting tools on the market!
Like a dashboard tool, it lets you pull data automatically from multiple data sources like Google Analytics, Google Ads, Facebook, Instagram, Mailchimp & more and present it visually using graphs and charts.
But the key difference is how data is shared...
Metrics Watch displays the report in the body of the email itself and delivers it straight to your client's inbox.
This means no need for pesky PDFs or third-party links. Instead, recipients can view their data from the comfort of their inbox using a tool they already know and use every day - email.
What's more, all plans come with white-label options to add your own branding and customize reports to meet the needs of your agency and your clients.
Metrics Watch is trusted by major brands such as Spotify, Electronic Arts, Lindt, Greyhound, & more.
Pros
Connects with your favorite marketing channels

Sample reports and templates to get you going fast

No need for PDFs or third-party links

No tech skills needed

White label options for all plans
Cons
Being email-based means that clients can't view real-time data on demand, but this is a small trade-off for the quality of life and efficiency that comes from having reports automatically delivered to your inbox.
Pricing
Metrics Watch offers a free 14-day trial (no credit card required).
Plans start at $29/mo, with flexibly pricing options to suit agencies of every scope and size.
Start Your Free Trial Today!
2) Whatagraph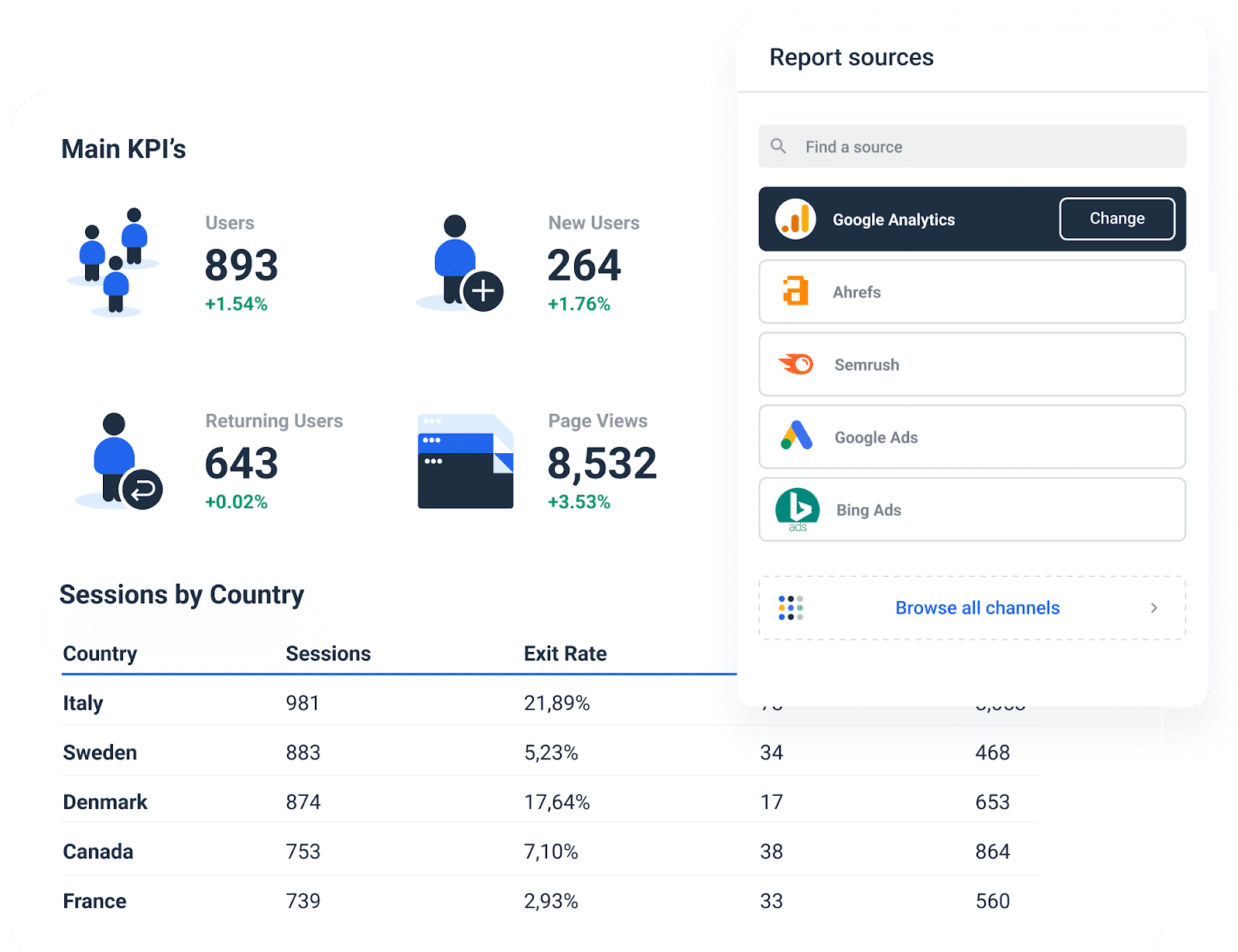 Designed with agencies in mind with its intuitive dashboard builder, Whatagraph is an excellent option for tracking real-time data across multiple channels.
With integrations for over 40 data sources and personalized onboarding for every customer, this is one of our favorite digital dashboard tools out there.
Top Features
40+ data sources (including Google Analytics, Semrush, Shopify, Facebook, and more)

White-label options + report customization for agencies

100+ report templates

Real-time data tracking
Cons
It's hard to find something to dislike, however, only annual pricing is available which can make it a bigger investment than other tools on this list.
Pricing
Plans start at $199/mo with custom pricing available to cater to agencies with complex reporting needs.
Whatagraph offers a 7-day free trial and a 30-day money-back guarantee for peace of mind.
3) DashThis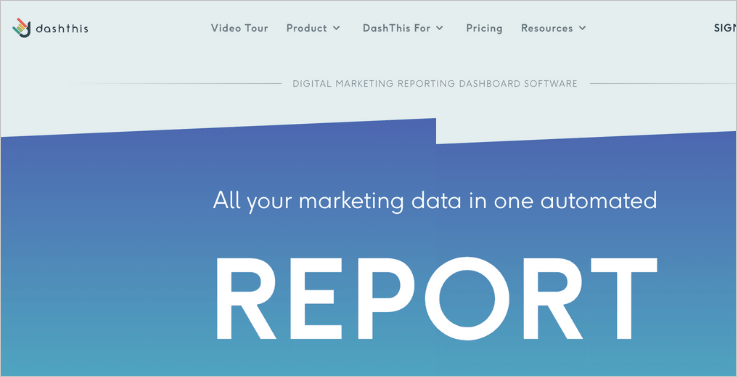 DashThis is another great web-based dashboard tool for marketing agencies, with over 35 integrations for popular marketing channels, white-label options, and custom color themes.
What's cool about DashThis is the ability to comment and leave notes on dashboards to explain metrics and offer insight to clients.
Pricing is simple with a pay-per-dashboard approach and each plan comes with unlimited users, unlimited integrations, and unlimited data sources.
Pros
Unlimited users for all plans

Ability to add custom notes to widgets

Large preset template library

White label-options available
Cons
Data is only sharable by PDF or link sharing which creates an unnecessary layer of friction between marketers and their data.
Pricing
Plans start at $45/mo for the Individual subscription, but agencies managing multiple clients and needing full white-label features will need at least the Professional plan, starting at $139/mo.
DashThis offers a 15-day free trial.
4) Google Data Studio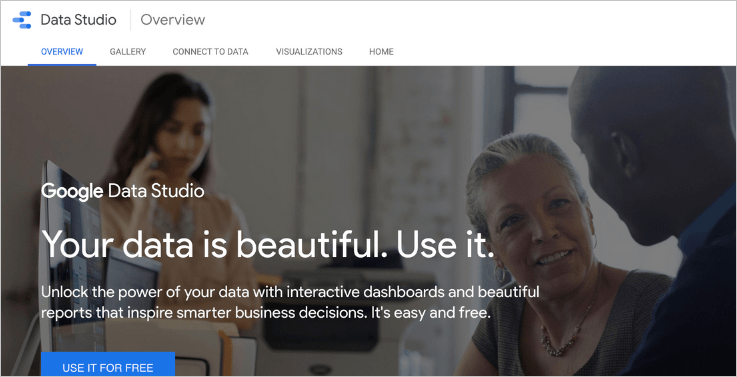 Data Studio is Google's free marketing dashboard software. That's right - free! It does have some limitations, but we'd be remiss if we didn't include it on this list.
If you're primarily working with other Google products like Google Analytics, Google Search Console, and Google Sheets then Data Studio will let you combine your data and visualize it with various charts and graphs. There are third-party connectors available for many popular platforms, but these are community created and often cost a premium.
That said, if you're constrained by budget limitations and need a free dashboard tool, Data Studio is a great solution!
Pros
Connects with BigQuery, MySQL, and other popular databases as well as social media platforms like Facebook, Reddit, and Twitter.

Add links and clickable images to create product catalogs, video libraries, and more

Training resources available

It's free!
Cons
As mentioned above, adding third-party integrations can cost you extra.
Pricing
Free
5) AgencyAnalytics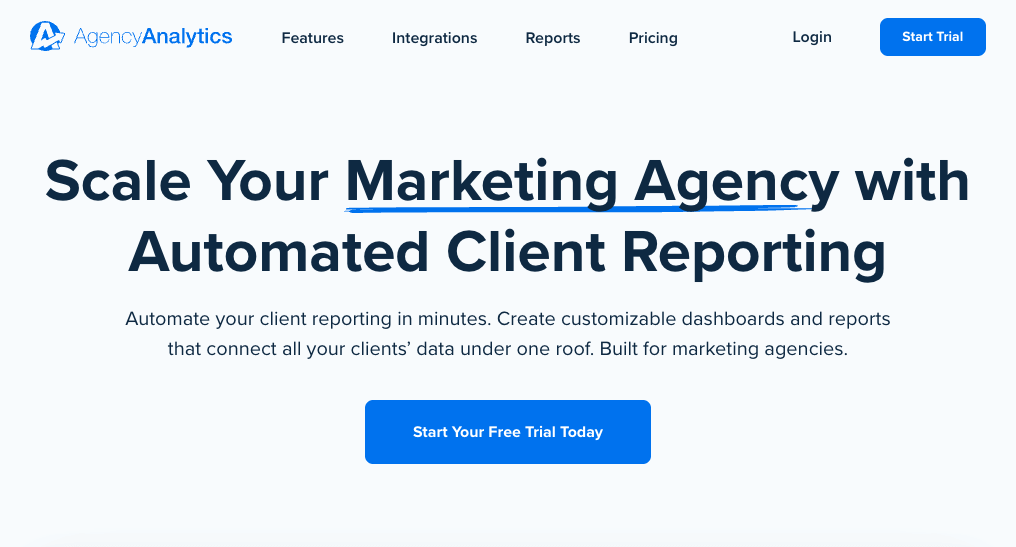 As the name suggests, AgencyAnalytics is designed to help scale your marketing agency with its automated client reporting.
It lets you connect 70+ marketing integrations to build custom dashboards for your clients to measure the results of their digital marketing efforts.
Pros
70+ data connectors for popular marketing channels

Dashboard templates to get you started fast

White-label options available
Cons
White-label options are only available on the Agency plan costing an extra $6 per client per month, which can add up quickly.
Pricing
Plans for agencies start at $18/mo per client.
AgencyAnalytics offers a free 14-day trial.
6) Klipfolio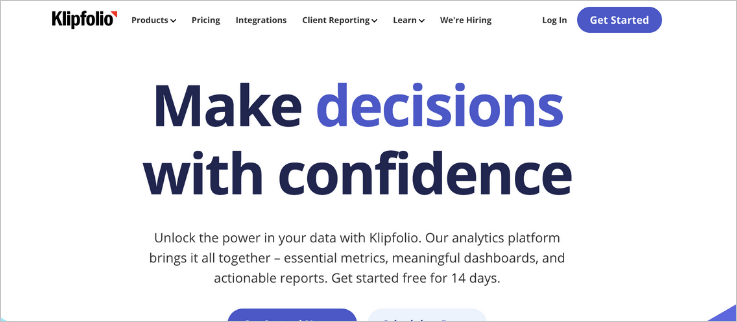 If you're interested in a simple way to visualize your data, Klipfolio is worth checking out.
It's designed for small and medium enterprises (SMEs), startups, and marketers who want to analyze their own business performance and create reports easily.
Klipfolio offers 2 products to meet the needs of a wide range of businesses - Klips and PowerMetrics - each of which let you combine data from hundreds of cloud applications, databases, and APIs and visualize that data using one of their 32 different charts.
Pros
Ability to customize look-and-feel with CSS, HTNL, & JavaScript

Large formula library to help manage complex data

TV dashboard feature for displaying live data on office monitors

Wide range of charts and graphs
Cons
The difference between Klipfolio's 2 products can be confusing for new users and it's difficult to find out more without committing to speaking to their sales team first.
Pricing
Klipfolio offers a 14-day free trial for all products. Plans start at $99/mo.
There is also a free-forever Powermetrics account with limited features.
7) Cyfe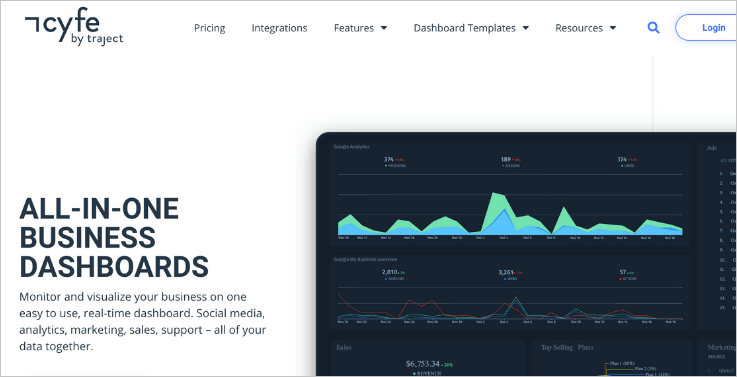 Cyfe provides an all-in-one business dashboard to help agencies monitor and visualize their clients' data (and their own).
One really cool feature is the ability to archive historical data within Cyfe for future reference (not something every tool lets you). This makes it a great solution for clients requiring extra-large date ranges for their marketing reports.
Pros
Pre-built dashboard template library

Add goals to dashboard widgets

Historical data archives for large date range reporting

White-label options available
Cons
Some users say there aren't enough customizations available for those without technical experience.
Pricing
Agencies with more than 10 clients will need at least the Pro account which starts at $49/mo.
Cyfe offers a 14-day free trial.
Marketing Dashboard Software FAQs
Still have questions about what marketing dashboards are and how to choose the right one for your business needs?
These answers to our most frequently asked questions will keep you right!
What is Marketing Dashboard Software?
Marketing dashboards tools are designed to help you make sense of all your marketing data.
They let you connect multiple data sources (like social media platforms and other marketing channels), cherry-pick the metrics you want to track, then present your data visually using graphs and charts on digital 'dashboards'.
Data is often viewable in real-time (or close to it) which clients can view any time they want.
Typically, dashboard tools will let you schedule emails with a link to remind clients to visit the platform to view their data.
Most software also lets you export snapshots of dashboards as PDFs which can then be manually shared with clients.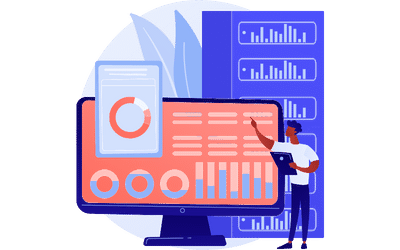 What Are The Benefits of Marketing Dashboards?
When compared to building reports manually using spreadsheets, marketing dashboard software has many benefits, including:
Save Time
Manual reporting is time-consuming. Dashboards pull data automatically, so you can spend more time marketing and less time building reports.
Reduce Risk of Human Error
Pulling data automatically also eliminates any risk of copy-paste errors. This ensures that your clients always have accurate data to help them make decisions quickly and confidently.
Reducing the risk of human error also saves your clients money, as bad data can lead to bad decisions - something that you don't want to be responsible for!
Save Money
Building reports manually often seems like a "free alternative" to using a marketing dashboard tool. But is it really?
Consider your hourly rate - this is what it really costs you to build reports and this multiplies for each client that you're doing it for. And if you have clients that need daily reports then this adds up fast!
Dashboard tools let you fully automate this process. Once the dashboard report has been built, you can set it and forget it.
Now that we're clear on what a marketing dashboard is and what its benefits are, let's take a look at the top tools on the market to help your agency reach its goals.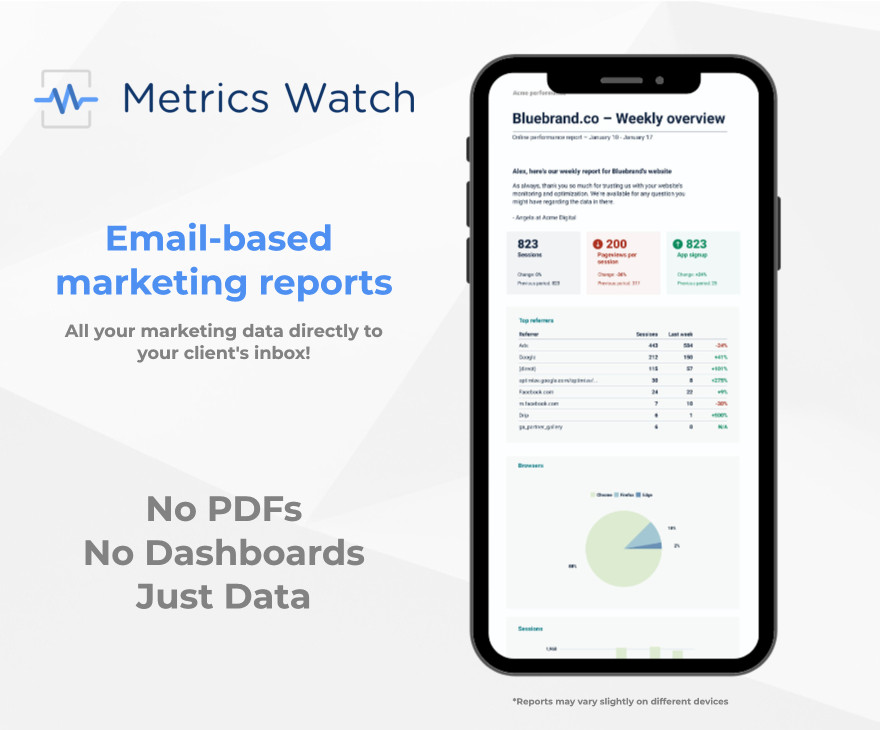 What Should You Look for in a Marketing Dashboard?
Comparing different dashboard tools can seem a bit daunting. What if you pick the wrong one? How do you know which one is best for you?
The truth is, most of them offer very similar features and it's hard to pick a bad tool.
So here are some top factors that you should consider to help you pick not just a good tool, but the right tool!
Budget
This might seem obvious, but how much are you able to pay for a reporting tool?
New or smaller agencies without many clients may not be able to justify some of the pricier tools on this list and would be better off investing in their own marketing, whereas those with tens or hundreds of clients are more likely to have the cashflow and need to invest in advanced reporting software.
Knowing your budget will immediately narrow down your options, making it easier to choose a suitable tool for your agency.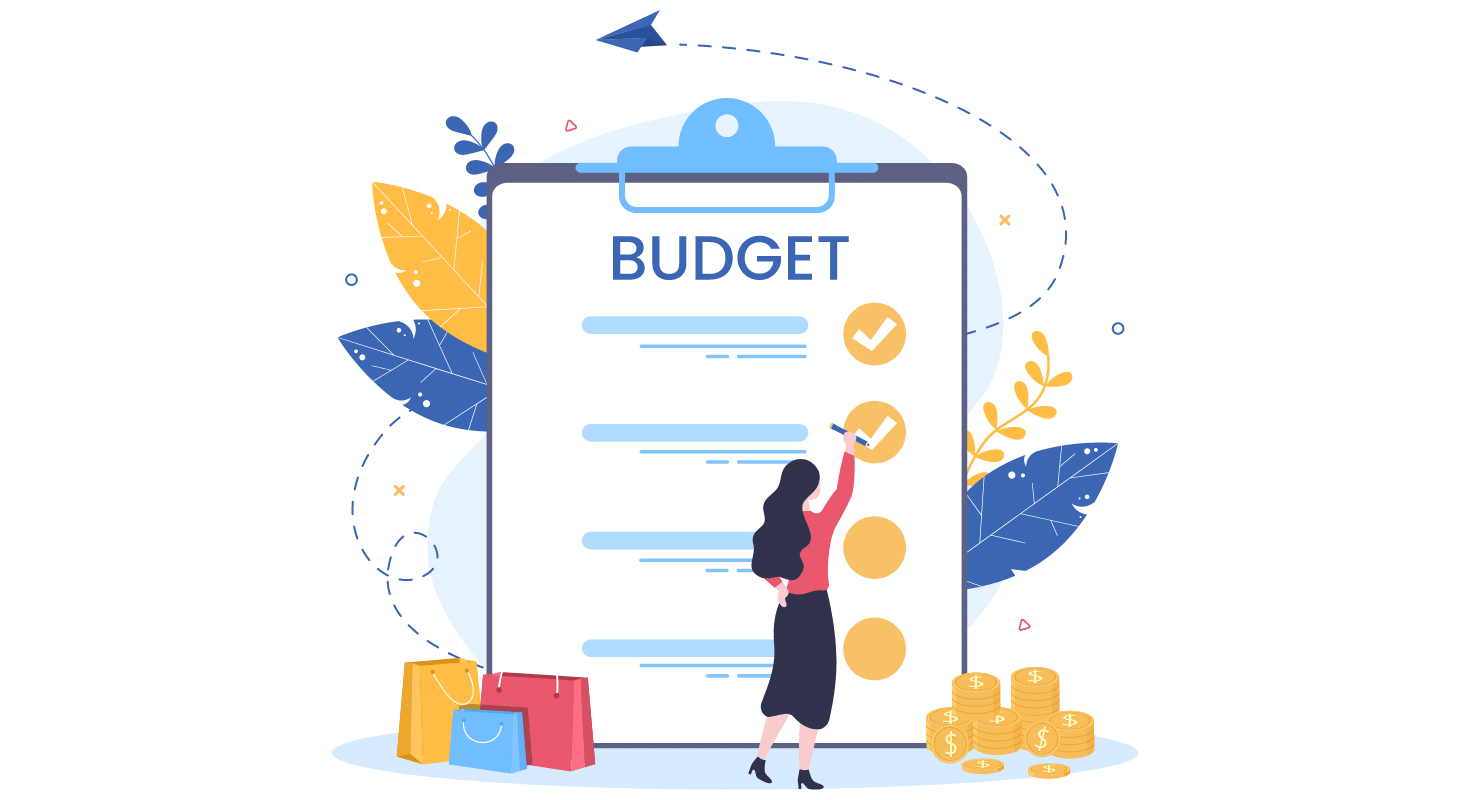 Integrations
This might seem like a no-brainer too, but the best way to cater to your clients' reporting needs is by creating dashboards that include data from the marketing platforms they use.
Is social media a common strategy for your clients?
Make sure your dashboard tool connects with the major platforms; i.e. Facebook, Instagram, LinkedIn, Pinterest, YouTube, Twitter, & Reddit.
Do your clients focus on SEO?
Make sure your tool has Google Analytics and Google Search Console connectors. If they use third-party SEO platforms like Semrush, Ahrefs, & Moz then being able to pull data from these is another factor to consider.
Not sure what's important to your clients? Just ask!
Real-time data
Most marketing dashboard tools boast real-time data, but do your clients actually need this feature?
Many businesses don't have the need to view live data or the resources to act on it and often prefer to receive reports at scheduled intervals - giving them the data they need at a time when they can actually process it and take appropriate action.
Data sharing methods
Are your clients self-sufficient and likely to remember to log into a web-based dashboard to view their data, or do they prefer to be able to view their information from the comfort of their inbox?
At the end of the day, client satisfaction is paramount - with happy clients being more likely to renew your agency's service time after time.
The best way to ensure this is to make sure they know you're delivering the goods.
With Metrics Watch, you can rest assured that your clients are keeping up to date with the success of your marketing efforts with professional reports delivered directly to their inbox.
Get your free sample report below to see how you can benefit from in-body email reports today!
And that's it!
This has been our list of the top 7 marketing dashboard software on the market. We hope this article has helped you get closer to finding the right reporting tool for you and your clients!
If you enjoyed this post then be sure to check out these other articles: