Are you looking for the best Swydo alternatives to build your marketing reports?
Swydo is a reporting and monitoring tool for marketers. It helps you build professional reports and dashboards to show your clients what you're really worth.
But, like any tool, it may not be the best fit for your specific needs. That's why, today, I want to share 7 Swydo alternatives that you can use to build better, strong marketing reports.
Let's get started!
7 Swydo Alternatives for Building Marketing Reports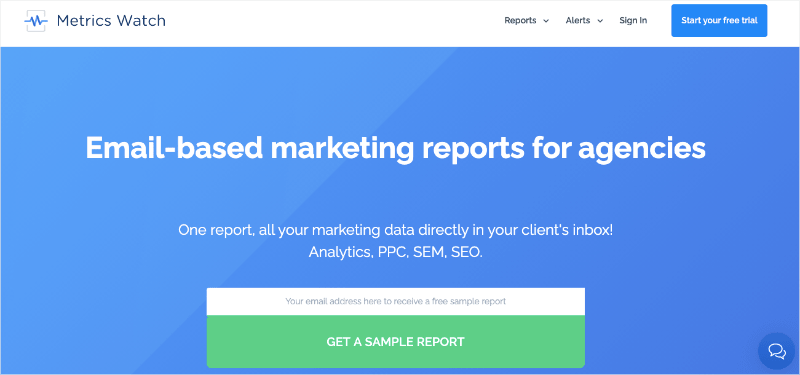 Metrics Watch is hands down your best bet for building comprehensive marketing reports for your team or clients.
Not only does Metrics Watch come with an intuitive drag and drop builder, but it allows you to pull data from your favorite marketing channels, like:
Google Analytics

Google Search Console

AdWords

Facebook (organic and paid)

Instagram (organic and paid)

LinkedIn (organic and paid)

And more…
Then, once you compile these reports, you can add your company's custom branding. This gives your reports a more professional look and helps you build strong relationships with your clients.
Plus, you can send these reports automatically on a daily, weekly, or monthly basis. This means once you've set up your reports the first time, you can sit back and let everything run on auto-pilot.
But here's the best part: Metrics Watch offers the least amount of friction when it comes to report sharing.
That's because unlike most market report builders out there, Metrics Watch shares your reports directly via email.
That means no PDF attachments to organize or 3rd-party URL dashboards to manage for clients.
Instead, your recipients get the data they need in a format they already know. It doesn't get much easier than that!
Pros
Drag and drop report builder

Automated report sharing to save time

Integrations with your favorite marketing channel

Frictionless report sharing

Custom branding
Pricing
Paid plans start at just $29/month.
Ready to get started? Click below to start yout 100% risk-free trial today (no credit card required):
Start Your Free Trial Now!
2. Adverity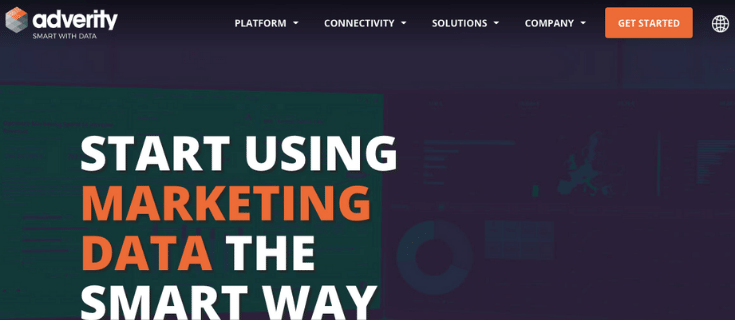 Adverity claims to make reporting on your marketing KPIs effortless, with visually appealing dashboards and reports. With a wide range of integrations, it combines data from most of the major digital marketing platforms.
Adverity also uses AI technology to identify trends and give users suggestions for optimization. It helps you uncover new insights and detect unusual activity on your marketing platforms.
Pros
Wide range of data visualization options to help you create meaningful reports

Integrates with all your marketing platforms

The Augmented Analytics tool uncovers key insights and alerts you to any anomalies

Automated report sending means you can easily schedule reports
Cons
Adverity is a complex tool, which means there's more of a learning curve to navigate before you'll be able to use it at its best.
Pricing
Adverity quotes prices according to your needs, so you'll need to contact them to discuss pricing.
3. NinjaCat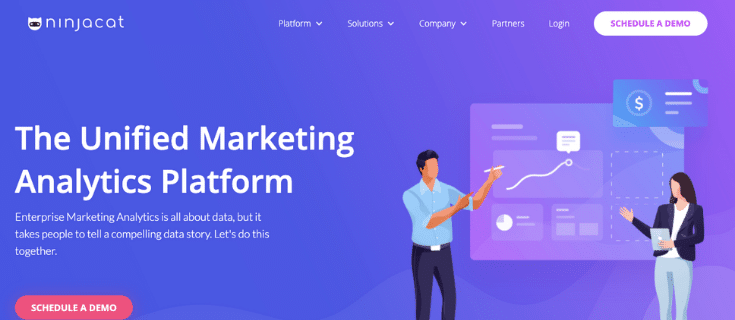 NinjaCat is a popular alternative to Swydo for building marketing reports. It has over 150 integrations, so you are bound to find the marketing platforms you use among them.
With a library of templates to choose from, NinjaCat has been designed with busy marketers in mind. You can also customize reports to suit your needs. It includes monitoring tools to help you keep your budgets in check and prevent overspending.
Pros
White labeling options mean you can add your own branding and logos

Save your report templates so you can easily reuse them

Email alerts let you keep track of budgets and KPIs

Combine data from multiple platforms onto one dashboard or report
Cons
If you need to set up your own report templates, the process can be unnecessarily time-consuming. Reports also go as email attachments, meaning there's an extra step to take before you can view your data.
Pricing
NinjaCat provides pricing on a custom basis. Contact them for a quote.
4. SuperMetrics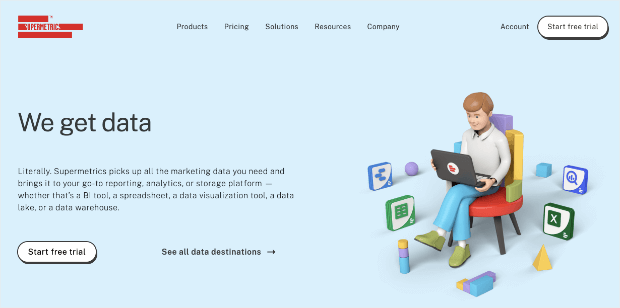 SuperMetrics works together with Google Sheets and Google Data Studio to pull all your marketing metrics together in one place. Once you have your data sources connected, you can choose how regularly you want your reports to update and schedule them to send straight to your inbox.
SuperMetrics has an incredible number of integrations, with over 500 data connectors available. Everything from SEO metrics to social media KPIs can be pulled into its reports.
Pros
Huge range of integrations, including some channels which are rare to find

Visualize your data using Google Data Studio

Combine data from different marketing channels in one report

Templates help you get started quickly
Cons
Editing queries can be tricky, especially if you have multiple users. Depending on the type of plan you choose, you may only be able to access support via email.
Pricing
SuperMetrics has a complicated pricing model based on the number of data sources and users, as well as which platform you want to export your data to. It starts from $39 per month, but this only covers 1 data source, so you'll almost certainly be paying more.
5. AgencyAnalytics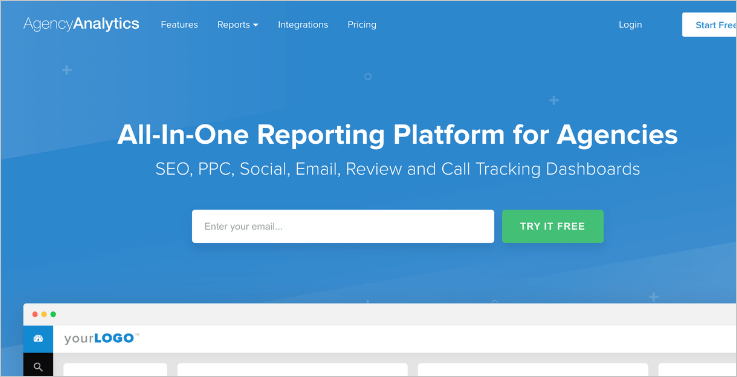 Developed with digital marketing agencies in mind, AgencyAnalytics combines reporting and analytics with SEO tools. It integrates with a wide range of digital marketing platforms, including Google Analytics, most major social media channels, PPC advertising, and some of the most popular SEO tools.
Both template and custom reports and dashboards are available, and you can also use AgencyAnalytics to carry out site audits and improve your clients' SEO.
Pros
Fully white-label reports and dashboards let you add your own branding and logo

A wide range of integrations pull your marketing data together in one place

Staff-management tools let you set different permissions and assign tasks to your team

Personalize reports with comments to help your clients understand what they are seeing
Cons
Being able to schedule reports to send to your clients automatically is a great feature, but they arrive as PDFs, or you'll need to share a custom URL. I find this a clunky way to send reports since clients need to keep track of a bunch of attachments or user login information.
6. AdStage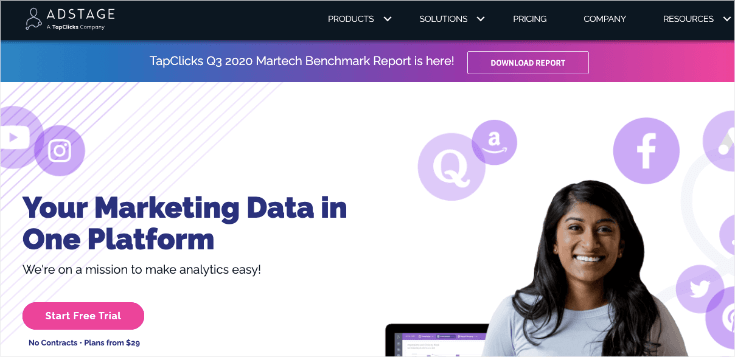 Like Swydo, AdStage is aimed at digital marketers who want to keep a close eye on their analytics. As the name suggests, it specializes in PPC advertising, integrating with major platforms like Facebook Ads, Google Ads, YouTube Ads, LinkedIn Ads, and more.
AdStage lets you build customized reports and dashboards to monitor all your PPC campaigns. You can track and compare data from a range of digital advertising platforms in one place or export results to Google Sheets.
Pros
Automatically pauses ad campaigns based on your budget

Reports display ad creatives alongside metrics

Optimization rules alert you if anything needs your attention

White-label reports are available to agencies
Cons
Because it focuses on PPC advertising, AdStage's dashboards and reports concentrate on metrics from paid adverts, not organic posts or SEO.
Pricing
AdStage offers a 14-day free trial. After that, the starter plan is $149 per month. You can access a 20% discount if you choose annual billing.
7. Pathmatics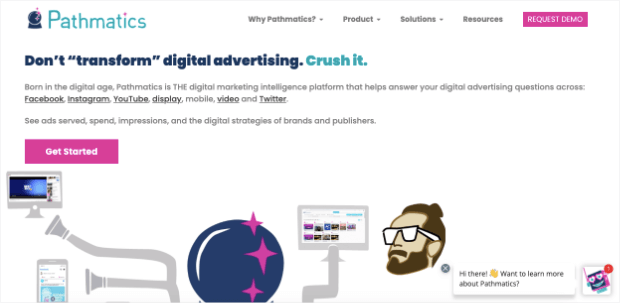 Pathmatics helps digital marketers grow their audiences and develop their marketing strategies with reporting, analytics, and insight tools. It is designed to answer key marketing questions by presenting reports in the context of your goals.
Pathmatics specializes in PPC advertising, integrating with the major social media channels. It also lets you compare your approach with your competitors.
Pros
Stay ahead of your competitors with insights into their strategies

Monitor your share of voice

Analyze your ROI by comparing the spend from different audiences, platforms, and devices

Build tailored reports to display the exact metrics you need
Cons
Pathmatics' entry-level Explorer option doesn't integrate with Google Analytics as standard. The team will build custom data connections for you, but this is an essential platform for most digital marketers, so not offering it out of the box is a drawback.
Pricing
Pathmatics doesn't offer pre-priced packages, so you'll need to contact them for a quote based on your needs.
Which Is the Best Swydo Alternative?
While all the tools on the list are excellent options, I'm confident that Metrics Watch comes out the winner on this list, for a few reasons.
First, to get started with many of the other tools on this list, you need to contact their support team for a price quote.
This typically (though not always) means that the price will be on the higher end.
That said, Metrics Watch makes pricing transparent and offers multiple tiers so you can find the right option for you. Plus, the starting price is only $29/month, which makes it accessible to companies of all sizes.
Second, there's almost zero learning curve for building your reports. The drag and drop editor make the process a breeze which will save you loads of time.
And, finally, no other tool on this list (including Swydo) will share reports directly via email. That makes Metrics Watch the only tool with a truly frictionless report sharing feature.
Ready to see it in action for yourself? Click below to start your 100% risk-free trial (no credit card required):
Start Your Free Trial Now!
And that's all for today! I hope you found this article helpful in your search for the best Swydo alternatives.
If you enjoyed this post, you might also want to check out the following resources:
These articles will have everything you need to build smarter, more profitable marketing reports.