Are you trying to make a customer dashboard so your clients can see the progress you're making for them?
Customer dashboards are an excellent way to track customer data and display it in an easily digestible format.
But choosing what to include or, more importantly, what NOT to include can be a challenge.
That's why, in today's post, I'll share 7 KPIs that you will want to consider adding to your client dashoboards.
First, though, let's get clear on what a customer dashboard is and WHY you should take the time to make one for all your clients.
What Is a Customer Dashboard?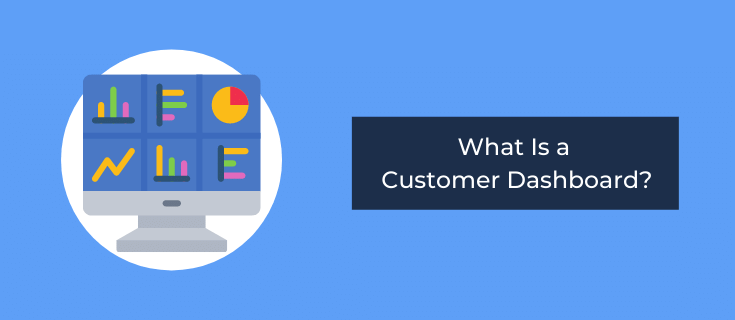 A customer dashboard is a reporting tool that marketing agencies use to keep clients up to date on their progress. It tracks the most important KPIs to show how your marketing efforts are helping your clients reach their goals.
Client dashboards are regularly updated so that your clients always have the latest information at their fingertips. They replace tedious and time-consuming manual reporting, leaving you to get on with what you do best – creating effective and high-converting marketing campaigns.
The best customer dashboards use a combination of visualizations so that clients can easily and quickly see what is going on with their digital marketing strategy. A clean design and appealing layout are also essential to an effective customer dashboard.
But choosing the right KPIs to include on your dashboards can be a challenge. With so much information available, how can you decide what your clients really need to know?
The trick is finding the right balance. You want to give clients enough data that they feel fully informed, without including distracting vanity metrics.
Unclear on the difference between metrics and KPIs? We explain this in more detail in our post about KPIs for small businesses.
Now that we understand what a customer dashboard is (and what it does), let's look at 7 KPIs you should consider adding to your own.
7 KPIs to Add to Your Customer Dashboard
Your customer dashboard should showcase major data from across all the marketing channels your clients use. That's what we're looking at today.
But some clients will want to go deeper, in which case it can be helpful to create additional dashboards or automated reports that focus on just one of these areas, like:
SEO

Social Media

Email marketing

And so on...
Of course, the exact metrics you use to track your KPIs will vary depending on the needs of each client and what is important to them. An eCommerce brand will have different goals than a SaaS company, for example.
But most agencies will want their customer dashboards to cover these 7 main areas.
1) Website Performance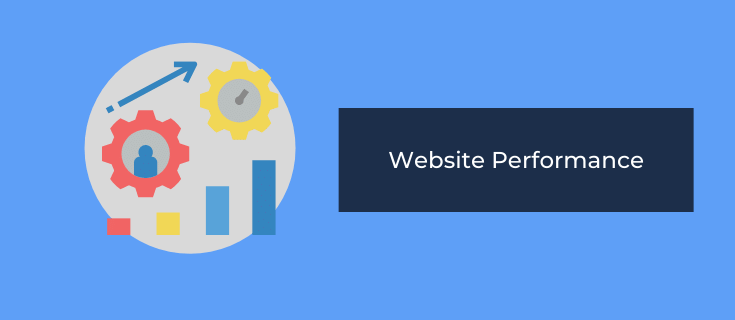 As your clients' digital storefront, the performance of their website is a BIG indicator of the success of their marketing efforts. They'll want to see that the campaigns you run on their behalf are increasing website traffic over time and are effectively converting those visitors into leads or customers.
Some possible metrics to include on your customer dashboard to monitor website performance include:
Users and Sessions

New and Returning Users

Average Session Duration

Pages Per Session

Bounce Rate
While you may choose 1 or 2 of these, you don't need all of them. Get clear on which KPIs are most important for your client (in terms of web performance), and add those at the start of your customer dashboard.
2. Organic Social Media KPIs
Social media has become an essential part of the digital marketing strategy of most companies. But there's a difference between your organic (ie. non-paid) social media marketing and your paid-for social media ad campaigns.
We recommend splitting up the metrics for these two areas. This prevents clients from getting confused and means you can show them the impact of the different approaches more easily.
For your organic social media marketing, some of the metrics that can help you track progress on your clients' goals include:
Follower Growth Rate

Engagement Rate

Click-through Rate

Reach and/or Impressions
The goal is to show how your social media presence is growing. Your client may or may not want this to lead to direct sales (well, they probably ALL want that). In other words, the KPI you choose depends on your client's goal.
Do they want social to drive revenue or are they more focused on building a community? There's value to both, so you'll need to include the one that your cusotmer values MOST.
3. Social Media Advertising KPIs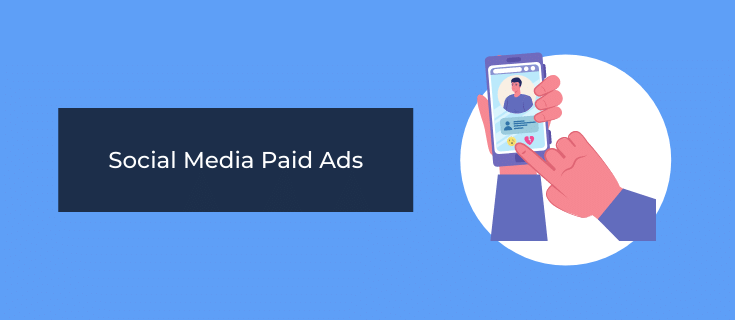 Many social media platforms limit the organic reach of business accounts, so paid-for advertising is often necessary to help your campaigns gain traction on these channels.
Of course, clients will want to know that the money they spent on social media advertising was a good investment. So, you'll want to include a section on your customer dashboards that focuses on this area. This section could include:
Click-through Rate

Cost-per-click

Conversion Rate

Cost-per-conversion

ROI
Paid campaigns are different than organic in one crucial regard: 99% of the time, the goal is to bring in more than you're spending.
With organic posts, your customer might be concerned with building their online presence. But for paid ads? You'll want ot keep your KPIs focused on the revenue.
4. Email Marketing KPIs
Email marketing remains one of the best channels for reaching warm leads and driving sales. Done right, it is an effective way to help your clients achieve their revenue goals.
Showcase the impact of your email marketing campaigns to your clients by including some or all of the following on your customer dashboards:
Open Rate

Click-through Rate

Bounce Rate

Conversion Rate

Unsubscribe Rate

Email List Growth Rate
The two most common KPIs are open rates and click-through rates (CTR), though you'll need to decide what the priorities are.
5. PPC Campaigns on Search Engines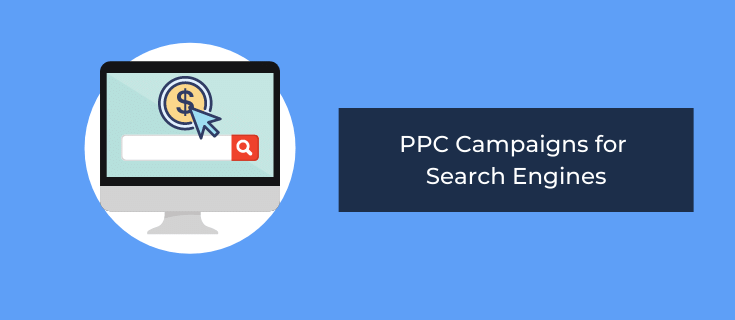 While SEO is a vital part of any digital marketing strategy, it takes time to get your clients to the top of the SERPs organically. Your PPC campaigns help them bridge that gap.
But, like social media advertising, there's a clear direct cost involved, and your clients will want to see a good ROAS from your PPC advertising. So, most agencies will want to dedicate part of their client dashboard to PPC KPIs, including:
Return on Ad Spend

Total Ad Spend

Average Cost-per-click

Average Cost-per-conversion

Click-through Rate

Conversion Rate
You'll need to determine which ones your clients care about most. If you're running the ads, you'll likely want to focus on your client's return on ad spend (ROAS).
6. SEO
Clients who don't understand how content marketing and SEO work can often be impatient to see results. Keeping them up to date with the impact of your SEO efforts helps to reassure them that progress is being made.
You'll often want a dedicated SEO dashboard or report to explain these results to clients in more detail. But having the headlines on their main dashboard means they'll have a 360˚ overview of their digital marketing.
Potential SEO metrics to include on your customer dashboards include:
Organic vs Paid Traffic

Most Popular Search Queries

Top Pages

Number of External Links

Average Position on the SERPs
Remember, you should mitigate expectations for your SEO results at the START of the relationship with your customer. They should know results will take 6 months to a year for some metrics, while KPIs will vary with results.
7. Lead Generation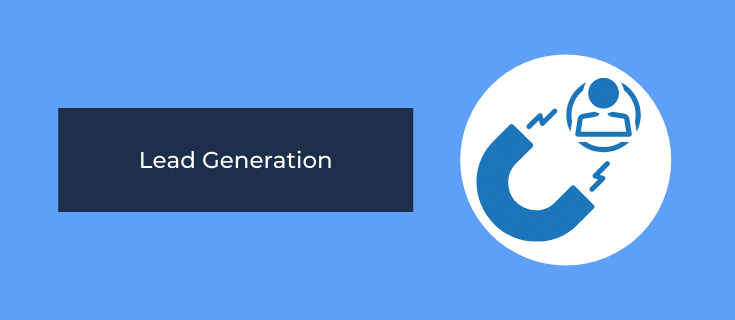 Increasing brand reach and growing their audience is a goal for most companies. But, at the end of the day, what they really care about is that your marketing campaigns are generating high-quality new leads.
After all, likes and follows don't pay the bills.
Depending on the type of business your clients do, you might substitute this section for sales. Ecommerce stores, for example, usually have a shorter customer journey, so you should concentrate on tracking the purchases and revenue generated by each digital marketing campaign instead.
For companies who focus on lead generation and nurturing, some metrics to include on your customer dashboards are:
Conversion Rates on Custom Goals in Google Analytics

Total Lead Value

Cost-per-Lead

Top Referring Platforms

Top Referring Campaigns

Bounce Rate
In many cases, you can also sync your lead generation software (we use OptiMonk, for example) with Google Analytics. Then you can add custom conversion goals to see how many emails you're adding month over month.
And now that we've gotten an idea about the KPIs you should add to your customer dashboards, I wanted to pitch an alternative to dashboards altogether.
Here's why…
My Problem With Reporting Dashboards
To be clear, I DON'T dislike analytics dashboards overall. I think they can be a valuable asset to most marketing agencies.
That said, I've also seen them be totally neglected because they rely on a KEY factor:
Your customers have to take the time to actually check the dashboard.
At first, this is never a big problem because customers are excited to see the results. But over time, they can start ignoring notifications and stop checking in with the data altogether.
In lots of cases, you're running the marketing strategy, so who cares, right?
Wrong.
Because if your clients see ANY surprises in the data after a few months, they'll be much more likely to start problems, take up bandwidth from your support team, or change software altogether.
That's why I always prioritize marketing reports OVER customer dashboards.
And it's the main reason why I recommend using a report building tool like Metrics Watch: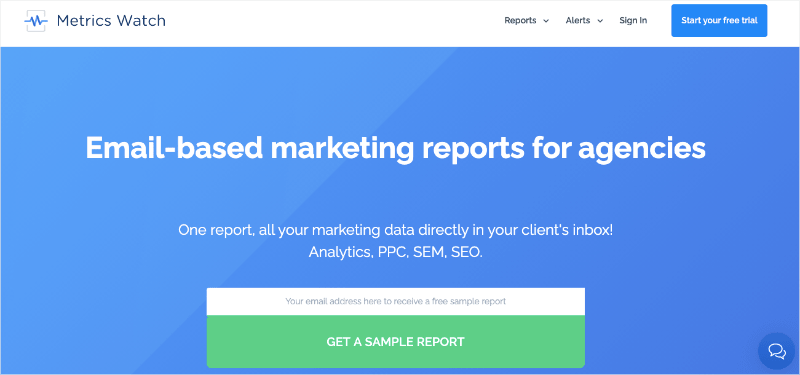 Metrics Watch is a report building software that allows you to create marketing reports in minutes.
It comes with all the bells and whistles you'd expect from a reporting tool. But, it has a BIG advantage: reports are sent directly to your recipients' inbox.
There are no PDF attachments, and there are no links to 3rd-party dashboards.
Instead, you send the data people need in a format they already know. And yes, visual graphs, charts, and more are included so your clients can digest the data at a glance).
But hey, why not see it for yourself? Click below to try out Metris Watch 100% risk-free for 14 days (no credit card required):
Build Automated Digital Marketing Reports Today!
And that's all for today! These have been 7 KPIs that you should consider adding to a customer dashboard.
If you enjoyed this post, I recommend checking out the following resources:
These articles will have even more information you can use to create better, strong reports that lead to more profitable marketing strategies.