Are you looking for the best Oviond alternatives to build marketing reports for your clients?
Oviond is an excellent digital marketing tool for building reporting dashboards for clients. But as with most cases, there isn't just one tool that's perfect for every situation.
Your agency or clients may have certain needs better suited by a different tool, which is why today we're looking at 7 Oviond alternatives to help you find the best possible solution.
Before diving into the list, let's take a quick look at what a digital marketing dashboard is, how it compares to a marketing report, and why you might want to opt for one over the other.
Dashboards vs. Reports
Marketing dashboard tools allow you to pull data from multiple sources and visualize it with graphs, tables, and charts, often in real-time.
The key benefit of using a dashboard tool is that you can track all of your track KPIs on one platform instead of checking each of your marketing platforms individually.
This is a massive time saver. However, dashboards are not without their drawbacks.
To access a marketing dashboard, users have to remember to log in manually. While this can be useful for some companies that need the most up-to-the-minute data, it requires clients to remember to check in on their data regularly.
Alternatively, marketing reports can be scheduled to be sent straight to the recipient's inbox by email.
Just like a dashboard, you can combine data from all your marketing channels to create comprehensive reports for clients. But instead of just crossing your fingers and hoping that a client logs in to their dashboard to view their information, you automate reports to be sent to them in a way that easily integrates with their busy schedule, using a tool they use every day already - email.
So, dashboards or reports - which one's best?
Well, that will depend on how often your clients need to view their data and their preferred method of viewing that data.
The main goal is ensuring that clients do view their data, so be sure to pick the option that works best for them.
Let's now take a look at the top 7 Oviond alternatives, so that you can see the strengths of each and hopefully be one step closer to finding the right tool to meet your specific needs.
7 Best Oviond Alternatives
1) Metrics Watch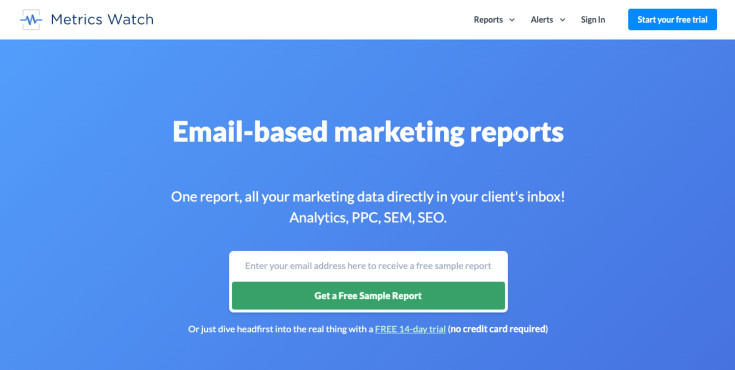 Metrics Watch is an email reporting tool with a difference. Unlike others that send reports as PDF attachments, you can display your client's data directly in the body of the email itself.
Build professional marketing reports from scratch with an easy to use drag-and-drop builder, or choose a pre-made template and pull data from popular marketing channels, including:
Google Analytics

Google Search Console

Google Ads

Facebook (organic and paid)

Instagram (organic and paid)

LinkedIn (organic and paid)

Mailchimp
Each report automatically compares current data with the previous report so you can easily monitor progress through context.
Metrics Watch also features white-label options so that you can add your agency's logo and branding to reports.
Pricing:
Plans start at $29 per month, all including white-label options and concierge service.
You can try Metrics Watch 100% risk-free for 14-days (no credit card required).
Start Your Free Trial Today!
2) Google Data Studio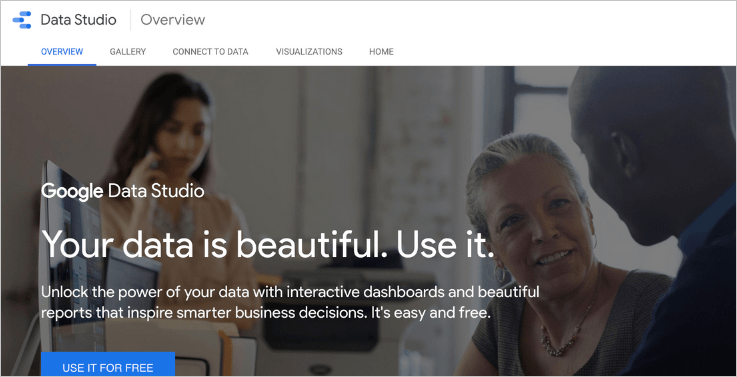 Data Studio is a free yet powerful report-building tool by Google. Its main benefits are that it easily integrates with the rest of Google's tools - like Google Analytics and Google Sheets - and that it's free. This makes it a great budget-friendly alternative to Onviod, which can be attractive to freelancers and smaller agencies.
Pros:
It's free to use and connect with other Google tools

Features ready-made templates to get you started

Is updated frequently by Google
Cons:
Reports are only sharable with other Google accounts and you'll need to pay to connect 3rd party integrations (though at a reasonable cost).
Pricing:
Free, mostly (as noted above).
3) AgencyAnalytics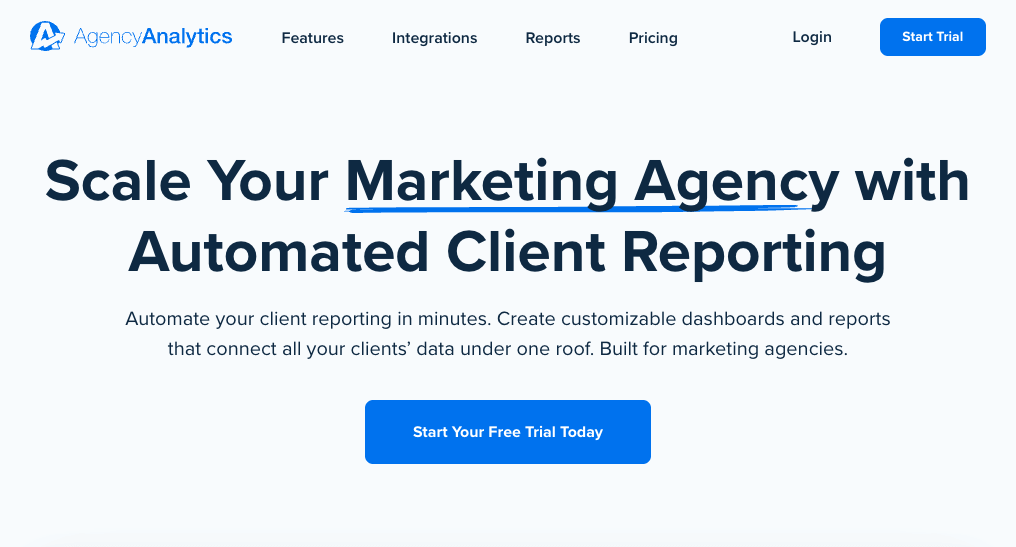 Tailored toward digital marketing agencies, AgencyAnalytics offers reports and dashboards as well as SEO tools - making it a good choice for those with clients needing help improving their SEO.
Pros:
SEO tools let you perform website audits for clients

White-label options to add your branding

Unlimited client and staff user logins
Cons:
While the extra SEO tools and client management are a nice bonus, report sharing is only available as PDF attachments. This adds an unnecessary extra step of having to download attachments before clients can view their data.
Pricing:
Paid plans start at $10/mo for the freelancer package. AgencyAnalytics offers a 14 day free trial for new users.
4) Swydo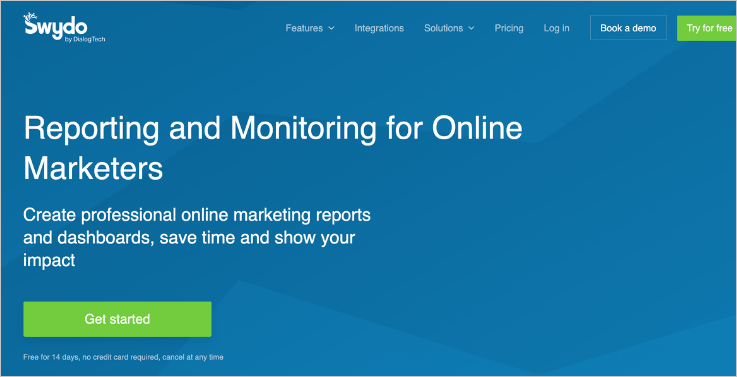 Swydo offers a variety of services and tools that allow you to monitor all your client's marketing KPIs in one place. It lets you pull data from social media platforms, SEO tools like ahrefs and Semrush, email marketing platforms, and even call tracking software.
Pros:
A vast range of integrations

White-label options to add your own branding

The master template feature makes onboarding new clients easy
Cons:
Swydo's custom metrics are not available for the basic plan, which limits the types of reports you can build for clients.
Pricing:
You can try Swydo free for 14 days. After that, their paid plans start at $39/mo
5) Cyfe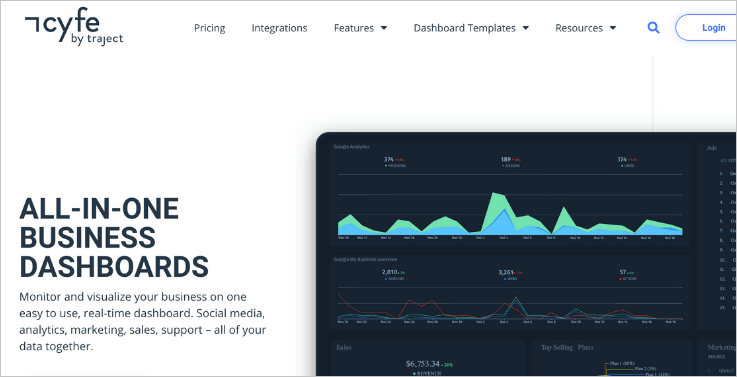 Cyfe offers real-time marketing dashboards for tracking your marketing data all in one place. It integrates with many popular social media and eCommerce platforms, making it a good option for agencies with a lot of eCommerce clients.
Pros:
Large range of data visualization options

White-label options available

'TV mode' lets you easily display real-time data in the office
Cons:
Without some technical web experience, report customization can be somewhat limited according to some users.
Pricing:
Cyfe offers a 14-day free trial. Paid plans then start at $19/mo.
6) Tableau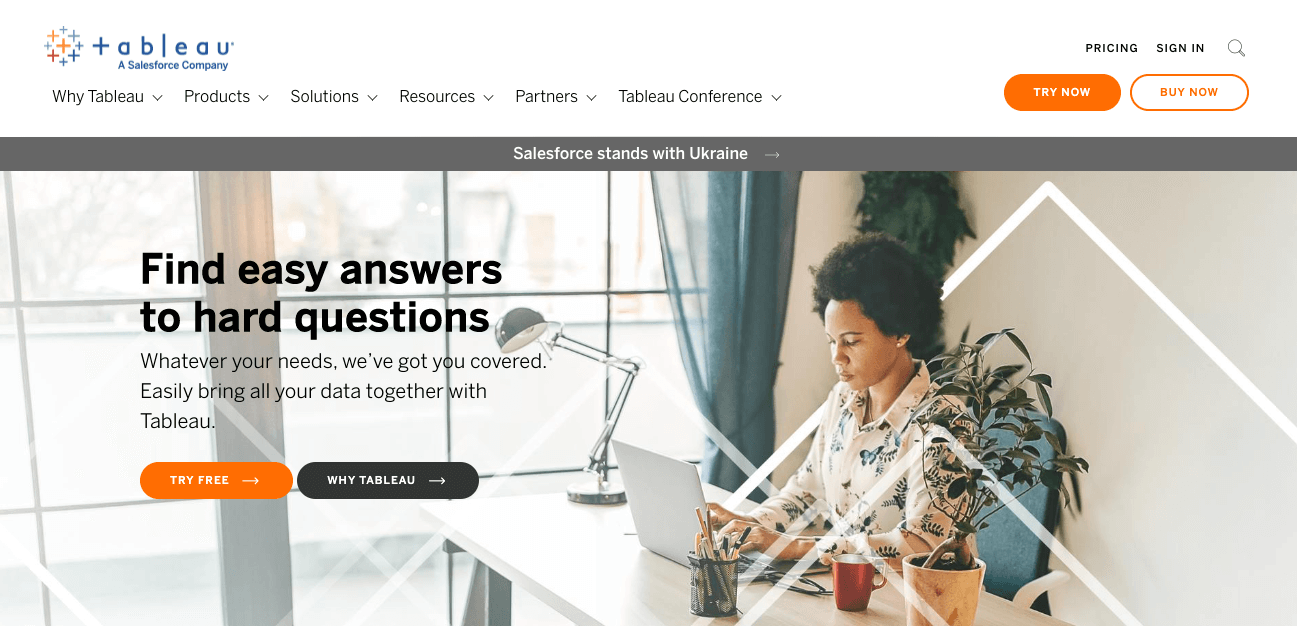 Tableau is a popular data visualization dashboard tool that allows users to collaborate on all of their data in one place. Their 2 main products are Tableau Desktop (which a data analyst or marketer would use to integrate their data channels and build dashboards) and Tableau Server, which allows enterprises to collaborate and share data securely to any location and any device.
Pros:
Advancer data visualization options

Works with practically any data source (including text files and databases)

Technical support team available
Cons:
While a powerful tool, the pricing system is what lets Tableau down. Tableau charges $15/mo per viewer license on top of the mandatory $70 creator license, meaning it can be an expensive option for agencies with many clients.
Pricing:
You can try Tableau free for 14 days. Afterwhich, paid plans start at $70/mo.
7) Klipfolio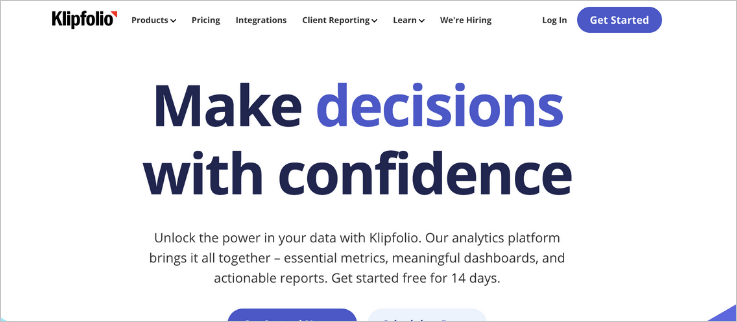 Aimed mostly toward marketing agencies and startups, Klipfolio offers dashboard and report building in a user-friendly, data analysis tool.
Pros:
The Klip Editor lets users customize data visualizations

Data can be shared via dashboards and reports

White-label options available
Cons:
There is a steep learning curve, with many users reporting having trouble connecting their integrations due to counterintuitive permissions.
Pricing:
Paid plans start at $139/mo. Klipfolio also offers a limited free plan, so you can try out the tool before committing.
Start Building Better Reports Today!
And that's it!
This has been our list of 7 of the best Oviond alternatives for building marketing reports. We hope this has helped you get closer to finding the best tool that meets your needs.
If you enjoyed this post, then be sure to check out these other articles:
These additional resources have even more useful tips and information for growing your digital marketing agency and keeping clients happy.