Are you considering building an SEO dashboard to better understand how to create content that ranks?
Lots of marketers know the basics of SEO. But the world's top marketers aren't driven by the basics.
They're driven by data.
That's why many companies use an SEO dashboard to see how their organic efforts are paying off. And, today, we'll explain what an SEO dashboard is along with the KPIs you should add if you decide to build your own.
Then we'll explore whether or not SEO dashboards are the right solution for your unique needs.
But first, let's get clear on what an SEO dashboard is.
What Is an SEO Dashboard?
An SEO dashboard is a tool that collects all of your SEO data—from keyword rankings to social shares and more—in one place.
It tracks all of the KPIs you need to see where you stand in organic searches, like traffic and rankings.
It also provides insight into which content is performing best. They're usually designed to be easy-to-read so you can understand what you're seeing at a glance.
But how does this help your marketing team at a practical level?
Marketers use an SEO dashboard to track their progress towards goals.
For example, if you're aiming to increase organic traffic by 30% this year—and your current organic search traffic is 100 visitors per week—an SEO dashboard will show you how much closer (or further away) you are from hitting that goal.
Then you can take action to improve your rankings and meet the goal.
Plus, SEO dashboards allow marketers to see which content is driving organic traffic (and how much of it they're getting each month). This way, teams know what type of content will work best for their audience moving forward.
In short, here are the 3 biggest benefits of using an SEO dashboard:
Learn More About Your Audience: When you see which pieces of content are driving the most organic traffic, you can learn more about your target audience and create similar (and better) content in the future.

Track Your Progress Towards Goals: You know how much closer (or further away) your company is from reaching its goals.

Build Better Strategies: You can create new strategies based on the data you're seeing and continue to improve your organic performance.
Now that we have an idea of what an SEO dashboard is, let's look at 5 KPIs you should add to your own dashboard to track results.
5 KPIs for SEO Dashboards
1) Organic Traffic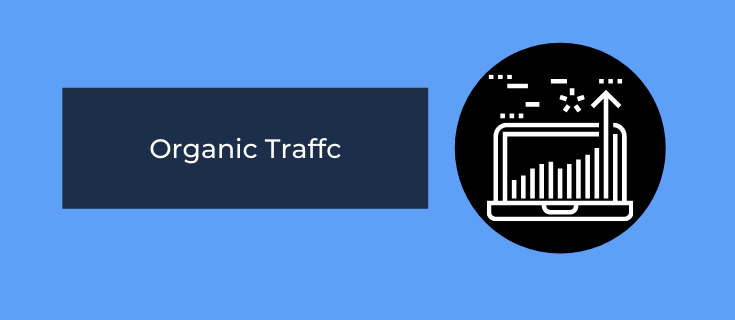 Organic traffic is the number of people who visit your website from search engines.
It's usually expressed in a percentage or absolute numbers (like visitors per month). The higher this KPI climbs, the more successful you're being at growing organic traffic and improving your rankings.
But again, keeping your eye on organic traffic will only give you a neutral piece of data.
You'll need to set clear goals for how much organic traffic you want (or the percentage of growth you want) to judge whether your efforts are meeting expectations.
2) Impressions
Impressions are the total number of times your website appears in search results.
As a general rule the more impressions you have on Google's first page (and above), the more likely you are to get traffic from those search results.
Like organic traffic, keep track of impressions over time and set goals for improvement. If your goal is 50,000 more monthly views than last month and the data shows that you only got 36% of it (or 18,000), then you know what type of content will perform best to reach your next goal.
You can also see how the number of impressions you get from search engine changes over time and whether that trend is in line with your goals or needs improvement.
For example, if you're aiming for a 30% growth and only got 15%, then it's clear where you need to focus more effort.
3) Time on Page/Bounce Rates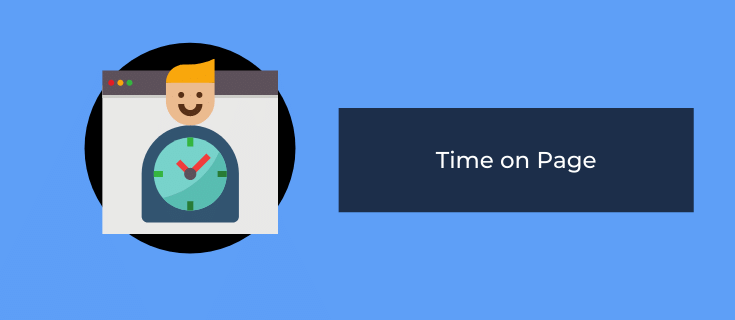 Time on page is how much time visitors spend viewing your content.
It's expressed in seconds or minutes, and you want this number to be as high as possible. That's because it means people are spending more time reading what you have to say—which can lead to high conversions rates that can your business more leads.
Bounce rates, meanwhile, measure whether visitors are sticking around after visiting just one page on your website.
In other words, it shows how many people leave right away without clicking any of the links to additional pages you have—or taking advantage of other offers or calls-to-action that could benefit both parties.
If a visitor bounces quickly from your site, they probably didn't find what they were looking for.
So, if you're seeing a high bounce rate, it's time to take another look at your content and figure out whether you can create something that keeps people engaged from the start.
In short: make sure visitors are staying on your site longer by creating valuable content worth reading.
Keep in mind, though, that many marketers use "bounce rates" loosely. There are large 8 and 9-figure companies with bounce rates consistently at 80% or higher, so don't worry too much if your other KPIs are moving in the right direction.
4) Organic Conversion Rates
This metric will show you how well your website is converting traffic from organic search results.
In other words, it's a measure of whether people are taking the action you want them to take when they visit (or engage with) your content—and if not, what changes need to be made.
Again: like any KPI in your SEO dashboard, it's most valuable when paired with specific and realistic conversion goals.
If you don't have any conversions that matter to your business (like email subscriptions or downloads), then there isn't much point in tracking this KPI.
But if you're trying to get more people interested in your product or service than last month—and more people are actually taking that first step by visiting your site—then you're doing better than last month.
This is why it's important to set specific goals for how much traffic or leads you want from organic search every month, quarter, and year.
If the number of conversions increases over time without a matching increase in overall website traffic, then it's clear that your SEO efforts are paying off.
If you're not seeing the same(or better!) conversions rates with increased traffic, however, it may be time to reevaluate what you're doing and how well it's working for both parties.
The end goal of organic search is to bring people in who are interested in your product or service, so it's important to track what happens when they get there.
5) Revenue from Indexed Content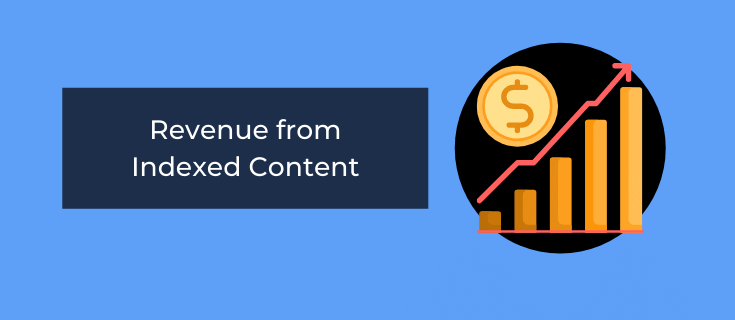 This metric will show you how much revenue or leads your content on the web is generating for your business.
It's a way of measuring the true value behind organic search and seeing whether it creates more opportunities than paid ads alone.
If this number increases over time, then that means you're doing something right with SEO and should keep at it.
If you're seeing this number stay the same, though, or see a decrease from time to time—then it's possible that your content isn't as good for lead generation and sales opportunities as paid ads are.
In short: if people leave after reading one piece of content but don't come back at all over the next few weeks or months, then you probably need to work on that piece.
If they read one article and come back for more, subscribe to your email list, or even make a sale after reading a single blog post, then it's clear that the content is working well enough.
Keep in mind that the exact KPIs you select for your SEO dashboard might be different than the 5 listed above.
That said, I've just covered the most usual suspects when it comes to the KPIs generally tracked for SEO.
Now, let's turn our attention to another important question: Are SEO dashboards the right solution for your business?
SEO Dashboard vs. SEO Report: What's the Difference?
There are plenty of benefits to creating an SEO dashboard (and reporting on its KPIs).
However, there's also the possibility that your business doesn't need one.
Instead, you might benefit from an SEO report. There's a subtle but crucial difference between the two.
An SEO dashboard typically shows your KPIs on a 3rd-party website. You'll have an account, and all your SEO data will be visually represented for whoever is logged in.
SEO reports, though, are much more flexible. Rather than asking your team or clients to log into a 3rd-party dashboard (requiring user role management), you can send reports to the people who need them.
This has a few major benefits:
You can create custom SEO reports depending on the recipient (growth data for your team and revenue data for your clients)

Your recipients will be reminded to look at the data rather than letting a 3rd-party dashboard collect dust

No more user role management, password resets, account removals, and so on...
These are just some advantage of creating SEO reports rather than relying on dashboards.
And to create automated reports, I always recommend going with a tool or software like Metrics Watch: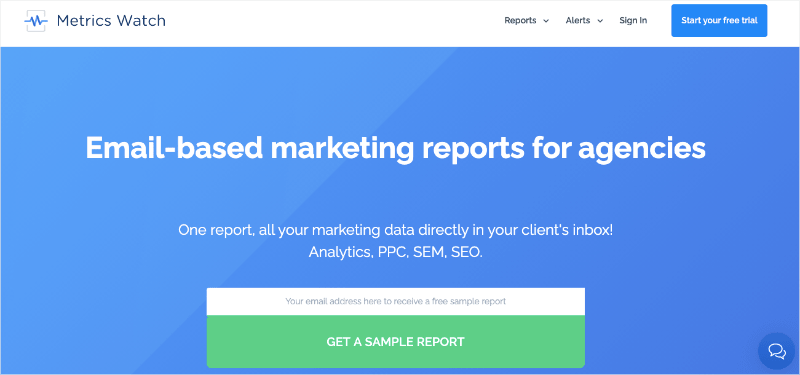 Metrics Watch is hands down one of the most effective tools for generating SEO reports.
You can automatically pull data from Google Analytics and Google Search Console. Plus, you can pull data from other marketing channels, such as:
Google Ads

Facebook (paid and organic)

Instagram (paid and organic)

LinkedIn (paid and organic)

And more...
This allows you to create comprehensive reports for each department of your marketing team with a single tool.
And because this program uses a visual builder that requires no code, you won't need any technical knowledge to produce high-quality reports FAST.
Finally, Metrics Watch is one of the only report builders on the market that sends reports directly to your customer's inbox.
I don't mean they'll get a PDF attachment in an email message, either.
Instead, all the data is literally part of the email for your user (including visual graphs, charts, and so more). This removes a layer of friction and boosts UX for your recipients.
It also means that the data you use is MUCH more likely
Want to see it in action? Click below to start your 100% risk-free Metrics Watch account today (no credit card required):
Start Your Risk-Free Trial Today!
And that's all for today. I hope this post has helped you understand what an SEO dashboard is, what it does, and why it may or may not be the right fit for your team.
If you enjoyed this post, you don't want to miss the following resources:
These articles will have even more tips and tools that you can use to stay ahead of the SERPs and drive more organic traffic.